Best commuter bike helmets: urban helmets for safer city cycling
The best commuter bike helmets will provide protection and comfort for your ride into work this Bike Month and beyond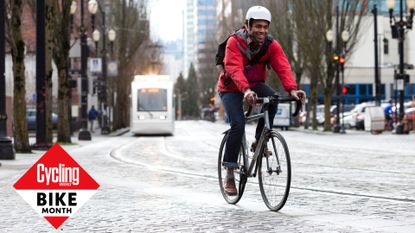 (Image credit: Getty Images )
May is National Bike Month in the US - a nation-wide initiative to get more people out there and cycling. Whether you're a season cyclist or getting on the saddle for the first time, we've got a raft of tip, tricks and advice to help you on your way. Check out our main Bike Month hub page for all the details.
The best commuter bike helmets will protect you on your commute or urban cycle ride.
There's a mix of styles for urban bike helmets. Many riders like a more enclosed style helmet, but there are advantages to a more vented road-style helmet, which will keep your head cooler and more comfortable in warmer weather and on longer rides.
The best road bike helmets can be expensive though, so while many of the helmets here have the road helmet look, we've stuck to the best budget cycling helmets for commuter use. These cheap road helmets can stand the abuse that day-to-day use on the commute and sitting around the office can mete out, without it compromising their effectiveness if you do have an accident.
Despite their generally low prices, many of the helmets here include MIPS. If you want to know more about MIPS and how it helps in the event of an accident, there's more in our buyer's guide at the bottom of this page.
Alternatively, read on for our pick of the best commuter bike helmets for urban riders.
The best commuter bike helmets ridden and rated
You can trust Cycling Weekly. Our team of experts put in hard miles testing cycling tech and will always share honest, unbiased advice to help you choose. Find out more about how we test.
Best value commuter bike helmet for protection
Specifications
Additional safety features: MIPS, Specialized's ANGi crash sensor
Sizes: S (51-56cm), M (55-59cm), L (58-62cm)
Colors: Smoke, Birch/Taupe, Deep Marine Metallic, Limestone/Birch, White/Morning Mist
Weight:
Reasons to buy
+
Great fit
+
Highest 5-Star Virginia Tech Helmet Rating
+
Astonishing value
+
Simple, unfussy design will appeal to those who like pared-down practicality
Reasons to avoid
-
Lack of vents could be uncomfortable on very hot days
The Specialized Tone MIPS has achieved an excellent safety rating and combines stylish looks with a terrific price.
Despite its almost entirely solid appearance, Specialized's design team has deftly incorporated internal channelling that keeps air moving through the helmet as you 'briskly ride along'. We found this was fine for moderate temperatures - we could actually feel the air passing through - but larger vents would be appreciated for hotter climates at the height of summer.
The vibrantly-colored MIPS liner provides a vital level of safety, and the helmet is also compatible with Specialized's ANGi crash sensor. In tests at Virginia Tech, the Tone earned a 5-star safety rating.
As a pragmatic and functional piece of kit, the Specialized Tone represents superb value for money, top-rated safety levels and comfort for commuting to work, running errands, shopping or rendezvousing with friends.
The choice of colurways - five in total - means that most people will also be able to find a shade that appeals and matches their signature wardrobe tones.
Read more: Specialized Tone MIPS commuter bike helmet full review
Best commuter bike helmet for in-built indicators
Specifications
Additional safety features: MIPS, indicator LEDs
Sizes: S, M, L
Colors: 3
Weight: 470g (M)
Reasons to buy
+
LED lights up road presence and act as indicators
+
Adequate ventilation for commuting
+
Good head coverage
Reasons to avoid
-
Quite heavy
-
Tech-heavy means the price is high
The Giro Ethos MIPS is an urban helmet style with a more enclosed design than the Cannondale Junction. We found that the 12 vents meant that there was less airflow than with a road-style helmet, but adequate for commuting.
Like many of the best urban helmets, the Ethos MIPS includes LED lights to up your road presence. In its case, they're positioned at the front and rear of the helmet, controlled by a button on the rear and USB-C charged. The lights can be controlled from the bars with a remote and will flash amber to indicate a turn.
The helmet comes with a brim, MIPS and has magnetic locking for the straps rather than a buckle. At 470g, we found the size M tested to be quite heavy.
Read more: Giro Ethos MIPS bike commuter helmet full review
Best commuter bike helmet with integrated rear light
Specifications
Additional safety features: WG11, integrated rear light
Sizes: 2
Colors: 10
Weight: 483g (L) - with rear light and visor fitted
Reasons to buy
+
Has rotational protection
+
Quite stylish
+
Light is very effective
+
Comfortable
Reasons to avoid
-
Ventilation is lacking
-
Not as budget friendly as similar helmet options
The Kask Moebius Limelight is a super stylish commuter helmet that boasts an integrated rear light, with five modes (steady low, steady medium, steady high, flashing low, and flashing high), with the low flash lasting up to 11 hours. Charging is done via USB-C keeping the helmet up to date with the current standards.
The helmet has a scratch resistant hardshell which extends down to the underside of the helmet to help prevent damage occurring to the foam body. The strap is a mix of regular nylon and synthetic leather for a more premium look and feel - and offers full adjustability around the ears and the chin.
We found that the 'ERGO' fit adjustment system made for a sublimely comfortable fit and one of the best our tester has experienced. The one let down of the helmet is that even with the large front vent and two rear exhausts the ventilation is not great, even in colder conditions.
The big thing for Kask helmets is the brand's WG11 rotational impact protection testing - which also applies to this commuter lid. Kask says that this standard is based on motorbike helmet testing together with scientifically proven methods and protocols. Helmets with the WG11 test badge have passed that well below the threshold for any brain injuries occurring in the event of a crash.
Read more: Kask Moebius Limelight commuter bike helmet review
Best commuter bike helmet for size range
Specifications
Additional safety features: KinetiCore, LED light compatibility
Sizes: S, M, L and XL
Colors: 6
Weight: 433g (M)
Reasons to buy
+
Great value
+
Smart color options
+
Big size range
+
Comfortable and good fit
+
Loads of safety tech
Reasons to avoid
-
Venting is limited
-
Safety score is not as high as higher end Lazer helmets
-
Some possible concerns about the shell coming away from the foam
The CityZen is Lazer's commuter helmet and utilises the brand's in-house KinetiCore rotational impact protection tech along with special crumple zones and a stronger plastic material which also finds use in some police riot shields.
The retention systm is Lazer's TurnSys, which we found allows for easy adjustment with a dial at the rear. The straps are also easily adjustable around the ears, as well as the overall length. Inside the padding is Polygiene techonolgy to help it stay fresher for longer - but it's also removable for cleaning and washing.
There is one large vent at the front to allow air in and four ports at the back. Even so, airflow through these is not great and the colder air tends to pool at the top of the head. It's alright in colder conditions, but don't expect it to rival road models in the heat.
The CityZen is significantly cheaper than much of the competition, especially considering the level of impact protection technology that's packed in. There is also the option to fit a light at the back with the total cost still lower than most of the competition.
Read more: Lazer CityZen KinetiCore bike commuter helmet full review
Best commuter bike helmet for eco-conscious riders
Specifications
Additional safety features: MIPS
Sizes: S (52-55cm), M (55-59cm), L (59-62cm)
Colors: Titanium, Platinum
Weight: 410g (M)
Reasons to buy
+
Solid construction
+
Integrated peak is handy
+
Rechargeable LED lights at the front and rear increase rider's visibility
+
Environmental sustainability is first-rate
+
Large vents will keep you cool on hot summer days
Reasons to avoid
-
At an RRP of $260/ £220 , budget conscious commuters may be put off despite the safety features
-
Large vents reduce the appeal of wearing on cold, wet and windy days
-
Size needs carefully checking for best fit
Combining the performance of a road helmet with street style, Bollé's top-of-the-range Halo React urban helmet features twelve large air vents and a removable fabric peak.
A commitment to sustainability is wholly evident in the Halo React, with the lining made from 100% recycled material, as is the webbing of the straps. In fact, all the plastic parts are 100% eco-nylon, the detachable peak is made from 100% recycled fabric, while water-based print and cork have been incorporated in the EPS (expanded polystyrene) and outer shell, along with 40% recycled plastic.
For commuters riding in busy traffic, extra reassurance from this well-constructed lid also comes from the MIPS safety system, which allows a multi-directional movement of 10-15mm on certain angled impacts, intended to help reduce rotational force to the head in the event of a crash.
Two further safety features are a good-sized, integral red rear light and two rows of hidden LED white lights located on either side of the central vent at the front of the helmet. Simply pressing a button at the rear of the helmet activates all the lights, with three different modes to choose from.
At around 410g (for the Medium-sized version), the Halo React does feel a little heavy, but is well balanced and feels 'solid'.
With an RRP of $260/£220, the Halo React is firmly at the upper end of the urban helmet market. However, there are some cracking on-line deals to be done and if a product that sets very high eco and safety standards, you have to ask yourself, what's not to like?
Read more: Bollé Halo React MIPS commuter bike helmet full review
Best commuter bike helmet for warmer days
Specifications
Additional safety features: MIPS
Sizes: S/M, L/XL
Colors: 3 (plus two more for the US market)
Weight: 280g (S/M)
Reasons to buy
+
Includes MIPS
+
Minivisor to increase protection
+
Reasonably lightweight
Reasons to avoid
-
Airflow through the helmet is impeded by the MIPS liner
-
Only two size options
The Cannondale Junction helmet is a lower priced option that includes quality protection features, foremost its MIPS liner. Unlike the Giro Ethos, it's more of a road style helmet with 23 vents, so might not appeal to riders looking for a more enclosed urban style.
On the other hand, the more vented design with good internal channelling leads to better airflow for more comfort when riding into town on hotter commuting days. There's a small removable peak to keep your eyes protected from the sun or rain.
Whereas many helmets offer three or more sizes, the Cannondale Junction makes do with just two, although we found the S/M a good fit with adequate adjustability. We didn't find the helmet's ventilation as good as some though, which we attributed to the MIPS liner interfering with airflow.
Read more: Cannondale Junction bike commuter helmet full review
Best commuter bike helmet for insect-proofing
Specifications
Additional safety features: None
Sizes: S, M, L
Colors: 6
Weight: 278g (S)
Reasons to buy
+
Low weight
+
Good fit
+
Insect net to front vents
Reasons to avoid
-
Bulky looks
-
No MIPS included
This value option from German brand Abus offers a removable visor for glare protection. The design sits low on the head, which offers good coverage, the fit is good and there's plenty of microadjustability via the Zoom Ace Urban retention system. There's a bug net built in to keep insects out of your hair and the chin strap has an additional covering to help prevent irritation.
Despite only having five front and three rear vents, there's decent ventilation. We did find the Macator a bulky helmet, although its 278g weight compares well with the Cannondale Junction and undercuts the Specialized Align II significantly, although unlike those helmets there's no MIPS included.
Read more: Abus Macator bike commuter helmet full review
Best commuter bike helmet for venting
Specifications
Additional safety features: MIPS
Sizes: XS, S, M, L, XL
Colors: 7
Weight: 300g (claimed)
Reasons to buy
+
Good value MIPS helmet
+
Wide vents
+
Reasonably lightweight
Like the Cannondale Junction and Specialized Align II, the Smith Signal MIPS is another lower priced vented helmet that includes MIPS protection. The outer shell is built tough enough to withstand the day-to-day knocks and bumps it might sustain in urban use.
We found Smith's Vaporfit retention system easy to use and it wraps the entire head and doesn't stop at the forehead, unlike some other helmets. We found the chunky styling wasn't quite our thing, but it's a well ventilated helmet that would serve for mountain bike use as well as gravel riding and the commute. It's good value and reasonably lightweight and comes in many sizes.
Read more: Smith Optics Signal MIPS bike commuter helmet full review
Best commuter bike helmet for Italian style
Specifications
Additional safety features: MIPS
Sizes: S, M, L
Colors: 6
Weight: 265g (M, claimed)
Reasons to buy
+
Good value MIPS helmet
+
Wide vents
+
Reasonably lightweight
The MET Vinci is towards the bottom end of the Italian brand's helmets, but still offers a stylish silhouette that has similarities to the top end MET Trenta.
The 16 vents and internal channels ensure good ride comfort. You can add MET's light that fits into the adjuster dial. Look out for sizing, as we needed to size up for a good fit.
It's a more racy-looking helmet than most others here, including the Abus Macator and the Specialized Align II, so is a great option for the go-faster commuter who doesn't want to spend a fortune on a road bike helmet.
Read more: MET Vinci MIPS bike commuter helmet full review
Buyer's guide to the best commuter bike helmets
Do I need an urban style helmet?
Urban style bike helmets have a more enclosed, rounded style than a typical road bike helmet, which may either be vented or is often now designed for aerodynamic performance. There are advantages and disadvantages to this.
If your commute is shorter and/or lower intensity, you're not going to get as hot as on a longer, harder road ride, so you may not need the venting. Your head should stay a bit warmer on a cold day.
On the other hand, once the weather and you do warm up, you may quickly find that the lack of airflow becomes uncomfortable, so a more vented design may be better. If your head is getting cold, a helmet cap is designed to fit safely under a helmet, most of which will have the adjustability to accommodate the slight extra bulk.
Do I need the extra lighting that urban cycling helmets usually include?
Urban bike helmets often include LEDs to up your visibility, at the rear and sometimes at the front and the sides too. They should up your visibility on urban roads, particularly as the lights are mounted high up and can usually be set to flash.
We'd recommend daytime running lights whether for the commute or recreational road riding to increase your visibility, so you shouldn't rely on lights in your helmet, particularly if you're riding at night, so you might consider LEDs built into your helmet nice to have rather than essential.
On the other hand, many road-style helmets like the MET and Lazer ranges let you install an optional red rear LED light in the helmet, so you don't need to do without extra illumination if you do decide to go for a road style helmet.
What is MIPS and do I need it?
MIPS is increasingly a feature of a wide variety of helmets and helmet styles at the full range of prices. MIPS helmets are consistently scored among the best road bike helmets in independent tests like those carried out annually by Virginia Tech university in the USA.
The MIPS system consists of a sliding place that, if you have an accident, is claimed to help dissipate the energy from a glancing blow to the head, lowering the rotational impact transferred to your brain.
There are other systems besides MIPS that are designed to achieve the same result, like the Wavecel tech in many Bontrager helmets and Kooyd, which is used by some helmet makers, while some brands like Kask say that their testing shows that their helmets achieve rotational impact protection without MIPS.
Do I need an expensive cycling helmet?
You can spend a lot on a cycling helmet. A more expensive helmet may be lighter or offer extra features, but every helmet sold in your country will have passed a battery of tests to prove that it is safe and offers or exceeds a specified level of protection.
Often helmets will include other features to protect you. MIPS is the most obvious, but as you can see from our selection of helmets above, even low priced helmets now often include MIPS, so there may be little benefit in spending more on a helmet for urban use.
How long can I expect a commuter helmet to last?
Helmets good for commuting will generally be tougher than those designed for racing, so scuffs and scrapes shouldn't affect their safety. But if you drop or dent your helmet or it gets gouged, its structure could be affected and it might not protect you in a crash, so you should replace it.
If you do have an accident while wearing your helmet, that also means that it should be replaced, even if damage is not visible. Some helmet makers offer a discount on a replacement for a helmet that has been damaged, so read the small print to see if yours is covered.
Cycling helmets have a finite lifespan, as the EPS foam tends to degrade over time with use and exposure to sunlight. Extreme temperatures will also affect longevity, so don't leave your helmet in a window or in a car on a hot day.
Manufacturers recommend that you should replace your helmet after around three to five years.
If you have other questions that we haven't answered here, check out the buyer's guides at the bottom of our posts on the best road cycling helmets and the best budget cycling helmets. We've also got an explainer on the differences between low priced and premium road bike helmets.