Tips for cycling and training in the dark (video)
Don't let the sun go down on your training with these tips on riding after dark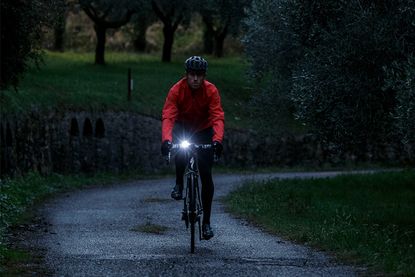 Get The Leadout Newsletter
The latest race content, interviews, features, reviews and expert buying guides, direct to your inbox!
Thank you for signing up to The Pick. You will receive a verification email shortly.
There was a problem. Please refresh the page and try again.
The clocks are about to go back and despite temperatures not quite hitting the lows of winter just yet, the number of daylight hours has reduced drastically.
But training and cycling in the dark is still an option as well as being a great way to stay focused for those who struggle with motivation when it comes to indoor turbo trainers or rollers.
The first step is to make sure both you and your bike are visible. If you ride purely under the street lights of an urban environment then it's likely you'll just need front and rear lights that mark you out to other road users.
Poorly-lit rural rides will demand more powerful front illumination to pick out verges and road hazards such as potholes.
Here at CW we're big fans of running a rear light on a pack or on the back of the helmet. Think of it as a high-level brake light — any extra chance of being seen is worthwhile.
>>> Buyer's guide to rear lights
Wearing reflective clothing will dramatically improve your visibility. By law you will also need to have front and rear reflectors, as well as amber reflectors on the pedals.
Though few of us abide to this somewhat antiquated law, it's worth bearing in mind as several insurance companies have cottoned on to the fact that most keen cyclists throw the reflectors in the bin and that most clipless pedals don't have them in the first place.
The essentials
Decent lights and reflectors are a must
Do short laps rather than a long loop; short-cuts home can be useful
Wearing reflective clothing increases your visibility to other road users
Plan your training
James Millard, performance director at Cyclism Coaching, highlights the importance of making your training sessions suitable for night rides. "It is crucial to control the sessions themselves to suit the rider's needs and weather conditions.
>>> Seven tips to get your bike ready for winter (video)
"For example, when riding in the dark, an ideal session may be to complete hill repetitions on a well-lit road. This could prove wiser than trying to complete an interval ride on a long route on roads that are less than ideal for riding or training at the high intensities in the dark."
Tim Kennaugh, coach, has a few other pointers for night rides: "Try to pick a route you know well, avoiding lanes with lots of corners where you might not be seen by other road users until it's too late. If you are familiar with the route there's a fair chance you'll know where all the potholes are.
"It's also good to go training with a friend so you're not out there alone."
Key points
Do have multiple lights, varying from ones that alert other road users to your presence to lights that are strong enough to illuminate the road ahead
Don't ride in the gutter when riding in the dark as this is where the majority of road debris will go
Do remember to take spares on a night ride — riding in the dark could hide hazards such as potholes and broken glass that can cause punctures or other mechanical problems
Do ride with fellow cyclists so you can be seen more easily
Don't assume you have been seen by other road users
Do wear bright colours such as white and yellow instead of black to make yourself more visible
Thank you for reading 20 articles this month* Join now for unlimited access
Enjoy your first month for just £1 / $1 / €1
*Read 5 free articles per month without a subscription
Join now for unlimited access
Try first month for just £1 / $1 / €1
Get The Leadout Newsletter
The latest race content, interviews, features, reviews and expert buying guides, direct to your inbox!
Paul Knott is a fitness and features writer, who has also presented Cycling Weekly videos as well as contributing to the print magazine as well as online articles. In 2020 he published his first book, The Official Tour de France Road Cycling Training Guide (Welbeck), a guide designed to help readers improve their cycling performance via cherrypicking from the strategies adopted by the pros.