Best cycling caps 2023: If you want to get ahead, get a hat
Perfect for protecting you from both sunshine and rain - the cycling cap is a staple of any cycling wardrobe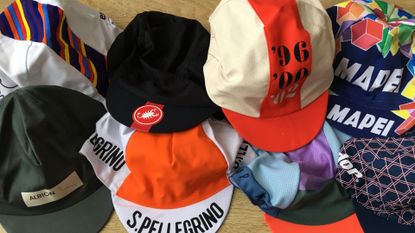 (Image credit: Luke Friend)
Best cycling caps 2023: Jump Menu
The cycling cap, or 'La casquette' in French, might be basic in its construction but it serves multiple purposes. Its threads are woven into the very fabric of cycling, acting over the years as both protection against the elements as well as a billboard for team sponsors.
Today it's as relevant - and functional - as ever. While the advent of helmets in the professional peloton has reduced the amount of airtime it receives at the WorldTour level, it still makes a regular appearance on winning podiums, a reminder of cycling's long history.
The best cycling caps sit neatly under the helmet meaning they can shield you against the sun without adversely affecting your safety. The little peak is its calling card and crowning glory; correctly proportioned it fends off glare without restricting the view of the road ahead. Worn backwards. along with one of the best cycling sunscreens smeared on your neck, it protects against sunburn that can be an unwanted reminder of a long day in the saddle. Even when the days shorten the cycling cap serves a purpose, helping to keep your head warm while also working to keep the rain from your eyes.
The sheer number of different caps currently available is testimony to both its enduring legacy and its ability to get the job done. If you've not got one, you're missing a trick. Though simple, all cycling caps are not made equal. So here are some of the best...
The Quick List
The Best Cycling Caps 2023: Our picks
Best lightweight cap
1. GripGrab Summer cap
lightweight and breathable for the hottest rides
Specifications
Size: S/M, M/L
Colours: 18 colour options
Material: 100% polyester
Reasons to buy
+
Effective protection against the heat
+
Comfortable fit under a helmet
+
Wide range of colours
Reasons to avoid
-
Headband could be softer
GripGrab's lightweight summer cap is a worthy addition to the growing list of cycling caps that are designed for hot weather riding.
It's made from a breathable mesh fabric that also delivers UV-protection. As the name suggests it's so light you're likely to forget you're wearing it - just 23 grams on our scales. Coupled with the snug fit it makes for a cap that's unobtrusive when worn under a helmet.
Importantly the cap performs. I wore it on a couple of rides where the temperature exceeded 26 degrees C and it did a stellar job of soaking up the sweat, cooling my head and also adding some protection for my eyes. Even though I was wearing sunglasses the peak provided another layer; it was just the right size and shape to shield my brow and eyes, without adversely impacting my view of the road ahead.
In short, it's a cap I'll happily use throughout the summer months.
Best wet weather cap
2. Sportful Fiandre No Rain cap
Waterproof design for wet-weather riding
Specifications
Size: One size
Colours: Black, orange
Material: 100% polyester
Reasons to buy
+
Material protects against rain
+
Lightweight and comfy to wear
+
Fit nicely under a helmet
Reasons to avoid
-
Only offered in two colours
While cycling caps are often used to protect your noggin against the sun, they can also be called into action when the weather is a little cooler. Italian brand Sportful has taken this idea and run with it, creating the Fiandre No Rain cap.
As the name suggests it's a waterproof cycling cap built for wet weather riding. To make it road worthy Sportful uses its No Rain technology, which features a PFTE membrane that's designed to combine breathability and waterproofness. Turning the cap inside out reveals fully taped seams as well a super soft headband. I've worn it in some pretty heavy downpours, in steady rain and squalls and it works.
Despite its waterproof properties the cap's fabric is also extremely soft, enabling it to fit snugly under a helmet. This is also aided by the cap's construction: it takes a three-panel approach which really allows the cap to mould to the shape of your head. Elsewhere the peak is nicely sized and once on it's easy to position it low, ready to deflect those unwanted raindrops from your eyes.
Best for hot weather
3. Castelli A/C cap
Mesh cap to keep your head cool when temperatures rise
Specifications
Size: One size
Colours: Black, white, red
Material: 100% polyester
Reasons to buy
+
Very lightweight and breathable
+
Snug fit ideal for wearing under a helmet
Reasons to avoid
-
Mesh design perhaps not well-suited for wearing off the bike
At the opposing end of the scale to Sportful's Fiandre No Rain cap sits the Castelli A/C cap. This is one for hot weather rides, when a regular poly/cotton cap can be a little too much, or for indoor training when you want something to wear a cap to absorb sweat but don't want your head to boil in the process.
To prevent your head from overheating Castelli have opted for a lightweight polyester mesh. Both in look and feel it reminds me of a summer weight baselayer and it's designed to function in much the same way, wicking moisture away while at the same time allowing for a free flow of air. Being a hat it also offers protection against the sun's rays too.
The choice of material means the cap weighs just 33 grams, with most of that coming from the peak, and fits closely to the head. Once on and under a helmet I barely noticed that I was wearing it. As for that peak, it's generously sized to protect your eyes and features Castelli's iconic scorpion logo on one side and its Rossa Corsa logo on the other. It's a cap that I'll be reaching for on long, hot rides this summer.
There's the traditional elastic strip at the back to help it adjust to different head shapes and sizes. The inner-band has anti-bacterial properties and is also really soft against the skin, in contrast to some caps. Considering that you could be wearing the cap for several hours at a time, both these elements are winners. There are also structural bands inside the cap, raising the quality of construction and likely improving its durability too.
Best team replica
4. Prendas Mapei cycling cap
Iconic team colours faithfully reproduced
Specifications
Size: One size
Colours: Mapei team colours
Material: 65% polyester, 35% cotton
Reasons to buy
+
Faithful reproduction of an iconic cap
+
Traditional shape works well on and off the bike
+
Durable heavier weight fabric
Reasons to avoid
-
Inner headband isn't particularly soft
If you're of a certain vintage this Mapei cap from Prendas will bring back memories of one of pro cycling's true super teams. Between 1993 and 2002 the Italian-based squad racked up 653 victories with the colourful cubes perhaps never more resplendent than during the '96 edition of Paris-Roubaix when the team swept the podium, led by Johan Museeuw in the first of his three victories at the race.
As for the cap itself it's a traditional affair befitting its retro roots. Made from a blend of 65% and 35% cotton in Italy it sticks to the tried-and-tested shape of team race caps. This means an elastic band at the rear, a basic inner headband and a nice bit of 'luft' thanks to the eight stitched seams.
The material and the inner band aren't as soft as some others in the guide. While this means that it doesn't feels quite as nice against your forehead it does enable the cap to keep its shape, making this a good choice if you also plan to wear it off the bike. The heavyweight fabric, which would appear to be very durable, is also probably better suited to cooler weather rides. One for cycling historians, retro enthusiasts or lovers of colourful designs.
Best retro cap
5. Prendas Milk Race cap
Nicely made cap that pays tribute to the classic British bike race
Specifications
Size: One size
Colours: White with colour detail
Material: 65% polyester, 35% cotton
Reasons to buy
+
Has plenty of sentimental value for British cycling fans
+
Well-proportioned cap and peak
+
Soft headband wicks sweat and adds comfort
Reasons to avoid
-
A white cap is difficult to keep clean
Prendas is renowned for its extensive selection of retro cycling caps. Its Forgotten Races series pays tribute to classic bike races of the past, including our very own Milk Race. For many cycling fans this British stage race was their first exposure to professional racing, meaning this cap has plenty of sentimental appeal as well as style points. I can certainly remember standing roadside in the early '80s waiting patiently for the riders only for them to fly by in a 'now you see it, now you don't' blur; these fleeting seconds leaving an indelible mark however.
The Milk Race cap uses design elements from the race's history. There's a colorful strip that runs vertically across the top of the cap and onto the visor. On the right hand side there's the 'jumping cow' logo that was used in the '70s and '80s on race programmes and other paraphernalia, while the left features a Prendas logo. Finally, flip the visor up and you'll reveal the 'gotta lotta bottle' type that was used as a Milk Marketing Board slogan in the 1980s.
The cap's structural design differs from the previous Prendas design in this guide, and for me, it's an improvement. It uses a central panel with four stitched seams. However this still affords the cap plenty of shape. Other differences include an anti-bacterial headband, which is noticeably softer against the forehead. Like the Mapei cap it is made from cotton-poly blend. All in all a lovely cap that's fit is as good as it looks.
Best for smaller heads
6. Condor Geometric cap
A smaller fitting traditional cap with a striking design
Specifications
Size: One size
Colours: Blue with pink detail
Material: 100% cotton
Reasons to buy
+
Eye-catching design
+
100% cotton fabric
+
Very comfortable sweat-wicking headband
Reasons to avoid
-
Could be a little tight on larger heads
Condor Cycles first opened its doors in London in 1948. Some 75 years later and it's still as relevant as ever, with the Grays Inn Road store remaining at the heart of its business. It's fair to say it must have sold a few cycling caps along the way, so it's rather fitting that this omnipresent piece of kit remains a part of the brand's essentials range to this day.
It currently offers a number of different patterns but we've opted for the fetching blue and pink Geometric cap. The design is complemented by Condor logos on both sides of the caps as well as on both sides of the reinforced peak.
It's made in Italy from 100% cotton and uses a three panel structure with two side panels and vertically-running central panel. As with most cycling caps it's a one size deal, with the classic elastic band used to ensure it fits most heads. It also features a sweat-wicking headband that's on-par with the softer bands featured in this guide.
It's a snugger fit that the both the Predas caps for example, ensuring that it works well underneath a cycling helmet. However for heads with a large circumference it might prove a tight squeeze. That said, there's just about enough material here that you can still do your best Beppe Saronni impression should you ever feel like channeling the Italian champion, who was renowned for wearing his cap with bags of style and also plenty of luft!
Why and how to wear a cycling cap
What is the point of a cycling cap?
A cycling cap is designed to offer protection against the elements when riding your bike. Because of its structure it can fit comfortably under a helmet, keeping the sun off your head or adding a layer of warmth during the colder months. The brim or peak helps to shade your eyes or protect them from the rain.
The structure of the cycling cap also allows it to be easily folded and tucked neatly into a jersey pocket. Alongside the best cycling vests and gilets it's an indispensable item for those who prize practicality in a lightweight package.
Why do cycling caps have short brims?
The short brim or peak is shaped so as to provide enough protection from the sun's rays without obscuring a rider's vision. Due to its small size it can also be easily flipped up, hence why brands and sponsors will often place a logo on the underside of the brim.
Can you wear a hat under a cycling helmet?
Yes. Cycling caps are typically constructed from a lightweight material and are designed to fit close to the head so they can easily be worn underneath a cycling helmet.
What is luft?
Luft is German for 'air' or 'space' and in cycling terms it relates to how high the cycling cap sits on your head; the higher the cap rests on the head the more space there is. A cap worn with plenty of luft isn't easy to pull off though. It needs to sit just so, with the peak at an appropriate angle.
If you need inspiration or tips then you'll need to take a spin down memory lane to a time when cycling professionals weren't required to wear helmets during races. This meant that the cap was always in the shop window, encouraging the riders to show off the team sponsors in style.
The debate to 'who wore it best' might never be settled but there are some notable figures who took cap wearing to the next level.
Sean Kelly must feature on any list of great cycling cap wearers. The King wore his cap both to the front and the back, and with the peak up and down. But whichever way it faced there was always plenty of luft.
The aforementioned Guiseppe Saronni used his voluminous hair to great effect, with his cycling cap perched atop his bouffant. How it stayed on during a race we'll never know, but it did with Saronni continuing the Italian tradition of wearing caps with luft, style and confidence.
Like Kelly, no list is complete without Miguel Indurain. Big Mig had lots of luft too but also managed to get the peak of the cap to sit nonchalantly over his brow in such a way that he made his own; so much so it's hard to think of the Banesto colours without picturing Indurain powerfully pedalling his way to another victory while wearing a perfectly positioned casquette.
Other riders who excelled at making the humble cycling cap a crown include Eddy Merckx (peak up and down), Franco Balmamion (peak up) and José Manuel Fuente (maximum luft).
Get The Leadout Newsletter
The latest race content, interviews, features, reviews and expert buying guides, direct to your inbox!
Luke Friend has worked as a writer, editor and copywriter for twenty five years. Across books, magazines and websites, he's covered a broad range of topics for a range of clients including Major League Baseball, the National Trust and the NHS. He has an MA in Professional Writing from Falmouth University and is a qualified bicycle mechanic. He has been a cycling enthusiast from an early age, partly due to watching the Tour de France on TV. He's a keen follower of bike racing to this day as well as a regular road and gravel rider.