Best kids' bikes: tips for choosing a children's bike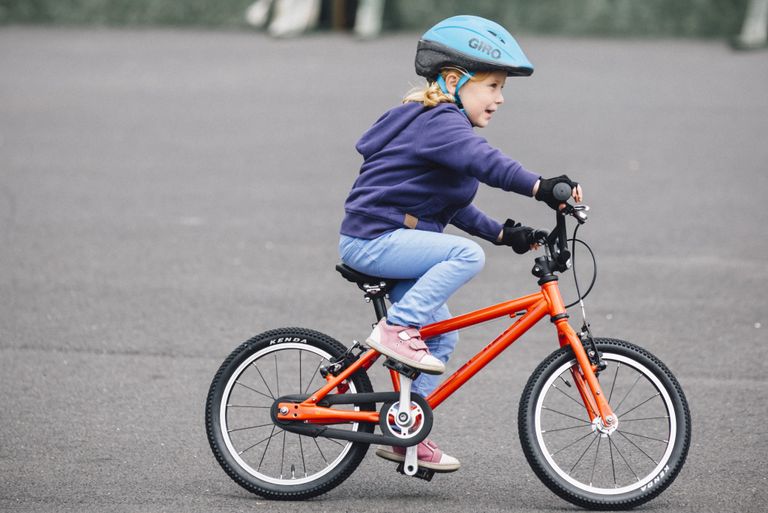 Choosing the best kids' bike for your child is a serious business. If it's your child's first bike, you want to make sure that their premier cycling experience is joyful, and that they have the best kid's bike in order that they can discover how much fun life on two wheels can be.
In order for your child to be comfortable and in total control when cycling it's vital to get the best kids' bike for them, which ultimately means one that fits them. With the cost of bikes and the speed at which children grow, there's a huge temptation for any parent is to buy a kids' bike that their child will 'grow into'. But this will backfire and will have your child in tiers of frustration as they attempt the impossible task of trying to ride a bike that's far too big and heavy for them.
It's worth noting that many kids bikes will be branded as off-road or mountain bikes until the wheels start getting to around 650b (more on wheel sizes below). Even if you are the most hardened of road riders, or have never dabbled in the mud yourself, don't let a label put you off! Realistically these are more akin to hybrids, and will provide a child with the ability to experience all kinds of riding. The important thing at this age is to regularly get kids out on two wheels for lots of exploring and adventuring by bike.
Features to look for in best kids' bikes: quick tips
Pay attention to weight: heavy kids' bikes represent a large percentage of the child's weight (see table below for weights on recommended bikes)
Don't buy a bike for a child to 'grow into': it'll gather dust - quality kids' bikes hold their value in resale anyway
Look for bikes with gear and brake levers that are child specific, smaller and easier to use
Avoid multiple gears: double chainrings (front gears) add weight and complication
Avoid suspension until pre-teen years: it adds weight and they often aren't heavy enough in the upper body to use it
Remember to leave some cash for a kids' bike helmet
What size kids' bike should I choose?
There are two ways to shop for a kids bike; age or wheel size.
We've broken our best kids' bikes buyer guide into age categories, but remember this is worked out on average heights and leg measurements, so we've also included a hand quick link table to help find the right size category by wheel size too.
It's important to recognise that every child is different, especially in terms of height and development. Our age categorisation is just to help you find the right ballpark, for the average journey, but remember, only move to the next stage when your little one's legs are ready.
For children younger than three, check out our page on the best balance bikes for toddlers, these are excellent starter bikes that help children learn the skills of cycling before they're ready to pedal.
With each product is a 'See more' or 'Best Deal' link. If you click on this then we may receive a small amount of money from the retailer when you purchase the item. This doesn't affect the amount you pay.
| | | | |
| --- | --- | --- | --- |
| Age (years) | Wheel size (inches) | Height (feet / cm) | Inseam (inches/ cm) |
| 18mtns + | 12" | 2'10 - 3'4ft / 86 - 101cm | 14 - 17" / 35 - 43cm |
| 3+ | 14" | 3'0 -3'3ft / 92 - 98cm | 13.4" - 14.7" / 34 - 38cm |
| 4+ | 16" | 3'5ft/ 104cm | 16.5" / 42cm |
| 4-6 | 20" | 3'7 - 3'11f t/ 110 - 120cm | 18.5 - 20.5"/ 47 - 52cm |
| 7+ | 24" | 4'2ft / 127cm | 22.4" / 57cm |
| 8+ | 26" | 4'5ft / 135cm | 24.4" / 62cm |
| 10+ | 27" | 4'9ft + / 146cm+ | 26.7" + / 68cm + |
Best kids' bikes: Ages three to five
In this age category, bikes will have pedals and a chain to drive the wheels. Gears aren't really needed at this age, as they will add weight to the bike, and un-necessary complication.
At this age it's all about learning the basic skills of pedalling and controlled breaking, without the added mental challenging of changing gear.
Tyres will often be multi-use and wheel sizes usually measure between 14 to 16 inch, but very occasionally 12 inch.
Cleary Bikes Gecko 12"
Specifications
Age: Toddler - 4yrs
Weight: TBC
Cost: $310 (US and Canada only)
If your little one shows a keen interest to get pedalling early than at just 12" wheels, the Cleary Gecko is the ideal kids bike for them.
Having mastered balancing, the Gecko will add in pedals and brakes to give even the smallest of riders the joy of fully riding a bike.
With just one gear, the Cleary is designed to allow children with an inside leg measurement of up to 18" to enjoy a comfortable set up, so a great bike to enjoy for a couple of years, if starting at the smallest 14" inside leg measurement.
There are four bold colours to choose from, and even a handle under the saddle for you to help them get started, The only downside is that the steel frame and fork won't be the lightest, especially for the smallest of riders.
Woom starter kids' bike
Specifications
Ages: 3-6
Weight: from 12.3lbs/ 5.6kg
Cost: from $359/ €299
Pedal bikes from the Austrian brand start at 14" wheel size and go up to 16" before gaining gears, so is the perfect kids' bike to really nail the basics of bike riding before adding the additional complication of shifting.
Woom say the lightweight Aluminium frames have been geometrically designed for kids, with a low frame design, meaning getting on and off is easy and a low sitting position all helps add to the bike's controllability. Add to this the steering limiter, a detachable rubber ring to help steering stabilisation and prevent over turning all help enhancing a child's riding confidence.
There are several bright colour choices available and the chance to accessorise with bells and bottles.
Islabikes Cnoc Starter Bikes
Specifications
Ages: 3 - 4+
Weight: 11.46lbs - 14.55lbs/ 5.2-6.6kg
Cost: from £399.99 / $vairous
The cream of the crop for the best starter bike. The Islabike Cnoc range is Islabikes' smallest pedal bike and mostly constructed using proprietary elements developed just for kids.
There are three beautiful colour choices for the bike ideally suited children from three to four years +. Wheel sizes vary from 14 to 20 inches, ideal for tall young riders, or kids who started their cycling journey a little later.
All Cnoc bikes feature a chainguard, to help keep little hands safe, and singlespeeds, meaning there's no gears to change allowing the child to focus purely on learning to pedal, balance and control the bike.
The only down side is that Islabikes have stopped its USA operation, making them tricky to source if your that side of the pond. The good news is, however, that they often come up on ebay, and because kids grow so fast at this age, they're often in mint condition.
Specifications
Age: 4-6 (aprox)
Weight: 13lbs - 22.48lbs/5.9kg - 10.2kg
Cost: from $435/ £290
Reasons to buy
+Cost+Relatively lightweight+Variety of wheel sizes+Variety of Colours
Reasons to avoid
-No chain guard
Designed by the multiple Olympic gold medallist Sir Chris Hoy, the Hoy Bonaly is the ideal kid's bike for straddling a couple of categories age wise.
Acting a great lightweight starter bike for children from four years old, it is available in wheel sizes up to 24", gaining rear gears at the 20" wheel version, allowing your child to grow with the brand, which is exclusive to Evans Cycles.
There are three bold colours in all sizes of the Hoy Bonaly, which is named after the area where Sir Chris first rode a bike, which come with aluminium tubing, low weight components and use micro-drive gearing to help reduce weight further still. The 14" wheel version even comes with an extra small brake leaver for tiny hands to master.
Frog 40 starter bike
Specifications
Age: 3-5
Weight: 13.88lbs/ 6.3kg
Cost: $360/ £290
Designed for three to around five-year-olds, this a great kids bike for the smallest of riders in the household.
The smallest of the Frog pedal range, which extends to Frog 48., the Frog 40 comes with 14" wheels and the addition of Tektro brakes, which Frog say are small and easy to reach, allowing full rider control and helping to improve bike riding confidence.
With just one gear, the overall weight is kept minimal and keeps riding complications low, allowing a love of simply riding to develop.
With six colour options, including a multicoloured spotty option, it offers probably the biggest choice on the market, keeping even the most demanding of colour pallets content.
Vitus 16 Kids Bike
Specifications
Age: 3-5
Weight: 14.99lbs/ 6.8kg
Cost: $259.99/ £229
Another perfect kids' bike for the grand tour wannabes. Designed for riders around three to five-year-olds, the Vitus 16 Kids Bike is actually the second smallest of the range, which starts at 14", going all the way up to a 26" wheel size bike, with rear gears getting added at around the 20" wheel stage.
The Aluminium bike comes with short reach Tektro brakes and All-Purpose Vee Speedster tyres, which Vitus say are equally happy on hard pavement or off-road trails.
A great progression from either a balance bike for a taller little one, or a size up grade from a 14" wheel starter bike, without the overly complicating things and with three class colourways to choose from, there should be an option for every rider.
Best kids' bikes: ages five to ten
Of course, children will grow a lot in this age bracket - and wheel sizes usually start between at 16 inches and go up to 27 inches - which is the start of a adult bike wheel (commonly referred to as 650b).
Most brands will estimate the wheel and frame size ideal for each age. But clearly children grow at different rates, so check the size guide and ideally organise a test ride so you can be sure the bike fits and is actually the best kids' bike for the rider.
At this age, children have usually started to develop the ability to master more than pedalling and braking, along with the urge to want to explore the world a little more and ability to ride further, it's often the size that gears will be added.
At the younger / smaller wheel size range of this category it's still worth limiting the amount of multitasking to just including rear gears. These will be more than enough to help negotiate any obstacles and gentle terrain changes.
As the age bracket go up and wheel sizes increase, additional gears can be added in the form of two chain rings at the front, so right and left hand gear leavers.
At the 24" wheel size, bikes start to resemble adult size, so it's not uncommon to see the introduction of disc brakes and front suspension, although it's worth having a more detailed read on these additions lower down this page before investing in an all singing all dancing bike.
Specifications
Age: 5-10
Weight: 16.31lbs -20.28lbs/ 7.4-9.2kg
Cost: various / £499.99 – £549.99
The Islabike Beinn range covers a large age group, from five to ten years old, with wheel sizes between 20" to 26" available.
We love the multi-purpose experience on offer with the Beinn, finding it one of the best kids' bikes for hitting both smooth tarmac or the off-road trails thanks to it's well balanced geometry and tyre choice.
A single front chain ring is paired with a good spread of gears at the back, which when combined with the Aluminium frameset and bespoke kids size components, keeps the overall weight low, minimises shifting complications and keeps maintenance low for the adults.
There are four bold colours to choose from, which should keep even the pickiest of riders happy.
Co-op Cycles REV 20 kids' bike
Specifications
Age: 4-6
Weight: 20,1lbs /9.13kg
Cost: $209 (US only)
With its lower price tag, the Co-op Cycles REV 20 is the perfect kids bike for anyone with a smaller budget and for longer legs still adjusting to life pedalling on two wheels.
Boasting an Aluminium frame, there are two brake options for the rider of the 20" wheel bike, hand and a coaster brake while the rider adjusts to manual control. With just one gear, the REV 20 is ideal for any riders who aren't looking for the added complication of changing gear just yet, and will also keep maintenance low for the adults too.
There is also a Co-op Cycles REV 20 6-speed option which does increase the price by $130 and weight by nearly 4lbs, but you also gain highly regarded Shimano Tourney gears and mechanical disc brakes.
Colour choices are limited to just the green in the REV 20 and Blue in the REV 20 6-speed, but you do get a sticker pack with the former for individual customisation.
Cleary Bikes Owl
Specifications
Age: 4-6
Weight: 19.1lbs / 8.66kg
Cost: $425 (US and Canada only)
The 20" bike gains size but, thanks to the single gear set up, there's no shifting complications making this a great kids bike for a rider still working on mastering the foundations of balance, pedalling and braking.
Build for multi-terrain, the geomatey has been specifically designed for kids, meaning the steel frame and fork offering will be stable to help build rider confidence.
It will be heavier than the top end bikes in this size, but is also a $100 or so cheaper, and with well known components from the likes of Tektro, the well respected brand will still provide a lot of fun for any novice rider.
The only real downside is that it's limited to North American sales and only blue or pink colour choices.
Specifications
Age: 5 - 14
Weight: (from) 19.3lbs/ 8.75kg
Cost: $510 /£350
Reasons to buy
+Light weight+Good spec, tailored to smaller people
Reasons to avoid
-Narrow selection of gears may make small legs struggle on bigger hills
Hybrid title bikes are incredibly popular among adults for their versatility in combining the best of road and MTB design - making these great kids' bikes for and off-road.
All models feature a single chainring with 32-34 teeth, with a wide spread of gears at the back to allow kids to tackle more challenging terrain, as well as increase speed on the flat.
The great thing about Frog bikes is the size range, starting all the way back at balance bikes, then starter bikes and then this model starts at the Frog 52 with 20" wheels, and extends to the Frog 78 with 26" wheels. So if you do become so accustomed to the range you really can grown with the brand.
One of the biggest things we love about Frog bikes are the bold colour ways, there are generally between four and seven colour choices depending on the model, and often specials/ limited editions, such as the bright yellow Tour De France Range.
Raleigh Pop 20
Specifications
Age: 6-10 (approx)
Weight: TBC
Cost: £279.99 / $375
Taking design cues from the 1970's, this is the perfect kids's bike if you want the retro look. The Raleigh Pop is an aluminium framed bike and cro-moly (steel alloy) forks from the well known and loved brand.
Selected the highly regarded Shimano Tourney 6-speed to drive the bike with adjustable child specific brake leavers for stopping, and teamed with 1.5" puncture protected tyres, suitable for mix terrain riding, means this bike has function as well as form.
The only down side is that the colour choice is limited and for kids in the US, there's a rather large price tag to go with it.
Specifications
Age: 6-10 (approx)
Weight: from 17.19lbs/ 7.8kg
Cost: from $430/ £349
Reasons to buy
+Lightweight+Tough+Simple to use+Grown-up colours+Competitively priced+Should hold its value
Reasons to avoid
-None, according to our six-year-old tester: "I like everything"
For cycling parents looking for a 'proper' bike for their future Tour de France champion the Giant ARX ticks all the boxes and is competitively priced too.
There are two wheel sizes to choose from, 20" and 24", with both size bikes made from the same Aluxx-grade aluminium as the grown-up bikes meant we found the Giant ARX 20 fast, fun and light on test.
Child specific geometry means the bike has a lower centre of gravity which helps with stability and versatile tires that allows for two wheel adventures on rough roads, paths and even some dirt.
Lightweight components are sized specifically for young riders, but colour choice is limited to just two.
Frog Road
Specifications
Age: 8-12 (approx)
Weight: from 19.4lbs/ 8.8kg
Cost: from $670 / £490
Available in both 20" or 24"wheels makes the Frog road one of the smallest dropped bar road specific bike for kids.
The 9-speed 34t - 12-27t geared Aluminium Alloy road bike is reasonably lightweight . Despite it's name, the Frog Road comes with plenty of tyre clearance so popping a pair of knobbly tyres for a bit of cyclocross action is easypeasy.
Narrow and short-drop child-specific handlebars and 9-Speed gears with Microshift short-reach brake levers making braking easier and more comfortable for smaller hands. On the larger model an additional chainring (34/42T) is fitted to double the number of gears.
Vitus 24 Kids Bike
Specifications
Age: 8/9+
Weight: 20.72lbs / 9.4kg
Cost: $379.99/ £319.99
The 24" wheel bike is a good balance between a road and off road option, with the aim of allowing kids to build confidence, control and agility on mixed terrain.
The Aluminium frame and fork is teamed with a mix of components, which has helped keep the over cost of the bike down, but keeping with known brands such as Shimano and Tektro makes the Vitus 24 a first-rate kids' bike for the money.
The 9-speed 32t x 12/32t cassette gearing ratio should be enough for most climbs, without sacrificing speed on the flat. It's an ideal transition on to either road or off road adult bikes, but colours limited to three.
Salsa Journeyman 24
Specifications
Age: 8/9
Weight: 23lbs/10.4kg
Cost: $899
As our range guide states, there are few bike brands as synonymous with the gravel and bikepacking scene than Salsa Cycles. We are genuinely thrilled that the much loved brand has a dedicated model for youngsters, making the Journeyman 24 the leading kids' bike in the gravel and adventure category.
The 24" wheel Aluminium frame and fork is paired with 9-speed micoShift Advent and mechanical disc brakes, a rare find in this size bike.
The multi-terrain bike uses a single chain ring and 9-speed rear cassette with a wide spread to which should balance flat riding at reasonable speed and the ability to tackle most climbs, with or without cargo.
The frame has a variety of cargo mount options including both fork pack and rear rack mounts. Colour choice is limited to red or teal, but the bike is so beautifully presented, even the pickist of riders won't help but fall for one or other colour options.
Best kids' bikes: 10 years+
Woom 6 kids bike
Specifications
Age: 10+
Weight: 22.1lbs / 10.02kgs
Cost: $529.00 (North America only)
Keeping the same design as the smaller wheeled options, the Woom 6 retains the simplicity of a single chainring and a SRAM twist grip shifter for selecting one of the 8-speed rear sprokets, which also helps keep the over weight down.
Woom say that the lightweight Aluminium frame bike also keeps the age-specific geometry, such as the low centre of gravity for stability, ergonomic contact points and the adjustable Vario stem which allows the rider to keep their ideal riding position as they grow with the bike.
It's great to see a choice of four colour ways at this size bike.
Ridley Road Race 26" kids' bike
Specifications
Age: 8+
Weight: TBC
Cost: $829 / £TBC
With 26" wheels the Ridley Road race will be the perfect kids' bike for racing and riding longer distances. The Aluminium frame and fork is paired with highly regarded Shimano Claris drive train, which includes a double front chainring, giving 16 gears in total, which thanks to their wide spread means that even the most challenging of terrain is surmountable.
Likely to be the last stop before moving over in to the adult bike catagory, the Ridley Road Race 26" has been built using child specific geometry, meaning a stable and confident inspiring ride, with but performance driven to aspire to podium finishes, in either the road or cyclocross races depending on your tyre choice.
The compact dropped bars keep a mini V rim brake set up, but mean transitioning on to an adult size bike will be swift and simple. The down side is that it seems hard to come by outside of North America.
Islabikes Luath Road and Cyclocross bikes
Specifications
Age: 8-13+
Weight: from 18.29lbs - 20.7lbs / 8.3kg - 9.4kg
Cost: $various/ £799.99
Technically the Islabike Luath should straddle a couple of age brackets as it's comes in three sizes 24", 26" and 700" (considered and adult bike sized wheel).
Popular among junior racers, the much loved brand of bikes supports youngsters in their early road and criterium races as well of off-road and in cyclocross exploits.
The chainrings remain single - ranging from 34 to 36 tooth depending upon wheel size - with large rear cassettes to allow for plenty of gear changes. Mudguards and pannier racks can be fitted, to make a perfect kids' bike for family-holiday touring on or off road.
Colours are much more muted at once kids bike reach this size, but for an additional £9.99 you can add your name to the top tube.
Again, as with all Islabikes, North American purchases are tricky to come by, but certainly worth keeping an eye on ebay and other selling sites to jump on one if it comes up.
Cannondale Quick 24W kids' bike
Specifications
Age: 8+
Weight: TBC
Cost: $465/ £400
The 24" wheels of the Aluminium frameset is a great stepping stone between kids and adult bikes. The lower gearing of 30T chainset and a 11-28 &-speed cassette will is a good introduction to gears to get up the hills without the over complication of a double chain ring.
It's a bit of a pick'n'mix of branded parts, with both Promax and Shimano making an appearance, but you know that with a highly regarded brand such as Cannondale it will be a great bike for any mini shreader.
Like most bikes in the bigger sizes, colours do become limited, and this time it's just to the one - what Cannondale call Acid Red.
B'Twin Triban 100 Junior Road bike
Specifications
Age: 9-12yrs
Weight: from 22.48lbs/ 10.2kg
Cost: £299.99 / $499
The adult Triban bikes have almost a cult like following, with their performance and cost hard to beat, and with all scoring nines or tens in our cycling weekly reviews, we're big fans too.
The Decathlon house brand junior range uses 7-speed 40t/ 4x28 Shimano drive train, with double Tektro brake leavers, for stopping and speed modulation from the handlebars and hoods.
The Junior version sports 650b (27.5") wheels, but in the US only a 700c version is available, which will make it only suitable for slightly taller riders, but keeping the single front ring means it's still keeps things simple. Both version also still come with an Aluminium frame, with a quick release wheels (front only for Junior version) for ease of transport and storage the Triban lifetime guarantee on frame, handlebar, stem and fork.
Read more: Decathlon bikes range: guide to Triban and Van Rysel bikes
Best kids' bike: Specialist bikes
Best kids' bike: Specialist bikes
Frog 58 track bike
Specifications
Age: 6-14
Weight: 14.9lbs - 17.12lbs/ 6.78- 7.77kg
Cost: $450/£305
For children who love to ride the track, there's a range of three bikes from Frog. They all feature short drop handlebars, 114m patented short cranks, quick release seat posts and Kenda track tyres with a flip flop hub to allow for fixed and free-wheel riding. Sizes start at 58 and extend to the 70.
Black Mountain bikes
Specifications
Age: 2.5 - 6+ yrs
Weight: TBC
Cost: £349 (UK/ EU only)
Black Mountain is doing something a little different. Launched in 2018, it offers bikes that grow as easily and quickly as children's legs do.
The range is kicked off with the Pinto, which claims to fill the role of a balance bike, a 12" and 14" bike, the Skog replaces 14" and 16" bikes for children aged 5 to 8.
The range has since expanded to include the 18" Kapel and 20" Hutto added to fill gaps in the size range, with the latter available with disc brakes and front end suspension. The fit is dialled in via a 'growing triangle' frame and gears can be replaced as little legs get stronger.
The downside is that it hasn't reached State side yet.
Best kids' bikes: what do the top brands offer?
We've stuck with a selection of top brands to help you compare kids' bikes for a range of ages. That's purely because we can't outline every choice from every brand available.
Of course there are a wide range of other options out there. For example, Trek produce a range of kids bikes and Specialized has bikes from balance bikes up to junior racers. You can find value orientated two-wheelers at Decathlon from as little as £35.
Age ranges are approximate - the best way to ensure the bike fits is to check you child's inside leg measurement and use size guides provided by manufacturers.
When buying the best kids' bike, do:
Look for a bike with scaled-down components with an element of adjustability, not just adult ones on a smaller frame;
Check the weight of the bike against competitors;
Make sure your child can reach and operate the brake and gear levers comfortably;
Check for close pedal spacing and a low bottom bracket for comfortable pedalling and safe stopping;
Take the bike to a shop if you are unsure of how to set it up and get the fit right;
When buying the best kids' bike, don't:
Buy a bike which is too large in the expectation that a child will grow into it. They will have a nervous time until they do;
Get a bike which is too heavy for a child to enjoy riding;
Buy a bike without the flexibility for different types of riding;
Just consider the up-front cost of the bike; longevity and resale value are important too;
How much should I spend?
Like most things in life, you really do get what you pay for with the best kids' bikes.
The best kids' bike will also be one that your child can handle on their own, and unless you grab a bargain of a deal price wise, in general the cheaper the bike the heavier it will be. So always aim to get the best you can afford.
It's also worth bearing in mind that although the best kids bikes can seem pricey, especially as children do grow out of them - they hold their value. So even once your tribe has earned their riding stripes with a mini bike, you can sell it for not a lot less on sites like eBay, or grab one from their in the first place, or even take advantage one of our quick link deals.
Cheap kids' bikes
The options above are perhaps not the cheapest kids' bikes, and though lightweight bikes with ergonomic touch points will offer the best entry point into cycling, we realise they're not affordable for everyone.
Shopping in the sales can get you a much better bike for the budget you have, as will checking auction sites such as ebay. It's much better to take the best kids' bikes with a few scuffs and scratches over something not as good but looks shiny. After one ride on the best kid's bike, and you'll all totally overlook any superficial marks for the superior riding experience.
If you are looking for a children's bike that isn't too expensive, try to keep it simple - suspension and lots of gears be appealing to little ones, especially if they have seen your bike. Their enjoyment and confidence will be bolstered by a lightweight construction and in most they won't need suspension until they're ready to ride an adult bike anyway due to their light body weight. While a few gears are handy, they can sometimes prove complicated than expected, so perhaps stick to a single chain ring at the front for as long as possible.
Teach your child to ride in just 45 minutes
Best kids' bikes: what to look for
Quality best kids' bikes are definitely not simply scaled-down adult bikes, they have specific geometry and components optimised for the proportions of a child.
Weight of kids' bikes
As mentioned above, cheap kids' bikes will often have several flaws, most notably their weight. When cutting costs, brands will have to use heavier components and the frame will often weigh more too - creating an overall mass that often represents a significant percentage of the child's weight, which is why many don't make our best kids' bikes guide. Parents sometimes struggle to understand why every incline results in an outbreak of the waterworks - but we'd be crying too if our bikes weighed half as much as us.
Do kids' bikes need suspension forks and lots of gears?
Some children want a bike that looks just like an adult version - and if they're aspiring after an adult mountain biker, things can get tricky. It's common to see children's bikes with suspension forks, but most manufacturers of the best kids' bikes don't provide this until children are at least eight years old.
This is because a young child's upper body mass is low and they're rarely able to get the most from evenfinely tuned, responsive forks - and suspension will always add to the overall weight of the bike.
When it comes to gears - these should be introduced gradually. Most of the best kid's bike brands opt for single chainrings, with a wide spread at the rear cassette. For learners, this makes the whole process easier - and for older children, even those on racing road bikes, the single chainring helps to keep the weight down.
Best kids' bike geometry
The best kids' bikes will have optimum kids geometry. Reach is the first thing to consider. With longer legs relative to their torso, and musculature that doesn't allow them to lean forward as an adult would, a shorter reach is a must. As a minimum requirement the best kids's bikes will be proportionately shorter top tube, and a short stem.
The best kids' bikes on the market will also come with custom-designed bars with a short reach and drop to maintain a comfortable riding position. Bike brand Islabikes also uses custom-made brake levers with shorter reach and greater leverage for smaller hands with a less powerful grip.
Get them started on a balance bike
Foot placement is equally important, and getting that right for narrower hips calls for more bespoke components.
To create a closer foot placement, the best kids' bikes companies will design bespoke own narrow bottom brackets with cranks in multiple lengths. This has the added benefit of improving ground clearance when the bike leans over, while also making it easier for the child to put their foot down.
Are boys' and girls' bikes different?
Some brands will offer separate models for boys and girls. However, anthropometric data showed no notable differences between the measurements of boys' and girls' limbs.
Later life, some women might choose to opt for female specific bikes, but at a young age this isn't deemed necessary by most experts, or most of best kid's bike brands.
Liv bikes, the sister company of Giant bikes, is a women's only brand and therefore does cater just for girls with options ranging from first balance bikes all the way up to 26" mountain bikes.
Most children will want a bike they find aesthetically suited to their own tastes, so most of the best kid's bikes will come in a range of paint jobs to suit the tastes of young riders.
Best kids' bikes: Road bikes and kids' cyclocross bikes
Junior road and cyclocross racing are big news - and of course having the right bike for the job will help to spur on your child's enthusiasm. Versatility is key -Frog's Road range and Islabikes' Luath family both have enough clearance for mudguards, racks, and cyclocross tyres. Frog even supplies all its bikes with two sets of tyres: one for road use and a wider, knobbly set for off-road.
Both brands' bikes have been used in criterium and cyclocross races, with their cantilever brakes and tyre clearance suitable for both. Parents have even reported children completing Land's End to John O'Groats on them.
At the younger end of the scale, most brands stick to a single chainring at the front, with a widely spaced cassette at the rear. If you're looking at a double set-up, check the weight and make sure your child won't be paying for the shifting power with extra pounds.
Best kids' bikes: mountain bikes
For those that want to enjoy a little rough and tumble through the woods, then a proper kids' mountain bike might be on the cards. Knobbly tyres that will provide plenty of traction are available from the starter bike category - but it's only at the 24 inch wheel size for kids over eight that you'll start to see front suspension. These should be tuned for a lighter rider.
Should you fit stabalisers to a kids' bike?
It can be really tempting to add stabilisers to a child's bike. There are pros and cons and, for some children, a bike with stabilisers can enable them to experience the joy of riding that a bike without a pair wouldn't allow. We've looked in-depth at the balance bike or stabilisers question, to help you decide on what's best for your child.
Cycling Weekly's Tech Editor Michelle Arthurs-Brennan is a traditional journalist by trade, having begun her career working for a local newspaper before spending a few years at Evans Cycles, then combining the two with a career in cycling journalism.
When not typing or testing, Michelle is a road racer who also enjoys track riding and the occasional time trial, though dabbles in off-road riding too (either on a mountain bike, or a 'gravel bike'). She is passionate about supporting grassroots women's racing and founded the women's road race team 1904rt.
Favourite bikes include a custom carbon Werking road bike as well as the Specialized Tarmac SL6.
Height: 166cm
Weight: 56kg