Are women specific bikes necessary?
Most brands now make frames designed for female riders. But what is special about these bikes, and do women need them at all?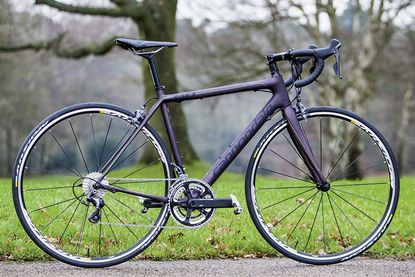 A quick check of any bike retailer's website will reveal a plethora of women's bikes. Apart from softer colour schemes, which some manufacturers think will attract female riders, the geometry is often strikingly different. Longer head and shorter top tubes with differing angles, allied with a lower standover height, can make these bikes look squat and ugly.
So why are gender-specific geometries deemed necessary? One popular belief still circulated in some quarters, is that women have longer legs and shorter bodies, but this is not the case.
>>> The best women's bikes: a guide to female specific bikes
"That's a myth," says Heather Henderson, senior product manager at Canadian bike maker Cervélo.
"[On average] women are smaller, we're not as strong, our bodyweight distribution is not the same, we don't have as much muscle mass and we tend to have more body fat."
It is also accepted that women have smaller hands, a shorter reach and a lower centre of gravity, the latter possibly affecting handling.
>>> The best women's bike saddles
Mike Smith is one of Britain's top Retül bike fitters and runs Velomotion in Milton Keynes; he believes the major difference is a little more sensitive. "I think it all comes around the saddle which makes the real difference to a female rider. Women are a lot more sensitive to putting weight through their perineum, soft tissue and their pubic bone," he says. "They prefer to sit to the back of the saddle where they put more weight through their sit bones."
Fit for purpose
This sensitivity can be relieved by using a saddle with a cut-out, though thought should still be given to saddle width. "Spacing between the sit bones means the average woman would favour a wider saddle compared to a male rider," continues Smith.
Failure to address the saddle issue will see the rider sitting way back on her saddle, bending at the waist, not the hips, to give an upright position that makes the bike feel longer than it really is. This is a problem manufacturers mitigate with the aforementioned different tube lengths.
We all use our bikes for different purposes, from racing to commuting, and there is nothing wrong with an upright or recreational position. What is important, something equally relevant to men, is to purchase a bike that fits your intended use. Would you buy a full-on time trial machine for the odd Sunday ride to the pub?
So it's horses for courses, then. But surely all these differences can be dealt with by changing components? "Making adjustments to force a specific fit and position will often compromise the quality of the experience," says April Marshke, women's business manager with Specialized. "For example, adding four spacers to the head tube of a bike to achieve a more upright position will affect the front-end handling of the bike."
>>> Cannondale SuperSix Evo Ultegra Women's 2015
While many retailers will offer this service, the lower your budget — and figures suggest that women spend less on their bikes — the less likely you'll receive this. However, do you know what changes to stem, crank or saddle you need? Many don't and will need to be professionally fitted: another expense.
Women's bikes are no longer about slapping soft colours on a small frame — so-called 'shrinking and pinking'. Companies have researched geometries and now produce race-specific bikes, consisting of specially designed carbon lay-ups. There is an entire product range to suit everyone from the casual Sunday rider, to the committed elite racer.
Manufacturers have realised there is money to be made by creating a market especially for women. We all know the average cyclist does not exist, but if these products improve rider experience that can only be a good thing.
Is there a need for women specific bikes?
Yes: April Marshke - Specialized women's business manager
"We have identified the specific needs for the female rider and built products that address those needs. We adjust geometries to achieve optimal stack, reach and standover. Often this results in taller head tubes and altered head tube angles together with shorter top tubes, adjusted chainstays and bottom bracket positioning for better handling."
No: Heather Henderson - Cervélo senior product manager
"If I were going to sell someone a bike I wouldn't ask if they were a man or a woman, I'd ask what they want to do with it. I do think there are times when you could actually physically make different products that could be more suited to different people, but it might be less related to gender and more related to use patterns."
Our take
There may be advantages to buying a standard bike and adjusting it to suit, but this could require far greater changes than a women specific machine. These bikes exist to help the 'average' woman achieve a good fit and creating the perfect bike should be straightforward.
Whatever you decide, a personal fitting by a professional will ensure you get the very best from your bike.
Thank you for reading 10 articles this month* Join now for unlimited access
Enjoy your first month for just £1 / $1 / €1
*Read 5 free articles per month without a subscription
Join now for unlimited access
Try first month for just £1 / $1 / €1
Owen Rogers is an experienced journalist, covering professional cycling and specialising in women's road racing. He has followed races such as the Women's Tour and Giro d'Italia Donne, live-tweeting from Women's WorldTour events as well as providing race reports, interviews, analysis and news stories. He has also worked for race teams, to provide post race reports and communications.