Best women's road bikes: eight best female specific bikes reviewed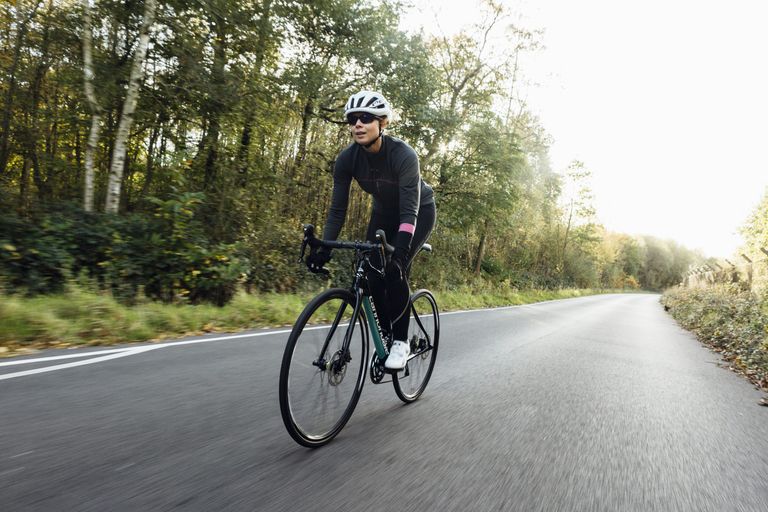 (Image credit: Cycling Weekly)
As the upward trajectory of women's cycling is on a constant march many brands are thinking more carefully about what women actually need - and want - from a road bike.
If evidence in numerical form is what you need, then you'll be pleased to hear that British Cycling has announced that it has hit its 2020 goal of getting one million more women on bikes since 2013.
>>> Is female specific geometry still relevant?
Some manufacturers - like Liv and Canyon - believe that differences in limb lengths and weight distribution mean that women are best served with female specific frames, created from the ground up using women's data.
Others brands, such as Specialized and Trek, argue that their bike fit numbers shows no statistical differences between the genders which require a separate frame platform; they feel that adjusted contact points (saddle, handlebars and cranks) are where it's at.
Further down this page, we explain the different approaches brands take when creating women's bikes, and how to make sure you choose the very best bike for you, so take a read if you're still deciding what's best for you. But first, here's some women's bikes that have really impressed us...
Best women's road bikes 2020
With each product is a 'Buy Now' or 'Best Deal' link. If you click on this then we may receive a small amount of money from the retailer when you purchase the item. This doesn't affect the amount you pay.
Boardman SLR 8.9 Womens, £1000
It might look like an aero frame, but the Boardman SLR is actually part of the endurance range.
Coming with exactly the same high modulus C10 Carbon frame and fork as the mens SLR 9.2, the women's frame sizes come in smaller sizes, so regardless of gender or size, all riders can benefit from the fast and comfortable ride.
We highly rated the men's version of the bike, which also comes with a Shimano Ultegra groupset, although felt that the wheels could do with an instant up-grade, even though they are tubeless compatible.
The women's version also comes with a female specific Fizik Luce saddle, and a short reach stem and narrow handle bars to help achieve a perfect fit.
Read more: Boardman SLR 9.2 road bike review
Buy now: Boardman SLR 8.9 Women's road bike at Halfords for £1,000
Liv Enviliv Advance Pro 2 Disc
Score: 9/10
The women's specific aero bike absolutely smashed the aero bike category when we tested it, making it easy to give the bike an Editor's Choice Award.
The Advance Grade Composite carbon frame and fork manages to perfectly balance weight, stiffness and compliance, making this a lightweight rapid ride that's also comfortable for long rides.
Equipped with the much-respected Shimano 105 groupset with hydraulic brakes, this was a total dream ride. Even with the Giant SLR1 42mm front and 65mm rear wheelset, it was pulling on every climb and stable on the descents, as well as rocket-like on the flats.
The Advanced Pro 2 is the start of the range of three Enviliv Advance Pro bikes, with the Advance Pro 0 Disc a headliner with SRAM Foric eTap AXS, and Quark Power Meter for a couple of grand more. Or, there's the Advanced Pro 1 Disc which comes with Shimano Ultegra Di2 and Giant Power Pro power meter for around £1,000 more.
Read More: Liv Enviliv Advanced Pro 2 Disc review
Buy now: View the Liv Enviliv range at Rutland Cycling from £3,598.99
Trek Domane SL 6
Sore:9/10
The Trek Domane 6 is probably one of the most versatile bikes on the market, with century rides, touring rides, and even fast paced group rides all being taken in its stride when we tested it. In fact, we loved it so much we had to give it an Editor's Choice Award.
The ride-smoothing ISOSpeed frame comes with decouplers at the rear of the top tube and in the head tube, making it a very comfortable ride.
Any concerns that this inbuilt suspension would compromise power transfer were quickly put to bed, with its oversized tubing assisting in its responsiveness to seated and out-the-saddle efforts.
For 2020, Trek has decided to do away with the gender categorisation, and are now offering smaller sizes across the board, giving all riders more fit and colour options. In the words of Trek, they're all women's bikes, and they're all mens bikes.
Read More: Trek Domane 6 review
Buy now: Trek Domane 6 SL 6 at Leisure Lakes Bikes for £3,350.00
Cannondale Synapse Disc women's Sora
Score:9/10
Cannondale have become one of our favourite bike brands in the last year or so, and as consequence it's been hard to just pick one from its women's specific range of six bikes.But we've decided to go with the Synapse as it easily offers the best-of-both-worlds package, and with four in the range to choose from, there's one to suite most budgets.
The 9 speed Shimano Sora version is the Synapse entry-level option, and comes with Promax Decoder R cable actuated disc brakes, an alloy frame and full carbon fork.As with the Boardman SLR 9.2 above, Cannondale women's specific bikes follow the same geometry as the mens/unisex version, but just come in smaller size options, with women's specific touch points. In this case, it's the Cannondale Stage Ergo Women's saddle.
The model we tested was at the top end of the scale with a Hi-Mod carbon frame and fork. That's not all, though, for the bike has the ability of running up to 32mm tyres and, thanks to a removable bridge mount, a full mud-guard, so you should still expect a bike that's comfortable and capable enough to ride on road or gravel.
Read more: Cannondale Synapse Review
Buy now: Cannondale Synapse Disc Women's Sora at Cycles UK for £899.99
Liv Langma Advanced Pro Disc 2020
Score:9/10
Ridden by the likes of Marianne Vos, Ashleigh Moolman-Pasioand the rest of the CCC-Liv Women's WorldTour Team, the Liv Langma Advanced Pro 1 is a direct descendant of the professionally ridden one.
The bike's biggest claim to fame is its low weight, and our review model - with disc brakes and Shimano Ultegra - came in at 7.13kg, but the top-end rim brake options sit under the UCI weight limit of 6.8kg and had to be bolstered for pro riders.
The low weight, however, hasn't reduced its stiffness - even a sprinter like Coryn Rivera can race this bike to success - and we found it offered ample platform for power transfer, with optimised components like the Giant PowerCore bottom bracket and Overdrive II steerer.
A top scorer at 9/10, the women's-specificLiv Langma Advanced Pro Disc is easily a GC contender, and will more than hold its own on all but off-road terrain, meaning there is a great deal to really like about the bike.
Read more: Liv Langma Pro disc review
Buy now: View the Liv Langma range at Rutland Cycles from 909.99
Canyon Endurace WMN CF SL Disc 7.0
Score:8/10
Stand down, grammar police: it's not a typo - Canyon have intentionally dropped the 'n' from its Endurace bike, as it's designed to accommodate all-day riding with a chassi still nimble enough to hustle in a fast paced ride or sprint.
We found it a very well-balanced bike on the road, offering a sweet-spot of comfort and performance. It's an exceptionally well spec'ed bike too: packing in a Shimano 105 complete groupset and a DT Swiss Wheels that punch well above wheel sets normally found in the sub £2k price bracket.
TheCanyon Endurace WMN CF SL Disc 7.0 is a great bike for what you would pay for it, but ideally it would have a chassis update. Upgrade this area, and it would no doubt see it gain top marks.
Read more: Canyon Endurace CF SL Disc 7.0
Buy now: Canyon Endurace WMN CF SL Disc 7.0 from Canyon for £2,099
Ribble R872
Score:9/10
The R872 is Ribble's versatile machine for those looking to take their first steps into carbon road bikes. Weighing in at a rather lightweight 8.64kg for a size small, you wouldn't expect this for a bike just over a grand.
Ribble's bike builder means you can adjust components to meet your desired price point and performance balance. This also means the R872 can be made female-friendly with a shorter stem, narrower handlebars and a women's saddle - at no extra cost.
For £1099, the R872 is equipped with a Shimano Tiagra groupset and Raleigh clincher wheels wrapped in Continental Ultra Sport III tyres.Overall, this bike is a good choice for a rider looking for a frame that is worthy of future upgrades.
Read more: Ribble R872 review
Buy now:Ribble R872 from Ribble from £1,099
Fuji Supreme 2.5
Fuji's Supreme 2.5 is fully carbon, has a women's racing geometry and features aerodynamic tubing to optimise speed.
It is equipped with a Shimano 105 2x11-Speed groupset with mechanical disc brakes. All in all, this bike will give you a reliable ride for a reasonable price.
Buy now:Fuji Supreme 2.5 at Bike Inn for £1,919.49
What makes a women's road bike female specific?
There is no simple black and white answer here. Rather unhelpfully, it depends who you ask.
However, whilst manufacturers have to make their decisions based on what they feel will suit the 'average rider', remember that when buying a bike you're an individual.
>>> Best women's cycling jerseys
All you need to do is choose a bike for you - so test riding women's specific and unisex bikes will probably give you your answer.
There are two clear approaches that brands take:
Brands offering women's road bikes with female specific frame geometry
Some brands build a frame to be completely women's specific.
>>> A guide to the women's specific bike brand Liv
This is often represented in a shorter top tube, and taller head tube. The result is a slightly more upright geometry. Many women's bikes also feature a slacker head angle and longer rake - which does tend to position the bike closer to that of a unisex endurance bike.
The reasons for this vary: some brands say their research suggests women have a shorter wingspan (arms), meaning a shorter reach is ideal. Others suggest a women's lower upper body mass and centre of gravity make this a more suitable option, while some explain that women position their pelvis differently to avoid soft tissue compression. The results of focus groups and studies imply thatmany women want to ride in a more upright position.
Brands creating a bike with female specific frame geometry will spec the bike with components that match the intended rider - the handlebars, stems, saddles, cranks and gearing will all be female friendly (more on that below).
Brands offering women's road bikes with unisex geometry and female specific components
Other brands choose not to create a female specific frame, but instead to offer the same chassis as the unisex bikes, but with components adjusted to better suit the average woman's requirements.
Components that are often changed on a female specific bike include:
Handlebars: women generally have narrower shoulders, and ideally your handlebars should measure a similar width to your shoulders. So a well fitting women's bike will have narrow handlebars. Shifters are often wound in to suit smaller hands (though you can do this for free at home on Shimano or SRAM shifters).
Stem: While frames built from 'the ground up' to suit women often have a shorter reach, those providing a unisex frame will nearly alwaysfit a shorter stem. This does the same job of decreasing the reach, but can affect the handling.
Cranks: Women are typically shorter than men, so usually have shorter legs. Crank length is a debate on its own - but as a rule, reducing the length of the crank allows smaller riders to get the most from each pedal stroke. In the case of a very small frame, the cranks also need to be reduced in size to prevent toe overlap with the front wheel.
Gearing: If we're comparing Joe Bloggs and Lizzie Deignan,it's not realistic to say that the female rider will produce less power. But if we're comparing Joe Bloggs and Joanna Bloggs, it's an understandable assumption. Women's bikes often feature a compact or semi compact chainset (50/34 or 52/36 respectively) and wide ratio cassette (11-28 or 11-32).
Standover height: Some women's bikes have a sloping top tube, to reduce standover height. This applies more to hybrid bikes and mountain bikes.
Sizes: A unisex frame with female components marketed as the women's version will usually be available in smaller sizes. In an ideal world, the brand will scale down other elements of the geometry and aspects such as fork angle will change too.
Saddle:Women frequently reportsaddle discomfortputting them off cycling.Most riders will swap the saddle on their bike early on - but a women's model will come with a women's saddle, giving a slightly higher chance of getting on with the perch after just a few rides.
Brands offering unisex frames with non-adjusted components
Many women choose to buy a standard unisex frame, and adjust the components above to suit. Indeed, many men will adjust these on unisex bikes in time.
If you're at a stage in your riding career where you know you'll do this anyway, then it doesn't make much difference.
However, going for a model with these components already tweaked can make the first few months of bike ownership much cheaper - especially for beginners who don't have the standard cyclist's garage full of spare stems, handlebars and saddles.
Is it all about the saddle?
Mike Smith is one of Britain's topRetül bike fittersand runs Velomotion in Milton Keynes. He believes that the major difference in men's and women's bike fit lies in saddle comfort.
He commented: "I think it all comes around the saddle which makes the real difference to a female rider. Women are a lot more sensitive to putting weight through their perineum, soft tissue and their pubic bone.
"They prefer to sit to the back of the saddle where they put more weight through their sit bones."
This sensitivity can be relieved by using a saddle with a cut-out, though thought should still be given to saddle width. "Spacing between the sit bones means the average woman would favour a wider saddle compared to a male rider," Smith added.
Failure to address the saddle issue will see the rider sitting way back on her saddle, bending at the waist, not the hips, to give an upright position that makes the bike feel longer than it really is. This is a problem manufacturers mitigate with the aforementioned different tube lengths.
What type of women's road bike should you look for?
Before you enter a bike shop, get a clear idea of what you want the bike for. If you want the speed and aerodynamic benefits of a drop bar bike, then you're in the road bike camp - and the next step is to decide if you want an endurance focused on more aggressive race orientated frame.
Key road bike categories include:
Endurance focused women's road bikes
Endurance bikes will generally feature a shorter reach, and a taller stack - putting the rider in a more upright position. Disc brakes are more popular in this category, along with a longer wheelbase to aid stability and the material will be fine tuned to offer greater compliance - or comfort. The Trek Domane is an example of an endurance road bike.
Race focused women's road bikes
Race bikes are created to offer nippy handling and a lower, more aero position - usually with a longer reach, lower stack and short wheelbase. The fork angles will be tuned for quick and responsive handling. Some bikes in this style will have disc brakes, but you still can't use them in races under British Cycling regulations which is worth remembering if you plan to pin on a number. The Canyon Ultimate WMN is an example of a road race bike - though it does come with discs.
Cyclocross women's road bikes
If you want the option of going off road, then a cyclocross bike, gravel or adventure bike might be up your street.
There's a lot of variation between cyclocross, adventure road and gravel bikes. They're all designed for riding on and off road - just to different degrees. Cyclocross bikes are most suited to trails, and have higher bottom brackets to help you avoid roots and rocks, with more space for tyre clearance. Adventure road and gravel bikes will be a little closer to road bikes in geometry - but all three styles will likely feature disc brakes.
Hybrid women's road bikes
For city slickers who want flat bars and the option of hopping onto rough park tracks and canal paths, then a wider tyred hybrid with disc brakes like the Pinnacle Neon or Specialized Vita could be the thing. These will have flat handlebars, and offer a great deal of stability, though handling won't be quite as nippy as a road bike.
Electric women's road bikes
If you would benefit from an extra boost up the difficult climbs or so you don't get so sweaty on your commute into the city, there are electric versions of road bikes. These will vary from ones with a hub-based or frame-mounted motor—and can offer different levels of assistance and range of battery life.
You don't have to use the electric assistance on these bikes at all times but it is always there for when you want it. But bear in mind, the e-bikes with the more powerful motors (and best assistance) are often heavier which can make cycling harder than usual when switched off. Therefore, keeping an eye on your battery levels and choosing a bike which has a big enough battery capacity for your riding is essential.
>>> Best women's electric bikes
Women's road bike sizing
Road bikes are generally sold in sizes along the lines of 48cm, 50cm, 52cm and so on - though some brands choose instead to go for 'Small', 'Medium' and 'Large'.
There's no real standardisation in road bike sizing - which means one road bike brand's 48cm might suit a rider on a 50cm frame from one of their competitors. Not only that, but the same brand might call a unisex frame a 50cm, whilst the same rider might fit a 52cm frame in their women's range. Confusing, right?
The best option is to start by using the brand's designated sizing chart, dictating the ideal height range for each frame size.
Then, ask for a test ride. A rider with a shorter torso will generally go for a smaller frame than a rider with a long torso, even if they're the same height, as most of their length is in the leg (saddle height is much more adjustable than reach). Getting the right size is down to personal preference rather than black-and-white measurements.
Tips for choosing a women's road bike
Once you know what sort of bike you're after, shop around online, and produce a list of bikes you're interested in. Most brands frame families will come available in a range of models, with different levels of specification.
More expensive groupsetswill be lighter and longer lasting - and it is generally considered that it is better to spend at the top end of your budget to avoid further expenditure through upgrades.
With a few choice models selected, ask for test rides, using the experience to help you decide what you like. Remember when testing unisex bikes that wider handlebars and a less-than-perfect saddle might be altering the ride quality.