Road bike groupsets: Shimano, SRAM and Campagnolo heirachies explained
What exactly is a groupset? Should you pick Shimano, SRAM, Campagnolo or other? Here's your complete guide to this essential piece of kit for your bike.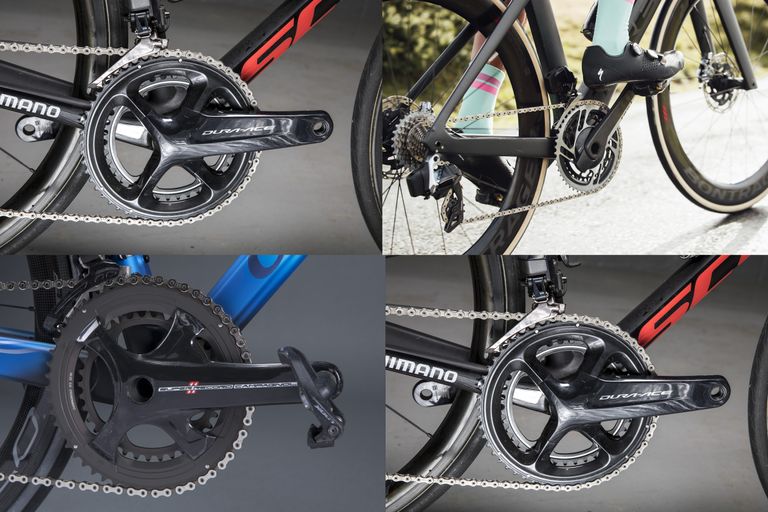 What is a road bike groupset?
A road bike groupset includes any parts involved in braking, changing gear or running the drivetrain. This includes the shifters, brake levers, front and rear brake calipers, front and rear derailleurs (sometimes called mechs), crankset, bottom bracket, chain and cassette. 
When you're buying a new bike, after the frame, the groupset is the second determining factor in value for money. Groupsets higher up the hierarchy will be lighter, longer-lasting, and in some cases have improved functionality such as more immediate responses to shifting and braking.
There are three main manufacturers of groupsets and bike components. Shimano is the largest and best known, while the other two of the "big three" are Campagnolo and SRAM. All three manufacturers offer a range of groupsets at competing price points.
Read further down the page for information on individual components - whilst you'll find information about the 'big three' providers below...
Shimano groupset hierarchy
The high majority of built road bikes come with a primarily Shimano groupset, though you'll sometimes find they include some components from other brands to keep costs down - such as TRP brakes or FSA chainsets.
The Japanese brand offers a wide range of groupsets - starting with Claris and Sora, which you'll find on entry level road bikes. Tiagra is the next step up, followed by Shimano 105 which is typically specced on bikes costing upwards of £1000.
Shimano 105 is considered Shimano's first performance groupset, and for many people it is the best option in combining performance, value and longevity. Ultegra is next and is very similar to Dura-Ace in terms of performance, though Dura-Ace is lighter. You'll find Ultegra on bikes from around £1500.
>>> SRAM RED eTap AXS vs Shimano Dura Ace Di2
Shimano currently produces Ultegra and Dura-Ace in electronic versions, denoted by Di2, and newer Dura-Ace, Ultegra and 105 models come with disc brakes.
Shimano also produces GRX, the first dedicated gravel bike groupsets, offering it in both mechanical and electronic 11 speed, as well as mechanical 10 speed, and all with hydraulic disc brakes.
Shimano Dura Ace - R9200 series
Best groupset for racing
Specifications
Cassette: 12-speed
Shifting: Electronic only
Braking: Rim and dic
Shimano Dura-AceR9100 was superseded by Shimano Dura-Ace 9200 on August, 31. This new 12-speed groupset is semi-wired, and features improve braking technology.
Whilst Shimano will continue to manufacture parts to serve existing set-ups, new Dura-Ace is now Di2 only, and the platform uses wireless shifters, with the derailleurs now wired to a central battery in the seatpost. There is still a rim brake option, with the brand continuing to support Team Ineos who still ride on rim stoppers.
According to Shimano, Dura-Ace 9200 offers an increase in shifting speed, with a claimed 58 percent decrease in rear derailleur operating time and a 45 percent decrease in front derailleur operating time. 
The shifters have grown in size, Shimano said this was because they'd become to small, and pros complained they felt unstable on uneven ground, but the argument could be made that tech changes made a hood size increase necessary. 
The groupset is now 12-speed and uses a Hyperglide+ cassette - similar to the brand's mountain bike options. The cassette still starts with the 11t sprocket rather, the gaps are just now smaller between the 6th, 7th and 8th sprockets. 
Interestingly, Shimano has released a new 54/40 chainset, replacing the 53/39 - the 50/34 or 52/36 still exist. At the back, options range from 11-28 all the way to 11-34, there is no longer an 11-25 as Shimano said few riders opted for this narrow range.
Shimano made a lot of changes to the braking tech within this launch. Firstly, it swapped the rotors for the XTR option featured in its mountain bike line ups, stating that these offer improved heat dissipation. 
The gap between the pad and rotor was also increased, and 'Servo Wave' tech was incorporated - again, this comes from the mountain bike family and is aimed at reducing the free stroke and creating a more immediate connection between the pads and rotors. 
Shimano Ultegra - R8100 series
Specifications
Cassette: 12-speed
Shifting: Electronic only
Braking: Rim and disc
Shimano Ultegra is consistently considered to be the thrifty racer's choice, carrying much of the performance of Dura-Ace, with a reduced price tag. This applies even more so with the launch of Shimano Ultegra 8200, which coincided with that of Dura-9100 - meaning the groupsets share a lot of identical tech.
The newest Shimano Ultegra family - R8200 supersedes Ultegra R8000.
The most recent iteration mimics the updated aesthetic seen across its more expensive sibling, Dura-Ace 9100. The groupset is 12-speed, uses the same semi-wired platform and enjoys Servo Wave tech at the brakes whilst also featuring the same increase in the size of shifter hood.
For the first time ever, Shimano also offers a range of Ultegra wheels, and as per Dura-Ace, there is the option to spec the groupset with a power meter as standard. 
It's rare for Shimano Dura-Ace and Ultegra to be launched simultaneously, and this pattern allows consumers to enjoy many of the technologies that would usually take a year to trickle down - immediately. 
Whilst both rim and disc brakes are supported, new Ultegra is Di2 only; Shimano is aware that there are many users still enjoying existing mechanical Ultegra, and it will continue to make these available. 
Reasons to buy
+Price+Performance+Looks
Reasons to avoid
-105 name doesn't carry same gravitas as Ultegra and Dura-Ace
The entry level performance groupset was the last to get an update, but as you'd expect with trickle down technology, Shimano 105 R7000 has received a couple of the luxuries afforded to newer Ultegra.
>>> Read more: Shimano R7000 vs R5800 in detail
You get the stubby cranks seen in new Dura-Ace and Ultegra, and there's three different crankset options (54-39, 52-36 or 50-34 ) to be paired with 11-30 or 11-34 cassettes.
The inner ring has been repositioned, so cross-chaining becomes less noticeable, and the shifter hood has gone on a diet. There's now dedicated 105 R7000 hydraulic disc brakes, which are identical to Ultegra's R8020 versions.
Reasons to buy
+High end look+Excellent front and rear shifting+Good brakes+Wider shifting range
Reasons to avoid
-Still only 10-speed
Shimano Tiagra groupsets and below have yet to receive the more recent update, with updated aesthetic and update mechs.
The 2016 update - Shimano Tiagra 4700 - however, did incorporate gear and brake cables that could be fed beneath bar tape, reducing the "anti aero loop" on previous additions. It's compatible with flat bar bikes, too.
Unlike the others above, which are 11-speed, Tiagra is still 10- speed, and the chainsets available are52/36t, 50/34t and 50/39/30t - the largest, most race focused 53/39 option available elsewhere won't be found here.
Reasons to buy
+Super reliable shifting+11-32t cassette compatible means wide range of gear options+Compact or triple chainsets+Excellent value for mone
Reasons to avoid
-Only nine-speed-Poor stock brake blocks-Black finish is a bit low-rent
Shimano showed its Sora groupset (R3000) a bit of love in 2017, with new shifters, brakes andrear derailleurs which carry a more sophisticated aesthetic.
The chainset, like Tiagra, is now four arm which allows it to be lighter - and it comes as a 50-34 compact or 50-29-30 triple and the whole set up can be introduced to flat bar bikes (on a five arm crankset with chainguards). Casssettes can be as large as 11-34, which will allow plenty of gear options.
The groupset continues to be 9-speed, but it does have new shifters which allow for neater internal cable routing. The rum brakes are said to be improved with 20 per cent greater stopping performance on the outgoing version thanks to the addition dual pivot calipers.
Reasons to buy
+Long cage rear derailleur+Reliable rear shifting+Intuitive dual control shifting+Good range of gear options
Reasons to avoid
-Front shifting takes a bit of effort-8-speed means big jumps between sprockets-Spongy brake pads
Shimano's entry level gorupset hasn't had an overhaul since 2013, but the 8-speed R2000 set up still provides excellent value.
There is a cheaper option - Shimano Tourney - but you won't find it on many built bikes and Claris has one up on it because it uses the same Dual Control shifting action as the other key groupsets. Tourney, on the other hand, still features a thumb lever on the inside of the hood to shift up. Claris also has its own matching brake system.
Though Claris is perfectly effective, the let down is its 8-speed shifting, which doesn't provide the rider with a particuarly large selection of gears and means that jumps between cogs can be noticeable.
Reasons to buy
+Clutch rear derailleur+Great hood feel and braking+Wide gear range
Reasons to avoid
-Slightly heavier than a road groupset-You might need to buy XTR pedals if you have fussy knees
Shimano GRX was launched in 2019, with the goal of offering a groupset tailored to the growing trend towards bikes designed to traverse mixed terrain.
There's three key levels of spec: RX800, RX600 or RX400. Gravel ready features include grippy levers, and front derailleurs which are built with 2.5mm more outbound clearance for wider tires. The rear mech comes with Shimano's chain stabilizing system known as SHADOW RD+ to manage 'chain chatter', and there's integration for dropper seat posts.
>>> Read more: Shimano launch 'World's first' gravel dedicated GRX groupset
Unlike the rest of the Shimano Groupsets, where to ensure smoothest operation it's best to keep the whole groupset within the same range, GRX is more of a pick and mix system, which enables you to match your shifting to your specific gravel/ adventure needs.
This means that there are countless operating systems to choose from, and although we've included the most likely options in the table above, we haven't added in the additional dropper seat post option, with corresponding lever, or the Hydraulic Disc Sub Brake Lever – which can be added to all the options.
Shimano groupset weights and RRPs
Weights and RRPs vary slightly dependin upon your choices - so are approximations
Name
What is it?
Weight*
RRP**
Shimano Dura-Ace 9200
Di2, disc, 12 speed
9438.5g
£3700.99
Shimano Dura Ace R9170
Di2, disc, 11 speed
2389g
£3214.82
Shimano Dura Ace R9150
Di2, rim, 11 speed
2051g
£2944.84
Shimano Dura Ace R9120
Mechanical, disc, 11 speed
2355g (/2445g w cables)
£2104.91
Shimano Dura Ace R9100
Mechanical, rim, 11 speed
2007g (/2097g w cables)
£1834.92
Shimamo Ultegra R8070
Di2, disc, 11 speed
2627g
£1979.83
Shimano Ultegra R8050
Di2, rim, 11 speed
2353g
£1669.83
Shimano Ultegra 8100
Di2, disc, 12 speed
2616.5g
£2399
Shimano Ultegra R8020
Mechanical, disc, 11 speed
2512g
£1244.92
Shimano Ultegra R8000
Mechanical, rim, 11 speed
2266g
£954.92
Shimano 105 R7020
Mechanical, disc, 11 speed
2,478g
£816.91
Shimano 105 R7000
Mechanical, rim, 11 speed
2,467g
£595.99
Shimano Tiagra 4700
Mechanical, Disc, 10 speed
2,585g
£749.99
Shimano Sora R3000
Mechanical, rim, 9 speed
2,660g
£456.92
Shimano Claris R2000
Mechanical, rim, 8 speed
Unconfirmed
£396.92
Shimano GRX RX810 – 1 + RX815 (short)
Di2, Disc, 11speed, 1x (40T or 42T )
2334g
£1289.92
Shimano GRX RX810 – 1 + RX817 (Long)
Di2, Disc, 11speed, 1x (40T or 42T)
2464g
£1254.92
Shimano GRX
RX810 - 2 + RX815 (short)
Di2, Disc, 11 speed 2x
(48-31T)
2762g
£1529.91
Shimano GRX RX810 - 2 + RX817 (long)
Di2, Disc, 11 speed, 2 x (48-31T)
2686g
£1494.91
Shimano GRX RX810 – 1 + RX810 (short)
Mechanical, Disc, 11speed, 1x (40T or 42T )
2195g
£1099.92
Shimano GRX RX810 – 1 + RX812 (long)
Mechanical, Disc, 11speed, 1x (40T or 42T )
2306g
£1084.92
Shimano GRX RX810 – 2 + RX810 (short)
Mechanical, Disc, 11speed, 2 x (48-31T)
2401g
£1189.91
Shimano GRX RX810 – 1 + RX812 (long)
Mechanical, Disc, 11speed, 2 x (48-31T)
2512g
£1174.91
Shimano GRX RX600 -1 + RX810 (short)
Mechanical, Disc, 11speed, 1x (40T)
2368g
£835.92
Shimano GRX RX600 -1 + RX812 (long)
Mechanical, Disc, 11speed, 1x (40T)
2556g
£870.92
Shimano GRX RX600 -11 + RX810 (short)
Mechanical, Disc, 11speed, 2x (46-30T)
2554g
£905.91
Shimano GRX RX600 -11 + RX812 (long)
Mechanical, Disc, 11speed, 2x (46-30T)
2693g
£940.91
Shimano GRX RX600 -10 + RX400(mid)
Mechanical, Disc, 10speed, 2x (46-30T)
unconfirmed
£728.91
* Weights will always be estimates, as they'll vary depending upon chainring size, crank length, cassettes used and some official weights do not include components such as cables and mineral oil/hoses for disc brakes.
** RRPs are based upon Shimano's official retail price of components added together. Retailers create their own RRPs, based upon the cost of individual components, so listed prices will vary.
SRAM groupset hierarchy
Illinois-based SRAM is the newest of the three main brands and in 2015 launched the first wireless groupset SRAM Red eTap. In 2019, SRAM launched two further wireless group sets SRAM Red eTAP AXSand SRAM Force eTap AXS, which also gained an extra sprocket to become 12speed at the same time. Then, in 2021, it brought eTap AXS to Rival level, cutting the cost of entry into electronic shifting significantly.
Apex is SRAM's entry level and roughly comparable to Tiagra. Next up the ladder is Rival, which was named to rival Shimano 105. However, now it's 12-speed and electronic, it takes a position closer to Ultegra Di2, at a fraction of the cost. SRAM Force sits above Ultegra and below Dura-Ace, with SRAM Red the most expensive option.
Red eTap AXS, Force eTap AXS and Rival eTap AXS are all available with a single ring 1x option at the front, as are the three lower models in the SRAM range, and every model in the range is also available with matching disc brakes.
Across the mechanical range, SRAM uses 'DoubleTap' - which means that the single gear lever on each side does both the up and down shift. On the left, a quick click of the lever takes you into a smaller chaingring, and a longer push moves you into a bigger ring - though obviously this doesn't apply on the 1x ranges. On the right, a short push takes you into a smaller cog (more resistance) on the cassette, and a long swipe takes you into a bigger cog (less resistance).
SRAM AXS
>>> Read more: Shimano Dura-Ace Di2 vs SRAM Red eTap AXS
In the early months of 2019, SRAM introduced its AXS groupsets - initially only available in SRAM Red eTap, this trickled down to SRAM Force in April. Then, in 2021, it added SRAM Rival eTap AXS.
The overhaul is about more than just the extra sprocket offered by the 12-speed cassette. SRAM has downsized the chainrings - a 50/37 being the largest double ring option - giving riders greater range via the cassette, with smaller incremental jumps. You're losing nothing in terms of top end resistance - a 50x10 is bigger than a 53x11. SRAM has dubbed this new set up 'modern gearing'.
The new Flattop chain is narrower than before, which means it's smoother and quieter and it's stronger, too.
The AXS app is used to configure the system, but you don't have to use it - though without doing so you'll miss out on some gearing customisation.
Reasons to buy
+Smart gear ratios+Easy installation+Compatibility between all AXS components+Removable batteries are easy to charge
Reasons to avoid
-Integrated power meter makes it expensive to own multiple chainrings
>>>Read more: SRAM Red eTap review
SRAM Red is available on its own (still boasting incredible performance), with hydraulic disc brakes, with e-Tap and of course with hydraulic disc brakes and eTap.Now you can get it in AXS format, too.
Being wireless, eTap is impressively light, and it won itself a place in our Editor's Choice awards of 2017. It uses SRAM's own system 'AIREA' instead of ANT+ or Bluetooth.
To shift using eTap, you move into a smaller cog at the rear by pressing the paddle behind the right brake lever. You move into a larger cog by pressing the paddle behind the left lever. The front mech is operated by pressing both levers together.
As denoted by the '22', SRAM Red is 11 speed and the American based brand promises that the symptoms of cross-chaining are minimal so you really can use all 22.
SRAM Red groupsets are also on offer with a mid-cage 'WiFli' rear deraillieur, which makes the use of a 32-tooth cassette possible (without it your max is 28 tooth), and SRAM Red chainsets can also come available with a Quarq power meter built in.
Reasons to buy
+Slick, sophisticated wireless shifting+AXS functionality and tunability for £1000 less than Red eTap AXS+Wide gear range means less front shifting
Reasons to avoid
-Needs a wheelset with an XD-R cassette body
SRAM Force is available as SRAM Force eTap AXS, Force 22 (11 speed), SRAM Force 1 (single chainring) and all options can come with rim or hydraulic disc brakes.
Force eTap AXS shares many features with SRAM Red eTap AXS, just in a slightly more affordable package with a couple of minor shortcuts.
Force 22 is 11-speed, and when it grew from 10 to 11 speed it inherited design features from its more costly Red sibling.Whilst a little heavier than Red, Force is usually considered on par with Shimano Ultegra.
The 1x version can accommodate cassettes up to 10-42, and comes with chainrings from 38 to 54 tooth. A Roller Bearing Clutch derailleur helps guard against chain slap - a technology which was previously considered an off-road domain but has become more popular on the road (and gravel) of late.
Reasons to buy
+Wireless, electronic shifting+Value vs Force/Red+Inexpensive power meter upgrade
Reasons to avoid
-More weighty than mechanical, wired groupsets-You'll need an XDR-ready wheelset
Like SRAM Force, you can get SRAM Rival in the 12 speed, electronic disc eTap AXS version as well as 22 configuration, 1x (as pictured above), and with hydraulic disc, hydraulic rim or mechanical rim brakes.
The most recent eTap AXS groupset also comes with the option to add a single sided Quarq power meter for a relatively small outlay, at £230.
The major difference between this and other options above is that the cranks, levers and rear mechs move from being constructed from carbon fibre, to aluminium.
Also, when it comes to the hydraulic levers, they've not received the updates seen elsewhere in the range, so are a bit larger compared to the downsized hoods you'll see at the likes of SRAM Red HRD.
The 1x groupset comes with an X-Horizon rear derailleur, which includes a clutch mechanism to reduce chainslap.
If the new eTap AXS groupset isn't for you, see our review of SRAM Rival mechanical 1x here.
Reasons to buy
+First groupset to offer 11-32t cassettes +Very assured operation+Decent mechanical rim brakes +Suitable for a wide variety of drop-bar cycling disciplines
Reasons to avoid
-DoubleTap has its drawbacks, especially when you're in the lowest gear-'Only' 10-speed-Other ranges have stolen its thunder 
The most notable different between SRAM Apex and the rest of the line up is that it's a 10-speed groupset, which means jumps between gears become a bit more noticeable.
Available chainsets are 53/39, 50/34 and 48/35 - it's notable that you still get a standard double (53/39) as Shimano fazes this out in its lower end offerings. You can still accomodate an 11-32 cassette thanks to the availability of the WiFLi rear derailleur and there's 1x in the line up, too.
SRAM groupset weights and RRPs
What is it?
Weight*
RRP**
SRAM RED eTap HRD AXS, 2x
Electronic, disc, 12 speed
2518g
£3349.00
SRAM RED eTap HRD AXS, 1x
As above, single chainring
2103g
£2849
SRAM RED eTAP AXS, 2x
Electronic, rim, 12 speed
2254g
£3159
SRAM RED eTAP AXS, 1x
As above, single chainring
2070g
£2559
SRAM RED eTap HRD
Electronic, disc, 12 speed
TBC
£2658
SRAM RED eTap
Electronic, rim, 12 speed
TBC
£2472
SRAM RED 22 HRD
Mechanical, disc, 11 speed
2119g
£2044
SRAM RED 22
Mechanical, rim, 11 speed
1741g
£1890
SRAM Force eTap AXSHRD 2x
Electronic, disc, 12 speed
2812g
£2274
SRAM Force eTap AXS 2x
Electronic, disc, 12 speed
2453g
£2164
SRAM Force eTap AXS HRD 1x
Electronic, disc, 12 speed, single chainring
2572g
£1924
SRAM Force eTap AXS 1x
Electronic, disc, 12 speed, single chainring
2213g
£1814
SRAM Fival eTap AXSHRD 2x
Electronic, disc, 12 speed
3205g
£1314
SRAM Rival eTap AXS 1x
Electronic, disc, 12 speed, 1x
2,776g
£1102
SRAM Force 1
Mechanical, disc, single chainring
2466g
£1234
SRAM Force 22 HRD
Mechanical, disc, 11 speed
Unconfirmed
£1127
 
SRAM Force 22
Mechanical, rim, 11 speed
2097g
£975
SRAM Rival 1
Mechanical, disc, single chainring
2690g
£979
SRAM Rival 22 HRD
Mechanical, disc, 11 speed
Unconfirmed
£1025
SRAM Rival 22
Mechanical, rim, 11 speed
2348g
£691
SRAM Apex 1
Mechanial, disc, single chainring
2719g
£828
SRAM Apex
Mechanical, rim, 10 speed
2419g
£576
* Weights will always be estimates, as they'll vary depending upon chainring size, crank length, cassettes used and some official weights do not include components such as cables and DOT fluid /hoses for disc brakes.
** RRPs are based upon SRAM's official retail price of components added together, Retailers create their own RRPs, based upon the cost of individual components, so listed prices will vary.Not all retailer prices contain every element of the groupset, and you may need to factor in additional parts.
Campagnolo groupset hierarchy
Campagnolo, affectionately referred to as "Campag" or "Campy", is a company rich in cycling heritage. The Italian brand can boast of equipping the winning bikes of the 2014 Giro d'Italia and Tour de France.
Historically it is famous for inventing the rear derailleur and many other key innovations, such as quick release skewers.
The entry-level groupset, Veloce starts higher than Shimano and sits above Sora and Tiagra. Potenza competes with Ultegra and SRAM Force, with Chorus sitting just below the Record components, while Super Record sits atop the Campagnolo hierarchy.
Campag offers three electronic groupsets, which are denoted by the term EPS (Electronic Power Shift). Super Record EPS is the most expensive commercially available groupset.
In May 2017, Campagnolo announced its new disc brake groupsets - with discs available across Chorus, Record and Super Record groupsets. It teamed up with Magura, the German brake and suspension brand, to develop the cylinder system and claimed the braking was 23-26% faster in the wet when compared with the competition.
Then in April 2018, Campagnolo broke new ground, launching with 12-speed versions of Record and Super Record.12-speed Super-Record EPS is now available.
Campagnolo's shifting system differs from the key competition - with a lever behind the brake on the 'Ergopower' shifters which moves the chain one way, and a thumb lever on the inside of the shifter which sends it the other way. The other magic trick is 'Ultrashift', which makes it possible to give the lever a longer push to smash through multiple gears on the cassette in one go.
The brand's systems are well known for their distinctive 'clunk' - something Campag says dedicated users value so much that the electronic system was developed to provide the same degree of feedback.
Campagnolo 12 speed groupsets
>>> Read more: Campagnolo Super-Record 12 speed review
Campagnolo offers 12-speed groupsets on its Super Record and Record configurations - in mechanical and more recentlyEPS format.
Campag created the 12-speed option by shrinking the sprockets and the space between them - requiring a thinner chain but meaning that 12-speed models will fit the same driver as the 11-speed version, so swapping isn't hard.
The derailleur is now longer at 72.5mm, allowing for crisp and reliable shifting on both 11-29 and 11-32 12-speed cassettes. The derailleur can be mounted via a hanger or direct to the frame, and sits closer the cassette than before, engaging more teeth at once, increasing longevity. The thinner chain also means the cage has been slimmed down, creating more space between it and the spokes of the wheel.
The crankset uses the same four arm spider, though some areas have been reinforced to provide extra strength. The front derailleur now hasan unlinked upper semi-rod that makes for less free stroke on the upshift, with a movement of the lever now having an immediate effect on the derailleur. It allows for more precise positioning, too, giving greater amounts of trim and a thinner cage that should cater better in moments of cross-chaining.
Other changes across the system are subtle, such as a slight increase in lever size and bringing the brake lever pivot inline with the handlebar, while the levers angle slightly outwards and have a deeper curve, making it easy to brake on the drops.
Campagnolo H11 Disc brake groupsets
Campagnolo was a little late to the party with disc brakes, arriving in spring/summer 2017 - but it promises improved performance compared to the competition, with braking that's 23-26 per cent faster in the wet with less force.
It's disc brake system is called 'H11' - and the shifters, chain set and brake calipers are the same across H11 Record, Super Record and Chorus - differences presenting themselves in the chain, cassette and dérailleurs. The lower endPotenza groupset comes with an 'H10' disc brake groupset, which features aluminium shifters instead of carbon.
To create the system, Campag teamed up with German brake and suspension manufacturer Magura - who helped develop the cylinder and oil system. The brakeset features an 'Adjustment Modulation System' (AMS) which allows users to change the degree of bite, as well as a 'patented anti-vibration, noise-reduction solution' in the shape of a bonded layer on the back of each brake pad. The 22mm diameter pistons are made from phenolic resin, which the brand claims offers superior heat insulation and a magnetic spring has replaced a metal approach which is said to add to reaction time and consistency.
There are size specific calipers - you can run 160mm at the front and rear and 160mm or 140mm at the rear. They're designed to fit any flat mount frameset and there's no need for spacers.
Campagnolo EPS
EPS versions are available at Campagnolo Super-Record, Record and Chorus level. The system powers itself via a rechargeable battery which sits in the frame and the 2016 update included development of the Power Unit and Interface Unit, making them slimmer and increasing compatibility with more frames - including aero bikes.
The shifting pattern stays the same, but the front derailleur adjusts itself slightly if you're chain crossing, to help facilitate a smoother change. Configuration is set up via the 'MyCampy' App which can transmit information wirelessly via Bluetooth (BLE) or ANT+.
Campagnolo Ekar
In September 2020, Campagnolo added Ekar - a 13-speed gravel specific groupset, available in mechanical only, disc brake configurations. 
Campagnolo Ekar retails at around £1,449 / $1,764 / €1,696. Given Campagnolo is often known for being a high ticket choice, the prices surprised us at being closer than expected to the likes of SRAM and Shimano's offerings.
It's light too, with weights varying starting at 2,385g in the lightest configuration with a 9-36 cassette.
As well as going 13-speed, Campagnolo adjusted the thumb paddles on Ekar, making them easier to reach when riding off-road. 
Cranksets are available in 38T, 40T, 42T and 44T, with cassettes at 9-36T, 9-42T and 11-44T. A clutch rear mech helps to keep the chain quiet, and narrow-wide tooth design also aims to prevent chain drops.
Reasons to buy
+Looks and style+Disc brake feel and power+Tactile feel of the shifters and shifting
Reasons to avoid
-Hood size -Thumb shifters can still be difficult to reach
Campagnolo Super Record is available in EPS, EPS H11, mechanical H11 or plain old Super Record mechanical rim brake - and as of this year you can get them allwith 12-speed, too.
The 12-speed system comes with new chainsets, front and rear derailleurs, rim and disc brakes as well as shifters - but it's compatible with existing wheels and frames. There are two cassette options - 11-29 and 11-32 - the reasoning being that racers don't need to stick to smaller gear ratios in order to minimise gaps between cogs with the 12-speed system.
Being top of the performance ladder, Super Record is loaded with carbon and titanium, allowing for a low overall weight. The crankset, for example, is carbon, with alloy chainrings and a titanium axle, the derailleurs are predominantly carbon with ceramic bearings used and the body of the shifter is constructed from composite.
Alongside the impressive performance of the H11 brakes, we've always found Campagnolo's direct mount rim brakes - available down to Chorus level - quick to react and effective.
The dérailleurs allow for full use of the cassette, in either chainring, without chainrub on the front mech, and the chainsets come in 53/39, 52/36 and 50/34 combos whilst cassettes can be anywhere from 11-23 to 11-29.
The performance differences between Super Record and Record aren't huge - there's a little bit less carbon, which reflects in a slight weight increase - for example, the crankset weighs 651g as opposed to 603g at Super Record standard.
The shifters still have a composite body, as is the majority of the dérailleurs structure, though the ceramic bearings have disappeared from the rear and been replaced by bushings. Record is now available in a 12 speed configuration, too
Reasons to buy
+Tech from Super Record and Record+Same look and feel as top Campy groupsets+More versatile gearing options+Very fast shifting
Reasons to avoid
-Shimano people might not like the clicky shifting-Limited tyre clearance 
Chrous comes in EPS and with H11 disc brakes, and with 12-speed as the upper echelons offer.
The rear derailleur uses rubber pulleys as opposed to the ceramic bearings at Super Record level. The crankset has been beefed up to 683g (compared to 603g for Chorus), and there's similar increases across the group.
Potenza is 'middle ground' for Campagnolo, but it's actually comparable to Shimano Ultegra, so it's certainly not entry level by any stretch of the imagination.
One notable difference is a longer inside lever, when compared with that found on the top end systems - this answers complaints that the thumb tab was hard to reach when in the drops. There's also a larger rear dérailleur, which can cater for cassettes up to 11-32.
The closest comparison to Veloce is Shimano 105 - it comes in black or silver, though the latter is more expensive.
The dropped inner thumb paddle has been continued into this level, and the chainsets available are 50/34 and 52/36 - denoting that Campag doesn't consider this to be a race level product with a missing 53/39.
The entry-level option from Campagnolo, Veloce is also available in silver or black, and it's still a 10-speed system with a lack of carbon use within the construction.
Campagnolo groupset weights and RRPs
| | | | |
| --- | --- | --- | --- |
| Super Record, 12 speed EPS Disc | Electronic, disc, 12 speed | 2505g | £4099.99 |
| Super Record 12 speed EPS, Rim | Electronic, rim, 12 speed | 2255g | £3809.99 |
| Super Record 12 speed disc | Electronic, disc, 12 speed | 2453g | £3937 |
| Super Record 12 speed rim | Mechanical, rim, 12 speed | 2041g | £2600 |
| Super Record H11 (disc) EPS | Electronic, disc, 11 speed | Unconfirmed | £3937 |
| Super Record EPS | Electronic, rim, 11 speed | 2078g | £3712 |
| Super Record H11 (disc) | Mechanical, disc, 11 speed | 2228g | £2878.60 |
| Super Record | Mechanical, rim, 12 speed | 1940g | £2603.05 |
| Record 12 speed, disc | Mechanical, disc, 12 speed | 2453g | £2144 |
| Record 12 speed | Mechanical, rim, 12 speed | 2213g | £1750 |
| Record H11 (disc) EPS | Electronic, disc, 11 speed | Unconfirmed | £3627 |
| Record EPS | Electronic, rim, 11 speed | 2178g | £3174.55 |
| Record H11 (disc) | Mechanical, disc, 11 speed | 2260g | £2160.57 |
| Record | Mechanical, rim, 12 speed | 2039g | £1750.06 |
| Chorus EPS | Electronic, rim, 11 speed | 2308g | £2203 |
| Chorus H11 | Mechanical, disc, 11 speed | 2613g | £2047.07 |
| Chorus | Mechanical, rim, 12 speed | Unconfirmed | £1330.65 |
| Potenza Disc | Mechanical, disc, 11 speed | Unconfirmed | £1387.50 |
| Potenza | Mechanical, rim, 11 speed | 2412g | £818.76 |
| Centaur | Mechanical, rim, 11 speed | Unconfirmed | £588.12 |
| Veloce | Mechanical, disc, 10 speed | Unconfirmed | Unconfirmed |
| Campagnolo Ekar | Mechanical, disc, 13-speed | 2,385g | £1449 |
* Weights will always be estimates, as they'll vary depending upon chainring size, crank length, cassettes used and some official weights do not include components such as cables and mineral oil/hoses for disc brakes.
** RRPs are based upon Campagnolo's official retail price of components added together. Retailers create their own RRPs, based upon the cost of individual components, so listed prices will vary.
Components of a road bike groupset
Shifters
The shifters on a road bike are used change gear. Shimano's STI (Shimano Total Integration) shifters are the most common design. The brake lever can be pushedinwards (sideways) to change up into an easier gear. To change down, there is a second lever behind the first that can be separately pushed inwards. To apply the brake, both levers are pulled backwards, towards the rider.
With shifters from Campagnolo and SRAM you brake in the same way but shiftslightly differently. With Campag you shift down using a shifter behind the brake lever, and change up using a thumb shifter on the inside of the hoods.
On mechanical SRAM groupsets, you shift up by pushing the lever in one notch, and change down by continuing to push it in slightly further. However with SRAM Red eTap, the American company's electronic groupset, you shift up at the back by pressing the right shifter, down at the back by pushing the left shifter, and push both simultaneously to shift the front derailleur.
Brakes
The most common brakes found on road bikes are cable-operated calipers that engage with the wheel rim. Recent advances have seen the introduction of hydraulic calipers, although these are notwidely used, and an increasing number of road bikes are being equipped with disc brakes.
>>> Disc brakes: everything you need to know
Disc brakes are now UCI-legal (meaning they can't be ridden in UCI road races) - yet surrounded by much controversy after riders have claimed cuts and lacerations have been caused by the rotors. For those riding outside of the peloton, but they can offer much improved braking power and modulation. In addition, because the wheel rim does not have to be reinforced to feature a braking surface, the rim can be lighter.Direct-mount calipers are also being seen in increasing numbers and offer superior performance to single mount calipers, but they are only compatible with specific frames.
Chainset
Chainsets housing the front gears can be split into two main categories – doubles and triples. A double has two chainrings while a triple has (you guessed it) three.
Double chainsets are available in different ratios, with 53/39t being the standard combination favoured by road racers (for those new to cycling, the numbers refer to the number of teeth on the chainring and the bigger number, the bigger the gear. A bigger front gear is harder to push but can achievehigher speeds).
>>> Is it the end for the 34t chainring?
Compact chainsets have a 50/34t ratio and are currently the most common gearing equipped on road bikes. The smaller 34-tooth chainring makes this kind of chainset ideal for riding in hilly terrain. A third, increasingly common ratio known as mid-compact, with a 52/36 ratio, is alsoavailable, and is good if you want to be able to push a big gear down fast descents, but also want a small inner ring to fall back on in the hills.
Triple chainsets are being used less frequently these days, but they are often found on touring bikes as they offer the greatest range of gears, which is useful when riding a bike laden down with heavy kit. The most common ratio is 50/39/30t.
>>> Are shorter cranks better?
The chainset also features the cranks, which attach to the pedals. The length of the crank arms can vary, typically ranging from 160mm to 180mm. The length of the cranks that come fitted to a complete bike is usually related toitssize — for example, a 56cm frame will often have 172.5mm cranks. Longer cranks offer a bigger mechanical advantage and larger effective gear, but can be harder to turn. Shorter cranks are sometimes favoured in criteriums, as they offer more ground clearance to let you pedal around corners.
Cassette
The cassette refers to the collection of sprockets on the rear wheel. These are available in wide range of different ratios. An 11-speed cassette will have 11 sprockets on the cassette, which can be arranged in a close ratio such as 11-23t, which will be good for time trialling and racing on flatter terrain, as the close gears allow for fine adjustment and very smooth shifting, or a wider ratio like 11-32t, which gives you more gears to choose from when riding in hilly terrain.
You can change your cassette and it is common forcyclists to own a few different ratios. However it is important to rememberthat the size of the biggest ring on a cassette is limited by the length of the cage on the rear derailleur, so check with your local bike shop before you splash out on that 32-tooth granny gear!
Chain
The type of chain is dependant on the range of gears, i.e. a 10-speed groupset requires a 10-speed chain. An 8-speed chain is considerably wider than an 11-speed chain. More expensive chains feature alloy coatings that are more resistant to wear, and are often lighter. Chains, like cassettes, wear over time, so will need to be replaced periodically.
Derailleurs
The derailleurs (also calledmechs) are responsible for guiding the chain from one sprocket to the next. A cable is usually responsible for the shifting, but electronicgroupsets, such as Shimano Ultegra Di2, SRAM Red eTap, or Campagnolo EPS, use small motors to move the derailleur. Front derailleurs are either band on, or braze on, so make sure you select the correct option if purchasing separately from your frame. Band on refers to a circular clamp to attach to the frame. This is not always possible, as bike frames are not always round. To counter this,brazeon derailleurs are riveted or bolted to the frame. The more expensive rear derailleurs feature ceramic bearings in the jockey wheels.
Electronic vs mechanical shifting
If you've got more than £3,000 to spend on a new bike then you will likely be faced with a choice of whether to go for electronic or mechanical shifting. Which you choose to go for depends really upon what you're priorities are and the sort of riding you do.
>>> Six reasons why electronic groupsets are better than mechanical
For out and out performance, electronic groupsets are the natural choice, as shown by the fact that all but a handful of riders in the professional peloton now choose to use it thanks to the slightly sharper shifting and the ability to shift through multiple gears at once. And don't be put off by the fact that the batteries have to be recharged (once in a blue moon) or the idea that it might be susceptible to the elements (in fact we'd argue that gear cables are much more vulnerable to wet and muddy roads and electronic wires).
>>> Six reasons why mechanical groupsets are better than electronic
Of course there are still many benefits to mechanical groupsets. The shifting on most mechanical groupsets is still very good, and if something goes seriously wrong then it's much easier to be fixed than electronic. But perhaps most importantly, it's also considerably cheaper, with the Shimano Dura-Ace Di2 costing £1,000 more than standard Dura-Ace, while Campagnolo Super Record is a massive £1,200 dearer.
What do you get for your money when buying a road bike groupset?
Groupsets vary in price a great deal, but what changes as the price goes up? The first thing to consider is weight. A lighter bike will accelerate faster and climb quickerthan a heavy one, but components also need to be strong and stiff. As the price of components increases the weight decreases. In order to maintain strength, durability and stiffness of the lighter components, more expensive materials are required. For example, an entry level groupset will likely have a steel chain, with a top end groupset featuring a titanium chain.
Performance
Manufacturing tolerances are much morehigheron a top end groupset, which means that with anincreased price, you get improved shifting between gears. More expensivecomponentsare smoother, more precise andquicker toshift. Electronic groupsets are currently the benchmark in shifting performance, offering smoother shifting when changing gear under load, such as when riding out of the saddle or grinding up a hill. In these situations the lower end groupsets will be very clunky and strained, whereas the electronic shifting is sublime.
Something to consider is that the shifting performance does tend to level out for the top two tiers. For example, the shifting quality between Ultegra and Dura-Ace is very similar, and the difference between the two primarily comes down to weight.
Braking performance also improves as the price goes up, with the calipers becoming stiffer up the hierarchy. This translates to more power, feel and modulation.The more expensive chainsets tend to be lighter and stiffer too. This can transform a bike, as a stiff crankset is more efficient at transferring the power from the pedals into forward motion. A chainring that flexes slightly under load will absorb energy, and decrease shifting performance too. For these reasons the big sprinters, such as Marcel Kittel will favour very stiff chainsets.
Durability
As one would expect, durability generally improves as you move up in price. Quality mid-tier components such as shifters and derailleurs last a very long time if properly maintained. However it is important to consider that the top-tier groupsets, such as Super Record and Dura-Ace, are not designed for workhorse everyday use. These components are designed to be the lightest, with everyday use a secondary concern, which means that durability of groupsets tends to peak around the second highest tier. Running costs should also be factored in, as chains and cassettes are expected to wear out and be replaced several times throughout the lifetime of a bike. Replacing a Super Record chain and cassette will incur a much greater cost than a Chorus equivalent.
Key groupset brands
The big three are Shimano, Campagnolo and SRAM - we've got dedicated guides on each of these:
Shimano groupset hierarchy
There are a couple of other options:
Rotor road bike groupsets
Spanish manufacturer Rotor has long been making cranksets and power meter, but has recently unveiled it's first groupset, the Rotor Uno hydraulic groupset. This groupset uses hydraulic fluid to move the derailleurs (and brake calipers) rather than cables or wires. The result is an exceptionally light groupset, although we haven't yet been able to get our hands on one to put through its paces.
FSA road bike groupsets
Another newer name that is also set to join the groupset market is FSA. Best known for its cranksets and finishing kit, the Italian company has developed the K-Force electronic groupset.
Top Tips when looking at road bike groupsets on built bikes
When buying a bike look at the components it comes with. It is common for bike manufacturers to supply a bike with a whole groupset, minus the brakes and chainset. These are sometimes (but not always)swapped out for cheaper parts to bring the overall price of the bike down. If you are unsure, enquire to establish what you are getting. In some instances it can also be worth investing in a quality frame with a lower end groupset, with a mind to upgrading the components at a later date.
Cycling Weekly's Tech Editor Michelle Arthurs-Brennan is a traditional journalist by trade, having begun her career working for a local newspaper before spending a few years at Evans Cycles, then combining the two with a career in cycling journalism.
When not typing or testing, Michelle is a road racer who also enjoys track riding and the occasional time trial, though dabbles in off-road riding too (either on a mountain bike, or a 'gravel bike'). She is passionate about supporting grassroots women's racing and founded the women's road race team 1904rt.
Favourite bikes include a custom carbon Werking road bike as well as the Specialized Tarmac SL6. 
Height: 166cm
Weight: 56kg