Road bike groupsets: Shimano, SRAM and Campagnolo hierarchies explained
What exactly is a road bike groupset? Should you pick Shimano, SRAM, Campagnolo or other? Here's your complete guide to this essential piece of kit for your bike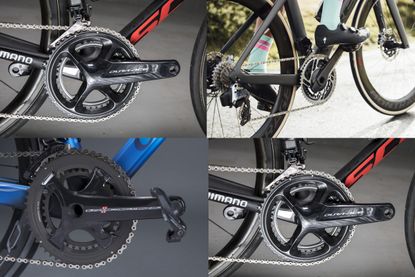 What is a road bike groupset?
A road bike groupset includes any parts involved in braking, changing gear or running the drivetrain. This includes the shifters, brake levers, front and rear brake calipers, front and rear derailleurs (sometimes called mechs), crankset, bottom bracket, chain and cassette.
Other components like pedals may also share the groupset's name although they're not considered part of the core groupset.
When you're buying a new bike, after the frame, the groupset is the second determining factor in value for money. Groupsets higher up the hierarchy will be lighter, may last longer, and in some cases may have improved functionality such as more immediate responses to shifting and braking.
Increasingly, the highest spec groupsets are electronic, where a battery and motors shift gears for you in response to electronic commands sent either via wires or wirelessly to the derailleurs.
There are three main manufacturers of groupsets and bike components. Shimano is the largest and best known, while the other two of the "big three" are Campagnolo and SRAM. All three manufacturers offer a range of groupsets at competing price points.
Read further down the page for information on individual components - whilst you'll find information about the 'big three' providers below...
Shimano groupset hierarchy
The large majority of built road bikes come with a primarily Shimano groupset, though you'll sometimes find they include some components from other brands to keep costs down - such as TRP brakes or FSA chainsets.
The Japanese brand offers a wide range of groupsets - starting with Claris and Sora, which you'll find on entry level road bikes. Tiagra is the next step up, followed by Shimano 105 which is typically specced on bikes costing upwards of £1000.
Shimano 105 is considered Shimano's first performance groupset, and for many people it is the best option in combining performance, value and longevity. Ultegra is next and is very similar to Dura-Ace in terms of performance, though Dura-Ace is lighter. You'll find Ultegra on bikes from around £2500.
The latest versions of Ultegra and Dura-Ace are electronic only, with Shimano's electronic shifting system called Di2. Dura-Ace, Ultegra, 105 and Tiagra models offer the option of hydraulic disc brakes as well as rim brakes.
Shimano also produces GRX, its first dedicated gravel bike groupset, offering it in both mechanical and electronic 11 speed, as well as mechanical 10 speed, and all with hydraulic disc brakes.
Within each groupset there's a series number, so the latest Shimano Dura-Ace R9200 supersedes the older Dura-Ace R9100, which itself was a successor to Dura-Ace R9000, etc. If you're looking to replace parts of a groupset make sure that you've got the right series number; many parts are cross-compatible between series but some aren't.
Shimano Dura Ace - R9200 series
Best groupset for racing
Specifications
Cassette: 12-speed
Shifting: Electronic only
Braking: Rim and disc
Shimano Dura-AceR9100 was superseded by Shimano Dura-Ace 9200 on August, 31 2021. This new 12-speed groupset is semi-wired, with the option of wireless communication from the levers to the derailleurs, which are powered via wires to a central battery mounted within the bike's frame. It also features improved disc braking technology.
Whilst Shimano will continue to manufacture parts to serve existing set-ups, new Dura-Ace is now Di2 only. There is still a rim brake option if you prefer rim brakes.
According to Shimano, Dura-Ace 9200 offers an increase in shifting speed, with a claimed 58 percent decrease in rear derailleur operating time and a 45 percent decrease in front derailleur operating time.
The shifters have grown in size, Shimano said this was because they'd become too small, and pros complained they felt unstable on uneven ground, but the argument could be made that tech changes made a hood size increase necessary. Electronic shifting systems can be set up with satellite shifter buttons that are wired into the main levers, allowing you to shift from the bar tops or the drops in addition to the main levers.
The groupset is now 12-speed and uses a Hyperglide+ cassette - similar to the brand's mountain bike options. The cassette still starts with an 11t sprocket, the gaps are just now smaller between the 6th, 7th and 8th sprockets.
Interestingly, Shimano has released a new 54/40 chainset, replacing the 53/39 - the 50/34 and 52/36 still exist. You can buy a dual-sided Dura-Ace power meter as well as a powerless chainset.
At the back, options range from 11-28 all the way to 11-34, there is no longer an 11-25 as Shimano said few riders opted for this narrow range.
Shimano made a lot of changes to the braking tech within this launch. Firstly, it swapped the rotors for the XTR option featured in its mountain bike line ups, stating that these offer improved heat dissipation and are lighter than the old Dura-Ace rotors.
The gap between the pad and rotor was also increased, and 'Servo Wave' tech was incorporated - again, this comes from the mountain bike family and is aimed at reducing the free stroke and creating a more immediate connection between the pads and rotors.
You can read our full launch assessment of Shimano Dura-Ace R9200 here.
Shimano Ultegra - R8100 series
Specifications
Cassette: 12-speed
Shifting: Electronic only
Braking: Rim and disc
Shimano Ultegra is consistently considered to be the thrifty racer's choice, carrying much of the performance of Dura-Ace, with a reduced price tag. This applies even more so with the launch of Shimano Ultegra R8100, which coincided with that of Dura-Ace R9200 - meaning the groupsets share a lot of identical tech.
The newest 12-speed Shimano Ultegra family - R8100 supersedes 11-speed Ultegra R8000 and the two are not compatible.
The new groupset uses the same semi-wired platform as Dura-Ace R9200 and enjoys Servo Wave tech at the brakes whilst also featuring the same increase in the size of shifter hood.
For the first time ever, Shimano also offers a range of all-carbon Ultegra wheels, and as per Dura-Ace, there is the option to spec the groupset with a power meter as standard.
It's rare for Shimano Dura-Ace and Ultegra to be launched simultaneously, and this pattern allows consumers to enjoy many of the technologies that would usually take a year to trickle down - immediately.
Whilst both rim and disc brakes are supported, new Ultegra is Di2 only; Shimano is aware that there are many users still enjoying existing mechanical Ultegra, and it will continue to make these components available.
You can read our assessment of the key differences between Dura-Ace R9200 and Ultegra R8100 here.
Reasons to buy
+
Competitively priced
+
Quality shifting and braking
+
Looks like the higher priced groupsets
Reasons to avoid
-
105 name doesn't carry same gravitas as Ultegra and Dura-Ace
Shimano 105 R7000 is now the only 11-speed Shimano groupset and inherits much of the tech used in the older 11-speed mechanical Ultegra.
You get the thickset crank arms seen in Dura-Ace and Ultegra, and there are three different crankset options (53-39, 52-36 and 50-34) to be paired with 11-25, 11-28, 11-30, 11-32 or 11-34 cassettes.
There are dedicated 105 R7000 hydraulic disc brakes, as well as a rim brake option.
Reasons to buy
+
High end look
+
Excellent front and rear shifting
+
Good brakes
+
Wider shifting range
Shimano Tiagra groupsets and below have yet to receive the more recent updates, retaining the older rear derailleur shape instead of Shimano's more wrap-around Shadow rear mech profile.
The 2016 update - Shimano Tiagra 4700 - however, did incorporate gear and brake cables that could be fed beneath bar tape, reducing the "anti aero loop" on previous editions. It's compatible with flat bar bikes, too.
Tiagra is also still 10-speed, and the chainsets available are 52/36t, 50/34t, 48/34t and 50/39/30t - the larger, more race focused 53/39t option available higher up the foodchain won't be found here. There is the option for hydraulic disc brakes though.
Reasons to buy
+
Super-reliable shifting
+
11-32t cassette compatible means wide range of gear options
+
Compact or triple chainsets
+
Excellent value for money
Reasons to avoid
-
Only nine-speed
-
Poor stock brake blocks
-
Black finish is a bit low-rent
Shimano showed its Sora groupset (R3000) a bit of love in 2017, with new shifters, brakes and rear derailleurs which carry a more sophisticated aesthetic.
The chainset, like Tiagra, is now four arm which allows it to be lighter - and it comes as a 50-34 compact or 50-39-30 triple and the whole setup can be introduced to flat bar bikes (on a five arm crankset with chainguards). Cassettes can be as large as 11-30, which allows plenty of gear options.
The groupset continues to be 9-speed, but it does have new shifters which allow for neater internal cable routing. The rim brakes are said to be improved with 20 per cent greater stopping performance on the outgoing version thanks to the addition of dual pivot calipers. There's no in-series disc brake option.
Reasons to buy
+
Long cage rear derailleur
+
Reliable rear shifting
+
Intuitive dual control shifting
+
Good range of gear options
Reasons to avoid
-
Front shifting takes a bit of effort
-
8-speed means big jumps between sprockets
-
Spongy brake pads
Shimano's entry level Claris R2000 groupset is 8-speed, provides excellent value and has the clean looks of the brand's higher spec options.
There is a cheaper option - Shimano Tourney - but you won't find it on many built bikes and Claris has one up on it because it uses the same Dual Control shifting action and hidden cabling as the other key groupsets for its drop bar levers. Tourney, on the other hand, still features a thumb lever on the inside of the hood to shift up. Claris also has its own matching brake system and there are flat bar shifters available, as well as double and triple chainsets.
Though Claris is perfectly effective, the letdown is its 8-speed shifting. You can get six different cassettes with ranges from 12-25 up to 11-34, so there are plenty of gearing options. But with only eight gears, the larger range cassettes have large jumps between ratios, which can lead to clunky shifting.
Reasons to buy
+
Clutch rear derailleur
+
Great hood feel and braking
+
Wide gear range
Reasons to avoid
-
Slightly heavier than a road groupset
-
You might need to buy XTR pedals if you have fussy knees
Shimano GRX was launched in 2019, with the goal of offering a groupset tailored to the growing trend towards bikes designed to traverse mixed terrain.
There are three key levels of spec: 11-speed RX810 and RX600 or 10-speed RX400. To make things even more confusing, RX815 is an electronic Di2 system, whereas RX810 has mechanical shifting. There are single chainring and double chainring versions at RX810 and RX600 spec level too.
Gravel ready features include grippy levers, and front derailleurs which are built with 2.5mm more outbound clearance for wider tires. The rear mech comes with Shimano's chain stabilizing clutch system known as SHADOW RD+ to manage 'chain chatter', and there's integration for dropper seat posts.
11-speed rear mechs come in two flavours: the short cage version for two chainrings will handle cassettes up to 34 teeth, whereas the long cage version works with a single chainring and cassettes with up to 42 teeth. Chainrings are smaller to give lower ratios than those found on Shimano's road groupsets.
Unlike the rest of the Shimano groupsets, where to ensure smoothest operation it's best to keep the whole groupset within the same range, GRX is more of a pick and mix system, which enables you to match your shifting to your specific gravel/ adventure needs.
This means that there are countless operating systems to choose from, and although we've included the most likely options in the table above, we haven't added in the additional dropper seat post option, with corresponding lever, or the Hydraulic Disc Sub Brake Lever – which can be added to all the options.
Shimano groupset weights and RRPs
Weights and RRPs vary slightly depending upon your component choices - so are approximations
Name
What is it?
Weight*
RRP**
Shimano Dura-Ace R9200
Di2, disc, 12 speed
2438.5g
£3700.99
Shimano Dura Ace R9170
Di2, disc, 11 speed
2389g
£3214.82
Shimano Dura Ace R9150
Di2, rim, 11 speed
2051g
£2944.84
Shimano Dura Ace R9120
Mechanical, disc, 11 speed
2355g (/2445g w cables)
£2104.91
Shimano Dura Ace R9100
Mechanical, rim, 11 speed
2007g (/2097g w cables)
£1834.92
Shimano Ultegra R8100
Di2, disc, 12 speed
2616.5g
£2399
Shimamo Ultegra R8070
Di2, disc, 11 speed
2627g
£1979.83
Shimano Ultegra R8050
Di2, rim, 11 speed
2353g
£1669.83
Shimano Ultegra R8020
Mechanical, disc, 11 speed
2512g
£1244.92
Shimano Ultegra R8000
Mechanical, rim, 11 speed
2266g
£954.92
Shimano 105 R7020
Mechanical, disc, 11 speed
2,478g
£816.91
Shimano 105 R7000
Mechanical, rim, 11 speed
2,467g
£595.99
Shimano Tiagra 4700
Mechanical, Disc, 10 speed
2,585g
£749.99
Shimano Sora R3000
Mechanical, rim, 9 speed
2,660g
£456.92
Shimano Claris R2000
Mechanical, rim, 8 speed
Unconfirmed
£396.92
Shimano GRX RX810 – 1 + RX815 (short)
Di2, Disc, 11speed, 1x (40T or 42T )
2334g
£1289.92
Shimano GRX RX810 – 1 + RX817 (Long)
Di2, Disc, 11speed, 1x (40T or 42T)
2464g
£1254.92
Shimano GRX
RX810 - 2 + RX815 (short)
Di2, Disc, 11 speed 2x
(48-31T)
2762g
£1529.91
Shimano GRX RX810 - 2 + RX817 (long)
Di2, Disc, 11 speed, 2 x (48-31T)
2686g
£1494.91
Shimano GRX RX810 – 1 + RX810 (short)
Mechanical, Disc, 11speed, 1x (40T or 42T )
2195g
£1099.92
Shimano GRX RX810 – 1 + RX812 (long)
Mechanical, Disc, 11speed, 1x (40T or 42T )
2306g
£1084.92
Shimano GRX RX810 – 2 + RX810 (short)
Mechanical, Disc, 11speed, 2 x (48-31T)
2401g
£1189.91
Shimano GRX RX810 – 1 + RX812 (long)
Mechanical, Disc, 11speed, 2 x (48-31T)
2512g
£1174.91
Shimano GRX RX600 -1 + RX810 (short)
Mechanical, Disc, 11speed, 1x (40T)
2368g
£835.92
Shimano GRX RX600 -1 + RX812 (long)
Mechanical, Disc, 11speed, 1x (40T)
2556g
£870.92
Shimano GRX RX600 -11 + RX810 (short)
Mechanical, Disc, 11speed, 2x (46-30T)
2554g
£905.91
Shimano GRX RX600 -11 + RX812 (long)
Mechanical, Disc, 11speed, 2x (46-30T)
2693g
£940.91
Shimano GRX RX600 -10 + RX400(mid)
Mechanical, Disc, 10speed, 2x (46-30T)
unconfirmed
£728.91
* Weights will always be estimates, as they'll vary depending upon chainring size, crank length, cassettes used and some official weights do not include components such as cables and mineral oil/hoses for disc brakes.
** RRPs are based upon Shimano's official retail price of components added together. Retailers create their own RRPs, based upon the cost of individual components, so listed prices will vary.
SRAM groupset hierarchy
Illinois-based SRAM is the newest of the three main brands and in 2015 launched the first wireless groupset, 11-speed SRAM Red eTap. In 2019, SRAM launched two further wireless group sets SRAM Red eTAP AXS and SRAM Force eTap AXS, which also gained an extra sprocket to become 12-speed at the same time. Then, in 2021, it brought eTap AXS to Rival level, cutting the cost of entry into electronic shifting significantly.
All SRAM's electronic groupsets use the same battery, which plugs into the back of the front and rear derailleurs and is recharged by a USB cradle. There's the option to add satellite shifters (which SRAM calls Blips) to Red and Force eTap AXS.
Turning to its mechanical groupsets, Apex is SRAM's entry level and roughly comparable to Tiagra; like Tiagra it's 10-speed. Next up the ladder is the 11-speed Rival, which was named to rival Shimano 105. SRAM Force is top of the mechanical groupset hierarchy and roughly comparable to the old 11-speed Shimano Ultegra.
All SRAM's groupsets are available with a single ring 1x option at the front and every model in the range is also available with disc brakes. There are rim brake options for some groupsets as well.
Across the mechanical range, SRAM uses 'DoubleTap' - which means that the single gear lever on each side does both the up and down shift. On the right, a short push takes you into a smaller cog (more resistance) on the cassette, and a long swipe takes you into a bigger cog (less resistance).
On the left, a quick click of the lever takes you into a smaller chainring, and a longer push moves you into a bigger ring - though obviously this doesn't apply on the 1x ranges where you get a brake-only left lever or can fit a dropper post control lever.
In 2019, SRAM introduced its AXS groupsets - initially only available in SRAM Red eTap AXS spec, this quickly trickled down to SRAM Force eTap AXS. Then, in 2021, it added SRAM Rival eTap AXS.
The overhaul is about more than just the extra sprocket offered by the 12-speed cassette. SRAM has downsized the chainrings - a 50/37 being the largest double ring option initially available, although SRAM has subsequently introduced chainrings up to 56 teeth.
In compensation its cassettes start with a 10-tooth smallest sprocket and offer options up to 36 teeth. This gives riders greater range via the cassette, with smaller incremental jumps, means you need to shift less between the chainrings and gives a lower lowest gear. You're losing nothing in terms of top end ratios - a 50x10 is bigger than a 53x11.
The AXS app is used to configure the system, but you don't have to use it - though without doing so you'll miss out on some gearing customisation. It's also used for firmware updates and to check battery status.
Since launch, SRAM has added two other options to eTap AXS. First is the Wide chainset (not available at Red level), designed to offer better clearance for wider tyres, particularly on gravel bikes, and which also offers lower gearing with smaller chainrings.
Second is XPLR, which gives a single chainring set-up with a 10-44 cassette, designed to provide gear ratios tailored for gravel riding. This is available at Red, Force and Rival levels.
For even more versatility, AXS systems are compatible with SRAM Eagle AXS mountain bike groupsets. That gives the option of a "mullet build" where road bike shifters and chainset are paired with an MTB cassette and derailleur for a massive single chainring gear range of 10-52 teeth.
Reasons to buy
+
Smart gear ratios
+
Easy installation
+
Compatibility between all AXS components
+
Removable batteries are easy to charge
Reasons to avoid
-
Integrated power meter makes it expensive to own multiple chainrings
SRAM Red eTap AXS, being wireless, is impressively light; it uses SRAM's own communication protocol 'AIREA' instead of ANT+ or Bluetooth. We've a long-term review of the groupset you can read.
To shift using eTap, you move into a smaller cog at the rear by pressing the paddle behind the right brake lever. You move into a larger cog by pressing the paddle behind the left lever. The front mech is operated by pressing both levers together, although the system is fully programmable and you can alter paddle function or set it up with sequential shifting when it sorts out the front changes for you.
There's a power meter option, although the meter is integrated with the chainset, so you can't easily swap chainring sizes and need to replace the whole thing once your chainrings become worn. This isn't a problem with the next level down Force eTap AXS, which uses chainrings separate from the power meter spider.
SRAM also offers XPLR gearing with Red eTap AXS.
Reasons to buy
+
Slick, sophisticated wireless shifting
+
AXS functionality and tunability for £1000 less than Red eTap AXS
+
Wide gear range means less front shifting
Reasons to avoid
-
Needs a wheelset with an XD-R cassette body
Like Red eTap AXS, SRAM Force eTap AXS is a 12-speed electronic groupset available with single or double chainrings and rim or hydraulic disc brakes.
Force eTap AXS shares many features with SRAM Red eTap AXS, just in a slightly more affordable package with a couple of minor shortcuts. That includes the use of less carbon fibre and separate chainrings rather than the one-piece inner and outer chainrings of Red eTap AXS. As with Red, there are options for a power meter and XPLR gearing, as well as the Wide chainset option.
Reasons to buy
+
Wireless, electronic shifting
+
Good value vs Force/Red and Shimano Ultegra
+
Inexpensive power meter upgrade
Reasons to avoid
-
More weighty than mechanical, wired groupsets
-
You'll need an XDR-ready wheelset