SRAM Force AXS review - the wireless 12-speed groupset has more pros than cons
The built-in power meter looks great, but doesn't override some of its old issues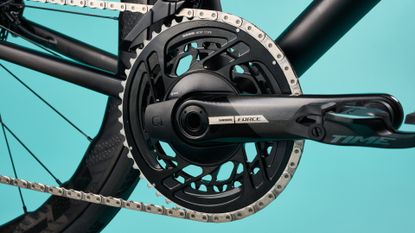 (Image credit: Future)
The newest SRAM Force AXS looks great, features an integrated power meter, and is lighter. Unfortunately it retains its slow shifting feel, but the lengthy battery life may help some overlook that issue. There's also smaller and more ergonomic hoods that should prove a hit with a lot of riders. The big miss, however, is the disposable power meter chainset. Even with the promise of longevity, it's still something that really grates. If SRAM were to be more transparent about the total life cycle of products then it would sit a lot better with me.
Reasons to buy
+

Redesigned hoods

+

Fresh new look

+

Powerful brakes

+

Lighter than previous model

+

Built in power meter
Reasons to avoid
-

Chainset with integrated power meter needs to be replaced once worn

-

Slow shifting

-

Not as comfortable or fast as Shimano Ultegra 12s Di2
You can trust Cycling Weekly. Our team of experts put in hard miles testing cycling tech and will always share honest, unbiased advice to help you choose. Find out more about how we test.
It's been four years since the last SRAM Force AXS was last updated, when it gained wireless shifting and an extra sprocket. This latest iteration sees fewer changes, but does deliver an integrated power meter and a fresh new finish.
We gave our initial thoughts on the second generation SRAM Force AXS groupset when it launched back in March 2023, when we were pleased to see the re-design of the previously controversial hoods.
Being designed as a 'do-it-all' groupset for both road and gravel use means an extensive line in chainset offerings, with both 1x and 2x of various sizes, as well as a patented 'wide' version, which features a wider chain-line to accommodate wider tyres.
I received a fully dressed Liv EnviLiv Advanced Pro AXS test bike for review with the new SRAM Force AXS groupset specced, giving me a chance to also review this updated groupset.
In the case of this review, the SRAM Force AXS version I rode was the 2x 12-speed version with Quarq D-Zero power meter 48/35T chainring, 10/28t cassette and hydraulic disc braking as standard.
It's probably worth addressing your first two thoughts before I head off in to a deep dive review.
1. No, I've not forgotten the 'eTap' name,
2. Yes it is still wireless.
SRAM dropped the eTap element of the groupset name when the AXS component integration system was launched. It's a mobile app that allows you to control all AXS-enabled components, from shifting to analysing riding performance, including power zones and tyre pressure - eTap is still there, but that's merely just the shifting mechanism name.
As mentioned above, our launch feature on the Force AXS included an in-depth look at the redesign, so it's worth checking back if you haven't already read up on the all the new groupset details.
For ease of reference, I'll give a quick re-cap on the updates from the previous equivalent option, the SRAM Force eTap AXS groupset, and run through the construction and compatibility options for this road double chainset with Quarq D-Zero integrated power meter.
SRAM Force AXS - Changes and updates
There are three main changes to the new Force AXS; the chainset, with integrated power meter, new hood profiles and a brand new look, including updates to the colour and graphics.
Much of this isn't new technology for SRAM - opting for the same one-piece construction for the double chainset that the SRAM RED eTap AXS groupset adopted way back in 2019, albeit with aluminium chainrings and carbon crankarm this time.
The take home message from SRAM is that it believes that this one-piece design creates "faster, smoother, more secure shifting". It's also, in my personal opinion, much easier on the eye.
It isn't, however, easier on the wallet. Once worn, you'll have to swap-out the whole chainset, power meter and all.
It's an issue that overshadows my whole experience with the SRAM Force AXS groupset. I just can't wrap my head around the disposing of a perfectly good power meter because of worn chainrings.
I'm assured that the same trade in deal that exists for SRAM Red AXS, and is applicable in the US and the UK, will also be also be available for this new generation Force. This allows the consumer to return the chainset to their supplier, who will then be able to exchange a new like-for-like unit at half the retail price. However, it is up to the dealer to pass that cost saving on to the customer.
Either way, you'll want to be pretty sure of your chainset selection from the off, ensuring the correct crank arm length, which extends from 165mm up to 177.5mm, as well as chainring sizes, which are rationed to 46/33T, 48/35T, or 50/37T ratio options.
The integrated DUB-PWR is housed in the crank spider, which measures both left and right sides of your power balance, as well as your total watts.
Being part of the SRAM AXS system means that not only are you able to remotely control your shifting preferences, but you'll have access to battery status, power data, and even tyre pressure. Naturally you'll still want to pair it with a head unit of your choice, with compatibility across most of the popular brands, including Garmin, Wahoo and Hammerhead.
The rest of the SRAM Force AXS groupset remains unchanged functionality wise, but does get a tickle in the aesthetics department. Losing the - in my opinion - dull agricultural looks for a sleeker and more exclusive finish . Although good luck getting that new chainring looking clean after a less than dry ride.
SRAM says that the version we tested tips the scales at 2896g. This makes it about 100g lighter than the previous version, and on a par with the equivalent 12-speed Shimano Ultegra Di2, which weighs a claimed 2736g with power meter.
SRAM Force AXS - The ride
Full disclosure now - it's been a long time since I last used SRAM Force eTap, so a direct comparison between the old and new isn't going to be laid out on this page.
However, I have had the perk of riding the new SRAM Force AXS in a testing window where I swapped between the Liv EnviLiv and a Wilier Filante SLR Ultegra, which as the name suggest, was equipped with the latest edition of Shimano Ultegra Di2. This is probably a better comparison as it's often the closest peer groupset and one that you will find yourself deliberating most over when it comes to making a purchase.
I'm fortunate, or not depending on how my bike fitness is going, to live in the foothills of the Peak District National Park in the north west of the UK. It's a great testing ground for legs and lungs, the British Cycling squad is based here for a reason. It's also very good at testing out groupset functionality with the necessary multiple shift changes or braking required before I've even got to the end of my road.
The newly designed hoods still aren't my favourite, especially when hopping between Force AXS and Ultegra Di2 set ups. They're still utilitarian in look and feel, with the Ultegra proving a much softer, more malleable fit in the hand and ultimately more comfortable hold. I highlighted this in the Liv EnviLiv review, finding the hoods on SRAM still too brutalist in appearance and feel.
The braking on the SRAM Force AXS is as great as it ever was. Once I'd dialled in the lever position, I found I didn't struggle with reach, and the brakes' linear pull was constantly replicated. I've not once felt under powered. On some of the long descents on warm days I've never been concerned about speed modulation, even with the organic pads the brakes came fitted with.
While we're talking about levers, it's worth interjecting here with experience of the 'eTap shift logic'. To be fair to SRAM a right tap making it 'harder', left tap 'easier' and two together to shift the front derailleur does make a lot of sense.
In practice it takes a while to dial in to your brain, especially when hopping between groupset brands. It's a bit like going from an auto to manual car, or iOS to Android.
Everyone will have a preference, and I found that once I'd been riding a while, fumbled a few shifts, my brain's muscle memory kicked in, and misfires were less of an occurrence.
While on the initial first ride of the Force AXS CW found the rear shifting silent, attached to the Liv EnviLiv and riding solo on an oppressively hot day in the hills I was able to hear an audible whir then clunk as it changed gear. It was also matched by a pregnant pause in action - I think I was about to almost count to two between pressing a shift button and the rear mech completing its task.
The front shift is a similar affair, without the shifting soundtrack. I feel like I'm telling the same old story for SRAM here, as there's still a requirement to ease off the pedals a touch before performing any gear change manoeuvre. Not ideal if your going toe to toe with a rider, hill or sprint, where being totally on top of the gears really matters.
In SRAM's defence, the distinctly detectable gear change was amplified by the oversized Giant SLR 1 50 Carbon Disc Wheel System that the Liv EnviLiv rolls on. As with any deep section rims, these will act like a generous echo chamber, and I suspect on shallower wheels the noise wouldn't be as perceptible.
SRAM Force AXS - APP and battery run time
A big positive for me is the groupset's battery. I never got close to finding the total run time of the battery after one full charge, even after a couple of hundred hilly miles with multiple shift requirements. I'm not likely to anytime soon either according to the battery stats on the AXS app.
As for that app, it's a neat tool and does make digital bike fettling much easier - not that I felt the need to change the set up from the factory setting the groupset came with. Pairing the groupset with the app on my phone was simple enough, and I was instantly able to see statistics.
One thing that I did miss was the ability to check on things like battery status while not with the bike. I appreciate it's a first world problem, but it would be handy to be able to view your numbers, battery life or otherwise, while pretending to work at your desk [noted, Ed]. Having to go trudging off to the garage to stand next to a bike will make work absences a little more obvious.
Unfortunately, I don't own power pedals or hub in order to cross correlate power data from the crank based DUB-PWR power meter. Its connectivity seems stable and compatible. If you're a data user, it promises to take the stress out of the 'will it work today' power meter anxiety. After an experience with a set of pedals made me refuse to ever rely on riding with power again, this level of reliable service could be enough to lure me back in to looking at numbers more often.
SRAM Force AXS - Value and verdict
The Force AXS disc-brake groupset with power meter that I tested retails for $2,640 / £2, 228.
Trying to compare groupset prices is never an exact science as rarely do they come as whole purchases, and it's a case of totting up each element. Back of an envelope maths and looking across to it's market peer, Shimano Ultegra Di2 12-speed with power meter and you'll be looking at around a $500/ £250 price difference at initial set up, the latter setting you back around about $3,132/ £2500.
But you will need to factor in the running cost, with Ultegra chainrings replaceable for in the region of $100/£100 while SRAM Force AXS , you'll need to factor in the whole chainset at $1000 /£770, which is pretty wild.
There are certainly improvements with the new SRAM Force AXS. The weight clearly has dropped and it looks way better than the old version.
Despite groaning about being requested to shift under load, both derailleurs did deliver a gear shift upon every button push request, although I did wince at the impact on the chain and that oh-so-expensive chainset whilst it went about it at times.
The other big plus was I didn't suffer from dropping a chain once, which is definitely progress from the brand.
However, when side by side testing with Shimano Ultegra Di2 it's just not as fast, smooth or comfortable and then there's that disposable chainset issue again...
As a standalone groupset, I wouldn't be in a rush to dress a frame in it, but if a bike I was coveting came wearing it, then I wouldn't turn it down or immediately think about how to swap it out - it just wouldn't be my first choice.
Thank you for reading 20 articles this month* Join now for unlimited access
Enjoy your first month for just £1 / $1 / €1
*Read 5 free articles per month without a subscription
Join now for unlimited access
Try first month for just £1 / $1 / €1