New SRAM Force AXS is lighter, includes a power meter and has new hood shapes
Updated second-tier wireless groupset includes redesigned shifters, chainrings and graphics...and we took it for a spin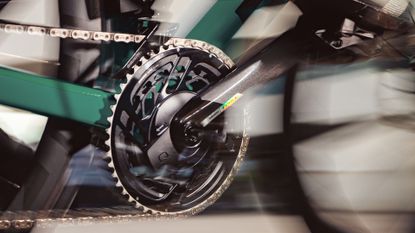 (Image credit: SRAM)
Get The Leadout Newsletter
The latest race content, interviews, features, reviews and expert buying guides, direct to your inbox!
Thank you for signing up to The Pick. You will receive a verification email shortly.
There was a problem. Please refresh the page and try again.
SRAM has launched an updated version of its popular road and gravel groupset, Force AXS.
Changes to the wireless 12-speed system include redesigned shifters and chainrings alongside a new logo and finish.
You can make a compelling argument that it's a brand's second and third-tier groupsets that really matter most. After all, they are the ones that the majority of us use due to their lower price. In recent years this saving hasn't felt like it came as much of a compromise, with trickle down technology making shifting differences between the flagship offering and its more affordable brethren negligible.
SRAM's Force eTap AXS is a case in point. It shifts like the more expensive Red groupset, with the difference between the two largely found in material choice and, as a result, weight. However, with SRAM's latest update has the gap grown less pronounced still?
Perhaps the first thing of note is that the latest iteration shares much with the outgoing groupset. SRAM appears to have taken an 'if it ain't broke' approach and perhaps with good reason. There was far more to like than not about Force AXS, and some of the minor gripes, such as the aesthetics and the shape of the hoods have been addressed.
The 12-speed Force is designed as a do-it-all groupset, applicable to road, gravel and time trials. As a result it comes with a an extensive range of chainset offerings: both 1x and 2x with various chainring sizes as well as SRAM's patented 'wide' offering, which, unsurprisingly, features a wider chainline to accommodate wider tyres, with the 2x option requiring a 'wide' front mech to match.
It's the 2x chainsets where one of the more significant changes takes place. Gone are the individual chainrings, replaced with the same one- piece construction favoured by the Red groupset that SRAM says allows for "faster, smoother, more secure shifting".
It arguably makes for a more visually appealing chainset too but also one that requires you to replace both chainrings even if only one is worn out. Worse still, if you're running the power meter version, which integrates the Quarq D-Zero device into the chainrings it means discarding a perfectly good bit of tech, too. In an age where we're encouraged to reuse, recycle and repair when possible, it's at best a questionable decision by SRAM.
Power meter upgrades are also offered as a crank arm, with the technology integrated into the DUB spindle. It's the only choice if you're running either the 2x wide chainset or any of the 1x options. It does means that only left leg powered is measured.
The 13-tooth delta remains, so you still get the same 50/37t, 48/35t and 46/33t chainring combinations (the wide 2x option features a gravel friendly 43/30t combo). It helps make the groupset around 100 grams lighter too, although weight obsessives might not be looking at electronic hydraulic groupsets in the first place.
The fresh aesthetics of the chainsets are mirrored across the groupset. The previous matte black and gray styling has been replaced with a gloss gray carbon complete with small iridescent logos. It's a relatively minor change but one that has the groupset looking a little classier than its predecessor.
But while these changes are merely cosmetic, the change to the shifter hood shape is a little more involved. Hood shape is subjective and your preference likely takes into account your hand size, the nature of your riding (and your riding style) and familiarity with the lever in question. Ardent Shimano fans have always found SRAM's hydraulic hoods a little too agricultural for their liking, while the Campag cognoscenti continue to flick their collective chins at both.
However, SRAM have taken note, altering the hood shape of the v2 Force lever to closer resemble that of Rival, its third tier groupset but one that was widely praised on its release, especially for the ergonomics of the hood. It's a sleeker shape that SRAM says "fits a wider range of hand sizes." There's a lever adjust option too for additional fine tuning.
The shifter paddles have also been redesigned; now larger so they should be easier to use in the cold and when riding with gloved hands. SRAM has increased the number of blips compatible with the levers to three - these are small buttons that allow you to shift gear without using the paddles and can be positioned to suit a rider's individual needs.
In a nod to simplicity the rear derailleur is now available in one cage length that will work with cassettes up to and including the 10-36t model. The previous incarnation utilised two mechs, with a 33t and 36t maximum respectively. For the 1x users who want to run SRAM's 10-44t dinner plate an XPLR mech is required.
If you enjoy SRAM's eTap AXS groupsets, you'll likely be glad that the tinkering stops here. The patented wireless shifting remains - with the same batteries easily slotted in and out of the front and rear mechs as before, although firmware updates are said to improve their life. So does the X-Range gearing, which uses the 10t sprocket to great effect, and the AXS system that allows you to configure the controls via the app.
The hydraulic brakes appear to be unchanged beyond cosmetics, which still means the same Bleeding Edge technology that's designed to make servicing the brakes easier than previous SRAM methods. Likewise the front derailleur, which means the same functionality using SRAM's YAW technology, which negates the need for any trim.
As for prices, a 2x Force AXS disc-brake groupset with power meter will retail for $2,640 / £2, 228 / , while the 2x WIDE option with power meter will cost $2,201 /£1,859. The 1x groupset with a power meter will retail at $2,142 / £1,803
The 2x option without a power meter has an RRP of $2,115/ £1,751, while the 1x no power meter will cost $1,832/ £1533.
A groupset comprises of the shift-brake system, rotors, crankset, chain, cassette, derailleur (front and rear for 2x, rear only for 1x), batteries, and charger. Bottom brackets are priced separately.
Interestingly, that makes the 2x non-powermeter groupset only £20 more than Shimano's 105 Di2 offering, although this gap increases to $225 in the US.
However, this is unlikely to mean that new bikes spec'd with Force will have similar price points to those equipped with 105. In fact, the just launched Liv EnviLiv Advanced road bike with the new Force retails at £6,999, while the Ultegra Di2 equipped model is £300 less.
SRAM Force AXS - First ride
CW's Video Manager Sam Gupta has been putting the updated Force AXS groupset through its paces. He's been riding a 2x set-up with an integrated power meter and here are his thoughts...
The good...
There are a lot of things to like about the update. This is because the previous Force was already a good groupset. I am happy to see that they addressed the looks of the groupset - personally, I thought the previous one looked dated and rather clunky.
The looks now match what we should expect from a second tier groupset. The brakes feel powerful, but to be fair they never felt bad before. The rear shifting is a delight. It's smooth, crisp, silent and doesn't falter when making strained shifts under load.
During my first ride with the groupset, I did actually crash when I hit some oil on a corner and came down on the drive side. While the rear derailleur took an impact, it's still working seamlessly and shifting as well as it was before. And lastly, I do like the slightly larger shift paddles. You aren't left searching for them and the small bit of texture adds to the interaction.
The new Force AXS can be paired with up to 6 blip shifters, or better put, 3 sets of blips. They can be programmed via the SRAM AXS App and because they're all wireless, you can put them anywhere you like. Quite frankly, if you wanted to attach one to a bottle then you could. I have one set attached to my bike and they're positioned either side of the stem or in 'the climbing position'. I used them quite a lot and they were faultless. Whether I was shifting up and down the cassette or pushing both at the same time to switch chainrings, they always worked.
And the not so good...
While the new hood shape is an improvement and I like being able to get my hands behind the levers more comfortably, the reservoirs, which have been shrunk down to allow for a better grip, did slightly limit the position I could adopt. They forced me into holding the tops of the hoods from the sides when riding aggressively but it's not as comfortable to cup them from the top down.
Yes, I know it is a tiny problem to have but when I think about the shape of the Shimano Ultegra hoods, you aren't limited at all. Also, when you are holding the Force hoods from the side and keeping your forearms parallel to ground when riding aggressively, it is a real shame they don't have shifter buttons on the tops of the reservoirs allowing you to fine tune your gears.
The front mech shift remains one of the weak points in the Force groupset. It's just not as fast as Shimano. You have to take a more considered approach when you shift. I will say, it never shuddered or struggled to shift when I wanted it to - even under load. I never dropped a chain or heard any crunching of any kind but it's just not as fast as I've become accustomed to with Shimano's Di2 technology.
While the new one-piece chainrings do look better, the cost of those aesthetic improvements mean that practicality has suffered. We all know that chainrings are a wearable part and after a certain amount of mileage they will need replacing. Given the new one piece nature of the rings, when you change one, you now change both, much like how you do on SRAM Red.
The real kicker here though, is that if you have the power meter version of the chainset, like the one I rode, the power meter itself is built into the rings. SRAM says this is for maximum weight reductions and increased power accuracy readings. This then means when you need to replace your chainrings, you also need to buy a new power meter and simply throw the old one away.
To me, that doesn't sit well and - rightly or wrongly - puts a serious onus on the rider to religiously clean and replace their chain to ensure maximum life out of the rings. SRAM says that these chainrings are made for extreme longevity. It also says that the chain should be replaced at 0.8mm of wear which is not a lot, so be ready to get through some chains!
Of course, staying on top of cleaning and maintenance is absolutely critical to getting the most life out of your bike and components. However now it feels like the stakes and risks associated in not doing so have been disproportionately heightened.
While this new chainset does look cool and in my opinion has seriously boosted the curb appeal of the Force groupset, it does seem like it could generate a fair bit of wastage. Not only in riders throwing away chainrings which have valuable Quarq power meters attached but also in the amount of chains one would end up getting through. It would be great to see SRAM also launch a recycling service where rather than throwing your old chainrings away, they can remove and recycle the power meter and also recycle the rings themselves.
Like I've already mentioned, the situation with the chainrings is a tough one to navigate. It really is a case of performance versus practicality and while this set up isn't new - this is how things have been on SRAM Red for a while, I believe that a Red customer would lean in the favour of performance over cost given the fact they have opted for the range topping groupset.
However, since Force is a product for a much wider market, perhaps, this move by SRAM may not sit so well with that customer base - let's just hope they don't do the same for Rival when it's time comes for an update.
Final thoughts
The new SRAM Force is certainly a facelift groupset and not something drastically new. It does address some key sticking points of the previous generation and while performance has been prioritised, practicality has suffered. Upgrading your bike to this groupset doesn't make a great deal of sense unless you were considering upgrading to Shimano 105 Di2. For anyone who chooses a new bike with this groupset fitted, be aware of the associated costs involved.
The price in which Force has entered the arena doesn't represent value when you consider the financial commitment a consumer has to make when chainrings and chains need replacing and there isn't a tangible improvement in the front shifting. Sure, it looks cool but the shifting doesn't feel as fast as Ultegra or even 105. While the fewer customers for Red may be more agreeable to deal with the servicing costs of running a top level groupset, the larger customer base of Force may not.
Thank you for reading 20 articles this month* Join now for unlimited access
Enjoy your first month for just £1 / $1 / €1
*Read 5 free articles per month without a subscription
Join now for unlimited access
Try first month for just £1 / $1 / €1
Get The Leadout Newsletter
The latest race content, interviews, features, reviews and expert buying guides, direct to your inbox!
Luke Friend has worked as a writer, editor and copywriter for twenty five years. Across books, magazines and websites, he's covered a broad range of topics for a range of clients including Major League Baseball, the National Trust and the NHS. He has an MA in Professional Writing from Falmouth University and is a qualified bicycle mechanic. He has been a cycling enthusiast from an early age, partly due to watching the Tour de France on TV. He's a keen follower of bike racing to this day as well as a regular road and gravel rider.