Best power meters 2023: pedal and crank-based models reviewed and rated
Everything you need to know about the best power meters for cycling, including what they are, key features, and how to use them as well as our pick of the best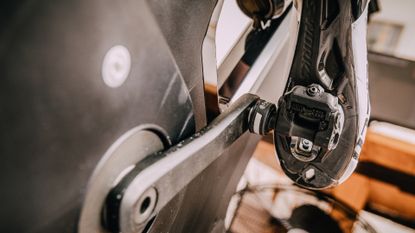 (Image credit: Future)
Best power meters 2023: Jump Menu
This year Black Friday is running from November 24th - 27th. We've rounded up all the best Black Friday bike deals - spanning fully built bikes, components and tech - in our main hub page. You're guaranteed to find a bargain.
The best power meters are the ideal tools to quantify your workouts, if you want to get the most out of your training.
But, as with most things in cycling, there is a huge variety of options out there – and what's best for one rider isn't necessarily the best power meter for all. It depends on the features you're after, the specification of your bike and - ultimately - your budget.
We start this guide with our immediate product recommendations based on our testing. We've put a number of power meters through their paces, testing them across a range of factors, including ease of use and accuracy - you'll see this listed in the product specs as +/- % figure, which is provided by the brand and translates to the accuracy of the reading (the smaller the number the better).
Lower down on the page we provide you with an in-depth guide to understanding more about one of the most important technologies in cycling.
How does each power meter measure power? What does power actually mean? How is power calculated? These questions are answered below and there's even a helpful link to help you get the most out of riding with power.
Best power meters reviewed
You can trust Cycling Weekly. Our team of experts put in hard miles testing cycling tech and will always share honest, unbiased advice to help you choose. Find out more about how we test.
Best power pedals for versatility
Best power meter pedals for versatility
Specifications
Accuracy: ±1%
Reading type: Right and left leg
Battery: LR44
Reasons to buy
+
Reliable
+
Weather-resistant
+
High end aesthetics
+
SPD-SL, SPD and Look compatible options
Reasons to avoid
-
Most multi-discipline riders change bikes more often than it is practical to change pedal bodies
Garmin's Rally pedals are a progression from the Vector 3. They've seen some notable improvements, firstly, a better battery door design which appears to eliminate issues with water ingress. Secondly, clever engineering means that you can swap the spindle between pedal bodies - using RS (Shimano), RK (Look) and XC (SPD-SL) style pedals and keeping the same power meter unit, although the pedal body conversion kits are expensive.
The pedals look great, and our tests showed they worked extremely well, providing accurate readings with no frustrating drop outs or spikes. There's a single sided option as well as two sided power measurement.
These lost marks because they're a lot more expensive than the competition, and changing the spindle is a fairly fiddly job, that we don't expect multi-discipline riders would do as regularly as many swap bikes.
Read more: Garmin Rally RK200 power meter full review
Best budget power meter
Best power meter on a budget
Specifications
Accuracy: ±1%
Reading type: Left leg
Battery: Coin cell
Reasons to buy
+
Competitive price
+
Easy to fit
+
Ridiculously light
+
You can account for left/right imbalance
Reasons to avoid
-
Left side only not for everyone
-
Power curve appears different to other devices, with high lower to mid-end power and low high-end power
4iiii has delivered a reliable and inexpensive left-side crank that, at nine grams, is one of the lightest power meters you can get on the market. Compatible with Shimano cranksets, the Precision 3.0 uses the same spec of power meter regardless of whether it's fitted to a 105 crank (which we tested) or a Dura Ace model.
The 4iiii Precision only measures left leg power, but you can easily adjust the scale factor on the 4iiii app to account for a known imbalance in your power output between your legs.
Our testing found that it is sufficiently accurate and consistent to itself, meaning the Precision 3.0 is a useful training tool for those wanting to track their progress using power. We also experienced no issues with regards to water ingress.
Installation is very easy, as is switching between bikes. Calibration using any bike computer or the 4iiii app makes usability brilliant. Being crank based it doesn't affect your choice of pedals and cleat system, either.
Read more: 4iiii Precision 3.0 105 R7000 single side power meter review
Best rechargeable power meter pedals
Best rechargeable power meter pedals
Specifications
Accuracy: ±1%
Reading type: Right and left leg
Battery: Rechargeable
Reasons to buy
+
Reliable
+
Rechargeable
+
Waterproof
+
Value for money
+
Novel metrics like out-of-saddle time
Reasons to avoid
-
Pedal weighting means they don't present well for easy clipping and unclipping
These pedals provided reliable numbers for the entirety of the testing period and didn't have any problems connecting to the head unit, a computer or the companion phone app. The pedals are USB rechargeable via a magnetic connection, meaning no fiddling with rubber seals and ports.
The pedals provide some novel metrics, such as the amount of time you've spent pedalling out of the saddle and your platform offset – the degree to which you pedal with one side of your foot. More common metrics such as left-right balance are also present, although a cheaper single sided version is available which doesn't have these capabilities.
Stopping the pedals getting a perfect 10/10 is the unfortunate pedal weighting, which does make clipping in and out a little more difficult than with other systems. If fast-starting crits are your thing, then that might be a concern. The Look cleat system is used on these pedals.
Read more: Favero Assioma Duo power meter pedals full review
Best power pedals for adjustability
Best power meter pedals for adjustability
Specifications
Accuracy: ±1%
Reading type: Right and left leg
Battery: Rechargeable
Reasons to buy
+
Easy to set up
+
No issues at all with pairing or dropping out
+
Durable
+
Accurate
+
Excellent build quality
Reasons to avoid
-
Data smoothing can lead to lower peak power reading
Durable and super reliable, the Wahoo Powrlink Zero dual sided power meter pedals are a high-quality product for those who prefer the adjustability of the Speedplay cleat/pedal platform – and they're fairly priced compared to the competition too.
Incredibly easy to set up and use, the build quality is superb and there were no pairing issues either.
We were impressed by their accuracy too, although with the single caveat being that the pedals appear to 'smooth' slightly, meaning that peak sprinting power appears lower for shortest time durations.
Post-ride analysis on the Wahoo app includes left/right balance (with the dual sided version), average and max power, TSS, normalized power, power curve and time in zones – which covers most training needs. You don't get pedalling dynamics data though, such as torque effectiveness or pedal smoothness, which can be found on Garmin and Favero models.
Since the new Wahoo design uses a stainless steel rim that mates with the cleat, we were impressed to find they were looking almost as good as new after our six month testing period.
Read more: Wahoo Powrlink Zero dual-sided power meter pedals - long-term review
Best power pedals for gravel
Best power meter pedals for gravel riding
Specifications
Accuracy: ±1%
Reading type: Dual (single sided version available
Battery: CR1/3N
Pedal body / cleats: Shimano SPD two-bolt
Reasons to buy
+
Uses reliable and popular Shimano SPD pedal body
+
Masses of data available
+
Spindle inter-changeability means you can swap into road pedal guise
Reasons to avoid
-
More vulnerable than crank / spider based power meters
-
Swapping spindle not practical on a regular basis so limits swapping between road and off-road pedal bodies
Pedal power meters that are compatible with off-road shoes and riding are a rare beast. Garmin have answered the call with a off-road version of the Rally pedal using the popular and reliable Shimano SPD pedal body and cleat.
Accuracy is +/-1 per cent and there's a wealth of data available through your bike's head unit and the Garmin Connect app giving you all the power data you could possibly want.
The pedal has quite a high stack height which does make it more vulnerable to rock strikes and possible damage. However our tester found that this isn't so much of an issue for gravel riding due to the terrain and high bottom brackets, but is something to consider if you want to ride on a mountain bike.
To increase the utility you can swap the power spindle into a road pedal body so you can use across different types of bikes. However, this is a time consuming job and not one for every ride so you'll only really get the benefit of being able to swap the pedals between bikes if you ride more than one with off-road shoes.
Read more: Garmin Rally XC200 power meter pedals full review
Best crank-based power meter