Garmin Rally power meter pedals review
Garmin's power meter family lets you swap one spindle between pedal bodies, maintaining consistent data across all disciplines. At a cost.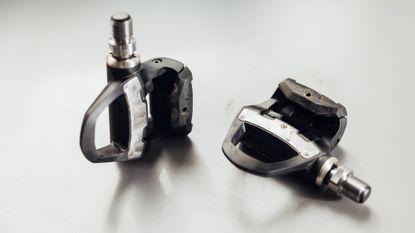 (Image credit: Dan Gould for Future)
The Rally family carries over everything we loved about the Vector 3s, and nothing we didn't. The unique selling point is the ability to swap the spindles between road and off-road riding, but buyers should be aware that this is not a quick pre-ride job and nor is it the most cost-effective solution.
Reasons to buy
+

Reliable

+

Weather-resistant

+

Aesthetics
Reasons to avoid
-

Expensive

-

Most multi-discipline riders change bikes more often than it is practical to change spindles
Why you can trust Cycling Weekly Our expert reviewers spend hours testing and comparing products and services so you can choose the best for you. Find out more about how we test.
Garmin's Rally power meter pedals aim to be the very first to provide true cross-compatibility for riders of varying disciplines - with a single spindle that can be swapped between RS (Shimano), RK (Look) and XC (Shimano SPD) style pedals. The goal is to provide reliable data on any bike the owner chooses to ride.
The Rally family unseats Garmin's Vector, the third version of which was launched with a battery door cover that was the source of frustration for many a user, myself included. However, as well as the new system agnostic pedal bodies, the Rally features a redesign that appears to have been victorious in the battle for reliability once and for all.
Garmin Rally RK200: construction
The body of the Rally RK looks identical to the Look-compatible Vector 3 before it - which is pretty slick for a power meter pedal. Other versions in the market - the Favero Assioma and Powertap Quarq P2 - don't look nearly so unobtrusive.
The pedals are fitted and removed with a 15mm spanner, and take either four LR44/SR44 or two CR1/3N batteries. Changing batteries is as simple as using a 4mm Allen key to loosen the door, which now mates with a metal insert, drastically reducing the chance of cross-threading leading to water damage.
Release tension can be adjusted via a small Alley key adjustment at the rear of the pedal. There's also a screw that holds the pedal jaw in place, which is tightened up by a 2mm Allen key. Experiences with the Vector 3 lead me to suggest riders check this is snugged up occasionally over long-term use, I did have mine work its way loose but this hasn't repeated itself on the Rally as yet.
Accuracy is a claimed +/-1 per cent. This refers to the unit's own accuracy to itself - no power meter's accuracy claim is against 'finite power', and studies have shown drift between units is substantial. However, comparison testing showed results very close to that of a Quarq DZero implying good calibration here.
The battery life is a claimed 120 hours. Many factors will influence this, but I got to around 90 hours before receiving a 'battery low' message.
The pedals are Bluetooth and ANT+ compatible. The Q-factor is 53mm, or 55mm if you use supplied washers, and the stack height is 12.2mm. The pedals weighed in at 165g and 166g respectively (331g for the pair).
My test pair is the Rally RK200 - which is dual-sided; the RK100 is single-sided and can be upgraded at a later date.
Garmin Rally RK200: swapping spindles
The Rally party trick is that you can swap the spindle between pedals. For example, you might own the Rally RK and Rally XC bodies, giving you the opportunity to use the same strain gauge across all of your rides.
This is of course more hassle than having a power meter on each bike. However, in most cases, it's cheaper, and because there is drift between units, it does remove the need to complete an FTP test on every bike/power meter to ensure that set zones are accurate.
I don't have a spare pair of pedal bodies to swap between - but I did try removing and replacing the spindle to understand how easy, or otherwise, the process would be.