Garmin Edge bike computer range 2022: everything you need to know
Whether you're looking for a Garmin Edge as a navigational aid or a computer to push your training, this guide will help you choose the best Garmin Edge for you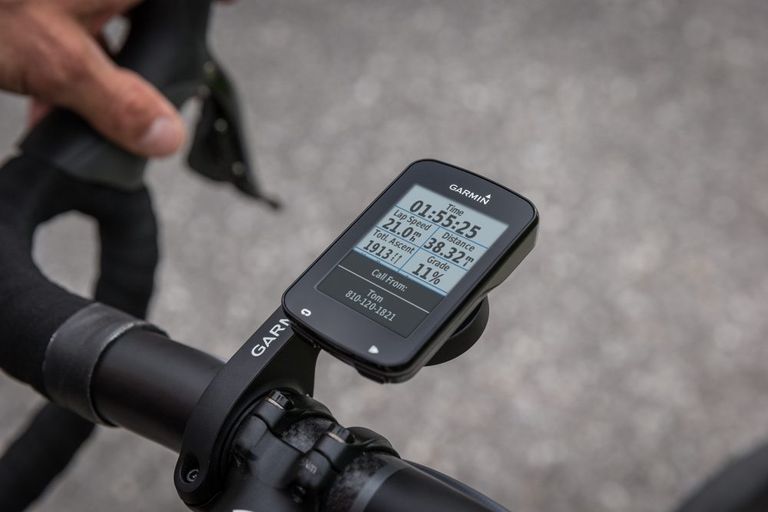 The Garmin Edge range has long been on the cutting edge of the cycling computer market, with products that boast connectivity, incident detection, powerful GPS and battery life that just won't quit.
The hardest part for the consumer is knowing which model is right for them. So whether you're looking for a computer to suit your next adventure or one to measure your power output and VO2 Max levels, this page should help you find the right option.
To help you select the best Garmin Edge for you, we have set out below an exhaustive list and description for each Edge product. In general, the list starts with the smallest and cheapest and goes to the largest and most expensive.
Garmin has done some significant weeding out of its Edge model line recently, retiring older models like the Edge 1000. You may still find these available from some outlets (try Amazon). We've an extensive catalogue of reviews of older products, with links further down the page.
It's also worth noting that Garmin isn't the only game in town any longer, with excellent computers available from other brands like Wahoo. Check out our guide to the best cycling computers for more ideas.
A smartwatch is also a good alternative if you enjoy other sports, not just cycling. The best smartwatches provide much of the same functionality as a bike computer and will often monitor other fitness parameters like sleep and all-day heart rate.
Note: if you are struggling with some of Garmin's features please see the Jargon Buster at the end of this article.
Garmin Edge bike computer range explained
Specifications
In short: For the rider that wants a compact unit that doesn't skimp on performance but won't leave you feeling short-changed
Weight: 33g
Device size: 41 x 63 x 16mm
Display: 45mm diagonal monochrome
Reasons to buy
+
Small size
+
Feature packed
+
Software stability
Garmin's smallest device received an update in June 2020, though it keeps the same bijou dimensions as the previous 130. Fans of the Edge 130's no-nonsense design will also be relieved to see its compact display (1.8-inches) and simple buttons remain.
The 130 Plus is a miniature powerhouse, featuring many of the same performance-pushing features of more expensive models, including Climb Pro, software that gives you detailed information on upcoming ascents. It pulls the information from your routing which can sync seamlessly to the 130 Plus from Strava or Komoot.
Garmin has also included an accelerometer in the 130 Plus, which enables incident detection as well as a host of mountain biking jump metrics. As well as being able to show you jump length and hang time, the 130 Plus will also give you Grit and Flow ratings for your trail riding.
Read our full review of the Garmin Edge 130 Plus for more.
Specifications
In short: Compact computer with a colour screen and button control
Weight: 75.8g
Dimensions: 50 x 82 x 20 mm
Display: 66mm diagonal colour
Reasons to buy
+
Intuitive to use
+
Access to as much data as you could ever need
+
Customisable thanks to Connect IQ
Reasons to avoid
-
Small size and low tactility of buttons
-
Lack of in-depth navigational features
Visually, the Edge 530 is very similar to the Edge 830. It has exactly the same dimensions and comes with a colour screen, but is controlled using a range of buttons on its two sides rather than the Edge 830's touchscreen.
Performance features include a myriad of training metrics and stats, with assistance to decipher them to plan training and progress riding. You also get ClimbPro, and even the ability to set nutrition and hydration alerts throughout a ride.
As expected, there's a wealth of compatibility within the Edge 530 using both the ANT+ and BLE protocols, letting you link up power meters, smart trainer controls and a variety of associated remote controls for devices such as the Varia light system.
There's the ability to link up with your smartphone to track groups and to transmit location data to friends at home as you ride. With Strava Live and Komoot connectivity, you can even upload gaming apps should you wish, which of course are strictly to be used when recovering off the bike.
When riding takes you inside, the Edge 530 is also compatible with indoor trainers, allowing you to control the resistance, ride at a set wattage or follow a pre-recorded course profile.
Impressively, you can also receive recovery advice. So, on your next ride, the Edge 530 reviews your warm-up to suggest what effort you should aim for in the ride.
Its battery life comes in at about 20 hours and it uses GPS, GLONASS and Galileo satellites.
Read the full review of the Garmin Edge 530 for more.
Specifications
In short: A lightweight data gathering performance enhancer with user-friendly sat-nav
Weight: 79.1g
Dimensions: 50 x 82 x 20 mm
Screen: 66mm diagonal colour touchscreen
Reasons to buy
+
Touchscreen works well
+
Good size to view data
+
Good quality screen
Reasons to avoid
-
Software still isn't faultless
Garmin has worked hard to ensure any niggles with the previous models' touchscreens and processing speed have been ironed out and the result is an easy-to-use, lightweight unit that packs a lot into its compact casing.
As you can imagine, many of the features in the previous models are found here, but this time navigating them is a lot simpler thanks to the touchscreen, which includes an ambient light sensor and is still swipeable even in the wet or with gloves on. The only buttons on the unit are for on/ off, adding new laps, and to start and stop rides.
The Edge 830 is a great training tool, and when teamed with Garmin Connect and a power meter can calculate metrics like V02 Max, FTP, recovery, Training Load, nutrition, hydration with the list going on and on.
Mapping is a breeze to navigate with all the expected information displayed on the high-res colour screen. The computer allows you to define specific bikes with each profile allowing several data screens, which are all customizable.
There is a wealth of features and connectivity on the Edge 830, everything from Group Livetrack, incident detection, smartphone connection, physiological measurements... it really is like having a personal coach on an extended smartphone.
There's more on the functionality available in our full review of the Garmin Edge 830.
Garmin Edge Explore
Specifications
In short: The Edge computer to take you off into the unknown
Weight: 116g
Dimensions: 105 x 55 x 22 mm
Screen: 76mm diagonal colour touchscreen
Reasons to buy
+
Large colour touchscreen
+
Efficient navigation with basemaps
Reasons to avoid
-
Fewer training features than mainstream Edge units
The Garmin Edge Explore features a large 76mm (3 inch) diagonal touchscreen and many of Garmin's high-end features such as Trendline routing, rider-to-rider messaging, LiveTrack as well as incident detection, and of course it is compatible with Garmin's Varia radar and lights.
It sees smart navigation features, including recalculation, round-trip routing and turn-by-turn navigation, includes Garmin's cycling-specific base map and has 16GB storage capacity. Garmin quotes up to 12 hours battery life. You don't get the full suite of training features of higher spec Edge units though, so if you're looking to track your performance you'd be better off with one of the other Edge computers.
The computer is customisable with third-party apps from the Garmin Connect IQ store, including Strava, Komoot, weather apps and more. According to Garmin its battery should last 12 hours and it has a waterproofing rating of IPX7.
Specifications
In short: The all-singing, all-dancing flagship model that's best at everything
Weight: 123g
Dimensions: 58 x 114 x 19 mm
Screen: 89mm diagonal colour touchscreen
Reasons to buy
+
Slick setup process
+
Large touchscreen
+
Impressive battery life
Reasons to avoid
-
Large format unit will swamp your bars
Increased mapping capability is the biggest update in the Garmin Edge 1030 Plus, with the US and UK regions coming as standard. It also extends Garmin's capability off-road, with turn-by-turn navigation even off-road, clear mapping and a touchscreen that allows you to pinch and zoom the map, just like on a mobile phone. Battery life is also excellent, providing at least 24 hours run-time and more if you tone things down.
The large 89mm diagonal touchscreen makes the Edge 1030 Plus easy to read when on the move, even if you want to pack the screen with data fields and means that your maps can extend to cover a wide area. It's a large unit though, akin in size to a smartphone, so you'll need to budget for an out-front mount as it will overwhelm your bars or stem if you just use the included standard mount.
Unusually, set-up of the Edge 1030 Plus is one of the highlights, taking its cues from mobile phone tech. Via Intelligent Activity Profiles, the 1030 Plus ports across the activity data from your previous Edge 830 or 1030, so no more having to program data fields and no need to ride the bike to make sure it all works properly – it's exactly like setting up a new iPhone, with the whole process taking less than three minutes rather than half an hour.
If you didn't have another Garmin unit, it will use data from Garmin Connect. We thought this was the best update from Garmin for quite a while.
We've a video review of the Garmin Edge 1030 Plus on YouTube for more info as well as our comprehensive on-site review of the Garmin Edge 1030 Plus.
Discontinued Garmin Edge models
Garmin's discontinued models, although not sold directly, are often still available if you're willing to do a bit of searching. Here are our reviews of some of the more recent:
Jargon Buster
Advanced Workout: Using Garmin Connect you can plan and create personalized fitness routines that conform to specific training goals or targets.
Auto Lap: Automatically starts a new lap.
Auto Scroll: You can use the auto scroll feature to cycle through all of the training data screens automatically while the timer is running.
Auto Pause: You can pause the timer automatically when you stop moving or if you drop below a set speed. Good if your ride includes many junctions.
Garmin Connect: Garmin's online platform to store and review your ride data.
Garmin Connect Mobile: This is the smartphone app version of Garmin Connect.
GLONASS: A Russian Aerospace Defence Force-operated satellite-based navigation system.
Interval Training: You can set up exercise and rest intervals.
LiveTrack: Lets your friends and family track your activities in real time.
Virtual Partner: This function allows you to set a virtual partner to race against, for example, you can set the target speed or pace.
ClimbPro: An automatically displayed data screen outlining any upcoming climb, showing distance, ascent and average gradient left to ride, as well as a colour-coded graph of the climb — provided you're following a course.
Physio TrueUp: Lets you switch between compatible devices while keeping physiological data in sync.
For more information go to Garmin.com
Thank you for reading 5 articles this month* Join now for unlimited access
Enjoy your first month for just £1 / $1 / €1
*Read 5 free articles per month without a subscription
Join now for unlimited access
Try first month for just £1 / $1 / €1