Garmin Edge 130 review
The Garmin Edge 130 might be tiny, but it performs better than some computers twice its size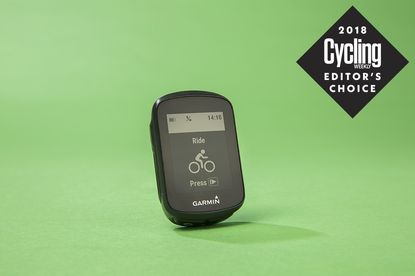 The Garmin Edge 130 is a step back in the right direction for the brand. It's compact and no nonsense, but with enough features for the majority of cyclists and it performs those with excellence.
Reasons to buy
+

Small size looks great out the front of a bike

+

Crisp, easy-to-read screen

+

Buttons not touchscreen

+

Top-end features
Reasons to avoid
-

Bit of GPS lag at times

-

It's hard to get the navigation features to perform properly
You can trust Cycling Weekly. Our team of experts put in hard miles testing cycling tech and will always share honest, unbiased advice to help you choose. Find out more about how we test.
Just because the Garmin Edge 130 doesn't feature the advanced metrics of its sibling doesn't mean it's basic, almost the total opposite.
Garmin has nailed its software, increased the usability and made a product that's well deserving of a spot on our Editor's Choice list.
The Garmin Edge 130 is a miniature model of the Garmin Edge 1030 and while it doesn't have all the features that the top-of-the-range computer has, it's more powerful than its small size might suggest – and it has impressed me more than any Garmin device has for a long time.
Garmin Edge 130: design
With the Garmin Edge 130, Garmin has performed an about turn on the direction of its last computer, the Garmin 1030. Whereas that is the largest computer the brand has, the Edge 130 is one of the smallest, with dimensions of 4.1 x 6.3 x 1.6cm and a 1.8in screen.
Some might think the new size a bit extreme, but it works very well. Whereas the 1030 is absolutely enormous and feels precariously balanced out the front of the bike, the sleek Edge 130 suits it very well.
It's basically a very small plastic housing with plastic buttons, and as such it weighs a meagre 33g, which is a long way from the 1030.
I'm also relieved that Garmin hasn't pursued its touchscreen technology at this level. The buttons partner the device's no-nonsense, pared back purpose very well. They're basic, and the feedback from them isn't brilliant but they're functional and dependable.
Despite its diminutive size the screen's display is sharp, and while I wouldn't go so far as to display the full eight data fields possible, I've been running five on my main page and it's crisp and easy to read even though it's so small.
Garmin Edge 130: setup
Often with a cycling computer setting the device up is half the battle. It's something that Wahoo and Lezyne have done very well, letting you use the device's companion app to customise data screens in real time. Garmin's setup process is still done on the device itself, but it's more streamlined than on the touchscreen models because there's a limited number of buttons you can press.
The top right button acts as the menu, and from here you program your settings. To change a data screen you select it and then you can choose how many fields to display, and then what each field displays.
It's quite self-explanatory and easy to follow: the play button acts as enter, while the lap button is the undo/return button. The same process is used to pair the head unit to external sensors such as power meters, speed and cadence sensors.
Garmin Edge 130: performance
In short, this is probably the best performing Garmin Edge device I've used. Removing the touchscreen seems to have removed Garmin's buggy software, and I've not had any dropped rides, deleted activities or raindrop interference. In fact, the only frustration has been how slow it is at picking up GPS; at one point it took 2.5km before it located a satellite and it wasn't very accurate when laid over a map. I've also noticed that it's slow to adjust your travelling speed, reacting a lot more slowly than my accelerations at lights.
Admittedly, this was in GPS mode, and the Edge 130 can receive GLONASS signals as well as brand new Galileo satellite signals.
Although it doesn't have a base map, the Garmin Edge 130 is capable of limited navigational assistance. If you load in a course it'll present you with a line on a blank screen. It's not very useful because the size of the screen means that to see the whole route it has to be very zoomed out, rendering it not very useful.
Impressively for its size, the Edge 130 can do turn-by-turn navigation, although I could only make it do this by creating the route on Garmin Connect, rather than uploading a TCX file from Strava, which is my preferred method.
Garmin claims the battery will lasts 15 hours, and I found that despite its small size I could get around four days of commutes and short rides out of the device when in standard GPS mode. It's no doubt helped by the lack of touchscreen and an unnecessary colour display.
In fact, that's what I like the most about the Garmin Edge 130: it has done away with the unnecessary, and I realise now that I don't miss it at all on my rides or in my training. While the top-tier models can conduct FTP tests, interval training sessions and probably measure how big your lungs are, I don't need that because that's not the type of rider I am.
That's not to say that the Edge 130 isn't powerful, because it is. It can display your power or cadence and it can give you Strava Live Segments, but it's just not weighed down by having to do it all. It feels like Garmin has stripped back its models, made them smaller but also more functional and the result is a much improved computer.
With a tendency to be the more expensive head units on the market, the new £169.99 Edge 130 is a step into more competitive territory for the brand, going directly against the feature packed Wahoo ELEMNT Bolt and the astonishingly good-value Lezyne Super GPS.
An all round great product, well done Garmin.
Thank you for reading 10 articles this month* Join now for unlimited access
Enjoy your first month for just £1 / $1 / €1
*Read 5 free articles per month without a subscription
Join now for unlimited access
Try first month for just £1 / $1 / €1