Garmin Forerunner 255 review - no-frills smartwatch with premium functionality
Most of the sports and health tracking of Garmin's top-of-the-range watches but at a much more affordable price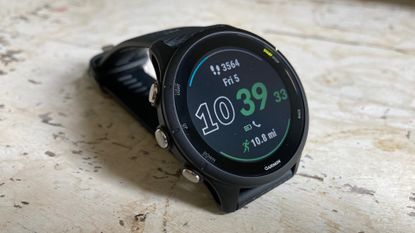 (Image credit: Simon Smythe)
The Garmin Forerunner 255 can do everything a cycling head unit can do and a lot more since it can live on your wrist analysing your heart rate and sleep, keeping track of your health as well as your riding and training. But there's no danger of it replacing your cycling head unit since - unlike the more expensive GPS smartwatches - it doesn't have mapping capability. However, if you're already in the Garmin ecosystem with your bike computer and just want to add health monitoring without spending a fortune, the Forerunner 255 has the majority of it covered. Since it's a mid-range GPS watch, the other thing it lacks is an AMOLED touchscreen. If you want mapping and a brighter, crisper display it might be worth spending a bit more.
Reasons to buy
+

Effective heart rate monitor

+

Accurate GPS

+

Most of Garmin's premium sport and health functionalities

+

Lightweight

+

Reasonably priced
Reasons to avoid
-

Mapping not supported

-

No Training Readiness score

-

MIP display can look a little dull
You can trust Cycling Weekly. Our team of experts put in hard miles testing cycling tech and will always share honest, unbiased advice to help you choose. Find out more about how we test.
Get The Leadout Newsletter
The latest race content, interviews, features, reviews and expert buying guides, direct to your inbox!
Thank you for signing up to The Pick. You will receive a verification email shortly.
There was a problem. Please refresh the page and try again.
The updates the Garmin Forerunner 255 received were huge when it launched in 2022, putting it up there in functionality terms virtually on a level with the best smartwatches for cycling, including its big brother the Forerunner 955 as well as the Fenix 7 and Epix 2.
Most obviously it still lacks mapping, but it does use the same multi-band GPS for activity tracking as the more expensive Garmin watches and it has the same wrist-based heart-rate monitor, enabling the same health monitoring that includes sleep monitoring, heart rate variability, training stress and VO2max estimates.
The hardware is more basic than the top watches - there's no touchscreen or AMOLED display. It's Garmin's usual five buttons, a familiar system that nevertheless works very well, and a memory-in-pixel transflective LCD display.
The plastic bezel feels cheaper but makes the watch lighter than a metal one, helps it stay put on the wrist and I found actually improves the performance of the wrist-based heart rate monitor (HRM) compared to the Epix 2.
'Forerunner' is the historical name for the series - but to be clear this watch has full cycling capability - including pairing with all your sensors and a lot more besides. Let's take a closer look.
Garmin Forerunner 255: construction
The Garmin Forerunner 255 (both standard and Music versions) comes in two casing sizes - 46mm and 41mm. For the display that means 1.3in and 1.1in. Both sizes cost the same.
The bezel, which is made from fibre-reinforced polymer (i.e. plastic) makes the watch very light at 49g for the bigger size and 39g for the smaller one.
The low weight makes it comfortable to wear 24/7, as you must do if you want to benefit fully from the health tracking features.
The silicone strap has a small amount of stretch and closely spaced holes so that you can get exactly the right fit for your sports activities, ensuring the watch doesn't move around for optimal HRM accuracy.
The familiar five Garmin buttons are straightforward and intuitive. Some users prefer them even with touchscreen Garmin watches - and in any case sports activities are best done with the touchscreen disabled.
The display, behind Garmin's Gorilla Glass, is the MIP (memory in pixel) type, which has a muted look compared to brighter iPhone-style AMOLED displays - something the Epix 2 has.
However, Garmin has just launched the Forerunner 265, which has an AMOLED touchscreen and costs $449 / £429, so if you want the brighter, more colorful display and the touchscreen, you'll have to pay a bit extra. Is it worth it? I would say yes, it is worth paying extra for a brighter, crisper, more readable and more attractive display. You're going to be looking at it very frequently, so for me it has to be something I like looking at. And a touchscreen is faster and more convenient.
Setup and operation
If you're already a Garmin user you're in luck - once you've paired the 255 with Garmin Connect on your smartphone you'll be able to view all your historical sports and health data - training status, VO2max, activity history, etc. - from the new watch. This is with the exceptions of sleep tracking and heart rate variability (HRV), which ask you to wear the Forerunner 255 in bed for three weeks to establish a new baseline - presumably in case the measuring is slightly variable between devices.
It doesn't port over the actual setup of the watch, however, so you have to choose again which 'glances' - widgets - you want to see when you scroll down.
Watch faces are customisable and you choose from the stock ones, add the data you want to see around the edges, or create your own.
You also have to select what goes in 'controls' - the ring of functions when you hold and press the top-left light buttons. I like to use the watch as a heart rate monitor for Zwift, so for example I'd add 'broadcast heart rate' in here along with 'power off', 'find my phone' 'do not disturb', etc.
You also have to set up your preferred data fields for your sports activities from scratch, with a maximum of six per screen. It's a quick and easy job.
I configured the 255 to exactly mirror the way the Epix 2 was set up - which tells you that it can do almost everything a watch twice the price can do.
Although you still get Garmin's Body Battery and Health Snapshot, the 255 doesn't give you your Training Readiness score. Having recently reviewed the Garmin Epix 2, I did miss that a little. However, it does give you your morning report, with a breakdown of your sleep and HRV plus a suggested workout for the day - and that's customisable, like most elements of the watch.
The 255 doesn't include Training Readiness, but the new Garmin Forerunner 265 now includes that, so for those who want the superior display, touchscreen and that particular function, it's there now.
Sports features
I'm seeing more riders using smartwatches these days - and not just for cyclo-cross. I can get by perfectly well with a smartwatch instead of a head unit and in some ways prefer to look at the countryside rather than the numbers, unless I'm trying to do a specific workout.
I set up the Forerunner 255 with the six data fields on the main screen that I'd normally use, paired it to a set of Wahoo Powrlink Zero power meter pedals, used the wrist-based heart rate monitor in the watch, waited for it to find GPS (impressively quick) and pressed 'start'.
The 255's display reverses out to black on white/grey for sports activities in progress (see the middle pic above) and that makes it easier to read than when in standard watch mode.
It behaved exactly like the much more expensive Epix 2 and, analysing the activity on Strava afterwards, I was very happy with the quality of the ride data. As I mentioned, I'm sure I'm getting a more consistent heart rate trace from the Forerunner 255 during cycling due to it being lighter than the Epix 2. It sounds counterintuitive, but the heavier watch's HRM seems mostly unaffected by the running movement, whereas cycling vibrations can affect it more seriously compared with the lighter 255.
The GPS seems accurate, just going a metre or so off into the verge under certain wooded sections such as the left-hand turn above.
The lack of mapping and only very basic breadcrumb-style directions or a direction arrow (for example to navigate back to a saved point or coordinate) mean that it's not really feasible to entirely replace a cycling head unit with the Forerunner 255 - as you could do with the Epix 2 or Fenix 7, both of which have full mapping capability. Courses saved on Strava sync to the 255 and can be followed after a fashion, but it's not the experience cyclists expect if they're used to more sophisticated devices.
I won't go into running in too much depth as this is Cycling Weekly, but I've been impressed with the 255's performance. Short of navigation - which I actually miss because it's useful if you want to go for a run in a place you don't know - it does everything you need and includes the free Garmin Coach for beginner/intermediate runners.
If you don't do either of those two sports there's an almost unlimited number you can add to the sports profiles menu from swimming (it is waterproof to 50 metres) to skiing to rowing to yoga and pilates.
Other functions
Smart notifications
When it's connected to your phone, the 255 will flash up WhatsApp messages, news headlines and other notifications. It will also guess where you're going when you get in the car and will tell you how many minutes it will take to drive there. I had a spooky experience with this: straight after school dropoff on May 4 (local elections day) it told me how many minutes it would take me to get to my polling station - which is where I was planning to go anyway, but hadn't broadcast it anywhere, messaged anyone about it or even said it out loud. I might add 'mind reading' to this list.
Music
The 255 Music version has a built-in music player than can store tunes from your computer using Garmin Express, play music from your phone or can connect to your music provider and store them in its 4GB memory. I don't listen to music while running or cycling and have a Sonos next to my Wattbike for indoor training – but if you want outdoor tunes this version is equipped to supply them.
Garmin Pay
My bank isn't a participating provider and this is the experience of many UK users. But I can see how it would be useful for a post-parkrun coffee, for example.
Battery life
This is a difficult one to pin down, and even Garmin's website calls it 'battery life assumptions'. In smartwatch mode Garmin claims up to 12 days with a minimum of up 5.5 hours in All-Systems GNSS mode with music. Compared with the Epix 2, it's better. Doing on average slightly less than one activity per day I'm getting over a week.
Value and conclusion
There's no doubting that for its sports functionality and health tracking, the Garmin Forerunner 255 is snapping at the heels of the expensive watches. If those things are all you want and need, this watch offers good value for money. And thanks to its light, plastic construction it might even outdo those heavier watches in heart-rate accuracy. The only thing missing in this area is the Training Readiness feature - which personally I do miss.
As for the other areas, the 255 doesn't have mapping and its breadcrumb/direction arrow navigation is very basic. If you want to run or ride routes you don't know off by heart, this will be a limiting factor.
And finally, the button-operated MIP display is dull compared with the brighter, crisper, more attractive AMOLED touchscreens that are becoming more prevalent.
For a Garmin watch with full AMOLED touchscreen and mapping experience you'd be looking at the new Forerunner 965 at $599 / £599. If it's just a better display you're after, it would have to be the Forerunner 265 at $449 / £429. Or for full mapping but ordinary MIP screen go for the Fenix 7 at $699 / £559.
Specs
Size: 45.6 x 45.6 x 12.9 (mm)
Display size: 1.3in
Display type: MIP (memory in pixel)
Weight: 49g
Water rating: 5 ATM
Memory: 4GB
Battery life: up to 14 days (smartwatch mode)
Connectivity: Bluetooth, ANT+, WiFi
Smartphone compatibility: iPhone, Android
Thank you for reading 20 articles this month* Join now for unlimited access
Enjoy your first month for just £1 / $1 / €1
*Read 5 free articles per month without a subscription
Join now for unlimited access
Try first month for just £1 / $1 / €1