Four of the best indoor cycling sessions for turbo training
With winter here, many people are turning to their turbo trainers to keep fit and build form for the coming racing and sportive season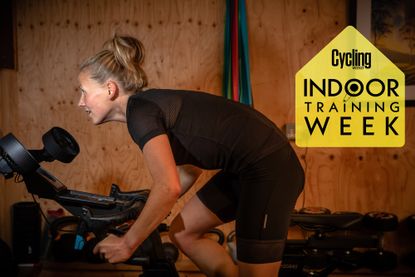 (Image credit: Future)
Turbo training sessions can provide riders with a quick and effective way to train. The lack of freewheeling means that every pedal stroke counts, there are no junctions, roundabouts or traffic to distract you from your intervals, and it doesn't ever rain indoors.
There's little to no point simply climbing on and pedalling randomly. To get the most from your stationary pedalling, you should start with a session plan. To be effective, this must be suited to your current level of fitness, and to your goals.
We've delved into the benefits of turbo training and the key considerations when picking sessions. Of course, there's a lot of apps out there (Wahoo Systm, Zwift and Trainer Road) that can provide you with sessions to follow, but if you want to keep it subscription-free, we've provided a few below for you to try…
Finding your maximum heart rate
There's loads of metrics you can use for training: heart rate, power and rate of perceived exertion (RPE) being the most common.
If you're not using a power meter, it's a good idea to find your maximum heart rate (MHR) before you get going. You can then use that to gauge how hard you're working during intervals, based on the percentage of that number your heart rate monitor is reading (anything over 70 per cent is pretty hard).
There's a simple test that can be done using a standard heart-rate monitor on the turbo to find out MHR. A helper may be required for encouragement and to record results.
After a 10-15 minute warm-up, ride as hard as possible for 10 minutes, similar to an intensive time trial pace. Ride the final minute as hard as possible and sprint the last 20 seconds. This should produce a maximum heart rate reading. Keep pedalling and wind down gradually for 10 minutes.
Turbo sessions for you to try
There are so many different things you can do on a turbo that finding the session that best fits in with your needs and goals is important. Here's a run-down of a few of the different sessions you can do. Remember, these are suggestions and may not suit everyone perfectly.
Tailor them to suit your level of fitness. As you become used to the sessions and begin to see fitness gains, gradually increase the number of sets, and the duration of efforts for each session.
>> Detraining: The truth about losing fitness
The sessions below use percentage of MHR, if you're using power, the zones are also expressed - check out this piece for target wattage.
Warming up and cooling down before a turbo training session
Begin any turbo session with a 10-15 minute progressive effort with a few minutes' easy spinning. Also remember after finishing your turbo session to spin your legs out for a good 10 minutes to make sure the muscles flushed out; this should reduce the effect of DOMS (delayed onset muscle soreness) the next day.
Russian steps turbo training session
Total time: 8min (one set)
Again, these are 100 per cent all-out efforts followed by really steady recovery and are great to add on to the end of a session. This session, despite being short, will hurt and isn't for the faint-hearted. Give yourself at least 5min recovery between sets if you want to do more than one set.
Swipe to scroll horizontally
| | |
| --- | --- |
| 15sec on | 45sec off |
| 30sec on | 30sec off |
| 45sec on | 15sec off |
| 60sec on | 60sec off |
| 45sec on | 15sec off |
| 30sec on | 30sec off |
| 15sec on | 45sec off |
Sprint turbo training session
Total time: 35min (one set)
These are great to add on to the end of a session or as a full session as a race approaches. This session helps improve your 'jump' - helping you get your final sprint going or getting away in a break. The long recovery ensures the energy system used is fully recovered for the next full-on sprint effort, so choose a low gear and spin your legs.
15sec max sprint
2min 45 sec spin
Repeat 10 times per set with 5min full recovery between sets
Ride replacement turbo training session
Total time: 2hrs 30min
Intensity should increase slightly as the efforts shorten. This can be achieved by maintaining a set cadence and then increasing resistance or using a higher gear as needed. After each effort, give yourself 5min recovery (steady spinning) in a low gear. You can shorten or lengthen efforts as suits you, or reduce percentage of MHR as needed. For this session, a quick leg-spin of 5min is all that's needed as a warm up, as it's long and the first effort isn't too hard.
Swipe to scroll horizontally
| | |
| --- | --- |
| 55min effort | 65-70 per cent MHR (zone 2) |
| 40min effort | 70-75 per cent MHR (zone 2 upper) |
| 25min effort | 75-80 per cent MHR (zone 3) |
| 10min effort | 80-85 per cent MHR (zone 4) |
Threshold efforts turbo training session
Total time: 57min
This session will make your legs ache, so ensure you have a solid warm-up and cool-down. Choose a gear big enough to push, but one you are able to keep on top of and not labour, keeping a cadence of around 90-100rpm. During the recovery sections, spin your legs out in a lower gear.
Swipe to scroll horizontally
| | |
| --- | --- |
| 10min effort | 75-80 per cent of MHR (zone 3) |
| 5min recovery | easy riding (zone 1/2) |
| 2 x 5min effort | 80-85 per cent of MHR (zone 4) |
| 1min recovery | between efforts (zone 1/2) |
| 5min recovery | easy riding (zone 1/2) |
| 3 x 2min efforts | 85-90 per cent of MHR (zone 4) |
| 30sec recovery | between each (zone 1/2) |
| 5min recovery | easy riding (zone 1/2) |
| 6 x 1 min efforts | 90-95 per cent of MHR (zone 5) |
| 30sec recovery | between each one (zone 1/2) |
| 5min recovery | easy riding (zone 1/2) |
Tips for effective turbo training sessions
Many riders have a love/hate relationship with turbos. Some use them only when they absolutely have to, while others use them all year round. However you feel about yours, you can't deny the performance improvements they offer - if used effectively.
The reason many dislike the turbo is because sessions are hard and relentless. Constant resistance on the back wheel means there is often no respite or room for a cheeky freewheeling rest. But, for the same reason, turbo-ing has a big impact on your riding, leading to large fitness improvements.
Here are some tips to help you on your journey with the flywheel...
Turbo training sessions must be specific
The best thing about turbo training is that every session can be tailored to meet your individual requirements. With the numerous technological improvements in measuring output, turbo sessions can now be suited to any ability. Even at a club turbo session, there's no worry of being the least fit and getting dropped; it's about working at the level that's right for you.
Using power or heart rate to measure intensity is very useful for turbo sessions. Once you've found your maximum, working to a predetermined percentage of this maximum is an effective way to work specific metabolic systems, thus stimulating improvements. This also means sessions are conducted at the correct intensity for each individual.
Combining these pre-determined physiological thresholds with other output measures such as cadence or speed make workouts even more specific. Leg-speed, strength and other areas can be worked on, depending what needs improving.
The use of different measures also allows riders to focus on sessions, giving something to aim at and keep you going through harder efforts. Once maximum heart rate has been found and intensities have been calculated, stick with them. If you push too hard, you'll suffer and 'blow' before the end; too easy and you won't reap the rewards.
Vary your turbo training sessions
The different options on a turbo are endless. You can put a film or a stage of the Tour de France on TV and ride like you're out on a Sunday club run, or focus on a specific weakness. Then again, you might just want to bash out a 30-minute sprint session to wind down from work. There's also a plethora of riding apps now to enhance your turbo experience.
Every time you climb aboard your turbo, there's a different session to be done. Variety relieves the monotony and boredom many associate with turbo use. New and adapted sessions keep your mind fresh and focused, making turbo time more exciting.
On the other hand, some riders like to do basically the same session each time, only lengthening efforts or shortening recovery periods slightly to gradually progress. Seeing or feeling improvements through the season is motivation enough for these creatures of habit. Again, it comes down to making training specific to your needs; you alone know what really motivates you.
Keep cool and hydrated during turbo training sessions
When you're training indoors, you don't get the benefit of the cool air rushing past your face. As a result, turbo training can become a hot and sweaty businesses.
Always aim to have a fan in the room (ideally pointed at you) during your sessions. Overheating can cause your heart rate to rise higher than it would naturally for the effort you're putting in - so being too hot can be confusing if you train with heart rate, and can cause fatigue to set in quickly.
You will sweat, so have water close by so you can keep hydrated, and place a towel over your handlebars to protect the headset from corrosion (gross, but true).
Longer turbo training sessions during the winter
Traditionally, winter is when cyclists get in their base miles, ready for the season ahead. This means lots of long, low-intensity riding. No one is able to tolerate sitting for over two hours on the turbo with no structure, no matter how much they love it.
This is where longer intervals come into play. These are done at a relatively high endurance intensity, known as 'tempo', which is roughly 70-80 per cent of your maximum heart rate. This intensity is hard but can be maintained and causes deep breathing. The longest effort recommended at this intensity is around an hour.
Another indoor training option to consider is rollers. These are another great type of trainer, owing to the light resistance and the fact that a reasonable level of concentration is needed to balance and stay on. Hence, riding on rollers is more similar to being out on the road than a turbo, and a lot more interesting.
While doing these longer sessions, try watching a DVD of a bike race to keep you motivated and focused on the riding. But remember to also have a heart rate or power measurement to keep focused on maintaining the desired intensity.
These sessions are really great at improving aerobic endurance and are a great replacement for not being able to go out for your scheduled ride.
HITT turbo training sessions during spring
Usually, top-end high-intensity sessions are left until spring - once the winter base has been put down. Many cyclists have the old-school mentality, regarding winter as just for getting in long, slow miles to improve endurance. However, recent research has shown that similar endurance improvements come from short, sharp interval sessions too.
These shorter sessions have the added benefits of being quick to do, as well as improving other metabolic systems, alongside endurance. They are also less boring. High Intensity Interval Training (HIIT) sessions should not replace all your long-ride-mimicking turbo sessions or long rides, but used to relieve the boredom and monotony of repeating the same session over and over. That said, nothing beats getting in the miles out on the road - a tried and tested way to succeed in cycling.
>>> Cycling training plans: get fitter, ride faster and go further
HIIT sessions usually include maximum sprint efforts of around 30 seconds in length, with around double the duration of the effort as recovery spinning.
Threshold focused turbo training sessions during spring
Similar to the high-intensity intervals, these threshold sessions are traditionally done during spring. But, again, there's no harm throwing in a couple every now and again during the winter, to keep a bit of variety in training.
Improving lactate threshold is particularly important for racing. Efforts within these sessions can vary in length and slightly in intensity; for example, an intensity of 90-95 per cent of maximum heart rate could be held for three minutes, but for a 10-20-minute effort, 80-85 per cent is more realistic. Improving lactate threshold is good for climbing and for time triallists.
Thank you for reading 10 articles this month* Join now for unlimited access
Enjoy your first month for just £1 / $1 / €1
*Read 5 free articles per month without a subscription
Join now for unlimited access
Try first month for just £1 / $1 / €1