Seven HIIT workouts that take as little as 23 minutes
Time constrained? Not a problem, we take a look at eight sessions perfect for getting training benefits quickly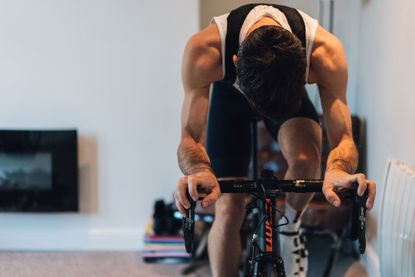 (Image credit: @CYCLINGIMAGES)
Get The Leadout Newsletter
The latest race content, interviews, features, reviews and expert buying guides, direct to your inbox!
Thank you for signing up to The Pick. You will receive a verification email shortly.
There was a problem. Please refresh the page and try again.
Getting the most out of your time on the bike is something that all of us want to achieve in our time-pressed lives. A great way to do that is through HIIT (High Intensity Interval Training) sessions. These give a short, sharp training stimulus which can produce big fitness gains without having to spend tens of hours on the bike every week.
The highly structured nature of these sessions – with the intervals and rest periods portioned out to the second – means that they're typically best executed away from the open road and the irregularities of terrain, weather and traffic.
Typically, this means training indoors on a turbo trainer or a smart indoor bike, such as a Wattbike Atom, where you can ride at specific intervals and intensities to the exact second and power output. These smart trainers can also automatically adjust resistance based on the wattage of the intervals in your training session if it's set through an indoor training app like Zwift and Wahoo X, or proprietary apps like Wattbike's Hub.
Seven best HIIT workouts
We've built each of these sessions on the Trainer Day workout platform. If you follow the links, they'll take you to a page where you can download the workout file in the format that's best for you.
As a tip, .zwo is what you need if you want to run the session in Zwift; .erg is good for TrainerRoad.
Finally, intervals of these sessions are all based around your Functional Threshold Power (the maximum power you could theoretically sustain for an hour). If you don't know what that is, then just pop over to our explainer on FTP here before getting on with the sessions.
HIIT Pyramid - 23 mins
This session focuses on gradually building up the interval intensity with a mixture of all-out zone five intervals followed by zone one recovery blocks, before coming back down again like a pyramid. This eight-minute interval can be repeated as many times as your time schedule or ability allows for.
Download HIIT Pyramid on TrainerDay
Micro intervals I - 25 mins
This micro interval session is all about short high-intensity efforts of 15 seconds apiece, followed by increasing the next batch of all-out efforts to 20 seconds for each zone five effort.
Download Micro intervals I on TrainerDay
Puncheur's paradise - 30 mins
Focus on unleashing a strong and consistent zone five effort here, if 30 seconds is too long to sustain, shorten each effort so you are sill able to complete all the repetitions.
Download Puncheur's paradise on TrainerDay
Hill climb replication - 50 mins
Most British climbs are short and sharp and this session is ideal for preparing for them with four-minute intervals replicating these type of climbs. Ensure you gradually build throughout each interval starting in a steady zone four effort before building and ending each four-minute interval in zone five.
Download Hill climb replication on TrainerDay
Pedal to perfection - 40 mins
The aim of this workout is to focus on manipulating your cadence and gearing around each effort, with each set slowly tweaking the cadence and subsequent efforts, interspersed with minute recoveries.
Download Pedal to perfection on TrainerDay
5x5s - 70 mins
This workout, as its name suggests, includes five-minute maximal intervals, followed by five-minute recovery blocks repeated five times. Try not to overly focus on pacing as you won't exert yourself hard enough for the five minute interval.
Download 5x5s at TrainerDay
Cadence, Cadence, Cadence - 35 mins
As the name of this session subtly implies, the intensities are dictated by cadence. Increasing and reducing the intensity of the session through cadence helps improve your ability to maintain your pedalling efficiency and form at different cadences. It's important to stick to the structure of the session; even if it seems easier to ride at a higher cadence, you will be thankful you held something back for the end.
Download Cadence, Cadence, Cadence on TrainerDay
Cycling Weekly created this content as part of a paid partnership with Wattbike. The contents of this article are entirely independent and solely reflect the editorial opinion of Cycling Weekly.
Thank you for reading 20 articles this month* Join now for unlimited access
Enjoy your first month for just £1 / $1 / €1
*Read 5 free articles per month without a subscription
Join now for unlimited access
Try first month for just £1 / $1 / €1
Get The Leadout Newsletter
The latest race content, interviews, features, reviews and expert buying guides, direct to your inbox!
Paul Knott is a fitness and features writer, who has also presented Cycling Weekly videos as well as contributing to the print magazine as well as online articles. In 2020 he published his first book, The Official Tour de France Road Cycling Training Guide (Welbeck), a guide designed to help readers improve their cycling performance via cherrypicking from the strategies adopted by the pros.