Benefits of indoor cycling - eight reasons to ride inside this fall and winter
Time efficiency, training specificity and more control over external factors are just a few, here are some others...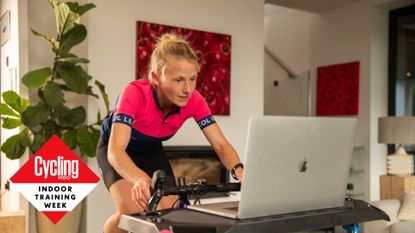 (Image credit: Future)
Amazon's Prime Day sale is currently live and will end at midnight October 11 - we've rounded up the best Prime Day deals in our main hub over here.
Although some places have experienced a pretty mild end to the summer, the nights are closing for us all (at least in the northern hemisphere!) and there's no doubt that colder winter weather is just around the corner - and with that, the indoor cycling season.
Of course, there are some benefits of cycling which you'll only reap from the outdoors. To really hone your balance and coordination, you need real corners - and the health and wellbeing benefits of bright, natural light aren't possible to replicate indoors.
Even so, besides all the shared benefits between riding indoors and out (losing weight, strengthening your immune system, improving your lung health, to list just a few) there's also a great many upsides quite specific to indoor training.
The main ones are time efficiency, training specificity and more control over external factors (no problems with weather or traffic!), but there's a whole host of others - and all taken together, indoor cycling can be highly effective in helping you hit your cycling goals.
1. No interruptions
We've already hinted at this, but one of the best aspects of indoor cycling is the removal of so many uncontrollable variables. The most obvious are the weather and traffic, but you're also less likely to have a time consuming mechanical problem indoors.
Perhaps the most useful variable that's controlled is the timing of your intervals. Indoor cycling allows you to focus on riding in the right cycling training zone and push at the correct intensity during intervals - no issues with descents, corners, junctions, etc. getting in the way of your efforts.
Of course, you can try and plan an outdoor route meticulously to mitigate this somewhat, but it's not as simple or quite as controlled as when riding indoors.
2. Easier to be consistent
If you're building up to your first 100-mile bike ride or looking into losing weight, it's essential that you stick to the cycling training plan you're following. Consistency is key, and this is much easier with an indoor trainer.
Winter weather conditions can make outdoor riding unpleasant or at least uninviting - and sometimes inadvisable, depending on the risk of ice or the ground-level wind speed. The number of layers you need to pull on and the more involved post-ride cleaning routine can all serve to make it more likely you might miss a session.
The (relative) comfort and simplicity of indoor training, by contrast, means you're more likely to stay on target and hit your cycling goals.
3. Easier to fit into a tight schedule
When riding indoors, it's much easier to fit a cycling workout into a tight slot in your schedule, as you can be certain that you'll finish at the time you're expecting.
If you suffer from a puncture or mechanical on an outdoor ride, this can add a whole load of time onto the length of your ride and cause you to finish much later than intended. If you're not sure you'll be able to definitely be back in time, it can end up being an easy excuse to not head out at all.
With indoor cycling, you don't have that problem. Even if you have technical issues at any point, you'll never be left stranded and you can also cut a session short. Or switch to a shorter, more intense session - of which there are many options on the best indoor training apps. Which brings us nicely onto the next benefit…
4. Quick sessions
Time constrained? That's no problem when it comes to indoor cycling. Getting the most out of your time on the bike is something that all of us want to achieve in our time-pressed lives and a great way to do that is through HIIT (High Intensity Interval Training) workouts, which take as little as 23 minutes.
With bursts of hard efforts followed by short recoveries, these give a short, sharp training stimulus which are very effective for boosting your fitness without spending too long on the bike.
5. Variety is easy to find
Indoor cycling has been brought to life by the virtual roads and worlds of indoor training apps: Zwift, TrainerRoad, Wahoo X, MyWhoosh are just a few of the best platforms to find group rides, workouts and races to keep you entertained and motivated while riding inside.
Over here we've picked out the best Zwift workouts and training plans to help you achieve your riding goals, whether that's to improve your climbing, or boosting your VO2 max or FTP fitness numbers.
6. Work out at any time of day
As we head into winter, daylight hours dwindle, it becomes increasingly difficult to complete your rides before the sun sets. Of course, there's always the option to strap on a set of the best bike lights, but equally night time training rides aren't for everyone.
Indoor cycling sessions can be slotted into your schedule at any time of day, whenever it's most convenient. Plus, with platforms such as Zwift enabling you to connect with people all around the world, there's always group rides and races you can jump in on at any time of day.
7. Opportunity to focus on technique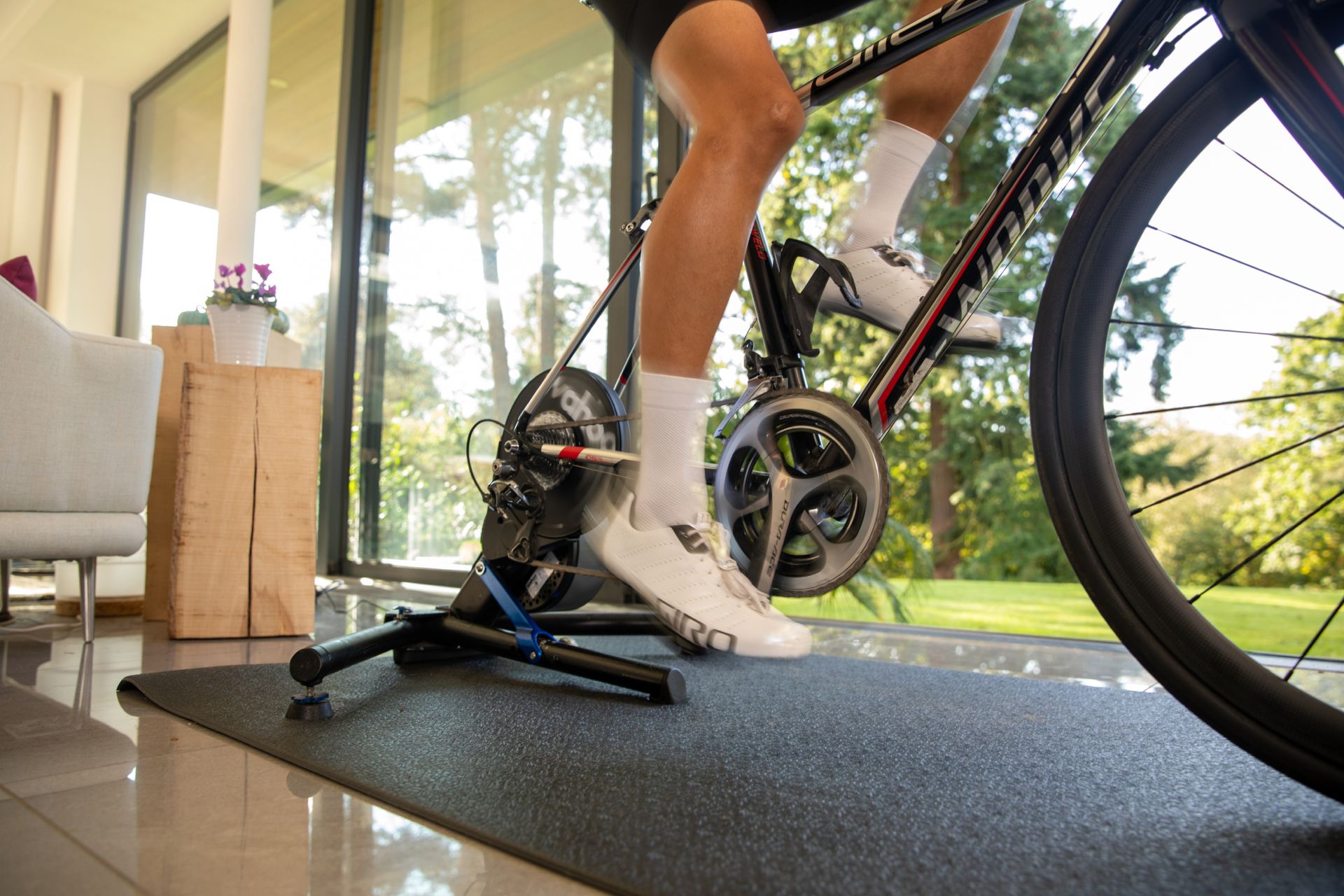 Without having to worry about the traffic around you and potholes on the road ahead, you have more capacity to work on specific areas of your cycling technique. From cadence drills to big gear efforts, these are all valuable sessions which can make a stronger, more efficient, and less injury-prone cyclist - but some of these sessions can be quite difficult to execute properly out on the road.
Likewise, you can use the controlled environment of your indoor session to focus on your pedalling technique - devoting more attention than you'd be able to out on the road to eliminate your dead spots for improved pedalling efficiency.
8. Avoid bad weather conditions
Rain, snow and ice can all be avoided by choosing to hide inside and ride your indoor trainer. For starters, it's just simply not very pleasant riding outside in those conditions, plus it's also safer to stay indoors if the roads are covered with snow or ice.
Winter riding outside can be much more bearable if you've invested in the right gear. However, even with our recommendations for cheaper (but effective) winter kit, the cumulative cost of investing in the best bib tights, winter jackets, overshoes and winter gloves, etc. is unavoidably high.
If you're riding inside, all you really need to get started is one of the best cheap smart trainers to attach your bike to, a set of cycling shoes and a pair of bib shorts - nothing more (even a little less!) than what you need for riding outdoors.
As you can see, there are an impressive number of benefits of investing in an indoor bike trainer and cycling indoors. That being said, you don't get the opportunity to improve your bike handling and work on key skills that'll increase your average speed such as cornering and descent practice. And not to mention how much pure fun it can be exploring your local area and breathing in some fresh (albeit crisp) air.
Over here we ran through seven benefits of riding outdoors, which you'll miss out on if you train inside all winter! If you are planning on mixing up your winter riding with indoor sessions to reap the benefits detailed on this page, and outside rides too, these 20 hacks to beat the cold and keep riding through the winter are likely to keep you (and your feet and hands) a lot happier when you do so.
Thank you for reading 20 articles this month* Join now for unlimited access
Enjoy your first month for just £1 / $1 / €1
*Read 5 free articles per month without a subscription
Join now for unlimited access
Try first month for just £1 / $1 / €1