20 hacks to beat the cold and keep riding through the winter
Here's how to train through the winter without getting cold and miserable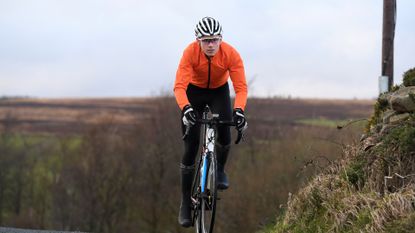 (Image credit: Future)
Nothing will toughen you up more than the winter. Blistering cold temperatures, howling headwinds and torrential downpours – if you can endure these conditions on the bike, you can endure anything. OK, so few of us would choose to ride on roads caked in mud and littered with water-filled craters, but this is where we live, so we'd best get on with it.
After thousands of miles of suffering out in the elements getting the hours in, I've had plenty of time to think about crafty ways to make winter riding just that bit more tolerable. In this feature, I want to share with you some of the 'hacks' I've tried and tested. They are simple yet so effective, and you'll wish you had tried them out sooner. Sit down, take out a notebook and pen, and prepare to brighten up your winter training forever.
1. The gas station gloves
For cyclists the gas station is our winter version of the oasis in the desert. The trusty attached shop has saved me, and probably most of you, from the bonk at one point or another. But the merciful grace of the fuel station doesn't end with its calorie-dense snacks. There is another blessed gift awaiting you at the pumps: namely, the plastic gloves.
When you're caught out by unexpected rain on a cold winter's day, a set of these gloves popped on either underneath or atop your own, can be a saviour. The extra waterproof layer makes a real difference. You don't need me to tell you, there are few tortures worse than desperately struggling to shift down the gears with numb fingers as you hit a climb late in your ride. Gas station gloves, don't underestimate them; they've saved me many times.
2. Sort that glove-jacket junction
Exactly how easy this is to achieve depends on the length and size of your gloves, but try your best to pull the cuff of the glove over the cuff of your jacket – ideally pulling the drawstring tight to form a watertight seal. If that's not possible, try the reverse: pull your jacket's cuff down over your gloves to seal at the wrist. On a cold windy day, snugly securing this seal stops that freezing wind from seeping up your sleeves and around your body. Yes, it's a very simple little thing, but it honestly works wonders.
3. Tape up those shoes
No list of winter tips and tricks is complete without at least one deployment of duct tape. Fear not, here it is. Duct tape is perfect for taping up the holes in your shoes. With most of the best cycling shoes being designed for use in the summer, they usually feature vents and perforations to let in cooling air – exactly what you don't want in winter. Don't hold back with the duct tape – seal up every single possible entry point for even the tiniest draught – can chill those toes even if you're intending to wear overshoes. Your feet are guaranteed to stay a lot warmer for a lot longer now.
4. Double up on the socks
It doesn't get any simpler than this, but again, it's effective. Put on a pair of thin socks under your big, thick winter ones. This helps no end to trap the heat and keep your toes nice and toasty.
5. Cling-film your toes
If your shoes are snug-fitting, the double socks hack might not be feasible, at least not without cutting off the circulation to your feet. Don't worry, there is an alternative. Wrap cling-film around your toes. It might sound like the early phase of some weird fetish, but it works. The impermeable film helps to block the cold air from chilling your toes without adding any bulk – it's an extra windproof layer blocking cold air, which is usually the culprit for cold feet.
6. Waterproof your socks
Nothing makes a cyclist's heart sink faster than waking up to hear rain lashing against the bedroom window. One of the trickiest parts of the body to keep dry are your feet – they take the brunt of splashes and spray. But you can easily change that by inserting a plastic bag between your two layers of socks: first sock on, foot into plastic bag, second sock on, job done. It's not quite as good as fully waterproof socks but it is much cheaper and does a pretty good job at keeping your feet dry. It's also a good way to reuse those mysteriously multiplying plastic bags stuffed under your kitchen sink.
7. Fit fenders / mudguards
When you're out on a group ride and the rider ahead has no fenders / mudguards, it's horrible – you get blinded by the mucky spray off of their back wheel. If you're that offending rider, not only will everyone else thank you for investing in a set of guards, but so will your kit, your bike and your washing machine. The best bike fenders / mudguards are amazingly effective at stopping mud, muck and rainwater from spraying up off the road, meaning much less of the cold, grimy stuff reaches your shins and back – keeping you not only cleaner but drier and warmer too. This also mitigates the likelihood of ending your ride looking like the Swamp Thing's slovenly twin brother.
8. Layer up
Wearing several thin layers is far warmer than wearing one thick layer. This is because each layer traps air, and it's that air which helps insulate your body, keeping you nice and toasty. Another plus point: if you do end up getting too warm, you can just unzip or remove one of the layers – vastly preferable to that 'boil in a bag' effect. I love to start with a warm long-sleeve base layer, then add a thin fleecy, soft long-sleeve jacket over the top before finally pulling on my big, thick windproof winter cycling jacket. A quilted cycling vest can be the perfect final outer layer if things are seriously cold.
9. Hug a hottie
OK, this is quite an extreme measure, but you have to do what you have to do to keep warm. This trick simply involves filling a hot water bottle with near-boiling water and stuffing it down the front of your jacket. Make sure the bottle has a cover and that there is at least one layer of clothing between it and your skin, so that you don't burn yourself. On those very cold mornings when you want to take that feeling of being tucked up under the duvet with you into the outside on the bike, nothing beats this trick.
10. Windproof your body
A windproof underlayer or a good-quality gilet is well worth the investment. Usually the windchill or 'real feel' is a few degrees lower than the actual air temperature, so a windproof layer helps keep that chill at bay, without adding too much bulk.
11. If the cap fits…
The notion that we lose upwards of 50 per cent of body heat through our head is a complete myth, and the real figure is more like 10 per cent. Even so, keeping your head warm certainly does help you feel warmer and is therefore worthwhile. Wearing a thermal skull-cap, or even just a regular cotton cap, under your helmet is the ideal lightweight solution to this problem, and the peak helps shield your eyes from the low winter sun. Some brands even offer waterproof caps for those evil days when it's both freezing cold and you're having to ride in the rain.
12. Cook your kit
The radiators in your home have a valuable secondary purpose. If you're planning to head out on the bike in the morning, place the kit you're going to wear on the radiator the night before. This works especially well with the inner layers: base layer, leg-warmers, buff, gloves and socks. Putting on toasty kit feels like a warm hug, and it makes that first step outside less of a chilling shock. If you put on cold kit and start your ride feeling cold, it's really hard to warm up once you're out in the elements.
13. Bidon on the boil
When you're already feeling cold on the bike, a slurp of icy cold water is the last thing you want. But you need to stay hydrated. The answer is an insulated bottle. These are fairly easy to get your hands on, and allow you to carry a warm drink – or just room temperature water with added hydro tabs or squash to encourage you to drink more. Let's face it, no one drinks enough when it's freezing cold. For the coffee lovers out there – that's most of us, then – you might be surprised at the number of regular flasks that fit in bottle cages. Coffee on the go, what could be better?
14. Keep it appetising
As per drinking, many cyclists don't eat enough when the temperature drops. In tackling this, your choice of food is vital. A firm textured, chewy bar isn't ideal when it's freezing outside, as they tend to turn rock solid – you'll break your jaw trying or not even bother and leave it in your pocket. Instead, opt for softer choices such as homemade banana cake or a classic jam sandwich. Everyone has their preferences, so work out what works best for you. I prefer to have several different options – and last year I created my own collection of energy bars, comprising 50 different flavours to keep things interesting.
15. Get stuffed
Accessing and unwrapping your energy bars can be a nightmare in winter. There's the fumbling with layers and zips while wearing thick, winter cycling gloves, then trying to be dexterous with frozen fingers. Instead, consider stuffing your bars at the front of your jersey, at your stomach, so that you can quickly and easily just slip them out. Alternatively, a handlebar bag is a handy solution for longer rides when you need more food with you and don't want the discomfort of a bagel pressing into your belly with every pedal stroke.
16. Protect your phone
Phones don't like the cold or the wet, and if you get lost or have an unfixable mechanical miles from home without a means of calling for help, it's not fun – I speak from experience. So keep your phone in a warm, waterproof case to help protect it from the elements. That way, if you have an emergency, it won't let you down. If you don't have a phone pouch, a freezer bag works as a reasonable substitute.
17. Weather-map your route
On a wet and windy day when it is also cold, you don't want to be riding on flat, unsheltered terrain such as moorland. Pick a more rolling route, ideally amid hedgerows, where the hills will provide resistance and make you work harder, keeping you warm – where possible, avoiding long descents. Also think about the wind direction, and if possible start off into the headwind, to get you warmed up early – even better, you'll be rewarded for your efforts with a lovely tailwind on the way home.
18. Don't dice with ice
Even if the air temperature is well above freezing, the ground temperature can be several degrees lower, meaning there is a possibility of ice forming. If the temperature outside is below five degrees Celsius, patches of ice on the road can't be ruled out. When ice is likely, either postpone your ride or stick to main roads that you know will be gritted. If you live in a part of the country where the temperature often remains below three degrees for extended periods of time, it's a good idea to switch to wider tires, 28 or even 30mm, as well as running slightly lower pressures to increase surface area with the ground. If in doubt, hop on the turbo…
19. Take to the turbo…
Ah yes, our winter saviour, the turbo. If the weather outside has really taken a turn for the worse, or you only have a limited amount of time available, the turbo is a great alternative. There are distractions aplenty – Netflix, Spotify, Zwift and all the rest – so turbo training is not the mental challenge it used to be. To further reduce the monotony, break your session down into sections and plan what you are going to do. Personally I find that doing efforts makes the time pass much faster than just riding along at an easy pace. Give the session some focus – even if it's not a day for intervals, how about some cycling cadence drills? For instance, try this super-simple session:
Warm up: 15min @ Z1
5x 5min @ >100rpm cadence
5min @ Z2
Cool down: 10min @ Z1
20. Save time with sweetspots
Most of us aim to maintain plentiful volume over winter, but if you do need to cut back your training hours, one way to bolster aerobic endurance is by doing sweetspot interval training. They don't exactly replace long endurance rides, but they're a decent compromise. There is nothing very sweet about them, though, since they involve riding at 84-97 per cent of your FTP – at which level your aerobic fitness and lactate threshold are lifted. If you only have 90 minutes to spare, this session is for you:
Warm up: 15min progressive Z1-Z3
30min @ sweetspot
5min recovery @ Z1
30min @ sweetspot
Cool down: 10min @ Z1
(If you're new to sweetspot training, do two 15-minute blocks of effort.)
This full version of this article was published in the print edition of Cycling Weekly. Subscribe online and get the magazine delivered direct to your door every week.
Thank you for reading 10 articles this month* Join now for unlimited access
Enjoy your first month for just £1 / $1 / €1
*Read 5 free articles per month without a subscription
Join now for unlimited access
Try first month for just £1 / $1 / €1
Tom Couzens is a racing cyclist currently representing The Ribble Collective on the road and the Montezumas cyclo-cross team off road. His most notable results include winning the Monmouth GP national series race as a junior; finishing sixth in the 2022 British National Cyclo-cross Championships; and he was selected to represent Great Britain at the European Cyclo-cross Championships in 2020/21. Tom draws on his high-level racing experience and knowledge to help Cycling Weekly readers maximise their potential and get as much as possible out of their riding.