Best handlebar bags 2023
The best handlebar bags will let you carry a good proportion of your bikepacking gear or just your extras for a day ride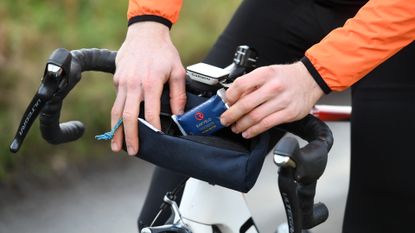 (Image credit: Future)
Get The Leadout Newsletter
The latest race content, interviews, features, reviews and expert buying guides, direct to your inbox!
Thank you for signing up to The Pick. You will receive a verification email shortly.
There was a problem. Please refresh the page and try again.
The days when the best handlebar bags for bikes were just made of canvas with room for a couple of snacks or inner tubes have gone. Nowadays, bike handlebar bags have become super-sophisticated and, above all, weatherproof.
The rise of bikepacking means that the best handlebar bags can add a lot of capacity without impairing your riding or interfering wth your handlebars or your controls. There's a lot to take with you if you want to be fully kitted out for bikepacking, so you can buy bike handlebar bags with 10 litres volume or more. They're a favourite place to stash a sleeping bag, warm jacket, food, waterproofs and other kit that's not too heavy.
On the other hand, there are smaller bags that work well for the essentials for a longer day ride when the weather looks suspect, for commuting, or when you just want to avoid loading up your jersey pockets.
So this guide is divided into larger handlebar bags, which typically carry 5 litres and up, and smaller handlebar bags for day rides.
Read on for our guide to the best handlebar bags or scroll down further for a buyer's guide to help you choose the best bar bag for your needs.
Best handlebar bags for bikes
You can trust Cycling Weekly. Our team of experts put in hard miles testing cycling tech and will always share honest, unbiased advice to help you choose. Find out more about how we test.
Best high capacity handlebar bags
Best quick release system
Specifications
Volume: 11 litres
Weight : 551g
Access: Roll top
Attachment: Quick release mounting bracket
Reasons to buy
+
Loads of storage
+
Compression straps
+
Bracket mount avoids damage to bike or bag
Reasons to avoid
-
A bit wide for bars less than 44cm wide
The Ortlieb Handlebar Pack QR uses a tool-free mounting bracket that avoids rubbing and doesn't leave you with a bulky mount bolted to the bike when you're not using the bag. It takes a bit of time to get used to fitting it, but once you've got past the learning curve it's a neat system.
The 11 litres capacity means that there's loads of space. It's sealed with a strap and there are two volume adjuster straps at the base. It's made of waterproof material and has taped seams for extra weatherproofing. There are a couple of mesh side pockets too.
The Ortlieb bag is wide though and we found it really needed 44cm bar width to fit comfortably.
Read our full review of the Ortlieb Handlebar Pack QR
Best for easy access
Specifications
Volume: 10 litres
Weight : Not specified
Access: Roll top/velcro second pouch
Attachment: 2x straps with cam buckles
Reasons to buy
+
Loads of room
+
Space for a D-lock in front pocket
+
Easy access
Reasons to avoid
-
Bar mount straps may interfere with some bikes' cabling
For large capacity bikepacking bags, the Restrap is hard to beat. The main compartment has a roll top for easy, weatherproof access and there's a decent size secondary compartment closed with a velcro strap, for a total of 10 litres of carrying space, plus a bungee cord for even more kit. An orange lining helps with finding kit inside.
The Restrap Bar Pack's nylon strap that closes the roll top also pulls in the sides of the bag, acting as a volume reducer to avoid rattling and it has reflective strands to make the bag easier to locate in the dark.
Attaching to the bike uses spring loaded cam buckles. They can't be repositioned, which might impact how well they work with some bikes' cabling, although the bag comes with foam bar spacers which might help.
Read our full review of the Restrap Bar Pack
Best for off the bike (thanks to removable dry bag design)
Specifications
Volume: 8 litres
Weight: 500g (harness and dry bag)
Access: Side
Attachment: Harness
Reasons to buy
+
Well made
+
Often straight forward to fit
+
Useful capacity for bulky but light kit
Reasons to avoid
-
Can be awkward fitting to some bikes due to their cable routing
The Topeak Frontloader bar bag system enables you to carry bulky yet lighter items on your next adventure. Its removable dry bag design is particularly helpful for taking your kit with you once you've arrived at your destination.
Primarily aimed at bikepackers this bar bag will keep your kit dry as it uses a 10,000mm waterproof rating dry bag, which is a similar rating to a good hill walking jacket. The bag can be accessed from either end, and both ends having a rollover and clip system to seal the bag. There is also an air valve to release excess air from the bag to keep it compact.
The harness is mounted onto the bars using two straps as well as optional spacer blocks (up to three per side) to allow versatility of placement. There is a strap (and paint protecting sticky strip) which can add stability by going around the head tube. The harness has another two straps to secure the dry bag in place. You are able to leave the harness in situ and ride without the dry bag should you need to.
The system can carry up to 8 litres or 5kg of kit, but if you're using drop bars you will be restricted in volume as the bag will interfere with your brake/shifters. With a straight bared bike you can expand further from side to side. The system didn't affect handling when loaded with 2.5kg of kit including harness and dry bag, and it stayed stable over rough ground.
It fitted easily to most bikes tried, however one bike was tricky due to its cable routing interfering with placement. If this is your regular bike and this happens then you may need to re-cable the bike to take this into account...
Read our full review of the Topeak Frontloader Bar Bag
Best for carrying a lock
Specifications
Volume: 11 litres
Weight : 325g (claimed)
Access: 2x roll ends
Attachment: 2x velcro straps
Reasons to buy
+
Loads of room
+
Space for a D-lock in front pocket
+
Easy access
Reasons to avoid
-
Bar mount straps may interfere with some bikes' cabling
The Italian Miss Grape line covers all the bikepacking essentials, including the Tendril bag that straps to the bars via two quick release webbing straps, with two foam block spacers if you need them to keep cables free running.
It's another tube design and made of PVC, with roll down ends fastened by buckles. There are two webbing straps to lash kit to the outside of the bag. It fits fine between 40cm bars. We tested the waterproofing on a wet Welsh night and found the contents completely dry in the morning.
We've also tested the Miss Grape Bud bag, which lashes onto the rear side of the bars, adding extra space for snacks or a waterproof.
Read our full review of the Miss Grape Tendril 10.7 Waterproof Handlebar Bag
Best value handlebar bag
Specifications
Volume: 5 litres
Weight : 214g
Access: Roll top
Attachment: 3 velcro straps
Reasons to buy
+
Decent price
+
Easy access through roll top
+
Two side pockets and webbing add storage for extras
Reasons to avoid
-
Non-taped seams may let damp in
-
Main strap has a tendency to work loose
With a roll top and 5 litres capacity, the Alpkit Gravel Bag works well whether you're off on a bikepacking adventure or just want to carry your extras more easily. The roll top makes for a lot easier access than other options, even if you're wanting to stow bulkier items.
The Alpkit bag is made of waterproof materials, although without taped seams, water will find its way in when the weather is really wet.
Attachment to the bars uses three velcro straps, there's bungee webbing on the front of the bag for extras like a waterproof and small side pockets. The internal space isn't divided and we did find that the main strap securing the opening had a tendency to work loose over bumpy ground, but overall this is a great bag for the price.
Read our full review of the Alpkit Gravel Bag 5L
Best for easy access to a large main compartment
Specifications
Volume: 9 litres
Weight: 703g (bag), 331g (rack)
Access: Flip up lid with press stud button
Attachment: Via the brand's rack
Reasons to buy
+
Huge capacity for food and clothes
+
Easy removal from fitment
+
Stylish
+
Shoulder strap for off bike usage
Reasons to avoid
-
Needs to be full to stop items rattling and moving
-
It is absolutely massive and can be obtrusive
-
No mounting point for fitting a light on the front of the bag
-
Closing mechanism not the most secure
The Specialized/Fjällräven Handlebar Bag works with the brand's rack (sold separately) to provide a sturdy and capacious space for storing essentials - including bulkier items such as warmer layers. The flip open lid also gives quick access to the nine litre capacity bag, whilst the rigid structure makes it easy to pack.
The build quality is fantastic and the weatherproofing good enough to keep contents dry in most conditions, thanks to the Vinylon F exterior and recycled nylon interior.
However, one area which lets this bag down is that - unless the bag is packed full - the contents can rattle around a lot on the road, let alone on gravel trails. It also is not very easy to open when moving, especially when wearing gloves. When travelling at speed, often the air resistance will force the lid shut.
Fitting the bag onto the bike requires the Specialized/Fjällräven Handlebar Rack, which can be purchased separately. The bag fits on and off easily, so it can be taken inside when leaving the bike outside for any period of time. The removable shoulder strap helps with this too.
Read our full review of the Specialized/Fjällräven Handlebar Bag
Best smaller capacity handlebar bags
Easiest to secure
Specifications
Volume: 2.5 litres
Weight : 220g
Access: Rolled ends
Attachment: Quick release BOA dial mounting bracket
Reasons to buy
+
Easy to fit with BOA dial to tighten in place
+
Waterproof design and materials
+
Adequate capacity for day rides
Reasons to avoid
-
A little small for bikepacking
The Evoc Handlebar Pack BOA is a handy size to carry extras on a ride. It's advertised as waterproof and comes with a single taped seam, although we didn't ride in wet conditions to find out. It's a roll style design with openings at either end of its rigid sausage shape, meaning that access to contents on the go isn't s easy as a top opening.
Attachment to the bike uses a clip that's then tightened in place using the BOA dial, making for very rapid fitting. We didn't find that the bag got in the way when riding either on the tops or the hoods.
With 2.5 litres capacity, the Evoc Handlebar Pack is too small for bikepacking adventures. There's a 5 litre option available too though that would double your carrying room.
Read our full review of the Evoc Handlebar Pack BOA
Easiest to pack
Specifications
Volume: 2.5 litres
Weight : Not specified
Access: Flip up lid with velcro
Attachment: 2x velcro straps plus cord around head tube
Reasons to buy
+
Rigid structure helps keep its shape
+
Very easy to fit to the bike
Reasons to avoid
-
A little awkward to close while riding
-
Contents tend to rattle around
The Apidura Racing Handlebar Mini Pack is designed for the road rider who wants a little more storage space. It's made of waterproof fabric, reinforced so that it keeps its shape.
It has a simple top held down by a velcro strip. We found this a bit awkward to use while riding and ensure that its storm flap fitted properly. But fitting to the bike was easy thanks to its two velcro straps. A third cord around the head tube holds it in place and there are foam spacers to keep the Mini Pack away from cables.
We did find that contents rattled around over uneven surfaces, unless we carried a jacket to wedge it all in though.
Read our full review of the Apidura Racing Handlebar Mini Pack
Easiest access
Specifications
Volume: 3 - 5 litres
Weight : Not specified
Access: Roll top
Attachment: 2x velcro straps plus cord around head tube
Reasons to buy
+
Decent volume
+
Roll top makes for easy access
+
Comes with shoulder strap for off-bike carrying
Reasons to avoid
-
Securing strap for the opening a bit fiddly to use when on the go
This Chrome Industries pack feels well made and it comes with a padded inner to protect contents and taped seams to keep out the weather. Closure is via a rolled top. It works well, although we found the strap that secures it difficult to use while on the move. The 3 litre capacity is expandable to 5 litres thanks to the roll top.
Attachment to the bike is via two velcro straps that are long enough to surround aero bars and a stabilising elastic drawcord around the head tube. They are easy to mount and dismount and make it easy to take the bag with you when you stop, while the included shoulder strap makes carrying off-bike that much more simple.
Read our full review of the Chrome Urban Ex Handlebar Bag 2.0
Best lightweight option for carrying extra kit
Specifications
Volume: 3 litres
Weight : 180g
Access: Front zip
Attachment: 2x webbing straps plus a third around head tube
Reasons to buy
+
Plenty of capacity
+
External loops for extra kit
Reasons to avoid
-
Straps make for slow mounting to the bike
-
A bit wide for road bike handlebars
-
Expensive
The Scape bag has three litre capacity, plus extra webbing to let you strap extras to the outside. There's a single zip across the front.
Attachment is via webbing straps with aluminium buckles on the bars plus another around the head tube. Foam pads keep the bag away from the bars, so that it doesn't interfere with hand holds.
We found that there was plenty of room for tools and a jacket and that the bag didn't affect steering. It works best with gravel-style wide bars. The straps work, but we'd have liked to see something that makes adding and removing the bag easier.
Read our full review of the Brooks Scape bar bag
Best handlebar bag for versatile capacity
Specifications
Bag Weight: 368g (tester's measurement) including all straps
Dimensions: 25cm x 25cm x 8cm (WxHxD)
Capacity: 6.5L/395ci
Maximum Load: 3kg/6.6lbs
Reasons to buy
+
Waterproof
+
Durable
+
Useful storage & capacity
+
Versatile
Reasons to avoid
-
Can be particular about which bars/cabling it will work with
-
Velcro on rolltop can catch with certain clothing
-
Can be a little dark to see into, when trying to find things
The Topeak BarLoader is a waterproof bag with 6 liters of capacity which can be either used by itself, or in combination with the FrontLoader (8 liter) dry bag system to provide addition capacity or to keep certain items easily accessible or removable from the bike.
The bag uses welded seams and a velcro sealed roll top to keep your kit dry or dust free, depending on where you ride.
When attached directly to the bars the bag holds firmly in place, even if it bounces somewhat when vigorously riding uphill. We found it was stable when reasonably laden with a day rides-worth of gear. There is a detachable inner section with zips, which is made from a bright yellow fabric which enables you to see your kit in the bag better.
Overall a well made and useful bag, just check that you have room to attach it properly on your bike before buying.
Read our full review of the Topeak BarLoader Bar Bag
Buyer's guide to bicycle handlebar bags
Here's our guide to what to consider when you're looking for the best handlebar bag for your carrying needs.
What volume do I need?
If you're carrying a full bikepacking rig, you'll probably need quite a bit of capacity on your bars to fit everything you need to go bikepacking on your bike. But if you're just after some extra capacity to take a waterproof jacket and some food with you, without loading down your jersey pockets, you'll probably get by with a lot smaller pack.
Work out the volume you'll need to carry to narrow down your choice of handlebar bags that should meet your needs.
Will it fit on my bars?
The first thing is to consider if a handlebar bag will fit on your handlebars without impeding your ability to grip them. Think about all the usual positions you ride in.
Some of the bags above need quite wide handlebars just to be able to fit between the hoods, while we've fitted others with similar capacity to 40cm bars without problem. Also make sure that you can ride comfortably in the drops - flared gravel bike handlebars help here.
Also look at the attachment points and whether your bag will interfere with grip on the tops. Often the straps for the bag will pass over the bike's cabling, so make sure that this will still work properly. Many of the best handlebar bags include foam blocks to help space the straps away from cables.
How weatherproof is it?
If you're planning to use your bag a lot, chances are it's going to get wet at some point. You want the weather to stay outside, not get in.
Look for fully taped seams. Roll closures work well to keep out water, although waterproof zips are also an option. Standard zips will let in water. In any case, we'd recommend using separate dry bags inside the handlebar bag for anything that it's important to keep dry.
How easy is it to remove?
The last thing you need when getting ready for a ride is a huge faff fitting a handlebar bag. If you're leaving your bike somewhere, it's going to be useful to be able to remove your bag quickly as well.
On the other hand, if you've got a full set of bikepacking bags on board, you're going to have to leave most of them there if you're stopping for a shorter period.
Most riders keep their more valuable items in their handlebar bag, so easy removal and portability may be useful traits. You may be trying to remove a bag with cold, tired hands if you've had a whole day's riding and are just setting up camp.
So check that your choice of handlebar bag is reasonably easy to put on and remove from your bike, but not so easy that a thief can just walk off with it.
What other features should a handlebar bag have?
There are bonus features to consider too. Are there reflectives? Can you mount a front light? Does it fit well around your cycling computer? Will it sag onto your front wheel? Can you adjust the volume?
If you're going to want to access contents on the move, also think about how easy it is to open and close a bag without stopping. Side pockets or bungee cord webbing can be useful to carry extras that you may want to get at quickly and will up your total carrying volume.
Thank you for reading 20 articles this month* Join now for unlimited access
Enjoy your first month for just £1 / $1 / €1
*Read 5 free articles per month without a subscription
Join now for unlimited access
Try first month for just £1 / $1 / €1