Best cycling jerseys 2023 ridden and rated
The best cycling jerseys will keep you comfortable, whether it's for a hot summer ride, a ride in cooler conditions or a turbo session indoors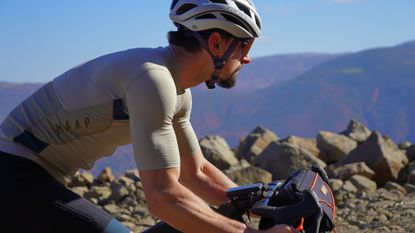 (Image credit: Anna Abram)
The best cycling jerseys provide an essential element of your cycling wardrobe.
In the summer, the best short sleeve cycling jerseys will keep you comfortable on warm rides, wicking sweat away and ensuring a cooling airflow, as well as helping you to avoid sunburn. Pair them with the best arm warmers for more comfort if it's a little cooler.
For autumn or spring riding, the best long sleeved cycling jerseys will add some extra warmth, with a flocked inner face. while still keeping you comfortable thanks to good airflow. For cold weather riding though, check out our guide to the best winter cycling jackets, where we put several options through their paces.
Indoor cycling is very popular, so if you're taking to the turbo trainer for a Zwift session, a lightweight jersey is essential and there's a crop of indoor cycling clothing available designed for just that.
Many of the best cycling jerseys featured in this guide will have male and female versions, but head over to our guide on the best women's cycling jerseys for women's-specific fit options.
Here's a look at some of the best jerseys we've tested, and there's a buyer's guide to further down the page where we discuss what to look out for, including material choice and fit. Our team of testers have logged many miles, and tried out lots of jerseys, to help find the best choice for your riding.
We've made our selections based on a variety of factors, including performance, comfort and value for money. However, if your looking for cheaper cycling clothing then you'll want to check out our round-up of the best affordable options.
The best cycling jerseys for hot weather, cooler conditions and indoors
You can trust Cycling Weekly. Our team of experts put in hard miles testing cycling tech and will always share honest, unbiased advice to help you choose. Find out more about how we test.
Best long sleeved cycling jerseys
Here are our top three picks for long sleeve cycling jerseys for cooler weather riding. If you're after more selection though, check out our full guide to the best long sleeved cycling jerseys.
Best long sleeved cycling jersey for layering
Specifications
Sizes: 6
Fit: Male
Colors: 3
Reasons to buy
+
Fit is ideal for riders with broad chests and long thin arms.
+
Impressive thermal properties
+
Eco credentials
Reasons to avoid
-
Long, long sleeves
-
Tight cuffs
Unlike many of the best long sleeve cycling jerseys, the Endura Pro SL II doesn't have a fleeced inner face. It's quite thin, but we found that it provided ample cool weather protection when paired up with a long or short sleeved cycling base layer. It's made from recycled polyester, so it's got great eco credentials.
The arms are very long relative to the body, so you can experience some rucking and the tight cuffs make it a little difficult to access a watch, but overall we found that the Endura Pro SL II provides good heat and moisture management and is a great choice for cooler weather riding.
Read our full review of the Endura Pro SL II long sleeve jersey.
Best long sleeved cycling jersey for warmth with minimal bulk
Specifications
Sizes: 8
Fit: Male, female
Colors: 2
Reasons to buy
+
Quality construction
+
Warmth for minimal bulk
+
Impressive number of features
Reasons to avoid
-
It's a expensive option if you're not looking for all the features
-
Limited protection against the wind
The Pearl Izumi Pro Thermal jersey is another option without the fleece backing of many winter jerseys, but nevertheless we found that it works well at around 50 – 55 degrees F / 10 – 12 degrees C, although there's a bit more wind penetration than in some of the other best long sleeve cycling jerseys we've tested. However, the low bulk means that it's easy to layer up under a windproof top layer or to add a warmer baselayer if you do need extra wind protection.
You get a collar with stiffening to help add warmth around the neck and six pockets, so there's plenty of room to stash the extra food and clothing you might need for cooler rides. Pearl Izumi adds plenty of reflectives for low light riding.
Read our full review of the Pearl Izumi Pro Themal jersey.
Best long sleeve jersey for a luxurious feel
Specifications
Sizes: XS-XXL
Fit: Male
Colors: 4
Reasons to buy
+
High quality fabrics and construction
+
Made using recycled materials
+
Understated, stylish looks
+
Durable - washes well
Reasons to avoid
-
Size down if you're after a close fit fit
If you're after a comfortable long sleeve jersey, the Rapha Classic is a great choice. It's made of a mix of merino wool and recycled polyester, so it's got the eco credentials to match its supreme comfort.
We loved the attention to detail, illustrated in features such an adjustable bottom hem to keep the wind out and cuffs that are longer on the tops than the underside, to add some extra protection to the backs of your hands and help keep the weather out. These may seem incidental but we found that it's the little design touches that really elevate this jersey above many others.
Along with plenty of breathability, there's enough warmth for cooler days and it's a good option to use as a midlayer too, although you may need to size down if you're not planning to layer up too much underneath and you want a closer fit.
Read our full review of the Rapha Classic Long Sleeve Jersey.
Best indoor cycling jerseys
Indoor cycling has many of the same needs as summer riding, but more so: light weight, high breathability and good moisture management. On the other hand, you don't need pocket space, as this will just make you hotter.
That's led to the development of some of the best indoor cycling clothing, including bib shorts and jerseys designed for riding the turbo trainer.
Best indoor cycling jersey for breathability
Specifications
Sizes: XS – 3XL
Colors: Two
Pockets: Two rear pockets
Reasons to buy
+
Very breathable
+
Pockets for essentials
Reasons to avoid
-
A little tight around the waist
Castelli's trainer jersey is ultra-lightweight - in fact Castelli says it's the lightest jersey it's ever made. You still get two rear pockets, which we found handy for carrying kit to the trainer. It also means that the Castelli Insider jersey could double up as a very lightweight option for hot summer rides.
The sleeves are shorter and the collar lower than on many outdoor jerseys, but that does help keep you cool on your indoor rides. Our only criticism of the Castelli Insider jersey is the rather tight bottom gripper.
Read our full review of the Castelli Insider jersey.
Best indoor cycling jersey for a minimalist approach
Specifications
Sizes: 0 - II
Colors: One
Pockets: None
Reasons to buy
+
So light you don't notice it
+
High quality fabrics and construction
Reasons to avoid
-
May not work well as a summer base layer
Rather than a lightweight jersey, Assos has decided to develop a base layer for turbo use. It works really well, with a hardly there quality, thanks to the open mesh over the shoulders and back, but is also compressive.
We found the lack of pockets meant that it was a bit more difficult to carry kit to the trainer, but once there the thicker front panel helps stop you from dripping onto your bike. Assos says that it would double up as a summer base layer, but we reckon it's slightly too heavy to wear under a jersey on hotter days outdoors.
Read our full review of the Assos SS Superléger Skin Layer.
Best indoor cycling jersey for versatility
Specifications
Sizes: XS - 3XL
Colors: Two
Pockets: Three
Reasons to buy
+
Very lightweight mesh
+
Terrific wicking
Reasons to avoid
-
Expensive compared to similar options
Very lightweight, the Le Col Indoor Training jersey is made of 3D wicking mesh fabric. It comes with three rear pockets, which we reckon makes it as useful for outdoor summer riding as indoor use - it's very similar to the identically priced Pro Air jersey.
We found that the jersey wicks really well and never felt clammy, although the sleeve grippers did start to feel sweaty during all-out sessions on really hot days. It's quite pricey if you only plan to use it on the turbo though.
Read our full review of the Le Col X Wahoo Indoor Training Jersey.
Best summer cycling jerseys
There's a huge choice of short sleeve cycling jerseys for summer use, with a range of technical features like aero fit and fabrics. We've got a wider pick of the best summer cycling jerseys, but here's our pick of the top three.
Best summer jersey for pocket space
Specifications
Sizes: XS – XXL
Colors: Two
Pockets: Three rear pockets, two side pockets and one zipped valuables pocket
Reasons to buy
+
Good moisture management
+
Coldblack treated
+
Lightweight
Reasons to avoid
-
Limited colour choice
-
Little reflective detailing
For long distance rides, the dhb Aeron Ultra gives you the plus of six pockets: three at the back, two more side pockets for extra food and a valuables pocket. That gives you plenty of carrying capacity and we found that the pockets work well, without sag.
The fabric wicks really well, there are mesh side panels to add ventilation and keep weight down and it's coldblack treated, which means that you should stay a little cooler on hot rides. Our only minus was the limited amount of reflective detailing, making the dhb Aeron Ultra jersey less appealing for low light rides.
Read our full review of the dhb Aeron Ultra short sleeved jersey.
Best summer jersey for a retro look
Specifications
Sizes: XS – XXL
Colors: Five
Pockets: Three rear pockets and one mesh pocket
Reasons to buy
+
Classic design
+
Lots of carrying capacity
+
Dries quickly
Reasons to avoid
-
Not for the hottest conditions
With retro styling, the Brevet jersey has a classy look, but the technical fabric, a mix of merino wool and recycled polyester, mean that it's brought up to date. We found the fit to be a bit more relaxed than many jerseys, which makes it a good option for long distances or multi-day rides.
There's a lot of versatility here, with not just the usual three open pockets, but also a mesh pocket that you can use to stash an extra layer. Plus, there's a zipped breast pocket for your vignette card, credit card or other valuables. The fabric is quick drying, although it's a little warm if you want to ride in hotter conditions.
Read our full review of the Rapha Brevet jersey.
Best summer jersey for a luxurious feel
Specifications
Sizes: XS – 3XL
Colors: Four
Pockets: Three rear pockets and one zipped side pocket
Reasons to buy
+
Great fit
+
Comfortable fabric
+
Well supported pockets
Reasons to avoid
-
Silicone arm grippers are a bit uncomfortable
-
High price compared to rival jerseys
The Le Col Hors Categorie summer jersey is made from fabric that's a little more substantial than many short sleeved jerseys with a silky touch, adding a high quality feel. It wicks well though and although the cut is close, there's plenty of stretch for comfortable riding all day.
There's plenty of stretch to the rear pockets, but they don't sag when loaded up. The middle pocket has a long reflective strip to increase visibility. We weren't so enamoured of the long silicone arm grippers, which were slightly uncomfortable, although they do mean that there's minimal opportunity fo the sleeves to ride up.
Read our full review of the Le Col Hors Categorie jersey.
Meet the testers
After winning the 2019 National Single-Speed Cross-Country Mountain Biking Championships, Stefan swapped the flat-bars for drop-bars and has never looked back. Since then, he's earnt his 2nd cat racing licence and Everested in under 12 hours. But Stefan's favourite rides are multiday bikepacking trips, with all the huge amount of cycling tech and long days spent exploring new roads and trails - as well as histories and cultures.
Chris first started writing for Cycling Weekly in 2013 and has since become a regular name in the magazine and on the website ever since. Obsessed with mountains, he was previously found playing and guiding in the Canadian Rockies, and now mostly lives in the Val d'Aran in the Spanish Pyrenees where he's a ski instructor in the winter and cycling guide in the summer
Buyer's guide to what to look for in a cycling jersey
Looking for other kit to pair with your jersey? Check out our guides to the best cycling shorts, best gilets, best arm warmers and best leg warmers and knee warmers.
What fabrics should I look for?
A cycling jersey has to perform well in a range of conditions, so you can find jerseys designed for really hot rides as well as ones that bring you to the brink of winter, when you're likely to want to reach for one of the best winter cycling jackets instead.
That means that there are a wide range of fabrics used. Polyester is popular for its wicking qualities, meaning that you won't feel sweaty however hard you ride. It will also dry quickly if you do get caught out in a downpour.
Merino wool is another great option, often found in jerseys for cooler weather, although you can also buy merino blend jerseys for warmer rides. It has the advantage of great warmth that isn't affected by getting damp. It is less prone to getting whiffy than polyester too.
What is the advantage of a fleeced material?
Whereas summer and indoor cycling jerseys will be lightweight and often be made of mesh to accelerate cooling, once the temperature gets below the mid-50s F / 12 C, you will probably need a bit more insulation on your ride.
That's where a more dense surface weave paired with a fleeced backing can really add warmth. Fleeced fabrics used in cycling are typically labelled Roubaix or Super-Roubaix.
How many pockets do I need?
The classic cycling jersey has three rear pockets. With a little organisation and if you're not trying to carry too much or can move some of your kit to one of the best bike saddlebags, that should be adequate for most day rides. Look out for pockets that are deep enough that items won't fall out if you do have to load up and that avoid pocket sag under heavy loads.
A zipped valuables pocket is useful, to keep keys and money safe as you are riding.
With the increased popularity of ultra-endurance and gravel riding, jerseys have sprung up that add lots more carrying capacity. Even if you're not contemplating a huge ride, just having somewhere separate to keep used food wrappers away from your other items is really useful and avoids mess.
Why does my cycling jersey need to be skin tight?
Most modern cycling jerseys tend to have a close fit. That's because windflap can ruin your aerodynamics, even if you're riding the best aero bike. A closer fit also helps keep the fabric in contact with your skin and assists moisture management, as this allows sweat to be wicked away efficiently, rather than staying on your skin.
If your riding is more relaxed, you might not worry about aerodynamics so much, so a looser fitting jersey might be more comfortable and gives a more classic look.
Most cycling jerseys are cut shorter at the front and longer at the rear too, to fit better in the riding position and ensure that you don't have a cold spot at your lower back as you ride.
What additional features should I look for?
In a summer jersey, mesh panels as the sides can add some extra airflow and cooling. A UPF rating of 30 or above will help stop sunburn. although you should apply sunscreen to your exposed skin and also under your jersey if it's a very lightweight mesh number.
In a cooler weather jersey some front side windproofing will make your jersey feel a lot warmer without extra bulk. Also look out for a high collar and close cuffs. Often, cool weather jerseys are DWR coated to help repel light rain and moisture, although they will usually wet out in a heavy downpour, when a rain jacket will be more useful.
How we test
We have a dedicated team of testers here at Cycling Weekly, whose job is to review a whole range of cycling products and to write objective reviews of their experience of using them day in day out in a whole range of conditions.
With huge experience, they're really well placed to compare products, identify their strengths and weaknesses and bring you an honest, unbiased assessment of how they perform.
When it comes to testing jerseys we look at a variety of factors depending on the products. For long sleeve jersey's designed for cooler weather and long distance riding we evaluate their warmth-to-weight ratio, degree of breathability and storage capacity. For summer jerseys, the latter two are also important considerations, as is the jersey's material ability to offer protection against the sun. Of course, comfort reigns supreme and we consider the success of elements such as sleeve and hem grippers, zippers and other details that can cause a jersey to be less than comfy on the road.