Best summer cycling jerseys ridden and rated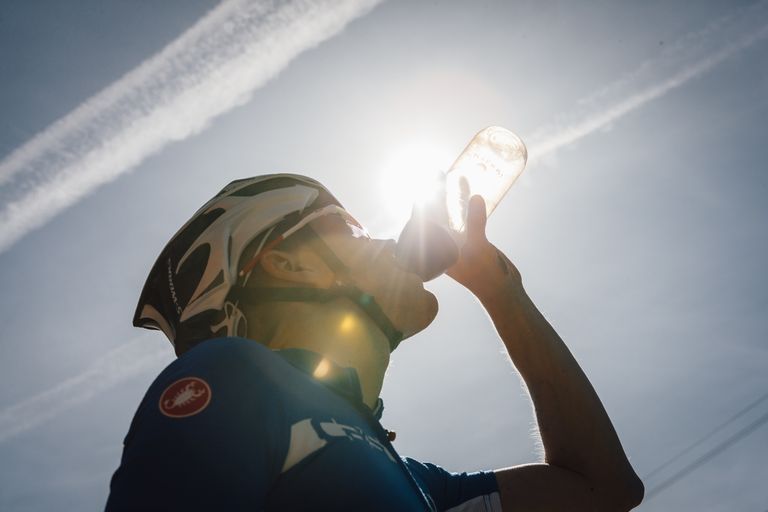 A good cycling jersey can dramatically improve your comfort and confidence on the bike, and there's a plethora of choice out there - with something to suit most preferences and bank balances while maintaining the best quality.
You want a cycling jersey to sit fairly close to the skin, with as little flapping material as possible. This will be more important to racers, who will be after an aerodynamic advantage.
Many of the best summer cycling jerseys featured in this guide will have male and female version, but head over to our guide on the best women's cycling jerseys for a specific fit options.
A fabric that offers a great deal of stretch will be ideal and you'd expect it to be quick wicking and fast drying. More premium jerseys will feature laser-cut sleeves or silicone grippers at the cuffs and waist. If it's full arms you're after, then our page on the best long sleeved cycling jerseys is the one for you.
If you're actually after something much warmer, you might find your perfect on our guide to the best winter cycling jackets.
Traditionally, cycling jerseys have three rear pockets for storing basic necessities: spare tubes, tire levers and a mini-pump. Pay a little more and you often get one zipped pocket that may be water-resistant to protect a smartphone.
Here's a look at some of the best jerseys we've tested, and a little more insight into what to look for below.
Looking for cheaper cycling clothing? Check out our round up of the best affordable options
Our pick of the best summer cycling jerseys for men
With a low cut collar, Aussie outfit Attaquer's Race jersey is constructed with three lightweight fabrics to keep you cool and comfortable. Stretchy lycra is used across the front, with a warp mesh up the sides and a super light perforated fabric on the back, the all three have received a hydrophilic to speed up wicking and evaporation of sweat. Attauqer makes the top in both men's and women's fits.
Reasons to buy
+Relaxed fit+Light, breathable fabric
Reasons to avoid
-Sleeves ride up-High pockets not to all tastes
The Le Col Sport Jersey II has been designed to provide a more comfortable and relaxed fit when compared with the more race orientated options in the Le Col family.
>>> Best summer cycling gloves
Coming in both male and female fits, the light and breathable jersey strikes the balance between close-fitting enough so as not to flap on the bike, but also offers has room for a large lunch stop! The high pockets provide plenty of space to stash tools and snacks too. We did find the fit quite relaxed in the women's version so you may want to size down compared to your normal kit size.
Reasons to buy
+Lightweight fabric+Comfortable+Supportive pockets
Reasons to avoid
-Fit on the arms
Rapha's re-visited Pro Team jersey sits between the Pro Team Training jersey and the Pro Team Aero jersey, with this one dual fabric design giving you more room for a more relaxed position on the bike.
Available in male and female fit, the lightweight jersey is ideal for long summer rides thanks to its comfort, attention to detail and supportive pockets. Some might find the arms a little loose, but for hot weather, it's a great light choice.
Reasons to buy
+Close fit so no windflap+Lightweight, airy fabrics+Wind tunnel tested
Reasons to avoid
-Pockets are a little small-Covering flap limits what you can carry without it protruding
Endura has worked with Simon Smart of Drag2Zero, using the Mercedes Formula 1 wind tunnel to test the Endura D2Z Aero jersey, ensuring that it has the fastest performance at a range of speeds.
The brand says that the design is optimised for speeds between 32kph /20mph and 50kph / 31mph, and Endura claims that it's a jersey that would work as well for a sportive rider looking for a new personal best as for a road racer in a bunch sprint.
One for anyone looking to pick up some free speed, when buying premium-priced jersey.
Reasons to buy
+Two top half colours from one jersey+Quality materials and finish+Comfortable fit for UK riders
Reasons to avoid
-Some pocket slip if you load up
The Invani reversible jersey works well to give you two color options for the price of a single-sided jersey. It's very well made with quality fabrics and detailing.
In theory, you can get two days riding from the same jersey, but in reality, you'll probably want to wash it after each ride rather than wear it for multiple days at a time.
A good option for traveling when you have limited packing space.
Reasons to buy
+Really lightweight and well ventilated+Good colour for hot weather
Reasons to avoid
-Sunscreen can stain the white fabric-We've found the mesh fabric delicate in the past
The Café du Cycliste Micheline is the brand's lightest weight summer jersey. The main panels are made of a fine mesh material that provides gale-force airflow. It's very stretchy too, but sufficiently opaque that you could wear it without a base layer when it gets really hot.
At 130g it's a great lightweight piece of kit and the color option is perfect for hot days, just be aware of sun cream stains on the collar and cuffs, but there's five colors to go at, so you can always buy more.
Reasons to buy
+Sizing+Figure hugging
Reasons to avoid
-Raw cut sleeves move on the arm-Pockets difficult to access on the bike
As is common with aero jerseys it has a low cut collar, although it's not as aggressive as the Rapha Pro Team Aero jersey and the Santini Redux doesn't have the same high cut waist as Rapha's.
No doubt about it, the Santini Redux is a tight-fitting jersey that is well-tailored and has all the slippy attributes you'd expect to see on an aero jersey.
Reasons to buy
+Excellent form fit+Pocket stability+Aesthetics
Reasons to avoid
-See-through material across the front puts everything underneath on show!
Created specifically for racing in the high mountains in the heat of summer, Castelli say the Climbers 3.0 jersey is light, ideal for dealing with moisture transfer and has good aerodynamic properties too.
Reasons to buy
+Second skin fit+Bold design+Increased safety features
Reasons to avoid
-Just three simple pockets
Santini has combined a tight-knit aero material, to keep the Mito Spilo jersey as low profile and slippery as possible, with a mesh-based material in the side panels for breathability. This makes it an excellent fitting jersey that allows the body to move freely while not restricting breathing.
The bold color scheme on this jersey may divide opinion, but it's highly visible nature no doubt has a safety bonus.
Reasons to buy
+Comfortable, close fit with lots of stretch+Very lightweight+Lots of reflectives
Reasons to avoid
-Aero benefits not quantified
The Gore C7 Race jersey provides a close fit, but with its lightweight and high stretch fabrics, conforms around your every curve for a comfortable fit.
It comes with plenty of reflective elements which add on-road visibility, even with its stealth black fabric.
Reasons to buy
+Super soft fabric+Classy design+Comfortable yet race-cut fit
Reasons to avoid
-Sleeves are a little loose-Price
At a featherlight 103 grams and made from a super soft and silky feeling fabric, Pearl Izumi's interval jersey barely feels like it's there.
It features coldblack technology which makes this jersey feel cool to use and performs well in hot conditions.
What to look for in a cycling jersey
Looking for other kit to pair with your jersey, check out...
Pockets
We always advise you to take a mobile phone out on your rides for emergencies, but you don't want to be constantly worried that it may fly out of your rear pocket if you hit a bump or move around on the bike. Shallow pockets or ones that are too loose are no good for mini-pumps, while a zipped compartment and deeper pockets add peace of mind for valuables.
Fit
The fit of a jersey is important in terms of comfort and appearance. If it's cutting into your waist with an overly tight silicone gripper, you may look like you have a spare tyre even if you don't! Alternatively, one that leaves too much room will bunch, wrinkle, and flap in the wind. A good cut can flatter and make you feel like you own the road.
Material
We've seen one or two of the Tour de France riders with nasty sunburn due to mesh jerseys and a lack of sunscreen. Have a think about the conditions in which you'll be riding and consider the thickness of the material you may need to stay cool — especially if you live at altitude. A wicking material is key to ensuring you don't end up soaked in sweat for the whole ride.