Castelli Perfetto long sleeve jersey review
The Gabba reborn? We put the Castelli Perfetto long sleeve through its paces in the British winter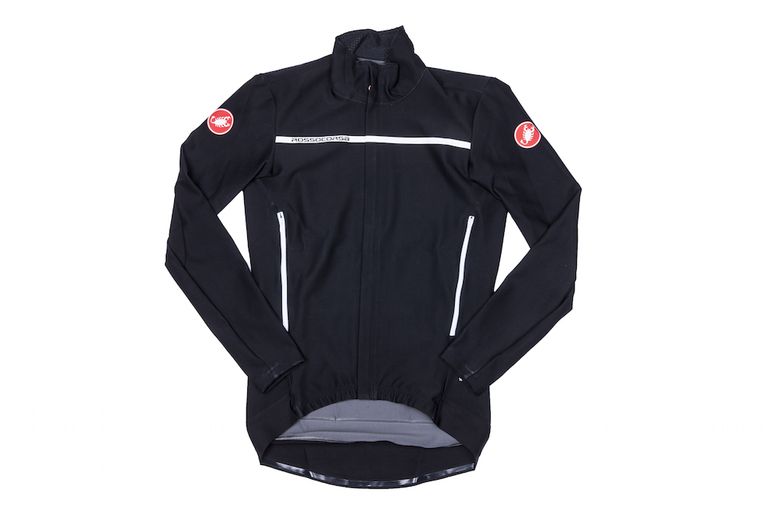 (Image credit: Cycling Studio)
It's impressively waterproof and very windproof and if you were prepared to spend a rather large amount of money then the Castelli Perfetto would be a very good option.
For
+

Very warm

+

Impressively waterproof

+

Not clammy

+
Against
-

A tiny bit short on the arms

-

The price
The story goes that the Castelli Perfetto long sleeve gained its name because so many people kept calling the Gabba, its predecessor, perfect. Now, this might sound like the marketing machine in action, but after riding in it we're very impressed.
Pick up the garment and its clear it's a well built garment, albeit more like a jacket than a long-sleeve jersey. Initially, this had me worried that it'd feel clammy on bare arms like a jacket does, but fortunately this wasn't the case, although it doesn't have a fleeced liner to give it a proper snug feeling.
The jersey breathes well, though, never feeling damp inside – or bin bagging as I like to call it – like proper waterproof jackets often can. Besides, if you find yourself getting too warm, there are two vents on the side to help you out.
Watch: winter jackets buyer's guide
The Castelli Perfetto long sleeve is self-proclaimed "foul weather racing equipment", and Storm Brian raging outside during October promised to be too good an opportunity to miss.
Despite the lashings of rain my upper body remained perfectly dry, with the jacket beading and the water streaming off. Castelli claim it to be only a water resistant treatment but I found it to be as waterproof as a lot of jackets.
It was equally adept in the wind, and its Gore Windstopper X-Lite fabric helped keep my core snug despite the gale.
Other additional defences include a longer tail with reflective detailing plus a storm flap in front of the zip and a high neck to keep out the wind. An elasticated waist stops the top riding up and letting your core warmth out.
My size small fit my torso fine but the arms did come up a tad short, leaving an inch or wrist exposed so be warned if like me, you have exceptionally long arms.
The jersey is complete with three rear pockets, which while deep and secure are tight and wouldn't house both my pump and essentials case in one pocket, putting a premium on space.
Also premium is the price, and £175 is a lot of money to pay for a long-sleeved jersey. But if you ride a lot in foul conditions, then it becomes a small price to pay for being dry and warm in the winter months.
Thank you for reading 5 articles this month* Join now for unlimited access
Enjoy your first month for just £1 / $1 / €1
*Read 5 free articles per month without a subscription
Join now for unlimited access
Try first month for just £1 / $1 / €1