Best bike saddlebags for cycling essentials 2022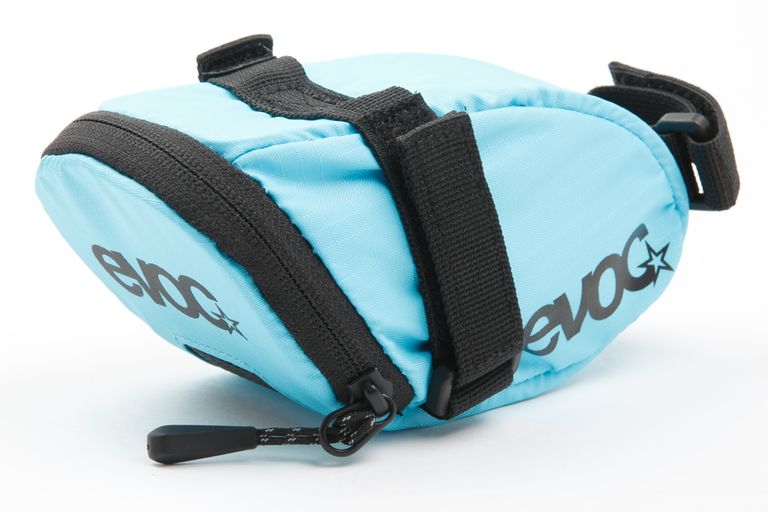 The humble saddlebag is one of those items in cycling that really didn't need to become controversial - but has somehow managed to do so.
Like sock length, and the orientation of a cycling cap,everyone has an opinion and there are some individuals that will tell you that you shouldn't have a saddlebag for cycling. That same individual will probably be the one asking you for a chain tool at the crucial moment.
Thoroughbred roadies will, more often than not, forgo the saddlebag, instead using the three rear pockets provided in most cycling jerseys. For many riders, this is indeed more than sufficient - but if you're heading out for a long day on the bike, you might wish for more space. That's where the saddlebag comes in.
>>> The best Allen keys and multi-tools for cyclists
What goes into a cycling saddlebag?
Common items found nestled within a saddlebag include: an inner tube (un-used, unless you've been unlucky), inner tube patch kit, two tire levers, Co2 inflator and canisters (at least two) and a multi-tool.
>>> Best road bike mirrors
Those using larger saddlebags will also be able to cram in their phone, some cash and keys, and super-sized versions can manage arm warmers and other light layers such as a vest.
Saddlebag size and weight
One of the most crucial elements to come into play when choosing a saddlebag is the size - or in this case, volume. Just like backpacks and other travel bags, saddlebag size is often listed in terms of capacity in liters, though some brands provide dimensions instead.
Those intending to stow away the bare essentials for a short ride around their local roads probably don't need a huge capacity. A small, lightweight saddlebag will fit an inner tube, CO2 canisters and inflator, plus tire levers and a multi tool.
Anything else can be chucked into your pockets, and a small saddlebag will maintain the streamlined appearance of your (no doubt otherwise immaculate) bike whilst also being more aerodynamic and lighter.
At the largest end of the scale, super-sized saddlebags – sometimes called saddlepacks – which are capable of carrying loads in the region of 15 liters, and are used by some bikepackers in place of traditional panniers. This is because they're often lighter than a rack and pannier bags, and less obtrusive since they don't increase the width of the bike.
Of course, there are many options in between, each affecting weight, aerodynamics and aesthetic appeal. The right option for you will be the best compromise between space and size.
Saddlebag attachment and closure
The size and weight of the saddlebag you opt for will affect the ideal attachment system. Small, lightweight options may simply fasten with a thin strip of Velcro, and this should be more than adequate if kept in good condition.
Heavier options will need more support, and these may have plastic mounts to be attached to the saddle, or hooks that fit to the seat post itself for additional security. These added fixings will, in turn, increase the weight, but if you're travelling with a tent and sleeping bag, a couple of extra grams are probably a minor concern.
Traditional saddlebags use a zip to secure their contents. However, most saddlebags face a hard life in the firing line of road gunk flung off your rear wheel, and zips can fail in time; so some opt for other closures such as roll-up cases, clasps and even buckles. This said, the vast majority of models still feature a zip, which in most cases will outlive the accessory itself.
Best saddlebags for cycling
With each product is a 'Buy Now' or 'Best Deal' link. If you click on this then we may receive a small amount of money from the retailer when you purchase the item. This doesn't affect the amount you pay.
Lezyne M-Caddy QR saddlebag
Reasons to buy
+
Simple, no rub fitting
+
Allows quick access to your multitool
+
Durable and weatherproof materials
Reasons to avoid
-
Zip and seams are not 100% waterproof
-
Saddle rail attachment needs careful tightening
Available in a range of sizes, the Lezyne QR Caddy mounts to the saddle rails, holding the bag solidly in place, with no rattling or rubbing of frame or clothing. The base material is a durable nylon, and water-resistant zippers help to keep the rain out, alongside a neoprene pocket in the Medium size.
An aero shape will please those concerned with counting seconds and drag; though 'QR' does not appear to stand for 'Quick Release' and you'll need time to remove and refit this bag properly if swapping between bikes. Storage capacity is 0.5 litres, with a weight of 115 grams.
Read our Lezyne M-Caddy QR Saddlebag review
Evoc saddlebag
Reasons to buy
+
Looks great
+
Perfect size
+
Secure fastening
+
Easy to fit
Evoc also offers a 'Race' and 'Tour' model, but with a capacity of 0.65 liters, the simple 'Evoc Saddlebag' is the middle of the road choice that can hold the basic essentials with ease. We filled it with two inner tubes, a set of tire levers, a multi-tool, and a chain tool.
Velcro loops keep this one in place, with a further attachment at the seat post to prevent any wobbling. Our only quibble was with the lack of waterproofing.
Read our Evoc saddlebag review
Radial Cycles Porter Saddlebag
Reasons to buy
+
Very compact
+
Sturdy construction
+
Multiple pockets
Reasons to avoid
-
A little awkward to access
A super compact saddle pack that mounts onto the saddle rails using two Velcro straps, and has a zipped front and two internal compartments.
The narrow shape of the bag meant that the Velcro wasn't in danger of interfering with the pedal stroke (or vice versa), which can be a negative to this design style.
In our small (there's also a medium option) saddlebag, we could fit an inner tube, tire levers, and multi-tool into the main compartment, using the other pocket for keys and loose change. There's also a 'pro' version, with a twist-lock mount, if you don't fancy Velcro.
Read our Radial Cycles Porter saddlebag review
Scicon Compact 430 Saddlebag
A mid-sized bad from the Scicon range, the Compact 430 features a 'roller 2.1 system': basically, once the mount is attached to your saddle rails, removal and replacement is quick and easy on the ride - though this will make swapping between bikes more difficult.
An internal Velcro strap keeps everything together and the external zip buttons the bag up tight. The capacity is 0.43 liters at a weight of 144 grams.
Arundel Dual saddlebag
Reasons to buy
+
Easily swallows two tubes and tools
+
Narrow design doesn't interfere with pedalling
+
Colour options allow you to match your bike
Reasons to avoid
-
Lets water in easily through the zip
-
Single strap can cause more rub on delicate seatposts
The 'Dual' sits in the center of Arundel's offerings - the 'Uno' being the smallest and the 'Tubi' the largest.
Sitting nearly beneath the saddle using Velcro fastenings, this option promises space for two inner tubes and Co2 canisters - though of course, you could opt for one tube and a handy couple of tools. The capacity is 0.4 litres, at a weight of 62 grams.
The oval retro styling is attractive, but we thought a little more waterproofing would take this saddlebag closer to perfection.
Read our Arundel Dual Saddlebag review
Scicon Phantom 230 seat pack
Reasons to buy
+
Very compact and unobtrusive
+
Secure fit to saddle rails, but easy to remove
+
Bonus tyre levers
Reasons to avoid
-
Too small for much more than a tube
The incredibly tiny Scicon Phantom seat pack has 230ml of space, just enough for an inner tube and the included tire levers.
It sits unobtrusively on the saddle rails and its small size means it's not going to get in your way as you ride. We really liked its easy on/off mounting system but found Scicon's suggestion that you could also fit in a co2 cartridge and a patch kit ambitious.
Great option if you really do want to carry only the absolute basics in a neat little saddlebag.
Read our Scion Phantom 230 seat pack review
Topeak Aero Wedge saddlebag
This aero-shaped saddle bag is a very practical option with its built-in pump holder and tail light strap. With a 1.3l capacity, you won't struggle to fit in the essentials you need and the reflective strip on the back provides a touch of reassuring visibility.
It also has an expanding design which means it's possible to open up the space inside for longer ventures with the zip in the middle or keep this zip closed and the saddlebag compact on shorter rides when you bring less; this saves having to swap out saddlebags depending on the length of your ride.
Blackburn Outpost seat pack
Reasons to buy
+
Large volume
+
Waterproof
+
Simple to fix and fill
+
Keeps muck and spray off your back
Reasons to avoid
-
Fiddly to access contents when in transit
-
Not recommended for carbon seatposts
-
Noticeably increases your centre of gravity
Can this really be classed as a saddlebag? Highly debatable. But for those looking for large capacity — in this case, 11 liters — then the Outpost from Blackburn is worth a look. The bag hooks onto the saddle and seat post, and features a Nylon outer and removal inner dry bag to keep your kit in good condition.
We found the size sufficient, and noted it also kept muck and spray off our own back — much like a mudguard. The max load weight is 4.5kg (the pack itself weight 468 grams), and this option is not recommended for use with carbon seat posts.
Read our Blackburn Outpost seat pack review
Alternatives to saddlebags
Of course, the saddlebag is far from the only available option, though it is perhaps the most popular.
For those taking on long-distance events and races, small frame bags designed to carry energy bars and snacks upfront can present a handy solution.
For more heavily laden trips, such as touring or bike packing, handlebar bags, frame bags and pannier racks all present handy options. Handlebar bags mean that items such as maps and cameras can be easily accessible, some coming with see-through plastic cases so you can track your route as you ride. However, they will affect the handling of the bike.
Pannier racks and frame bags are both suitable if you've got a lot of kit and need a high volume option – but again they do change the distribution of weight and handling a bike laden in this way can take getting used to.
Thank you for reading 5 articles this month* Join now for unlimited access
Enjoy your first month for just £1 / $1 / €1
*Read 5 free articles per month without a subscription
Join now for unlimited access
Try first month for just £1 / $1 / €1