The best CO2 inflators and where to buy them for the cheapest price
Here's a look at some of the best CO2 inflators, and some price comparisons so you know you're getting a good deal
Included in this guide:
1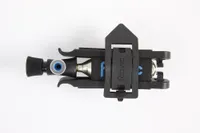 Fabric
CO2/lever kit
2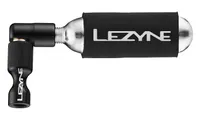 Lezyne
Trigger Drive CO2 inflator
3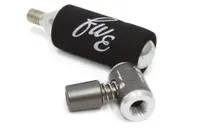 FWE
CO2 Inflator With One 16 Gm Co2 Cartridges
4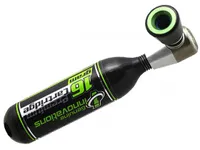 Genuine
Innovations Air Chuck Elite CO2 inflator
5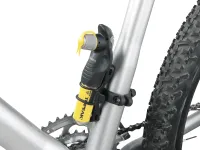 Topeak
CO2Bra Inflator
6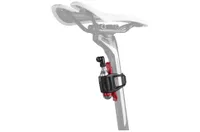 Specialized
Air Tool 25g CO2 inflator kit
7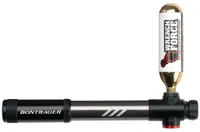 Bontrager
Air Rush Road Mini Pump/CO2 Inflator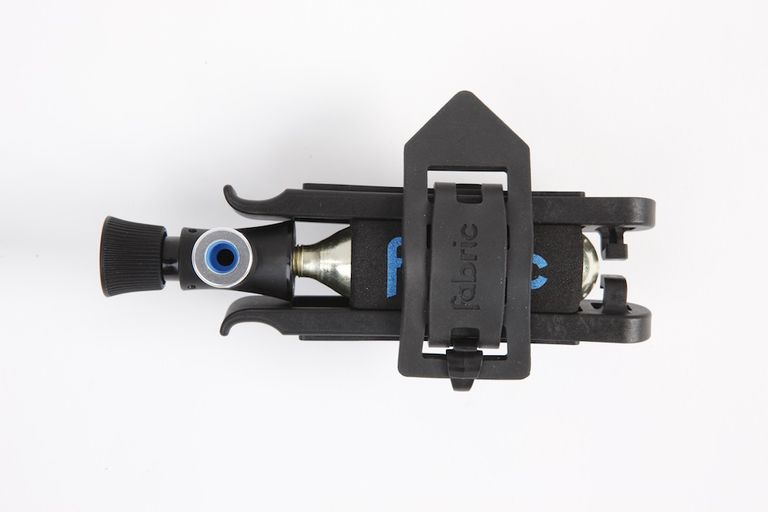 They say two things in life are certain: death and taxes. For cyclists we'd add a third — punctures. The trick to reducing the hassle of flats is being prepared, so you can be riding again as quickly as possible, reducing the amount of time your mates stand around glaring at you. CO2 inflators are a cyclist's best friend in this regard.
>>> How to fix a puncture and mend an inner tube
A good CO2 inflator can get you up to full pressure in seconds. For most riders, the little critters come out of our pockets fairly infrequently - but when they are produced, we want them to be quick, effective, and self-explanatory.
This set of requirements should be easy to meet, but each brand has its own method of releasing air from the canister. No one wants to be fiddling with an unfriendly contraption whilst their riding mates stand around waiting for the mechanical to be resolved - so check out some of our recommendations to make sure you're well equipped for your next ride.
What is a CO2 inflator?
First things first.
C02 inflators are used with Co2 canisters. These contain compressed gas. The inflator is attached to the inner tube valve, then the gas is released, inflating the tyre to 120 psi in seconds if you wish.
A few years ago, you'd rarely see a rider out without a mini-pump, but now you see a lot of smaller loads stuffed into jersey pockets, in the shape of the CO2 inflator and canisters.
There are pros and cons of both options.
CO2 inflators and canisters pros and cons:
Pro: lightweight
Pro: get you up to 120 PSI in seconds
Con: each canister is one use, take one canister and get two punctures and you'll be scrounging for pressure
Con: air comes out quickly, and not all canisters have a 'tap' - so it's hard to put a little air in before you fit the tyre and tricky to get the desired PSI
Con: not reusable and therefore not so eco friendly
Mimi pump pros and cons:
Pro: endless possibilities for tyre inflation, a pump never runs out
Con: your arms do... pumping to even 80 PSI can take some effort
Con: pumps are bulkier to carry
One approach is to carry CO2 which will get you quickly up to pressure when required, but to have a back-up pump as well. However, those who don't like the feel of too much kit jangling in their pockets may choose to chance it with CO2 alone.
Watch: Tubulars vs Clinchers vs Tubeless – which is fastest?
What to look for
Wrap that canister
The metal canister will get to freezing point as it quickly discharges its gas — if you have bare fingers they'll get stuck to it causing severe discomfort! Either wear long finger gloves or better still put some sort of sock over it — it'll serve the double purpose of stopping the metal bottle rattling in your seat pack. Notice that some of these kits cover the canister as part of the design.
Reduced bulk
Like your bike you'll be taking your chosen CO2 pump with you on every ride. Not only will it take up vital space in your saddlebag or pocket, but you'll also have to drag the weight up and down every hill you ride. It therefore makes sense to get one that's as light and small as your wallet will allow.
Ease of use
It sounds daft but you need to be able to use the pump quickly and easily so it needs to be quick and easy to use. When you're cold and tired — the most likely time you'll get a flat — you don't want to spend time faffing with a complicated mechanism. A valve or push fit are therefore the best options.
Pressure tap
Some CO2 canisters come with an on/off valve so you can apply just the right amount of pressure. These are usually a little bit more expensive, but they save you blowing a canister with every use as you can save some if you like, and it also means you can add that little bit of air before you fit the tyre, reducing the chance of pinch punctures.
Threaded/non-threaded canisters
All CO2 canisters are not created the same. Some have a threaded tip, whilst others are smooth. Neither is right or wrong, but when buying a new inflator, make sure you're getting compatible canisters.
The best Co2 inflators...
With each product is a 'Buy Now' or 'Best Deal' link. If you click on this then we may receive a small amount of money from the retailer when you purchase the item. This doesn't affect the amount you pay.
Reasons to buy
+One package to sort out a tube change+Inflator works well+Insulating sleeve for CO2 cartridge
Reasons to avoid
-Slightly awkward package for a jersey pocket
A handy Co2 inflator with cartridge and tyre levers all in one, the Fabric unit has a screw-down control so you can apply the ideal amount of pressure.
We found the whole thing a little bit bulky in one, but the levers are light and it does work out as a lower overall weight than taking them separately.
Lezyne Trigger Drive CO2 inflator
At just 23g the Lezyne is made from a neatly CNC machined 7075 aluminium and works only with threaded cartridges. In use it's simple. Just screw the cartridge in tight and then screw the head onto the valve. Pushing the head in then releases the air.
We did experience a bit of air leaking from the head when not in use and although this was not ideal it was minimal and the inflator amply inflated the tyre.
FWE CO2 Inflator With One 16 Gm Co2 Cartridges
Supplied with one 16gm canister, the FWE inflator uses threaded canisters and is operated by pressing the spring loaded head against the valve, and removing once up to the desired pressure.
There's a slide lock fitted, which prevents accidental discharge - so you can be sure you're not about to ice-burn yourself through your jersey pocket mid ride. Always nice to be reassured. An anti-freeze sleeve is supplied, too.
Genuine Innovations Air Chuck Elite CO2 inflator
One of the smallest versions we've tested, the Air Chuck is also the lightest at 16g. Made by the originators of the CO2 pump, it simply requires screwing in the cartridge and then placing on the valve before pushing the head to inflate.
The valve fitting is secure and the Air Chuck pumps without leakage quickly and very effectively. A small rubber shroud covers the cartridge to protect your hand when in use, and really, there's nothing at all to fault.
Get past its comical name — it is pronounced 'cobra' — it is the largest pump here but most ergonomic on test. A neat pressure indicator lets you know when the pump is armed and an easy push-up trigger gives a controlled release of gas. It's arguably unnecessary, but this inflator has a safety ring preventing accidentally puncturing a cartridge, that needs to be removed before use.
A bit too bulky for all but the largest saddlebags, so this pump comes with its own frame mount and cartridge cover.
Specialized Air Tool 25g CO2 inflator kit
One of the three more minimalist inflators here, the Specialized inflator works by screwing in the cartridge and pressing the head to inflate. The inflator comes with a silicon body, one cartridge, a two sided tyre lever and space for glueless patches to be attached.
The whole lot can be clipped to a seat post and comes in at 138g.
Bontrager Air Rush Road Mini Pump/CO2 Inflator
If the idea of leaving the pump behind sends you into panic, then a hybrid version could be up your street.
The Air Rush mini pump/Co2 inflator from Bontrager comes in at just 68g, and includes two 16g cartridges. A regulator is included, so you can apply the ideal amount of pressure, as is a reusable cartridge insulator to keep your hands safe.
Verdict
The standout inflator in this test came from the originator of the CO2 inflator, Genuine Innovations, with its Air Chuck Elite. It's small and simple to use and pushing the head to inflate gives a good, controlled flow of gas. The CO2Bra is the biggest pump in the test; its bracket means losing a bottle cage and it takes a bit more fiddling to set up, but it impresses nonetheless.
Its body protects your hands from the cold of a decompressed canister and the flow of gas is easily controlled giving an impressive performance.