The best Allen keys and multi-tools for cycling
All cyclists will need to make adjustments at some point - it's a good idea to have a reliable set of Allen keys at home, and a multi-tool to pop in your pocket for the ride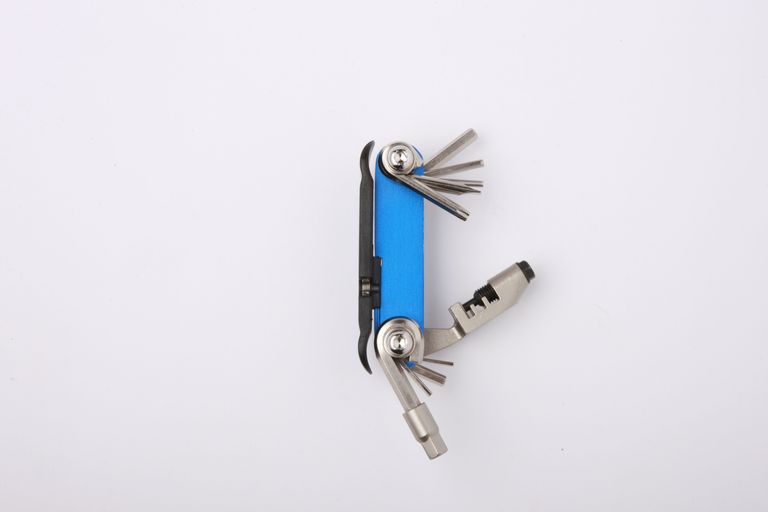 (Image credit: george eyres)
The vast majority of bike adjustments are made using an Allen key. At home, it's best to use a full sized tool - as the likelihood of rounding a bolt is reduced, but whilst on the go, most cyclists carry a multi-tool in their jersey pocket or saddle bag.
Allen, or hex, key sets vary in quality. Spend more and you'll enjoy a snug fit, reducing the chance of damage to the bolt. Those with a 'T' or 'P' handle as opposed to the standard 'L' shape allow greater grip on the handle, and you cal also get 'three way' versions with three sizes on one handle.
An Allen key set is not the same as a Torque wrench - which you use to ensure the bolt is tight enough without putting too much stress on the component in question.
Some bolts use a star shaped Torx head, which requires Torx keys - though these are slightly less common.
Multi-tools vary dramatically in size, weight and price. Some riders prefer to carry just a couple of tools in a small, lightweight package, whilst others would rather take a more hefty tool with almost every potential get-out-of-jail free card to hand.
We've rounded up some of the best tools below - and there's more information on what to look for at the bottom of the page.
With each product is a 'Buy Now' or 'Best Deal' link. If you click on this then we may receive a small amount of money from the retailer when you purchase the item. This doesn't affect the amount you pay.
Our pick of the best Allen/hex key sets
Wera make excellent, more than workshop quality, tools - and this set of L shaped hex keys are no exception.
The stainless steel version provides a greater contact with the surface of the screw head, and you get a ballpoint on the long arm. The colour scheme makes it quicker and easier to spot the correct size, and the tools come in a handy clipped holder.
Park Tool P-Handle Hex Wrench Set
These Park Tool hex keys come with a P-handle, making them easier to get a good grip on.
They come in sizes 2-10, which should answer most bike requirements, and are supplied in a handy stand which also has space for some three-way handle tools, too.
Park Tool 3-Way Hex and Torx Wrench
Another Park Tool option, but this time with just 3 common sizes: 4 and 5mm hex, plus a T25 Torx. This should have you covered for the vast majority of tasks, and the handle makes for an easy grip.
Our pick of the best multi-tools
Reasons to buy
+Excellent functionality+'Proper' chaintool could be used every day
Reasons to avoid
-Potential to lose important tyre lever if you are forgetful-Chunky design makes it slightly less packable
The Park Tool IB-3 multi-tool brings the workshop to the road with a host of classic making it stand out among the rest.
With a beautiful polished chrome finish and a leather-esque sleeve, you'd be forgiven for thinking the Lezyne SV11 multi-tool is all about the looks but it's practicality holds true.
Reasons to buy
+Enough tools to cover every eventuality+Lightweight and compact design+Neat neoprene sleeve
Reasons to avoid
-Some tools too small for effective use-Chain hook easy to lose-Cost
This fully equipped multitool is neatly designed and filled with tools you never thought you'd need.
Birzman E-version 15 multi-tool
As the name suggest this little tool box houses a 15 function multitool at a very attractive pricetag.
Reasons to buy
+Excellent functionality of all the tools on offer+Comfortable composite body feels great in the hand
Reasons to avoid
-Lack of Torx or Phillips head tools-Chunky design takes up a lot of space in a saddlebag
If you're looking for a meaty tool, Pedro's your guy. Going for quality over quantity, the Pedros RxM multi-tool has a clever design that offers 12 properly useable functions all neatly packaged together in a composite body.
Reasons to buy
+All functions are of a practical length for easy use+Made of quality materials backed up with a lifetime guarantee
Reasons to avoid
-One of the heaviest multitools on test-Lacking a chaintool
Crank Brothers produce this dependable tool with all the feature you could ever possibly need wrapped up in a classic Crank Bros design.
What
Like a Swiss Army knife, a good cycling multi-tool should allow you to effectively deal with any maintenance issues you might have whilst out on a ride or even as a do-it-all workshop tool.
A well made and thought out multi-tool should be practical enough to enable the use of all the features and not have 'token' features. They should be comfortable in use and the tools of sufficient quality so as to not damage precious parts.
Why
A good multi-tool will accompany you on all of your rides so needs to be reliable. You should be able to practically strip a bike down completely using one so it should include all of the correct sized Allen keys and Torx keys required for modern bikes along with others such as screwdriver heads or a chaintool and not have anything obsolete or impractically sized.
How
The cycling multi-tools were used for a variety of tasks both out on rides and in the workshop to check functionality, ease of use, comfort, weight, and durability.
Key Features
Practicality – there is no point having 20 different functions on the multitool if they cannot be used properly.
Versatility – a good cycling multi-tool should be allow you to fix most mechanical issues whilst out on a ride.
Durability – The tools should be strong enough to withstand repeated use and not fail you when needed most.