The best bike multi-tools 2023: compact function-packed tools for every ride
The best bike multitools will solve the majority of your on-bike mechanical problems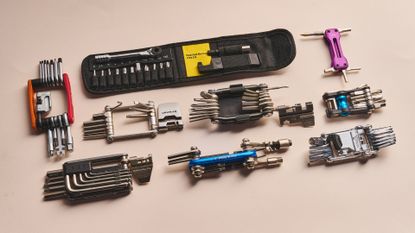 (Image credit: Future)
Get The Leadout Newsletter
The latest race content, interviews, features, reviews and expert buying guides, direct to your inbox!
Thank you for signing up to The Pick. You will receive a verification email shortly.
There was a problem. Please refresh the page and try again.
The best bike multi-tools will help keep your bike rolling if something needs adjusting when you're out riding. They'll also double-up for home workshop use, helping you to fix everything from adjusting derailleur limit screws to replacing your pedals.
That means that there's a wide array of hex heads and also screwdriver heads needed to handle the different bolts and screws on your bike. Torx bolts also often make an appearance.
Beyond that, you might want to replace your chain or you may have chain problems when out riding, so a chain tool can be useful.
The new frontier is tubeless repair if you get a puncture when out riding that even the best tubeless sealant can't seal. That means a separate set of tubeless tire puncture repair tools. You can carry a separate tubeless repair kit, but the best bike multi-tools now increasingly incorporate tubeless repair tools.
That makes for quite a list and our guide to the best bike multi-tools includes tools that cover all eventualities. On the other hand, a tool that handles the basics will be a lot smaller and lighter, so we have tools here that do less but are easier to carry.
Whichever way you decide to go, our pick of the best bike multi-tools provides options to fulfil your needs, so read on for our selections. Further down the page, you'll find a guide to what to look for in the best bike multi-tools.
Best bike multi-tools: our picks
You can trust Cycling Weekly. Our team of experts put in hard miles testing cycling tech and will always share honest, unbiased advice to help you choose. Find out more about how we test.
1. PNW Pebble
Best bike multi-tool for packability
Specifications
Hex keys: 3, 4, 5, 6mm
Torx keys: T25
Screwdrivers: No
Spoke keys: No
Chain tool: No
Extras: Dynaplug and insertion tool
Size: 65 x 21 x 15mm
Weight: 50g
Reasons to buy
+
Tiny size
+
Low weight
+
Includes Dynaplug
The PNW Pebble multi-tool is one for the minimalist. It's tiny and at 50g is by far the lightest tool in this test. As you'd expect, it omits many of the less-used tools and there's no chain tool. Despite that, it provides a good range of the essentials.
Having been stranded due to not having a suitable hex key to remove a wheel to fix a flat, I appreciate the inclusion of the 6mm hex, which is the standard size to unscrew a thru-axle without a lever.
This has a hollow core which holds in place the brass nose of a Dynaplug tubeless repair worm. Tubeless repair is the new frontier of multi-tool function and many tools now include reamers and plug inserter forks, but the PNW Pebble's all-in-one inserter and worm is a neater, more compact solution. There's a Torx T25 head sitting below the screw-on inserter.
The selection of other tools will allow you to perform many duties, including tightening headset bolts. The smaller sized hex keys will tighten cleat bolts, but note that some parts including derailleur limit screws and Garmin mounts require smaller sizes still that are not catered for.
Despite its small size, the PNW Pebble tool's rounded edges make it comfortable to use. It comes in a tasty range of colors too: Blood Orange, Fruit Snacks, Golden Daze Bronze and Blackout Black.
Verdict: A great tool for the minimalist, but not enough tools for all eventualities
2. Topeak Mini PT30
Best bike multi-tool for off-grid adventures
Specifications
Hex keys: 2, 2.5, 3, 4, 5, 6, 8mm
Torx keys: T10, T15, T25
Screwdrivers: Phillips #2, flat blade
Spoke keys: 14G, 15G, Mavic M7, Shimano 4,5mm
Chain tool: Chain tool, chain hook, master link tool
Extras: 10mm hex socket, tire reamer, plug insertion tool, serrated knife, disc spacer
Size: 75 x 43 x 18mm
Weight: 166g
Reasons to buy
+
Huge array of tools
+
Tubeless tools included
Reasons to avoid
-
Chain tool is fiddly to release from tool
The Topeak Mini PT30 multi-tool has a comprehensive range of tools, even after discounting the less useful ones such as the chain hook and the four spoke keys.
Hex keys stretch from the 8mm size, which slips over the 6mm hex, right through to 2mm, so there are all the hex heads you'd need to adjust everything from pedal axles right through to the small limit screws on derailleurs.
In addition, there's a full range of tubeless repair tools, a reamer, a plug inserter and a serrated blade, obviating the need to carry a separate tubeless repair kit, although you'll still need to carry a selection of worms separately. The plug inserter/reamer and the knife blade lock in place in the tool to make them easier to use.
There's an array of three Torx heads as well. Tool makers don't seem to have settled on which sizes are useful, but if your bike does have Torx bolts anywhere, the main options are covered here.
The chain tool screws into the multi-tool body, so to use it you have to unscrew the punch to release it. The multi-tool's 4mm hex head then slots into the end of the punch for leverage when in use. It's slightly fiddly, but there's adequate leverage to work on your chain and the chain hook helps keep everything in place.
It's a well-made tool and comes with its own padded soft pouch, but the comprehensive array of tools does make for a weighty piece.
Verdict: Pretty much every tool you might want, including tubeless repair
3. LifeLine Pro 18-In-1
Best bike multi-tool on a budget
Specifications
Hex keys: 2, 4, 5, 6, 8mm
Torx keys: T25, T30
Screwdrivers: Phillips, flat blade
Spoke keys: 3.23, 3.33, 3.45, 3.96, Mavic
Chain tool: Chain tool, chain hooks
Extras: 10mm hex wrench, CO2 inflator
Size: 67 x 40 x 22mm
Weight: 118g
Reasons to buy
+
Excellent value
+
Includes CO2 inflator
Reasons to avoid
-
Some protruding sharp tools
The LifeLine Pro 18-In-1 tool is surprisingly compact and lightweight for its array of functions. It's the only tool here which incorporates a CO2 inflator for quick reinflation if you get a flat. There's also a chain tool built into the body, with good leverage from the punch handle cum wrench.
Also included are two chain retainer hooks which can be pushed out from the base of the multi-tool body. These don't sit completely flush when not in use and can dig into your back when carrying the tool or your hands when using it.
There's a good array of hex heads, although not the 2.5mm which can be useful for some bolts, including the tension adjusters for Shimano pedal retainers. The 2mm hex is good for Shimano derailleur limit screw adjustment though.
Despite the budget price, the Lifeline Pro tool has a solid feel, with the tools being the one-piece forged type rather than the cheaper to produce wrapped end tools.
Verdict: Good range of tools in a budget-priced package
4. Blackburn Wayside 19
Best bike multi-toolfor hex wrench ease of use
Specifications
Hex keys: 2, 2.5, 3, 4, 5 (as removable wrenches), 6, 8mm
Torx keys: T25, T30
Screwdrivers: Flat blade
Spoke keys: #0, 1, 2
Chain tool: 7-12 speed, chain hook
Extras: Presta valve core tool, disc pad spreader, serrated blade, breaker bar
Size: 85 x 54 x 23mm
Weight: 196g
Reasons to buy
+
Separate hex keys are easy to use
+
Labelled tools
An annoyance when using many multi-tools is that it can be awkward to access some of the smaller bolts on a bike. The tool's smaller heads tend to be on shorter stems and the tool body can get in the way when trying to adjust small bolts like derailleur limit screws.
The Blackburn Wayside 19 gets around this problem by having separate L-shaped hex keys with ball ends for the 2mm, 2.5mm, 3mm, 4mm and 5mm heads. These clip securely to a plastic insert on the tool body and there's a rubber retainer band that sits around the whole tool to ensure that they stay put.
Torx heads are limited to the larger size T25 and T30, so it's worth checking if these are useful for you.
The chain tool clips into the opposite side of the plastic insert to the hex keys, which avoids the rattle that's often a feature of multi-tools which include a chain tool, while the extra-long chain retainer clips over the two ends of the tool.
I'm not sure what I'd do with the serrated blade, but it's an extra that doesn't contribute much to the already hefty 196g tool weight.
Verdict: Separate hex keys make for easier use
5. Park Tool IB-3
Best bike multi-tool for chain tool quality
Specifications
Hex keys: 1.5, 2. 2.5, 3, 4, 5, 6, 8mm
Torx keys: T25
Screwdrivers: Flat blade
Spoke keys: 3.23mm, 3.45mm
Chain tool: 5-12 speed
Extras: Tire lever, 8mm box wrench
Size: 90 x 41 x 30mm
Weight: 178g
Reasons to buy
+
Robust quality feel
+
Easy tool access
Reasons to avoid
-
Tools tend to dig into your hands when using and your back when not in use
Rather than two side plates, the Park Tool I-Beam tools have a central spine in Park Tool's signature blue, with the tools bolted to the outsides. This makes them significantly easy to access, although it does result in a lumpy profile that can dig into you when carrying or using.
The smaller hex head tools are quite short as well, which can make getting at small bolts awkward. There's a good array of hex wrenches though, right down to 1.5mm and up to the 8mm size required for most pedals.
The chain tool is very robust and sits well away from the tool body. The punch is operated using the separate tire lever, which gives plenty of leverage when in use, for easy chain rivet removal.
The tire lever clips onto the side of the tool. It stays in place well, but nevertheless the two-part design does mean that it would be easier to lose than a single piece tool.
The Park Tool IB-3 has the quality feel of other Park Tool products and should prove durable, but it is a little hefty to carry around, particularly if you intend to use your pockets for on-bike storage.
Verdict: Quality tool although central beam format can be uncomfortable to carry
6. Topeak Ratchet Rocket Lite DX
Best for packaging
Specifications
Hex keys: 2, 2.5, 3, 4, 5, 6, 8mm
Torx keys: T10, T15, T25
Screwdrivers: Phillips #2
Spoke keys: No
Chain tool: No
Extras: 2x tire levers, ratchet tool, ratchet extender
Size: 132 x 63 x 27mm
Weight: 160g
Reasons to buy
+
Handy pouched design
+
Labelled tool heads
+
Ratchet makes for easy of use
Topeak Ratchet Rocket tools include a nylon pouch rather than housing the tools in a one-piece metal body. The flat profile and soft pouch make them a good option to carry in a pocket.
The Ratchet Rocket Lite DX is the lowest price Ratchet Rocket tool and includes two tire levers as well as the ratchet drive and a comprehensive range of hex heads, alongside three Torx options and a Phillips number 2 screwdriver. The heads slot into the ratchet itself, but there's also an extender rod to make it easier to get to hard-to-access bolts.
The ratchet bar gives good leverage and is reversible via a tiny lever on its head. It makes tightening and loosening bolts a lot easier than a multi-tool, where you need to turn the entire tool's body or repeatedly insert and remove the head when a bolt needs more than a small tweak.
While the Ratchet Rocket Lite DX has just the tool and bits included, the DX+ adds a separate chain tool, while the NTX tools also include Topeak's TorqBits, so you can ensure that you're tightening bolts to their correct torque value.
Verdict: Easy to carry format with a good range of hex and Torx options
7. Unior Euro 17
Best bike multi-tool for tool quality
Specifications
Hex keys: 2, 2.5, 3, 4, 5, 6, 8mm
Torx keys: T10, T25
Screwdrivers: Phillips #1, flat blade
Spoke keys: 3.3, 3.45, DT
Chain tool: Speeds not specified
Extras: Schrader and Presta valve core tools
Size: 78 x 56 x 22mm
Weight: 174g
Reasons to buy
+
Very solid feel
+
Good array of tools
The Unior Euro 17 multi-tool is a large, comprehensive tool. As its name suggests, it's made in Europe in Slovenia rather than the more typical Chinese manufacture. Unior says that it uses a variety of high quality steels for the tools to ensure durability, with the black tool ends hardened to ensure that they continue to work efficiently.
There's the full range of hex keys to work on everything from derailleur limit screws up to pedal axles, a pair of Torx heads and Phillips and flat head screwdrivers. There are also three spoke keys and it's one of the few tools to include DT's proprietary design.
The small chain tool body has a slot that allows you to screw in the valve core tool to use as a handle, so there's adequate leverage to remove chain rivets, although the slots for the Schrader valve tool do tend to dig into the hand when using the chain tool.
It's quite a large, heavy multi-tool, but should prove durable and it provides most tools you're ever likely to need.
Verdict: Quality, comprehensive set of tools, but quite heavy
8. Crankbrothers M20
Best bike multi-tool for the tubeless users
Specifications
Hex keys: 2, 2.5, 3, 4, 5, 6, 8mm
Torx keys: T10, T25
Screwdrivers: Phillips #1 and #2, flat blade
Spoke keys: #0, 1, 2
Chain tool: 8-12 speed
Extras: Tire plug tool, tire plugs, valve core remover, rotor straightener, 8mm open wrench
Size: 89 x 54 x 27mm
Weight: 206g
Reasons to buy
+
Box for tire plugs and chain link
+
Wide range of extra tools
The Crankbrothers M20 multi-tool is another option that looks to do it all, but at the expense of weight and bulk.
There is the full range of hex heads, from 2mm to 8mm, so no hex bolt on your bike should be unadjustable. The T10 and T25 Torx heads, two Phillips heads and a flat screwdriver should take care of most other things that might need adjusting.
But the most useful feature of the Crankbrothers M20 is its tubeless repair tools, with a one-piece reamer and fork included in the array of tools.
It's the only tool beside the PNW Pebble to include tire plugs, but in its case there are five of them in a plastic box that clips to the side of the tool, rather than the PNW tool's one-hit design.
The box also provides space for a chain split link if you want to carry more spares. The chain tool sits below the box of plugs, which stops it from rattling. Although the small handle has grips stamped into it, there's not a lot of room to get a good hold for leverage when breaking the chain though.
Verdict: Wide array of tools including tubeless repair, but bulky
9. Birzman Feexman E-Version 15
Best bike multi-tool for a ride pack
Specifications
Hex keys: 2, 2.5, 3, 4, 5, 6, 8mm
Torx keys: T25
Screwdrivers: Phillips #1
Spoke keys: 3.2, 3.4, 4.0, 4.4mm
Chain tool: 9-12 speed
Extras: None
Size: 69 x 50 x 16mm
Weight: 126g
Reasons to buy
+
Flat profile fits in jersey pocket or ride pack
+
Good array of tools for its size
The Birzman Feexman E-Version 15 multi-tool has a quality look, with forged tools, rather than the cheaper to produce wrap tools. It's relatively compact and at 126g is lightweight as well. The flat profile means that you can fit it in a ride pack or slot it down the side of a saddle pack, making it easier to carry than more bulky multi-tools.
Despite its size, the Feexman has a comprehensive range of hex heads from the tiny sizes needed to adjust derailleurs and pedal release tension through to an 8mm for pedal axles – usually the largest size you need on a bike. There's only one Torx head, a T25, but there is a Phillips and a flathead screwdriver included.
The chain tool is sleek, smooth edged and provides good leverage. It does rattle against the tool when not in use though, which might prove irritating. You could always tape it to the tool or put an elastic band around it, but that would spoil the aesthetic of what's a sleek-looking tool.
Verdict: Flat format makes for easy carrying
The Best Cycling Multi-Tools Buyers Guide
When you're looking for the best bike multi-tool for your needs, there are a few things worth considering, which we've outlined below.
Do I need a cycling multi-tool?
Yes! A good multi-tool will accompany you on all of your rides so needs to be reliable. You should be able to practically strip a bike down completely using one, so it should include all of the correct sized Allen keys and Torx keys required for modern bikes along with others such as screwdriver heads or a chain tool and not have anything obsolete or impractically sized.
What should I look for in a cycling multi-tool?
Practicality – there is no point having 20 different functions on the multi-tool if they cannot be used properly. Look for bits that are long enough to allow you to reach specific areas of the bike while also providing enough leverage.
Versatility – a good cycling multi-tool should be allow you to fix most mechanical issues whilst out on a ride. It's worth investing in a multi-tool that has a chain breaker as well as other valuable 'extras' such as spoke keys and a disc brake pad spreader.
Durability – The tools should be strong enough to withstand repeated use and not fail you when needed most. Look for bits that are made from hardened steel, which help to ensure a good fit even after a good deal of use.
What bolts does your bike have?
There's no point in paying extra and carrying extra weight if your bike doesn't have bolts of a certain size.
Foe example, many multi-tools include Torx heads, although these are relatively rare on bikes, so you may want to look for a multi-tool that covers these.
On the other hand, many thru-axles on disc brake bikes don't come with levers. The most common thru-axles use a 6mm hex head. Newer tools almost invariably include this, but some older tools don't have one, so check that you will be able to remove your wheel with your tool if you need to repair a flat.
Do you want to be covered for most eventualities?
If your riding is mostly on roads and local, you may be prepared to risk just being able to fix the basics if something goes wrong. You might be able to borrow a tool from a fellow rider, call out the broom wagon or just walk home if you have a problem.
But if you are going on a multi-day adventure far afield, you don't want your trip wrecked by a simple mechanical that you could have fixed quickly with the right tool, so you may want a more sophisticated multi-tool with more options included.
Do you run tubeless?
If you run your tires tubeless, you may eventually get a puncture that's just too large for the sealant to seal satisfactorily or where the sealant plug blows out when you try to inflate your tire.
It's worth carrying tire plugs and the tools needed to fit them in case this happens. Although you can buy these separately, it's handy to have them incorporated in your multi-tool, so that you've got one less thing to carry.
A reamer and plug insertion tool is the basic tool set required, but a blade to trim the plug can be useful too. Alternatively, one piece inserter/plugs like Dynaplugs can save on things to carry.
Where do you ride?
If you ride a gravel bike off-road, you're much more likely to suffer a mechanical than with a road bike. Snapped chains and damaged derailleurs are more frequent, as well as the above mentioned non-sealing punctures.
So it's a good idea to have a more comprehensive multi-tool for gravel biking. Many of the tools above cover more off road eventualities, but at the expense of extra size and weight.
How much carrying capacity do you have?
If you're relying on a small bike saddlebag, a larger tool can take up a significant chunk of space. Likewise if you're keeping everything in your pockets, it can weigh them down, so that they sag and bounce uncomfortably against your back.
It's worth considering how large a tool you can comfortably carry and balancing that against how large a range of problems you want to be able to fix.
Thank you for reading 20 articles this month* Join now for unlimited access
Enjoy your first month for just £1 / $1 / €1
*Read 5 free articles per month without a subscription
Join now for unlimited access
Try first month for just £1 / $1 / €1