Topeak Ratchet Rocket Lite NTX
Superbly comprehensive but brilliantly small, the Ratchet Rocket is the best way to avoid mechanical disasters both at home and abroad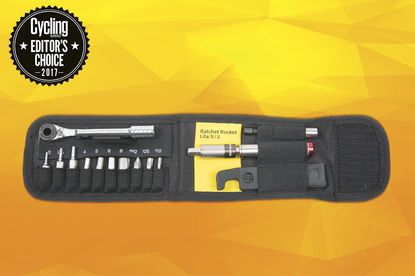 "The only thing missing is the kitchen sink". These are the words that Topeak chooses to describe the Topeak Ratchet Rocket Lite NTX, and it's not wrong.
Superbly comprehensive but brilliantly small, the Ratchet Rocket is the best way to avoid home mechanic disasters. It's a true workshop level tool deserving of a spot on the Cycling Weekly Editor's Choice list for 2017.
What makes the Topeak Ratchet Rocket Lite NTX so good is its ability to help you on the go. It's a true workshop level tool in a neat package that you can take anywhere with you, meaning no more holiday ruining moments when you imprecisely over torque your clamps and hear that dreaded cracking sound.
As any good home mechanic knows, road bikes, especially carbon models need to be torqued specifically. Helpfully, this set includes a four, five and sixNm torque wrench to those delicate handlebar, stem and seat post bolts.
This Topeak Ratchet Rocket Lite NTX set also includes seven different Alley keys (2, 2.5, 3, 4, 5, 6 and 8mm), T10 and T25 torx bits, two tyre levers, a Phillips screwdriver head and extender. It's seriously comprehensive.
All this is stored in a nylon storage bag (12 x 7.2 x 3cm) that has a patch pouch a weighs in around 230g.
That is a fair weight to carry in your back pocket and the tool set is way to big to get in your average sized saddle bag but have no mistake, this set is just at home in your workshop as it would be out on the road.
Being a ratchet also means that the hard to reach places like brake calliper bolts and bottle cage bolts take half the time to tighten or loosen compared to the traditional multi-tool. This not only doesn't limit what you can work on and how fast you can do it, but also means you're less likely to damage a bolt head with a misaligned Allen key.
At over £70, the Topeak Ratchet Rocket Lite NTX is pretty pricey. But for the money you're buying a comprehensive tool set with quality that should stand the test of time.
Thank you for reading 10 articles this month* Join now for unlimited access
Enjoy your first month for just £1 / $1 / €1
*Read 5 free articles per month without a subscription
Join now for unlimited access
Try first month for just £1 / $1 / €1
Symon Lewis joined Cycling Weekly as an Editorial Assistant in 2010, he went on to become a Tech Writer in 2014 before being promoted to Tech Editor in 2015 before taking on a role managing Video and Tech in 2019. Lewis discovered cycling via Herne Hill Velodrome, where he was renowned for his prolific performances, and spent two years as a coach at the South London velodrome.