Best workshop chain tools 2022 rated and reviewed
We find out what makes a great workshop chain tool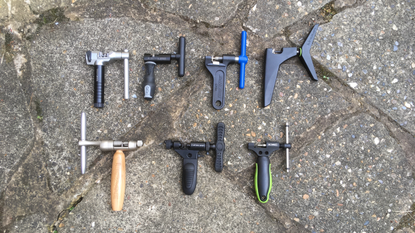 (Image credit: Paul Grele)
A good chain tool is an essential workshop mainstay allowing you to keep your drive system functioning well. Along with a chain stretch measuring tool and possibly quick link pliers, a chain tool should be regarded as essential for any home mechanic.
As they will stay in a toolbox or on a workbench weight is less critical than for the best multitools and can actually be a positive in this scenario as the larger the tool the more leverage you're likely to get.
All the tools on test will break an 11 or 12 speed chain and most will also remove the rivet on a wide singlespeed chain - making them suitable for everything from the best road bikes to the best commuter bikes. Methodology will be discussed further on.
The ubiquity of quick links (be it single use or reusable) has often made the art of rejoining a chain with it's rivet and loosening a tight link fairly redundant, and understandably so. Quick links are easy to use and reliable. Even Shimano, who held on to using replaceable rivets for a long time, now offer a quick link.
In brief, if just removing a rivet from a multispeed chain is your sole objective then they all do that, and well. However if you work on a variety of drive types from different eras you may appreciate the other functions that a quality workshop tool can offer.
Image 1 of 3
Showing the 2nd tight link bridge
Using the chain hook
Topeak All Speeds Chain Tool
Best overall
Specifications
Chain Type Compatibility: 1-12s + Campagnolo hollow link 11s & 12s
Weight: 271 grams
Spare Pin Included: Yes, in Handle
Does Pin Spin?: Yes
Chain Hook Included: Yes, in Handle
Can Tool Break Shimano Rivets Off?: Yes
Reasons to buy
+
Easy, smooth & powerful to use
+
Well made
+
Reasonable price
+
Pin spins
The Topeak All Speeds Chain Tool will accommodate chains from a wide singlespeed chain (1/8' type) to a 12 speed chain and it can also peen the hollow rivets on Campagnolo 11 & 12 speed chains. The tool is nicely made and incorporates all of the features that I would expect to see in a workshop tool.
The hollow body handle stores a spare pin and the chain hook. The pin in the driver handle is a spinning type allowing the tool to drive a rivet out without adding a rotating force onto the rivet. It's a nice engineering touch. The pin stayed true throughout the test.
Using it with a selection of different width/speed chains I found that it drove rivets out very easily due in part to the leverage afforded by the sliding handle. I really liked being able to see how far out the rivet had been pushed so as