Which of these six tubeless sealants passed our screwdriver test?
We put six popular brands to the test with the higher pressures of road tyres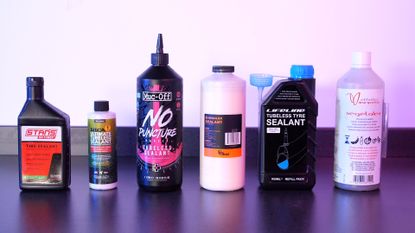 (Image credit: Future)
Tubeless sealants have been around for a while now and the technology has gained almost universal acceptance across gravel and mountain biking. In road cycling, though, it's fair to say that the reception has been more mixed – largely because the higher pressures of road tyres demand significantly better performance from the sealants.
Whilst the benefits of weight saving and lower rolling resistance aren't to be sniffed at, that difficulty many sealants seem to have with plugging holes at the higher pressures means that the going tubeless so obvious a choice. After all, if punctures still happen with relative frequency, why not stick with cleaner and simpler inner tubes?
To find which sealant is best for tubeless tires – and if it actually makes ditching the inner tubes worth while – we've taken six popular brands and put them to the test.
Using a Schwalbe Pro One 28mm tyre on a Zipp 303s wheel, we pumped up the pressure to 70 psi (the maximum recommended for the rim) and attempted to puncture the tyre with six screwdrivers of increasing size – starting at 1mm and going to 7mm – up until the tyre could no longer be topped back up to 70 psi without the hole reopening.
We've got more information all about the test and everything you need to know about sealants further down the page. For now, let's take a look at the results.
The best tubeless sealants
Silca Ultimate Tubeless Sealant
Best on test. Ultimate by name and nature
Specifications
Claimed sealing ability: 6mm at 80psi / 8mm at low pressure
Tested sealing ability : 7mm
Claimed longevity: Three months
Application: Pour in
Minimum temperature : 10°F / -12°C
Reasons to buy
+
Best sealing ability on test
+
Eco-credentials
Reasons to avoid
-
Can't be injected through valve
-
Expensive
Silca's Ultimate sealant launched in early 2022 and came with a raft of innovations and bold claims – notably an ability to seal punctures up to 6mm at 80psi and up to 8mm in lower pressure systems. Impressively, it has gone and lived up to the hype.
In our testing, we found that sealant was able to easily plug holes up to (and including) a 3mm diameter. On the 4.5 and 6mm diameter screwdrivers, the sealant would seal at a low pressure but the hole burst open when pumping the tyre back up to 70psi.
But on the second try pumping the tyre back up to pressure, the sealant managed to hold. It seems that after the hole reopened that first time, the 'dam' of carbon fibres around the hole was reinforced, enabling the sealant to ultimately plug the 4.5 and 6mm holes.
Going up to the 7mm screwdriver (which really is huge, larger than any nail you're likely to cycle over) the same thing happened with the hole reopening when pumped back up, but then resealing and able to handle higher pressures. It took an additional cycle over the previous two screwdrivers – but in the end the Silca Ultimate sealant did manage to hold 70psi after being punctured with a 7mm screwdriver.
It is on the more expensive end of the sealants currently on the market – but it's price is by no means an outlier. No other sealant we had on test was able to plug such a large hole and many failed on much smaller diameters.
Of course, this doesn't mean it'll definitely plug every puncture of that size every time, but it's a highly impressive line in the sand and makes this the best performing sealant we had on test. For road tyres and pressures, we'd fully recommend.
Muc-Off No Puncture Hassle Tyre Sealant
A more affordable runner up
Specifications
Claimed sealing ability: 6mm
Tested sealing ability : 6mm
Claimed longevity: Up to 6 months
Application: Injectable
Minimum temperature : -4°F / -20°C
Reasons to buy
+
Second best sealing
+
Mid range price
+
Rated for low temperatures
+
Valve injectable
+
Compatible with CO2
Reasons to avoid
-
Not the very best at sealing
-
Not the very best value for the most budget oriented
There definitely is something about long stranded particles that really boosts sealing performance. Although Silca has made a lot of fuss about its carbon fibres and its research, it appears that the Muc-Off sealant works in much the same way, with very similar looking fibres visible in the plugged holes.
The Muc-Off No Puncture Hassle Tyre Sealant didn't seal quite as quickly as the Silca Ultimate sealant on the middle and larger sizes of screwdriver, but it still did the job nonetheless.
And just like the Silca sealant, it did take two tries pumping the tyre up to 70psi after being punctured with the 6mm screwdriver for the hole to be fully plugged and able to hold the pressure.
At 7mm, the hole would seal at around 30psi, but it wouldn't hold pressures any higher than that – repeatedly inflating the tyre and the seal would break every time.
Still 6mm is a very good performance – better than any of the other sealants we tested – and especially at these higher pressures we tested at.
Essentially, the Muc-Off No Puncture Hassle Tyre Sealant sits bang slap in the middle of the Silca Ultimate sealant (more effective but more expensive) and the Lifeline Tubeless Tyre sealant (less effective but cheaper).
Which you go for out of these three is mostly determined by your budget and your aversion to punctures.
LifeLine Tubeless Tyre Sealant
Best value sealant
Specifications
Claimed sealing ability: 5mm
Tested sealing ability : 4.5mm
Claimed longevity: 3 to 6 months
Application: Injectable
Minimum temperature : N/A
Reasons to buy
+
Good sealing performance for the price
+
Valve injectable
+
Compatible with CO2
Reasons to avoid
-
Sealing ability isn't as good as more expensive options
Although the sealing ability isn't quite as good as the two sealants before it, the LifeLine Tubeless Tyre Sealant is still a sealant we can highly recommend as its incredibly good for the price.
It doesn't have such fancy qualities as the Silca or Muc-Off sealants. With its milky consistency, the LifeLine sealant looks like what you might call a 'normal' sealant, that from Stan's or Orange Seal (both also on test). But in spite of that, the LifeLine sealant still performed better than the rest on test.
The sealant managed to plug the smaller holes quite quickly, up to and including the 4.5mm screwdriver – still no mean feat. But taking the step up to the 6mm proved too much for the sealant and it was unable to hold significant pressure after that.
If cost is a large concern for you, this sealant would likely be your best balance between puncture protection and price – it is one of the cheapest and its performance is well above par.
EFFETTO MARIPOSA VÉGÉTALEX TYRE SEALANT
Eco-friendly with reasonable sealing ability
Specifications
Claimed sealing ability: 3mm at high pressures, 5mm low pressures
Tested sealing ability : 3mm
Claimed longevity: 3 months to over 6 months
Application: Injectable
Minimum temperature : -4°F / -20°C
Reasons to buy
+
Eco friendly choice
+
Reasonable sealing performance
+
Valve injectable
+
Mid range price
+
Compatible with CO2
Reasons to avoid
-
Sealing ability isn't as good as others on the market
Effetto Mariposa's Végétalex Tyre Sealant is quite different to anything else we've used. It's got a gloppy, almost oily, gelatinous consistency to it, which is a result of its plant-based ingredients – it's fully biodegradable and totally plastic free.
That thicker consistency could be what gives this sealant its impressive claimed longevity. Although it starts at three months, Effetto is explicit that this is the minimum in the most extreme conditions – not just the lower band of what most people will experience in more 'normal' use.
But longevity wasn't what we were testing for here – back on the puncture sealing abilities. The sealant managed to plug the 1, 2 and 3mm screwdrivers without much of a problem.
Going up to 4.5mm, it took quite a long time for the air to finally stop leaking out and a seal to form at a (very) low pressure. When trying to pump the tyre back to pressure, the hole kept on reopening – unlike the Silca and the Muc-Off sealants, the Végétalex seal didn't seem to strengthen after being broken open.
But sealing a 3mm hole at road pressures is all that the sealant claims to be able to do, so it can't really be faulted for its performance – even if it does fail on smaller holes than some of the other sealants on test.
Stans No Tubes Tubeless Tyre Sealant
A classic sealant with reasonable plugging ability
Specifications
Claimed sealing ability: 6mm
Tested sealing ability : 3mm
Claimed longevity: 30 - 45 days
Application: Injectable
Minimum temperature : -30°F / -34°C
Reasons to buy
+
Reasonable sealing performance
+
Valve injectable
+
Cold weather performance
+
non-hazardous and non-toxic
Reasons to avoid
-
There are sealants that seal better for less
Stans No Tubes tyre sealant really is a classic and perhaps one of the best known options out there. The claims of cold weather performance are quite expectional for this sealant – not many state that they'll go down to lows of -30°F / -34°C.
When it comes to the sealing ability on our road setup, though, the performance was a little off the mark. The sealant claims that it's good for holes up to 6mm in diameter, but presumably that is referring to the lower pressures of a MTB or gravel system, as we found the sealant unable to plug punctures larger than 3mm.
That said, 3mm is still a significant sized hole. It's a not like the pin-prick of an upturned tack, it's the size of a pretty vicious nail – something you'd typically very much try and avoid, rather than simply cycling over it.
For use in milder climates, from this test we'd recommend LifeLine's sealant as it's cheaper and plugged larger holes. But in particularly cold climates, this would be our go to choice.
Orange Seal Regular Sealant
Another classic sealant but there are better performers
Specifications
Claimed sealing ability: 6mm
Tested sealing ability : 3mm
Claimed longevity: 2 - 7 months
Application: Injectable
Minimum temperature : 11°F / -12°C
Reasons to buy
+
Quick at plugging smaller holes
+
Reasonable ability at larger sealing larger holes
Reasons to avoid
-
There are sealants that seal better for less
-
Longevity isn't as high as other sealants offering the same or better puncture protection
-
Temperature range isn't as wide as other sealants offering the same or better puncture protection
Another sealant stalwart, Orange Seal is another brand with a long history. However, in this test the results weren't superlative.
To be fair, the sealant did manage to plug holes up to and including 3mm at 70 psi, which is on a par with both the Stans and Effetto Mariposa. The Orange Seal Regular sealant also plugged those smaller holes faster than the Stans No Tubes sealant was able to.
However, the claimed longevity is significantly less than all of the other sealants we tested, which stands to saddle you with increased maintenance and cost. The temperature rating also isn't as low as some of the other sealants with equal or better sealing ability.
So, in terms of the actual sealing ability the Regular sealant is in line with most of the sealants we had on test. It's the claimed temperature rating and longevity that let it down.
Orange Seal does have an Endurance sealant which is claimed to last between 2 and 4 months and a Subzero sealant which is claimed to go down to -20°F / -29°C, but both of those only claim to be able to seal punctures up to 3mm – the Regular sealant was claimed to be 6mm.
How we tested
First up, let's go through the tyre and rim combo. We were using a 28mm Schwalbe Pro One tyre on a Zipp 303s rim. Like an increasing number of today's best road bike wheels, there is a pressure limit of around 70 psi.
This is a lower pressure than what early adopters of road tubeless may have been using. But considering the continuing shift to wider tyres and, of course, the growing number of brands going for a 70psi pressure limit, we thought that this made a good benchmark for our test.
We brought a total of six screwdrivers with shaft diameters of 1, 2, 3, 4.5, 5, 6 and 7mm. The process was to add 60ml of sealant and then start with the 1mm screwdriver, puncture the tyre, spin it until it seals, then pump it back up to 70psi.
If the tyre could continue to hold 70psi after the puncturing, then the next step was to repeat with the next size up – until the tyre could no longer hold 70psi without the hole reopening.
So as not to be too wasteful, we cleaned out the tyre of sealant after each test, patched it up with a stick-on tyre boot, and went again with the next sealant. In the end, we did still end up using two tyres in total.
Best tubeless sealants: what to look out for
What is tubeless sealant and how does it work?
The best way to think of tubeless sealant is as the lifeblood of your tubeless system. Its primary job is to plug puncture-causing holes by coagulating or, keeping the blood reference, by clotting. The best tubeless sealants form a seal that will ensure the tyre remains airtight.
They also help form an airtight seal between the wheel rim and tyre when you first mount a new tyre, so that the tyre will hold air and keep its pressure.
The exact formula for a brand's sealant is a closely guarded secret (just as with tyre rubber compounds) but effectively they can all be split into three types – those that contain latex rubber, those that utilise a synthetic alternative, and those that make do without. Most sealants also use small particles that gather around punctures, allowing the sealant to clog and seal larger punctures.
What are Latex tubeless sealants?
Latex-based tubeless sealants are the most common, as natural latex rubber has very effective coagulating properties. Latex itself is an emulsion of extremely small rubber polymer particles in either water or a water-based ammonia solution.
When you get a puncture, the latex will set over time making the seal durable, so that you can continue to ride on the tyre. Most sealants also have other non-active particulates in the suspension, which act as a nucleus for the rubber to coagulate around (just like rain drops needs a speck of dust to form around), increasing the size of holes the sealant can fill.
The reason for this effectiveness as a sealant is that coagulation of the latex is activated by air. So when a tyre is punctured, the dramatic release of air causes the liquid part of the sealant to evaporate, leaving behind the latex rubber particles to knit together and clog the hole.
What are non-latex tyre sealants?
Non-latex based tyre sealants approach the prevention of punctures from a different direction. As they contain no ingredients that coagulate in the same way as latex they have to rely on a much thicker viscosity to plug any punctures. So just pour it in and off you go?
Unfortunately due to the slightly unstable nature of all sealants, it is not a fit and forget solution. Over time sealant will dry out and, in the case of latex based sealants, will coagulate into a solid lump reducing effectiveness to almost zero.
Every time you adjust tyre pressure you introduce air into the tyre, accelerating the drying process. Outside air temperature will also have a dramatic impact on life expectancy. Effective operating times are reduced as temperature goes up and for many sealants if the temperature drops below zero.
For many sealants, this means that the life expectancy is shorter than you might realise. It's the one aspect of a tubeless setup that can catch many riders out.
How long will a sealant last?
How long a sealant will last depends on the conditions your bike is kept in, the sealant you've chosen, and how many punctures it'll need to plug.
In hotter and dryer conditions, sealants dry out more quickly. This can result in the sealant needing to be topped up in as little as 30 days or, on the other end of the scale, three months for some particularly hardy sealants
In cooler and wetter conditions, a minimum of three months lifespan is typical and some will last for over six months – providing you aren't puncturing the tyre so often it all leaks out before then.
How do I use tubeless sealant effectively?
Cycling Weekly sat down with founder and president of tubeless sealant maker Orange Seal, John Vargus, to find out his top tips for maximising the efficiency of your sealant.
Before you start it's important that you shake the bottle of sealant enough to distribute the particulate evenly and ensure there is enough of it in the solution you will put in the tyre.
Don't just guess the amount of sealant to put in. Start by putting in the amount of sealant the manufacturer recommends. For Orange Seal it would be 2oz (57ml) of sealant for a typical 700x25c tyre. It should be enough to coat the inside surface of the tyre but not too much to add excess weight.
Inflate the tyre to below your normal tyre pressure, around 70-80psi, and ride the bike for a few minutes. This allows the pores in the rubber construction of the tyre to open effectively and enables the sealant to really coat the inside effectively.
Then pump to your riding pressure. A tubeless setup should normally be 10-15% lower than the tyre pressure you use if running inner tubes.
In the event of a puncture, locate the source and rotate the wheel until it is at the lowest point to enable the sealant to begin the process of plugging the hole. Then rotate the wheel until the puncture is at the top. This will allow the air to get to the sealant and enable the sealant to begin coagulating and plugging the hole. If it still leaks air, repeat the process until it works.
Sealant does dry out so it's important to check your levels every couple of weeks and top up as necessary. If you do leave your bike unridden for any length of time, it's a good idea to unseat one side of the tyre and check for any solid patches of sealant. Remove and refill.
Finally, if you do get a puncture sealant alone cannot fix and you need to fit a tube you will probably get covered in sealant. A quick squirt with a water bottle will help dilute it and prevent it from ruining your kit, thanks to the water-based nature of most sealants.
There's more advice on tubeless tyre set-up from an expert in our piece on tubeless tyres: are you doing it properly?
What to take with you if you're riding tubeless
If you have set your tyres up tubeless, don't assume that you'll never have to make a roadside repair. You'll almost certainly avoid those annoying stops for small punctures from thorns and road grit, but performance on larger holes in road bike tyres is still quite hit-and-miss, as this opinion piece tells.
It's a good idea to carry a pump or CO2 canister so that you can get some more pressure into your tyres. Sometimes the plug just won't hold at higher pressures, so you might need to ride a soft tyre home. Leave it overnight and it will often have set enough to take full pressure though.
If you're going to be far from home and calling out the broom wagon isn't an option, carry tyre plugs or a product like Zot! or Stan's Dart to help deal with larger holes. As a last resort, it's worth having an inner tube with you that you can swap in if all else fails, although the sealant will make this a messy business.
Make sure that the inside of the tyre is free of thorns before you pop it in though, as you may have previously accumulated debris that has penetrated the tyre wall but been dealt with by the sealant. It's worth carrying a tyre boot too, to ensure that the tube doesn't get pinched by a larger sidewall gash and itself puncture.