Best torque wrenches for bikes 2023: what to buy and how to use them
Everything you need to know about torque wrenches for bikes: what they are, how to use them, why they're important and our pick of the best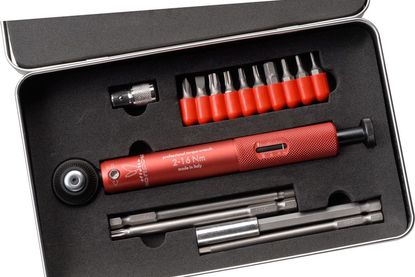 Torque wrenches for bikes are an invaluable tool if you're doing any maintenance at home, if you're planning to replace any part on your bike or even if you want to make any adjustments to your touchpoints as part of a DIY bike fit.
The ideal torque wrench for you depends upon the frequency with which you intend to use it, plus the range of components you'll be fitting. Torque wrenches for bikes come in two types: preset torque keys have a fixed torque value, usually 5Nm or 6Nm, while adjustable torque wrenches either let you set the torque figure you want to achieve or have a gauge built in that tells you when you've reached the correct torque value.
If your usage is limited to adjusting saddle height, and fitting new handlebars, you'll probably be ok with a present 5 Nm unit.
If you're going to be doing more - changing bottom brackets or perhaps fitting an expensive set of power meter pedals, then look to invest a little more on a proper ratchet set.
If you're not sure what a torque wrench is or why you need one, check out our buyer's guide at the bottom of the page. But first, here is our pick of the best preset and adjustable torque wrenches for bikes.
The best torque wrenches for bikes
Why you can trust Cycling Weekly Our expert reviewers spend hours testing and comparing products and services so you can choose the best for you. Find out more about how we test.
LifeLine Essential Torque Wrench Set
Best adjustable torque wrench on a budget
Specifications
Bits included: 3, 4, 5, 6, 8 and 10mm hex, Torx T25, T30
Torque range: 2-24 Nm
Reasons to buy
+
Affordable
+
Good range of bits
+
Wide range of adjustment
Reasons to avoid
-
Not as high quality as the pricier adjustable options
If you're doing quite a bit of work at home then a kit like this could be your new best friend.
Bolts can be tightened between 2 and 24 Nm, which is enough range to adjust stems and seat clamps, as well as your chainset and rotors.
The bits provided range from 3 to 10mm hex heads, with T25 and T30 Torx heads as well - which will have you covered for the majority of bike related jobs.
LifeLine is the in-house brand at Wiggle and Chain Reaction, although you can find its tools elsewhere too. The LifeLine torque wrench doesn't have the quality feel of the likes of Park Tool's and Effetto's options, but then it's a lot cheaper.
Park Tool TW5.2 Small Clicker Torque Wrench
Best adjustable torque wrench for workshop quality at home
Specifications
Bits included: None
Torque range: 2-14 Nm
Reasons to buy
+
Good build quality
+
Simple to use
+
Can use on left hand and right hand threads
Reasons to avoid
-
Doesn't come with bits
-
Expensive
A high quality torque wrench with a 1/4" drive, as well as a 3/8" adapter. The torque can be applied between 3 to 15 Nm, and adjusted in increments of 0.4 Nm using a dial at the bottom of the handle.
The unit reads and registers for both left and right handed threading, an essential consideration for a cyclist looking to complete most bike-related tasks at home.
It is worth pointing out that this does not come with a set of torx or allen key heads - these need to be purchased separately, but like the Effetto and the Topeak D-Torque this is a workshop quality tool that will serve you well and justify the investment if you expect to do a significant amount of home bike maintenance.
Best adjustable torque wrench for hard-to-get-to bolts
Specifications
Bits included (deluxe only): 10x25mm - 2, 2.5, 3 and 6mm hex, Torx T10, 15, 20, 20, Phillips 1, 3x100mm - 4,5mm hex, T25, 1x100mm extension
Torque range: 2-16 Nm
Reasons to buy
+
Workshop grade
+
Hard-anodised finish
+
Easy to set
+
Fifteen bits supplied for magnetic head
+
Small head for small spaces
Reasons to avoid
-
The most expensive on test
-
No ratchet
A high quality aluminium body keeps the weight below 200g and the torque readings are laser etched for longevity.
This set comes with a 1/4" ratcheting head with a range of S2 special steel Hex and Torx heads, some 25mm and others in 100mm to provide additional leverage and the unit tightens between 2 and 16 Nm.
Tolerance is guaranteed to +-4% for 5000 cycles (or 'clicks') - but calibration is offered in Effetto laboratories for €35 plus shipping - and 5000 cycles should keep you going for a while. You'll get high accuracy, but this is an expensive tool compared to the LifeLine and even the Silca tool.
You can read our full review of the Effetto Mariposa GiustaForza torque wrench here.
Topeak D-Torq Wrench DX
Best adjustable torque wrench for wide range with digital precision
Specifications
Bits included: 3, 4, 5, 6 ,8 and 10mm hex, Torx T25, 30 and 40, Phillips
Torque range: 4-80 Nm
Reasons to buy
+
Wide range of adjustment
+
Digital screen makes for easy reading
+
Good range of bits included
+
Solid workshop quality
Reasons to avoid
-
Not cheap
-
Requires batteries
A whole new world of precision - this is a digital torque wrench that will provide you with an on-screen reading, provided you've loaded it up with two AAA batteries.
This is a pro level tool which measures in four different units - Nm as well as kg.cm, in.lb and ft.lb. Most home mechanics won't need the additional measurements, but will be pleased to hear this unit can get you any tension between 4 and 80 Nm. That's an exceptionally wide range that outclasses all the other wrenches here, including the Park Tool and the Effetto options.
The 3/8 drive ratchet head is reversible (handy when fitting and removing pedals with opposing threads) and bits come in 3, 4, 5, 6, 8 and 10 mm Allen plus T25, T30 and T40 Torx. There are two Phillips heads, too.
Most people tinkering at home don't need to spend this much - but it's a 'nice to have' if you're doing a lot of work.
FWE 5Nm Torque Wrench
Best preset wrench on a budget
Specifications
Bits supplied: 4, 5, 6mm hex
Torque range: 5Nm
Reasons to buy
+
Low cost
+
Reasonable range of hex keys
If you're looking for something really compact, and only need it to tighten stem, seat post and saddle bolts - which generally require 5Nm - then a set like this will answer your needs. The set comes with 4, 5 and 6 hex/allen key bolts, which is less than most options here including the similar Ritchey Torque Key and the Topeak.
You'll be limited, in that you can't tighten a bolt to any tension other than 5Nm and the small handle won't give you a lot of leverage, although 5Nm bolts don't actually need much force. But for occasional bike fit adjustment needs you should be sorted, whilst a more frequent tinkerer might invest in this as a tool for these jobs and have a larger socket torque set for the big projects.
Best preset torque wrench for multi-applications
Specifications
Bits supplied: 3, 4,5mm hex, Torx T-20, 25, Phillips 1
Torque range: 4Nm or 5Nm
Reasons to buy
+
Perfect for many applications
+
Ergonomic handle
+
Handy bit storage
+
Affordable
Reasons to avoid
-
Only has a single setting (4Nm or 5Nm)
A preset torque key set to either 4Nm or 5Nm, which now comes with 3, 4 and 5 mm hex keys as well as T20 and T25 Torx bolts and a Philips 1 head, giving you a range that's up there with many of the other torque keys out there including the Topeak and the Park Tool torque wrenches.
This will have you covered when it comes to headsets, handlebars and saddle clamps - and it comes with a holder for all the heads - to give you at least half a chance of not losing them.
Check out our review of the single head Ritchey Torque Key here.
Topeak Nano TorqBar DX
Best preset wrench for portability
Specifications
Bits supplied: 3, 4, 5mm hex, Torx T20, T25
Torque range: 4Nm, 5Nm and 6Nm
Reasons to buy
+
Three preset heads
+
Highly portable
+
Plenty of leverage
Reasons to avoid
-
As expensive as some adjustable torque wrenches
The Topeak Nano TorqBar DX has a clever design where you can carry two of the five supplied bits in the tool body. It comes supplied with three preset torque limiters, covering 3Nm, 4Nm and 5Nm and you can carry one of these with you too, fitted into the end of the bar via its magnetic retainer.
When it's time to use the TorqBar, the tool acts as a handle to give you plenty of leverage on your bolts, more than the FWE and Ritchey tools and almost on a par with many of the fully adjustable torque wrenches.
The DX version is expensive as you're getting three torque heads, but you can also buy the Nano TorqBar with one of the three pre-set heads if you don't want the whole set. Topeak also sells the Nano TorqBar X which comes with a torque head with calibration markings between 2Nm and 6Nm (but without a stop to prevent you overtightening) so you can set the torque you need.
Park Tool Adjustable Torque Driver
Best adjustable wrench for compactness
Specifications
Bits included: 3,4,5mm hex, Torx T25
Torque range: 4-6Nm
Reasons to buy
+
Sturdy metal construction
+
Easy to carry and store
+
Bits neatly stored inside handle
+
Comfortable ergo grip
+
Simple to use dial
Reasons to avoid
-
Could do with additional Torx bits
-
Quite pricey considering limited range
A happy compromise between a preset tool and a full on toolset - the Adjustable Torque Driver from Park Tool includes an allen bolt embedded into the handle which can be adjusted to 4, 4.5, 5, 5.5 and 6 Nm; so effectively 4-6 since not many items ask for precision to the nearest decimal point. The set comes with 3, 4 and 5 mm bolt heads plus a T25 Torx bit.
It's quite expensive, although Park Tool tools have a reputation for quality. You can also buy preset versions with 4Nm, 5Nm or 6Nm settings, saving you some cash, but for less cash than the Park Tool Adjustable Torque Driver you could buy yourself a traditional style fully adjustable torque wrench with a wider range like the LifeLine Essential torque wrench.
Topeak Combotorq Wrench and Bit Set
Best adjustable torque wrench for occasional use
Specifications
Bits included: 3,4,5,6mm hex, Torx T25
Torque range: 3-12Nm
Reasons to buy
+
Lightweight - just 133g
+
Good range of adjustment
Reasons to avoid
-
All-in-one design might not suit everyone
-
Torque gauge is rudimentary
A handy, lightweight set that allows you to tighten in the ranges of 3 - 12 Nm, with allen bolts from 3 to 8 mm and a T25 Torx bit. Those should have you covered for most day-to-day maintenance.
The tool is made from hardened steel, and the body (which doubles up as a useful case to hold all the spares) is plastic, with an overall weight of 133g. You read your torque value off the scale half way down the shaft, which is a little more basic than more sophisticated offerings.
For heavy usage, the all in one design might become a bit cumbersome, but it is handy if you'll be using it twice a year and don't want to lose any bits. It's a cheap option too, giving you variable torque values for less than the price of the single setting Ritchey or FWE torque keys.
Best adjustable torque wrench for portability
Specifications
Bits included: 2, 2.5, 3, 4, 5, 6mm hex, Torx: t10, t20, t25, 2mm Phillips
Torque range: 2 - 8Nm
Reasons to buy
+
Very portable
+
Lots of included heads
+
Works in small spaces
+
Tidy carrying pack
Silca has a reputation for high quality bike parts and tools and its T Ratchet and Ti Torque Kit comes with a wide range of heads to tackle all the small bolts on your bike from 2mm up to 6mm hex as well as three Torq heads and a Phillips screwdriver. There's also a ratchet and an extender to make its use easier and it comes in a pocket sized organiser, so it's easy to carry as well.
The torque gauge built into the head has three separate scales on it, 2-6Nm, 3-5Nm, and 4-8Nm, so you can choose the one that covers your desired tightening force. It's pricey but we've found Silca's tool invaluable on our travels and in the workshop at home, although its torque scales are a bit difficult to read and the Topeak TorqBar is even more compact if you want to take your wrench with you.
You can read our full review of the Silca T Ratchet + Ti Torque Kit here.
Buyer's guide to torque wrenches for bikes
What is a torque wrench?
A torque wrench is a tool used to tighten bolts to the correct level of tension. Tightness – or torque - is measured in Newton Metres (Nm), and most bike components have the appropriate level of torque expressed somewhere near the bolt.
Do I have to use a torque wrench?
It's a good idea.
Not using a torque wrench puts you at risk of a bolt snapping, or indeed a delicate, carbon component giving way. In the case of a handlebar, this can be dangerous; and if it's proven that you'd overtightened a bolt and caused the fracture then your chances of a warranty claim could be voided.
Some at-home-mechanics might skip the torque wrench, in favour of adjusting bolts 'on feel'. When you've tightened a lot of bolts, you'll have a good idea what 4 Nm and 6 Nm might feel like.
However, estimating torque can be a risky business and if it goes wrong, you've not got much hope of a warranty swap.
What types of torque wrench sets are available?
There are many different torque wrench styles – the basic option being a 'beam torque wrench' which measures flex in materials, and the top end choice being the electronic torque wrench which can be pre-set to a desired level and provides a downloadable history (handy evidence of due care).
The two most common styles used on bikes are 'click torque wrenches' and 'preset torque wrenches'.
A preset torque wrench looks much like a normal allen key, with a handle. It will tighten the bolt to the ideal tension. These are light and easy to transport, as well as being highly accurate since they can't be adjusted.
A click torque wrench often comes as part of a ratchet and socket set. These come with assorted bit ends, and the user selects the correct size piece and then sets the required torque level (often using a dial on the handle). The unit will make a 'click' noise when the correct torque is reached.
Having preset torque wrenches in 4-6Nm (the common tensions used on bikes) is a good idea. However, you'd be hard pushed to have one for every ideal torque in the correct size, and they usually stop at around 10 Nm – hence why you might need a click torque wrench if you're doing more than just adjusting your saddle height.
Anything else I should look out for?
Obviously you want enough heads for all the bolts you might want to tackle. Many small bolts on bikes are 4mm hex, but T25 Torq bolts are increasingly popular as a replacement. There's an array of different alternative bolt sizes used in headsets and stems, particularly proprietary designs, while things like chainset bolts tend to be a different size again.
It's worth checking if the torque wrench you're looking at can be adjusted to provide the required torque in an anti-clockwise as well as the usual clockwise direction. Anything with a left handed thread (pedals, bottom brackets) will require this and it's not necessarily standard in all industries.
Also check that there's enough range for the jobs you expect to do. Most bike bolts need fairly low torque values, whereas if you're planning to tackle threaded bottom brackets, pedals and power meters you will probably need around 40Nm, which can be beyond the range of many torque wrenches for more delicate jobs. You probably don't want to have to buy two adjustable wrenches.
Michelle Arthurs-Brennan is a traditional journalist by trade, having begun her career working for a local newspaper, where highlights included interviewing a very irate Freddie Star (and an even more irate theatre owner), as well as 'the one about the stolen chickens'.
Previous to joining the Cycling Weekly team, Michelle was Editor at Total Women's Cycling. She joined CW as an 'SEO Analyst', but couldn't keep her nose out of journalism and in the spreadsheets, eventually taking on the role of Tech Editor before her latest appointment as Digital Editor.
Michelle is a road racer who also enjoys track riding and the occasional time trial, though dabbles in off-road riding too (either on a mountain bike, or a 'gravel bike'). She is passionate about supporting grassroots women's racing and founded the women's road race team 1904rt.
Michelle is on maternity leave from July 8 2022, until April 2023.