Torque wrenches for bike bolts: what to buy and how to use it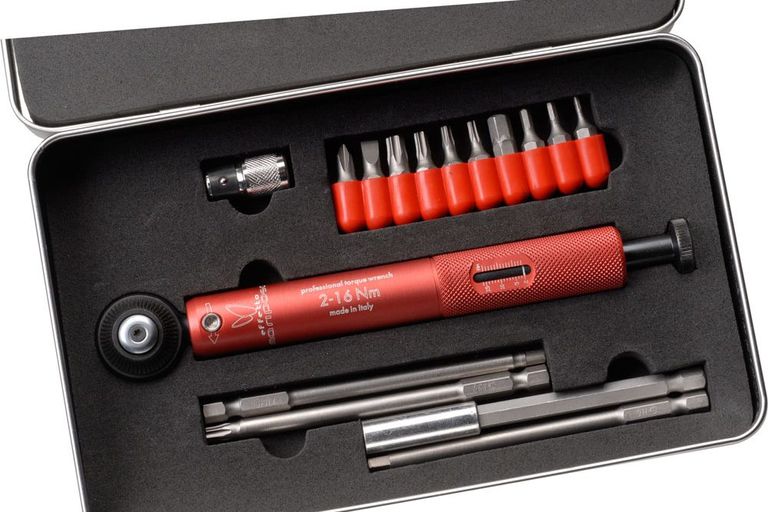 What is a torque wrench?
A torque wrench is a tool used to tighten bolts to the correct level of tension. Tightness – or torque - is measured in Newton Metres (Nm), and most bike components have the appropriate level of torque expressed somewhere near the bolt.
Do I have to use a torque wrench?
It's a good idea.
Not using a torque wrench puts you at risk of a bolt snapping, or indeed a delicate, carbon component giving way. In the case of a handlebar, this can be dangerous; and if it's proven that you'd overtightened a bolt and caused the fracture then your chances of a warranty claim could be voided.
Some at-home-mechanics might skip the torque wrench, in favour of adjusting bolts 'on feel'. When you've tightened a lot of bolts, you'll have a good idea what 4 Nm and 6 Nm might feel like.
However, estimating torque can be a risky business and if it goes wrong, you've not got much hope of a warranty swap.
What types of torque wrench sets are available?
There are many different torque wrench styles – the basic option being a 'beam torque wrench' which measures flex in materials, and the top end choice being the electronic torque wrench which can be pre-set to a desired level and provides a downloadable history (handy evidence of due care).
The two most common styles used on bikes are 'click torque wrenches' and 'preset torque wrenches'.
A preset torque wrench looks much like a normal allen key, with a handle. It will tighten the bolt to the ideal tension. These are light and easy to transport, as well as being highly accurate since they can't be adjusted.
A click torque wrench often comes as part of a ratchet and socket set. These come with assorted bit ends, and the user selects the correct size piece and then sets the required torque level (often using a dial on the handle). The unit will make a 'click' noise when the correct torque is reached.
Having preset torque wrenches in 4-6Nm (the common tensions used on bikes) is a good idea. However, you'd be hard pushed to have one for every ideal torque in the correct size, and they usually stop at around 10 Nm – hence why you might need a click torque wrench if you're doing more than just adjusting your saddle height.
The best torque wrenches for cyclists
If you're looking for something really compact, and only need it to tighten stem, seat post and saddle bolts - which generally require 5Nm - then a set like this will answer your needs. The set comes with 4, 5 and 6 hex/allen key bolts.
You'll be limited, in that you can't tighten a bolt to any tension other than 5Nm and the small handle won't give you a lot of leverage - but for occasional bike fit adjustment needs you should be sorted, whilst a more frequent tinkerer might invest in this as a tool for these jobs and have a larger socket torque set for the big projects.
Reasons to buy
+Perfect for many applications+Ergonomic handle+Cheap
Reasons to avoid
-Only has a single setting (5Nm)
A preset torque key set to 5 Nm, which now comes with 3, 4 and 5 mm hex keys as well as T20 and T25 Torx bolts and a Philips 1 head.
This will have you covered when it comes to headsets, handlebars and saddle clamps - and it comes with a holder for all the heads - to give you at least half a chance of not losing them.
Check out our review of the single head Ritchey Torque Key here.
Park Tool Adjustable Torque Driver
A happy compromise between a preset tool and a full on toolset - the Adjustable Torque Driver from Parktool includes an allen bolt embedded into the handle which can be adjusted to 4, 4.5, 5, 5.5 and 6 Nm. So effectively 4-6 since not many items ask for precision to the nearest decimal point.
The set comes with 3, 4 and 5 mm bolt heads plus a T25 torx bit.
Topeak Combotorq Wrench and Bit Set
A handy, lightweight set that allows you to tighten in the ranges of 3 - 12 Nm, with allen bolts from 3 to 8 mm and a T25 Torx bit. Those should have you covered for most day-to-day maintenance.
The tool is made from hardened steel, and the body (which doubles up as a useful handle for all the spares) is plastic, with an overall weight of 133g.
For heavy usage, the all in one design might become a bit cumbersome, but it is handy if you'll be using it twice a year and don't want to loose any bits.
X-Tools Essential Torque Wrench Set
If you're doing quite a bit of work at home then a kit like this could be your new best friend.
Bolts can be tightened between 2 and 24 Nm, which is enough range to adjust stems, seat clamps, as well as chianset and rotors.
The bits provided range from 3 to 10mm hex heads, with T25 and T30 Torx heads as well - which will have you covered for the majority of bike related jobs.
X-Tools is the in-house brand at Wiggle, formerly named Lifeline.
Park Tool TW5 Small Clicker Torque Wrench
A high quality torque wrench with a 1/4" drive, as well as a 3/8" adapter. The torque can be applied between 3 to 15 Nm, and adjusted in increments of 0.4 Nm using a dial at the bottom of the handle.
The unit reads and registers for both left and right handed threading, an essential consideration for a cyclist looking to complete most bike-related tasks at home.
It is worth pointing out that this does not come with a set of torx or allen key heads - these need to be purchased separately.
Reasons to buy
+Workshop grade+Hard-anodised finish+Easy to set+Fifteen bits supplied for magnetic head+Only 165mm long
Reasons to avoid
-The most expensive on test
A high quality aluminum body keeps the weight below 200g and the torque readings are laser etched for longevity.
This set comes with a 1/4" ratcheting head with a range of S2 special steel Hex and Torx heads, some 25mm and others in 100mm to provide additional leverage and the unit tightens between 2 and 16 Nm.
Tolerance is guaranteed to +-4% for 5000 cycles (or 'clicks') - but calibration is offered inEffetto laboratories for €35 plus shipping - and 5000 cycles should keep you going for a while.
A whole new world of precision - this is a digital torq wrench that will provide you with an on-screen reading, provided you've loaded it up with two AAA batteries.
This is a pro level tool which measures in four different units - Nm as well as kg.cm, in.lb and ft.lb. Most home mechanics won't need the additional measurements, but will be pleased to hear this unit can get you any tension between 4 and 80 Nm.
The 3/8 drive ratchet head is reversible (handy when fitting and removing pedals with alternating thread) and bits come in3, 4, 5, 6, 8 and 10 mm Allen plus T25, T30 and T40 Torx. There's 2 Phillips heads, too.
Most people tinkering at home don't need to spend this much - but it's a 'nice to have' if you're doing a lot of work.
Choosing the best torque wrench for you
The ideal toolset for you depends upon the frequency with which you intend to use it, plus the range of components you'll be fitting.
If your usage is limited to adjusting saddle height, and fitting new handlebars, you'll probably be ok with a present 5 Nm unit.
If you're going to be doing more - changing bottom brackets or perhaps fitting an expensive set of power meter pedals, then look to invest a little more on a proper ratchet set.
It's also worth checking if the torque wrench you're looking at can be adjusted to provide the required torque in a clockwise as well as anti-clockwise movement. Anything with a left handed thread (pedals, bottom brackets) will require this and it's not necessarily par for the course in all industries.
Michelle Arthurs-Brennan is Cycling Weekly's Tech Editor, and is responsible for managing the tech news and reviews both on the website and in Cycling Weekly magazine.
A traditional journalist by trade, Arthurs-Brennan began her career working for a local newspaper, before spending a few years at Evans Cycles, then combining writing and her love of bicycles first at Total Women's Cycling and then Cycling Weekly.
When not typing up reviews, news, and interviews Arthurs-Brennan is a road racer who also enjoys track riding and the occasional time trial, though dabbles in off-road riding too (either on a mountain bike, or a 'gravel bike'). She is passionate about supporting grassroots women's racing and founded the women's road race team 190rt.
She rides bikes of all kinds, but favourites include a custom carbon Werking road bike as well as the Specialized Tarmac SL6.
Height: 166cm
Weight: 56kg
Michelle Arthurs-Brennan on Instagram
Michelle Arthurs-Brennan on Twitter