Best road bike handlebars 2023: how to choose them and best reviewed handlebars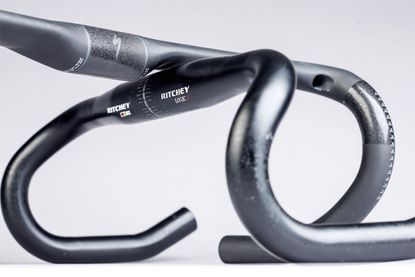 (Image credit: Future)
There are three key touch points that connect you to your bike: pedals, saddle, and handlebars. Most cyclists invest a fair amount of time into selecting the first two with military precision - but the best road bike handlebars are often forgotten.
Choosing the ideal handlebars for you can have a huge effect on your comfort and performance, for they play a significant role in determining your position and weight distribution, making them one of the best road bike upgrades you can make.
Though of course movements such as cornering should come largely from shifts in body weight, your handlebars are pretty crucial too - and if they're the weak link in the chain then upgrading them can have a noticeable effect.
Fortunately we've reviewed plenty of bars at Cycling Weekly and we've selected the pick of the bunch here. To further assist you we've also answered a few of the commonly asked questions when it comes to choosing the best road handlebars.
The best handlebars tested
Carbon aero bar at a great price
Specifications
Sizes: 36cm to 48cm
Weight: 228g (42cm)
Reach: 76.5mm
Drop: 122mm
Clamp: 31.8mm
Reasons to buy
+
Comfortable shape
+
Lightweight - 228 grams for a 42cm
+
Low price compared to rival bars
+
Good cable integration
Reasons to avoid
-
No markings for positioning the shifters
When we reviewed these, the smallest size was a 38cm - but now, these start from 36cm and go all the way up to 48cm - giving riders of all shapes and sizes a great option.
These ergonomically-designed bars were stiff without feeling harsh and offer excellent value for a carbon option - they come highly recommended. The only downside was a lack of markings to help out with set-up, but once you've got them fitted, there isn't much we can fault.
Lightweight with a flat top
Specifications
Sizes: 40cm to 44cm
Weight: 235g (size 40)
Reach: 70mm
Drop: 124mm to 128mm
Clamp: 31.8mm
Reasons to buy
+
Well made
+
Stiff for an aero bar
+
Competitively priced
+
Room for a Garmin mount
+
Easy to route internally
Ritchey's WCS Streem is a lightweight aero bar that features a wing-shaped top section that's designed to help cut through the wind as well as a fairly compact drop with a traditional shaped bend.
We found the bars nice and simple to set up with the internal routing of the cables straightforward too. As for the ride, the bars were stiff enough without feeling too harsh. The 126cm drop enabled a comfy position while still being able to get low enough when required.
Zipp Service Course SL 70 - 88 handlebars
Bread and butter alloy with a versatile shape
Specifications
Sizes : 40cm to 44cm
Weight: 275g (SS 42 cm)
Reach: 70 - 88mm
Drop : 130mm
Clamp: 31.8mm
Reasons to buy
+
Lots of reach choices
+
Versatile shape
Zipp's Service Course SL handlebars an an aluminum option that's seen refinement over the years to offer three different reach and drop measurements, so you can buy them in an SL-70, SL-70 Ergo, SL-80 or SL-88 guise.
Weights vary depending upon the option you choose, but all sit between 265g and 283g.
The SL7-70 offers a rounded shape, with a flattened section in the middle - and also comes in an SL-70 Ergo version with a flattened top bar. The SL-80 is more compact, with a flatter shape and shallower drop, whilst the SL-88 uses a traditional roadie shape with the greatest drop. In the case of the 70 and 80, sizes go from 36cm to 46cm, whilst the 88 comes in 40cm to 44cm.
The RRP is £82 or $110 in the US, but there are a lot of reductions out there.
Our favourite aluminium handlebar
Specifications
Size range: 36cm to 44cm
Drop: 123mm
Reach: 75mm
Clamp: 31.8mm
Reasons to buy
+
Comfortable shape
+
Reasonable price
+
Wide size range
Perhaps you're looking for a new shape, and not a super swanky expensive upgrade? This option from Specialized comes it at just £45 or $50 in the US.
Specialized put a lot of research into ergonomics, even their gloves are developed with the help of Dr. Kyle Bickel, who looks at blood flow in the hands to prevent numbness and pain when riding.
The Expert Alloy handlebars have a drop of 123mm, and a reach of 75mm - they're fairly shallow, with a round shape. They're made from butted aluminum and have a 31.8mm clamp.
Top spec, lightweight with a traditional shape
Specifications
Sizes: 40cm to 46cm
Weight: 174g (size 40)
Drop: 140mm
Reach: 85mm
Clamp: 31.8mm
Reasons to buy
+
Well made
+
Very light
+
Stiff
+
Easy to install
+
Good range of shapes available
The Cyrano 00 is a carbon fibre construction which we found light and stiff. Our 40cm pair came in at 174g.
They've got a traditional, round shape - which we liked - and internal cable routing is neatly taken care of with a flat profile at the front of the tops so bar tape can be used to cover them. Fizik offer the Cyrano handlebar in three shapes: Snake, Chameleon, or Bull - with a shorter reach and drop for the less flexible bull, greatest for the flexible snake, and a middle ground for the chameleon.
They're not cheap, however, at £269.99 or $399.99 in the US. They also only come in sizes 40cm to 46cm - which doesn't offer much for smaller riders.
Aero position without TT bars (not UCI legal)
Specifications
Sizes: 38cm to 44cm
Weight: 310-325g
Reach: 77mm
Drop: 127mm
Clamp: 31.8mm
Reasons to buy
+
Ergonomic shape
+
Out-front bridge adds extra position
+
Drop notch helps with descending
+
Lots of options for internal routing
Reasons to avoid
-
Not UCI legal
-
Bridge position isn't a massive step up over just holding the centre of the bars
-
Difficult to mount certain attachments such as bike lights
-
High price
Well, this bar is something a little different. Initially, it was believed this was a UCI legal solution, but the UCI has been very clear that it's not. However, if you're not likely to meet with the UCI rule book (which is most of us), then these are still an option.
The bar allows you to adopt a time trial position, without full length extensions. We found the position ergonomic, however, we weren't convinced the overall effect was that different when compared with just holding the centre of the bars.
The Best Road Handlebars Buyers Guide
How wide should my road bars be?
The bars that come specced on a new bike are an estimate based upon the average shoulder width of the average person riding a bike in your size.
As most cyclists will protest, none of us are truly average, so tailoring the bars to suit you is a good idea. This is particularly relevant for women who have bought a unisex bike over a female specific bike: most women have narrower shoulders compared to men of the same height so will want a narrower handlebar.
Bars that are too wide can put pressure on your neck and arms, and will make riding the bike feel a bit like driving a truck. To the contrary, narrow bars will make you feel cramped, but it's worth remembering that narrower bars will bring your elbows in, having quite a significant impact upon aerodynamics.
The rule of thumb when selecting the correct handlebar width is to measure the distance between the two bony bits on your shoulders - in more scientific terms the distance between your two acromioclavicular (AC) joints.
This measurement gives you a baseline - if it's 38cm, look for 38cm bars - and so on. However, personal preference and riding style play a role, too. If, for example, aerodynamics are important to you, perhaps opt one size down.
Some riders like the stability afforded by slightly wider bars - so you could opt to go one size up - to a 40cm bar. However, this will mean that you are having to move your arms out to reach the levers, causing your shoulder blades to collapse which can cause discomfort.
The standard approach is to measure from the centre of the drops, but some brands measure from the outside, meaning their 40cm bar could be a 38cm in the former approach. It's best to check what approach the manufacturer you have in mind takes.
What is the best road bar shape for me?
When it comes to handlebar width, though you can go up or down a bit depending on preference, there is a right and a wrong answer: too narrow or too wide will cause you pain and have bike fitters all over the world wincing. However, in the case of handlebar shape, it's much more down to personal preference.
Traditionally, road bars had a gentle round curve, which created a deep drop, putting the rider in a low position when off the hoods.
In recent years, compact handlebars have become more popular: these feature a straighter shape, which means the lower section of the drop is higher up. In the middle, are ergonomic bars: rounder than traditional bars, but they have a flat section in the centre which is ideal for hand positioning.
Choosing the best handlebar shape for you comes down to your riding style. If you're after fairly relaxed endurance rides, think compact.
If you want eyeballs out, nose to the bar time trial efforts and tend to hold the bars close to the bottom of the drops, think traditional.
Sitting in the middle, if you want a fair drop and tend to hold the bar right at its centre point, look for ergo bars where doing so won't put pressure on your wrists.
Different manufacturers will shape their bars their own way, and you'll also find adventure road bikes, gravel bikes and cyclocross bikes will sweep them out at the end to create a wider and more stable platform when riding in the drops.
What is the best material for road handlebars?
One of the biggest conundrums facing cyclists upgrading their handlebars is the question of what material to choose.
Carbon handlebars drop the weight of the bike and they're often 20 to 40 per cent lighter than their alloy brethren. The material can also be moulded to any shape, permitting it to be perfectly designed to suit the ideal ergonomic fit. Plus, the carbon layup can be fine turned to create the best mix between strength, low weight and compliance. All sounds perfect?
The problem with carbon handlebars is that they're much more expensive, and a bit more fragile. Though carbon can be very strong, if it's damaged, it's not always as readily apparent as it would be on an aluminium bar and could go undetected.
Not only that, carbon needs to be treated with more care in the workshop - or home workshop - and even if you're using one of the best torque wrenches for bikes it's easier to crack if the wrong settings are used. A further con is the simple fact that aluminium bars are a lot cheaper.
What are aero handlebars and do I need them?
Aero road bikes are becoming increasing popular, and the handlebar set-up plays a huge role in decreasing drag.
Handlebars that improve aerodynamics will often present a smaller surface area at the front, flattening out to create a longer surface area on the top.
This means they slice through the air more efficiently, and also has the added bonus of being comfortable to hold on a long climb. Plus, aero handlebars will be designed to cater for internal cable routing.
More premium versions will champion a high level of integration. The bar and stem may be one unit, and mounts for items such as cycling computers could be built in.
The bonus here is the watt saving; on the Bianchi Oltre XR4, improvements to the bar saved a reported 5 watts. The downside is that if you decide you want to make a change to your fit with a shorter or longer stem, you'll need to fork out for an entirely new unit.
Is there a standard diameter for road handlebars?
An actually quite important yet seemingly boring housekeeping point. Standard diameter handlebars used to always measure 25.4mm - this refers to the centre point where the stem will attach.
However, some brands are choosing to beef them up to 31.8mm for improved stiffness. This is fine, but you'll need a stem with a matching clamp size: no one wants to arrive home with their new purchase to find they've not got a stem to fit.
Get The Leadout Newsletter
The latest race content, interviews, features, reviews and expert buying guides, direct to your inbox!
Michelle Arthurs-Brennan the Editor of Cycling Weekly website. An NCTJ qualified traditional journalist by trade, Michelle began her career working for local newspapers. She's worked within the cycling industry since 2012, and joined the Cycling Weekly team in 2017, having previously been Editor at Total Women's Cycling. Prior to welcoming her daughter in 2022, Michelle raced on the road, track, and in time trials, and still rides as much as she can - albeit a fair proportion indoors, for now.