Best clipless pedals 2023: systems explained and the best models reviewed
The best clipless pedals are essential for road riding, racing and sportive participation, here we look at some of the pedal systems available for cyclists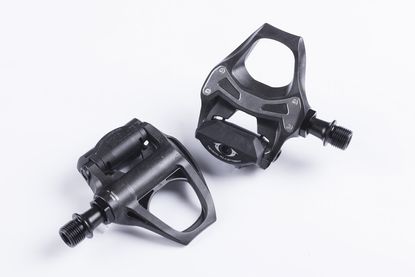 (Image credit: Cycling Studio)
A set of the best clipless pedals along with a pair of cycling shoes will set you up for miles of happy cycling. The benefits of using these over flat pedals in terms of comfort and efficiency are considerable, but there is a learning curve to clipping in and out.
If you're wondering what exactly is a clipless pedal, then here's a brief explanation.
A clipless pedal is one that you actually do clip into. For most options this requires you to attach a cleat to your cycling shoe, which then clips into a spring-loaded mechanism in the pedal body. To release your foot, you twist it in one direction to release the cleat from the pedal.
The reason they're called clipless is that before their invention road pedals often featured a toe clip - hence as a pedal without such a clip they became known as 'clipless'.
For more information on the variety of different systems out there we've got a wealth of information further down on the page. For now, though, let's get straight into our recommendations of the best clipless pedals.
Best clipless pedals: our picks
Best for combining race-day performance with everyday durability
Specifications
Construction : Carbon composite, stainless steel
Weight: 214g (pair)
Adjustability: Spring tension, cleat choice
Platform size: Wide
Best for : Road, commuting, time trial
Reasons to buy
+
Exceptionally light weight
+
Wider platform than other options on market
+
High quality, durable components
+
Similar design to Dura-Ace version with a lower price tag
+
4mm longer axle available
Reasons to avoid
-
More expensive than highly regarded Shimano 105 pedals
Shimano's Ultegra pedals won a place in our Editor's Choice awards, impressing us with a low stack height, wide platform and a design really not far off that of the top end Dura Ace models - all at a lower price.
These are great quality pedals that are incredibly durable, going for thousands of miles between servicing.
All Shimano pedals use the same spring retention system that requires a 2.5mm allen key to adjust. It can take a little time to get just right, so worth taking the right size key with you on the first few rides.
Again like all Shimano pedals, and Look ones for that matter, Ultegra pedals gain the pedal float from the cleat, with different coloured 'tips' on the cleats denoting the amount of movement side to side they will allow before unclipping. They're available with 6 degrees (with yellow tips), 2 degrees (blue) or zero float (red), depending on your preference (it's always recommended to start off with more if you're not sure).
It is super easy to take them apart and regrease the axle, though, when the time does finally come, and it's also worth noting that there is a 4mm longer axle available too should you need a wider Q factor - something only offered with Ultegra and Dura-Ace.
The RRP is more expensive than the Shimano 105 option, but you can find some great deals if you shop around.
Read more: Shimano Ultegra pedals full review
Best clipless pedals for entry level
Specifications
Construction : Composite plastic, stainless steel
Weight: 278g
Adjustability: Spring tension, cleat choice
Platform size: Medium
Best for : Road, time trial, commuting
Reasons to buy
+
Steel plates in top surface to reduce wear
+
Similar performance to Look's pricier Keo pedals
+
Stylish looks
+
Balances price Vs performance well
Reasons to avoid
-
Composite body rather than carbon
-
A bit heavier than carbon options
-
Spindles prone to rust
These are a great starter clipless pedals and ideal for winter miles when it's not worth bringing our the more expensive sets.
Trading the carbon blade of the higher end Look pedals for a coil spring based mechanism makes for easy release tension adjustment, almost mirroring the Shimano versions.
A good size contact patch for your foot provides a stable pedalling platform, and one that we've found from experience still offers enough power transfer to be a viable option for strong riders putting out high wattage.
The composite material does add a weight to the scales, but doesn't detract from their performance, with the Look trademark and highly regarded standard still on board making these a pair of the best clipless pedals on the market.
A suitably priced and easy option for beginners to take their first steps into the world of clipless pedals.
Read more: Look Keo Classic 3 pedals full review
Best clipless pedals for a secure hold
Specifications
Construction : Carbon composite, stainless steel
Weight: 232g (pair)
Adjustability: Blade spring (replacement), cleat choice
Platform size: Medium
Best for : Road, time trials
Reasons to buy
+
Very Light weight
+
Increased foot contact area over predecessor design
+
Ceramic bearings option available
+
Adjustable release tension (specialist tools required)
Reasons to avoid
-
Look cleats can wear quicker than Shimano
-
Only two fixed release tension options, unless you buy another blade spring.
-
Changing spring tension tricky.
There are several different versions of the Look pedal systems (the Keo Classic is featured above) and these top the family tree as best clipless pedals for anyone looking for a performance pair.
Look say that the ceramic bearing version reduces friction by 18% and helps increase power transfer.
Look uses a carbon leaf spring in place of the more common metal spring, like the Shimano Ultegra pedals above, for cleat retention, cutting the weight, and providing a satisfying tactile snap when you clip in.
This does mean you don't get the same instant range of adjustment as you get with a spring system, but you can get the leaf spring in a range of different strengths.
From experience this does mean deciding on what tension suits you best is tricky, and a little fiddly, so you might be inclined to enlist support from your local bike shop/ bike fitter to sort - but once you've got it set up you won't need to touch it again.
As per all Look cleats, they can be quick to wear down though, requiring regular replacement unless you're conscientious enough to use cleat covers when walking around, which are available and often come with your pedals or cleats.
Read more: Look Keo Blade pedals full review
Best clipless pedals for maximising cleat stability
Specifications
Construction : Ceramic bearings, hollow titanium axle, Carbon
Weight: 174g (pair)
Adjustability : Three settings of carbon blade
Platform size : Medium
Best for : Road racing, time trials
Reasons to buy
+
Exceptionally lightweight
+
Open-position spring for easy engagement
+
Solid hold on cleat
+
In-built lateral and angular float
Reasons to avoid
-
Exceptionally high price tag
There's no denying the jaw dropping retail price of the Time Xpro 15 pedals, especially when compared to the more wallet friendly Xpresso range with the Time Xpresso 6 pedals, which, although somewhat dated, we also really liked.
On test, we found it tricky to pinpoint one exacting character trait, rather that it was an amalgamation of several features that make these one of the best clipless pedals on the market.
To start there's the exceptionally secure carbon leaf spring system. Their featherweight design, 87g a piece, makes them one of the lightest clipless pedal systems on the market, without sacrifice to the platform, which is slightly wider than traditional Time pedals.
For riders looking for the best, then the carbon outer, hollow titanium spindle and ceramic bearings will be music to ears, while their slight 2.5mm of lateral side-to-side float might not be the equivalent to your knees, especially as they don't allow for alterations to cleat release tension, it does require fitting another leaf spring.
As with all Time pedals, they offer an alternative to the major players, such as Look and Shimano, although clearly comparable to the range topping Shimano Dura Ace and Look Keo Blade Carbon Ceramic versions.
But in order to stand out from the crowd, you'll have to pay for the privilege, with these one of the most expensive pairs of clipless pedals on the market.
Read more: Time Xpro 15 pedals full review
Best for optimising price and performance
Specifications
Construction : Carbon reinforced plastic, stainless steel
Weight : 265g (pair claimed)
Adjustability: Spring tension, cleat choice
Platform size: Medium
Best for : Commuting, Road, Time trial
Reasons to buy
+
Very durable from experience
+
Excellent bearings for smooth pedalling
+
Adjustable release tension
+
Float options (via cleats)
+
Low maintenance
Reasons to avoid
-
Bit too expensive to be classed a "budget" pedal at full RRP
-
Wide cleats that can protrude shoes
Shimano's 105 pedals are extremely similar to their Ultegra and Dura-Ace counterparts, the main difference being the pedal body is carbon reinforced, instead of carbon fibre.
This does of course add a little weight to the pedals, around 50g per side, but when you calculate the cost saving per gram (especially if you can pick these up in a deal) then the weight penalty suddenly seems much lighter.
From our experience these are a great clipless pedals for riders looking for quality and durability without breaking the bank, especially when you've just splashed out on a new set of cycling shoes.
As with the Shimano Dura-Ace and Look Pedal ranges, the spring tension is adjustable via an Allen key, which can take a couple of rides to get just right for your needs, so worth taking one in the back pocket for the first few outings.
The other similarity with the other pairs of the best clipless pedals mentioned above is that the 'float' is limited by the cleats, which isn't really a drawback, just be aware and always worth getting a professional bike fitter to help set up your shoes to ensure you get the right pair for you.
As with other Shimano pedals, the cleats are probably the widest on the market, which can make them visible either side of your cycling shoes, and although they are one of the most robust on the market, they aren't designed for walking far in.
Read more: Shimano 105 pedals full review
Best clipless pedals for range of float
Specifications
Construction : Grivory (plastic polymer), Stainless steel
Weight: 220 (pair)
Adjustability: In cleat adjustment and choice
Platform size : Small
Best for : Road, time trial
Reasons to buy
+
Low weight of pedal
+
Double sided clip in
+
High degree of adjustable float
Reasons to avoid
-
Fiddly and time consuming set up
-
Cleats must be kept clean
Wahoo has given the Speedplay Zero pedals a much needed update, while still preserving all the benefits of the original. You still get all the float adjustability, dual-sided entry, low weight, and interchangeable axle lengths, but now the weather protection has been greatly increased and the stainless steel bevelled edge improves durability of the pedal body.
On test we were very impressed with their performance and certainly found them to be one of the best clipless pedals on the market, with the float being easy to adjust and feeling particularly friction free.
As one of the smallest pedal platforms available, the Wahoo Speedplay Zero pedals might look alarming to some of the more powerful riders, concerned that their lollipop looks limit power transfer. On test we found that it was in fact of no concern, the cleat design provides all the strength and secure connection needed. In fact, according to Wahoo, once you factor in their lower stack height, which places your foot closer to the pedal axle, you can actually recruit more power than other setups.
The initial setup of the larger than standard cleat is a bit more of a process, especially when compared to the almost plug and play functionality of the Shimano and Look pedals, so we definitely recommend investing in the skills of a professional bike fitter. Once dialled in, however, you'll be sure to reap all the benefits.
Read more: Wahoo Speedplay Zero pedals full review
What is a clipless pedal?
Despite the name, clipless pedals actually do clip you into the pedal. A contradiction in terms maybe, but the term actually comes from pre-clipless pedals when riders relied on pedals with metal toe clips and straps.
The manufactory Look was the first brand to develop the system after it came up with a similar system for ski bindings and then went on to produce the first clipless pedals for bikes in 1984.
If you are new and curious as to how to use clipless pedals then you'll be surprised to learn it's much easier than you might think, and once you've converted, you won't be able to imaging doing without.
What are the differences between the best clipless pedals?
There are a handful of pedal systems to choose from which allow you to clip in.
We've included lots of information on the differences, pros and cons below, but as a quick summary the main differences are around the system being proud or recessed on your shoe. The former is more road focused as it creates a bigger platform for power transfer. The Look Keo pedals are a good example, while the latter allows for easier walking off the bike and less chance of getting clogged up, such as Shimano SPDs.
Adjustability of the pedal system is another big buying factor, with some, like that of Speedplay, allowing for plenty of micro adjustments, and a favourite with riders who can suffer with knee pain. Other systems will allow for some tension adjustment, but tends to be limited to spring tension, the ease of clipping in and out, and or float, the ability to rotate your foot in the pedal without risking unclipping.
Other factors include size of platform, closeness to the axle and Q-factor (the distance between your attachment points on the pedals).
Pedal systems: Look Keo
Look pioneered clipless pedals back in the Eighties, and they've maintained a huge presence in the market ever since.
The pedals use a three-bolt design, with a large surface area to the cleat that can make walking a little cumbersome but provides a good contact patch when on the bike.
While some Look pedals use a standard coil spring for cleat retention, the fancy ones utilize a carbon leaf spring, both of which are adjustable, allowing you to have it on an easy release if you're nervous/ struggle to twist out of, or extra tight if you're more confident and going for a sprint or hard climb.
There are several different models in the Look Keo range, and several different cleat options too, making these a really good brand of pedal to grow with as your cycling experience and needs evolve.
The most basic model, the Look Keo Classic 3 is great for getting going with on the road, while the all singing pair of Look Keo Blade Carbon Ceramic Ti pedals will provide the kind of aero and smoothness gains when you are wanting high end performance.
The only downside is their limitations on rougher terrains, where the system isn't really geared up to dabbing, not getting clogged up, or walking with a non-recessed cleat. There is a Keo Grip cleat option, and a cover which makes touring and benign gravel riding doable in them, but you wouldn't want to take them for a long walk or truly off road for a ride.
That said, if you're sticking to the tarmac, they're some of the best clipless pedals that you can get at whatever level you're looking to take your cycling to.
Good for: Road riding, road racing, time trailing, commuting
Pedal Systems: Shimano SPD double-sided
More commonly used by mountain bikers, gravel grinders and commuters, SPDs have been around for 20 years and they've seen little change since.
The twin sided pedals mean clipping in is easy, and the cleat uses a two bolt system and is recessed into the shoe which allows for easy walking off the bike. Being made of metal and away from contact with the ground, the cleats can last for years.
The contact patch is a touch smaller than road specific pedals, but the pedal body is designed to clear mud, making them ideal for mixed surface riding. Combined with the walkability, this also makes them a good choice for commuting and touring when you don't want to take a pair of shoes for off bike use.
Shimano SPD pedals are also pretty popular in gyms on spin bikes, benefiting the rider from easy clipping in, the gains from pulling up on the pedal, allowing bike specific shoes, which are stiffer and allow for better pedal power transfer, but also the safety of walking to and from class.
The down side is that you will need a pair of shoes with just two bolt holes, and in most cases the shoes will have more flexibility and the smaller contact point will lose some of the pedal power.
Good for – Mountain biking, cyclocross, touring, commuting, gym bikes
Pedal systems: Shimano SPD one-sided
This system combines an SPD clipless mechanism with a flat pedal - which makes them a great clipless pedal option for people who feel nervous about having their feet attached to the bike, or commuters who want to be able to quickly get a foot on the pedal without having to search for the contact or look down. The shape also means you can use them with your regular street shoes, so a great option for a mixed use bike.
The up side is that you gain many of the positive attributes of the above Shimano SPD pedals, mostly when in muddy/ mixed terrain and when needing to walk around, as the recessed cleat does away with a skiddy small wedge under your feet that the usual road pedals create. Again these are another great option for gym bikes, where you have a mix of riders in either trainers or who want to clip in.
Combing two systems for SPD and flat pedal into one does mean that these pedals are a little heavier than other options, so they're not favoured by those after pure performance.
Good for – Leisure riding, off-road, commuting, gym
Pedal systems: Speedplay / Wahoo
Speedplay's 'lollipops' are road specific pedals that gain their pedalling platform from the cleat, as opposed to the pedal itself. This means the cleat houses all the moving parts and requires the occasional drop of dry lube to keep things running smoothly.
The benefit of Speedplay pedals is that they offer a huge amount of adjustability — cleat position is adjustable in three separate planes, and each can be fine-tuned independent of the others. Bike fitters love them, particularly when setting up anyone with knee pain.
The simplicity and double-sided nature also mean they're easy to get into and they're light, too but the metal cleats can be difficult to walk in and are expensive to replace.
Good for – Road racing (especially criteriums)
Pedal systems: Shimano SPD SL
Shimano's SPD SL pedals use a three bolt cleat system, similar to Look Keo pedals.
The key difference is that the cleats and pedals are much broader, creating a wider platform and in theory offering greater power transfer.
Just like the Looks, the cleats come in three different colours, each denoting a different level of float, mirroring the Look cleat system offering 0 degrees, 2 degrees or 6 degrees of float once clipped in. Again like the Looks, it's a system that is widely used by the professional peloton.
Just don't expect to walk around on them with ease - and especially not on tile or polished concrete floors.
There are a few options in the range to choose from, all of which could make the best clipless pedal buying guide. As with all Shimano components, the pedals follow the same naming convention, with Dura-Ace at the top of the family tree, followed by Ultegra and then 105.
The challenge for Shimano is that it makes everything exceptionally well, so the only reason why we've not included the range topping Dura Ace pedals is that it's just so hard to not buy the significantly more affordable Ultegra and 105 versions.
Good for – Road riding, racing, general riding, commuting
Pedal systems: Time pedal systems
While Time pedals also use a three-bolt system - you remembered correctly, like Look and Shimano - they actually work in reverse of most other road pedals.
The carbon leaf spring keeps the mechanism open until you push down, clamping it shut on the cleat with a loud snap — similar to a ski binding.
The cleats are one of the biggest on the market, so offer a very supportive platform to push on. They're also quite cheap to replace, which is always a bonus.
The Time ICLIC system boasts lateral (side to side) float, and low stack height, said to increase power transfer efficiency.
Time pedals are pretty niche nowadays, although now part of the wider SRAM operation after Time Bikes sold off its pedal division and we expect to see some exciting development with in the pedal brand in the next few years.
Good for – Racing, road riding
How to fit and remove clipless pedals
Watch this video (opens in new tab) to learn our mechanic Al's top tips on clipless pedal installation and removal.
The key thing to remember about pedals is that the left and right ones are threaded differently. The right pedal has a normal thread, so that you tighten it by turning the pedal spindle clockwise in the crank arm. The left pedal has a reverse thread, so that you tighten it counter-clockwise.
It's important not to get your left and right pedals mixed up as cross threading a pedal will ruin the pedal and crank. With many clipless pedal systems, such as those from Shimano and Look, it's pretty obvious which way round they go, as the pedal has a definite front and rear.
But with other systems such as Speedplay, many MTB-type clipless pedals and platform-type pedals it's harder to work out.
Most will have L or R printed or embossed on the pedal body or the wrench flats on the axle, so it's worth taking a look before starting to screw them back in. Above all, go carefully and hand-screw the pedal to make sure that it's threading in correctly, only using a spanner or allen key once you have it most of the way in.
Although most are easy to set up, what isn't quite as straightforward is how to set them up perfectly for you. We've suggested enlisting the skills of a professional bike fitter throughout this guide to ensure you reap the most rewards and reduce the risk of injury. However if you do want to DIY, then take a look at our guides on Cleats explained: How to set them up correctly and how to set up your cleats (video)
It's very easy to strip the threads from a crank arm and expensive to replace it if you do, so if you're not sure the pedal is going in correctly unscrew it and start again. Make sure to add a dollop of grease or anti-seize to the threads to prevent them from getting stuck.
Many pedals will have both allen key sockets in the end of the spindle and wrench flats where the threads end. Using a pedal wrench will afford much more leverage than most allen keys.
If you're used to cycling in trainers, or are investing in a new pedal system, the chances are you might need to revisit your saddle height. Our video on how to set your saddle height should give you all the pointers on how to get it just right.
Many pedals such as Shimano Dura-Ace, Ultegra and 105 only have allen key sockets so if you use these it's worth getting a chunky 8mm allen key so that you have enough leverage to loosen the pedal in the crank.
Competitive cyclists now often ride with a power meter and many of the options available are pedal-based. To keep things simple, we've not included power pedals in this guide, but if you think that's something that might interest you then visit our page on how to ride with a power meter for more information.
The benefit of a pedal power system is its ease of transfer between bikes, although often the pedal needs to be tightened to a specific torque value to obtain accurate readings. This means that you will need a torque wrench – a pricy bit of kit, but fairly insignificant relative to the cost of the power meter itself.
What is the difference between SPD pedals and clipless pedals?
You may have heard fellow cyclists talking about SPD pedals.
SPD stands for 'Shimano Pedalling Dynamics,' and is a clipless pedal system that the Japanse brand created for the mountain bike market. These are still used today and feature a two-bolt cleat system.
However Shimano expanded its SPD clipless line-up to feature SPD-SL, which are designed specifically for road use. The SL stands for 'super light' and uses a three bolt cleat.
So SPD pedals are clipless and refer to Shimano branded pedals and cleats. However the term is often used to refer to similar pedal systems from other manufacturers, in the same way that 'Hoover' is used to describe a vacuum cleaner that's made by a rival brand.
What is the difference between clipless and clip pedals?
Clip pedals are essentially flat or cage pedals that are fitted with a toe clip and straps that secure your foot to the pedal.
Clipless pedals, like all those featured in this guide, feature a pedal and cleat system, which allows you to clip into the pedal for improved foot retention and pedaling efficiency.
Flat or 'clip' pedals can be ridden in street shoes, whereas clipless pedals require specific cycling shoes that allow you to attach a cleat to the sole.