Icons of cycling: Look's revolutionary clipless pedals
Quite literally a turning point for modern cycling; Look's revolutionary clipless pedals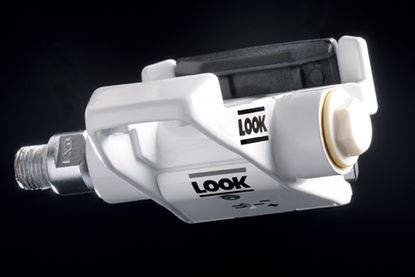 Many of the greatest innovations in road cycling have been imported from other sports. In the mid-1970s Toni Maier of Assos borrowed DuPont Lycra from skiing to create the first modern cycling shorts. A decade later snowsport technology would again come to cycling's rescue — this time with a much-needed overhaul of the pedal.
>>> The best cycling clipless pedals
In 1983, when French ski bindings specialist Look began developing its pédales automatiques, racing cyclists from the pro peloton downwards were still using the same basic system of toe-clips and straps that had existed since the turn of the century. A slotted cleat was nailed or later bolted to the sole of the shoe that fitted over the backplate of the pedal. Then the strap was tightened so that the foot was held firmly in place. To release the foot, the rider had to reach down and flick the strap buckle to loosen the strap, then lift the foot upwards and the cleat clear of the backplate.
Clipped in
Look's system, where a triangular plastic cleat bolted to the sole of the shoe and snapped into spring-loaded jaws, releasing with a twist of the ankle, was revolutionary. It was much easier to engage and release and it was safer in crashes. Because of the stiffer sole and heel cup needed for using clipless pedals, power transfer was more efficient. The only thing the original Look clipless pedals didn't have was 'float': the inventor of the Look pedal, Jean Beyl, introduced a system allowing the foot to pivot via the Time pedal-shoe system three years later.
The Look clipless pedal was launched in 1984, but the notoriously conservative world of cycling ignored it at first. It was true that it didn't look as elegant as the minimalist Campagnolo C-Record pedal of the time. Shimano's similar Dura-Ace pedal was also a thing of precision and beauty.
The Look pedal was angular, plasticky looking (they were made from aluminium with an epoxy coating) and they were about 100g heavier per pair. It wasn't until Bernard Hinault, who had worked with Look on the design, won his fifth and final Tour de France on them in 1985 that the rest of the peloton took notice. The next year Greg LeMond won using Look pedals too.
>>> Which pedal system is best for you?
Stephen Roche in 1987 was the last rider to win the Tour de France using toe-clips and straps, but some riders remained stubbornly loyal to the old ways. Sean Kelly famously continued using toe-clips and straps until 1993.
This article was originally printed in the March 26, 2015 issue of Cycling Weekly
Thank you for reading 5 articles this month* Join now for unlimited access
Enjoy your first month for just £1 / $1 / €1
*Read 5 free articles per month without a subscription
Join now for unlimited access
Try first month for just £1 / $1 / €1