Best gravel bike pedals 2023: our pick of the best pedals for off-road riding
Here is our selection of the best gravel bike pedals, from standard two-bolt clipless pedals to power meter and flat pedal options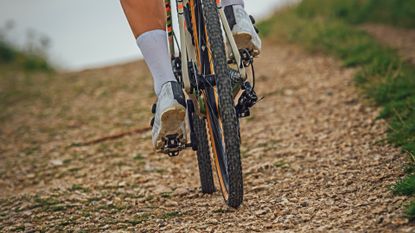 (Image credit: Future)
Get The Leadout Newsletter
The latest race content, interviews, features, reviews and expert buying guides, direct to your inbox!
Thank you for signing up to The Pick. You will receive a verification email shortly.
There was a problem. Please refresh the page and try again.
The best gravel bike pedals for your needs are one of the first things you're going to have to choose when you buy a new gravel bike. Of course, if you're an experienced graveler or MTB rider, you'll probably already have your favourite. But if you're new to gravel, you'll need to find a set-up which works for you.
Choosing our top picks for the best pedals for off-road riding has meant testing numerous pairs, riding them across a range of terrain, distances and weather conditions to assess their performance.
All this testing has proven that choosing the best gravel bike pedals can actually be surprisingly personal, with different riders opting for a number of varying styles and brands.
We know it sounds really obvious, but as one of your main contact points with the bike, pedals are, well, really important. The difference they make to the way you ride, your confidence and comfort in the saddle is huge - not to mention how confident you feel mounting and dismounting.
Before you go out and purchase, you will need to consider what kind of riding you do and if you have a preference for clipping into your pedals or not. If your riding is all about speed, we would fully recommend clipless pedals. But for more relaxed riding you can get by just fine on a set of flats - as we found on a two-week bikepacking trip around Hungary and Slovakia. We've included a number of these in our guide to the best commuter bike pedals, too.
Your pedals must also be compatible with the type of shoes that you have. Check out our pick of the best gravel shoes here for a few of our favourites.
Meet the testers
Rachel has been writing about and reviewing bike tech for the last 10 years. While her first riding love is mountain biking ,where she's been European and UK 24hr Champion on more than one occasion, she's not just confined to the trails and regularly rides - and occasionally races - on gravel and road too.
Paul reviews both bikes and equipment for Cycling Weekly and has 40 years of riding under his belt across a variety of disciplines including road riding, commuting, a self-supported Land's End to John o' Groats trip, XC mountain biking and several Polaris Challenge two-day events. Naturally for a reviewer he loves bike and kit design and has even fillet brazed a couple of framesets himself.
Our pick of the best gravel bike pedals
You can trust Cycling Weekly. Our team of experts put in hard miles testing cycling tech and will always share honest, unbiased advice to help you choose. Find out more about how we test.
Below is our pick of the best gravel bike pedals, from budget clip-in or clipless pedals to flats. Read on for more tips on what to look for and consider when choosing your pedals for your next gravel adventures.
Best for pain-free knees and muck-free mechanism
Specifications
Construction: "glass filled" plastic body
Weight: 297g (pedals), 44g (cleats and bolts)
Adjustability: 10° with ATAC Easy cleats (included), 13 or 17° with ATAC cleats
Reasons to buy
+
Inbuilt float allows movement on the bike and is friendly to knees
+
Mud clearing mechanism
+
Durability of pedal
+
Easy to service
Reasons to avoid
-
Cleats can wear quickly
-
No tension adjustment on this model
Time has been making off-road pedals for over 20 years when it first released its ATAC system. Compared to other systems, the cleats engage by pushing in a forward motion. Not only is this more natural for your foot making clipping in easier, it also pushes muck through and out of the pedal meaning the mechanisms keeps clear.
The other big advantage of Time's pedals is the float in the system. This means you can move for comfort and weight-shifting when riding, without your foot coming off the pedal. Swap the cleats between left and right pedals and you can increase the release angle and float even more.
The XC 2s are the entry level pedal in the off-road collection. The 'easy-cleat' system is simple to clip out of so great if you're not confident or have lots of stop-starting on your rides.
Read more: Time ATAC XC 2 gravel bike pedal full review
Best gravel bike pedals for choice of colours
Specifications
Pedal type: double-sided, clipless
Weight: 302g (pedals), 42g (cleats)
Colors: black, red, blue, pink
Reasons to buy
+
Mud clearing
+
Colour options
Reasons to avoid
-
No tension adjuster
-
Expensive cleats to try out different float and release options
The Candy 1 has a generously sized platform pedal around the Crankbrothers minimal cage mechanism. Our tester found that this combination gives reassuring foot support alongside the excellent mud shedding abilities of the pedal.
The included cleats have a release angle of 10 degrees and float of 6 degrees which makes for a comfortable and easily-escapable hold. The pedal itself doesn't have any tension or other adjustment but you can change the float and release angle by using a different cleat (15 or 10 degree release, 0 or 6 degree float); unfortunately the cleats cost about half as much as the pedals do.
Oh, and they come in four different colours which might be that little extra that you want from your pedal.
Read more: Crankbrothers Candy 1 gravel bike pedal full review
Best gravel bike pedals for value and functionality
Specifications
Pedal type: double-sided, clipless
Weight: 380g
Colors: silver, black/silver, white/silver
Reasons to buy
+
Affordable
+
Easy-to-adjust cleat tension
+
Sealed bearings keep dirt and water at bay
Reasons to avoid
-
Not the lightest - 380 grams per pair
Probably the most popular choice among gravel riders based on their great value and functionality, Shimano's PD-M520 are the go-to clipless MTB pedal. The SPD design here stands for Shimano Pedaling Dynamics and is a 2-bolt cleat system for off-road use, not to be confused with SPD-SL which is the three-bolt road cycling system.
The pedals, like most in this guide, are dual-sided, which means, unlike some road cycling pedals, you can clip in on both sides, which is particularly handy for off-road use. The cleats provided are compatible with shoes that feature a 2-bolt fixing, although this is pretty universal for off-road clipless shoes. These will feature a recess in the tread where the metal cleat fits, so it's easy to walk around off the bike without a protruding cleat getting in the way.
The mud shedding ability of the M520's is one of the key improvements over the previous version of Shimano's SPDs. They have a good space for mud or debris to pass through between either side of the axle housing and the SPD mechanism.
These budget clipless pedals have sealed cartridge bearings to reduce dirt and water ingress, as well as adjustable cleat tension so you can make it easier to clip out which can be pretty useful for technical riding where you might need to dab or put a foot down in a hurry.
Our tester felt well connected during pedalling and there was no hint of being thrown out of the pedal over rough ground, or when powering up a slope whilst out of the saddle. The system is really durable and reliable. It is also incredibly versatile and able to suit many disciplines of cycling - a classic, rightly so!
Read more: Shimano PD-M520 SPD gravel bike pedals full review
Best gravel bike pedals for range of adjustment
Specifications
Pedal type: double-sided, clipless
Weight: 390g
Colors: black/silver
Reasons to buy
+
Durable, quality build
+
Reliable, positive engagement and disengagement
+
Shimano SPD cleat compatible
Reasons to avoid
-
More prone to clogging than more open designs
The off-road X-Track Race pedals from the French brand Look are a good option for gravel riders seeking a clipless pedal with plenty of adjustability. These feature six degrees of float, and the cleat retention angle is 13 degrees, making them one of the best gravel bike pedals for customized fit.
The X-Track pedal range uses the same 2-bolt SPD cleat design as Shimano, with a pair of Look cleats included with each set of pedals. Like Shimano's cleats, there's a multidirectional release option as well as the standard heel-out release.
In our review, the only negative we could find was that they were more prone to clogging with mud than more open clipless pedal designs. Durability is great, with little wear over years of use.
Read more: Look X-Track gravel bike pedal full review
Best gravel bike pedals for the power hungry
Specifications
Pedal type: double-sided, clipless
Weight: 442g
Colors: silver/black
Reasons to buy
+
Easily swappable between bikes
+
Dual sided power data option
+
Can morph to road pedal power meter
Reasons to avoid
-
Expensive
-
More vulnerable to bashes than other power meter options
If you like to see your power numbers, the Garmin Rally power meter is one of a quite small number of off-road power meter options. Choices for SPD-compatible pedal-based off-road power meters are even more limited.
The stack height is slightly higher than a standard SPD pedal (which could increase the risk of grounding), and there's some additional weight but otherwise the Rally power meter feels just like riding a normal set of Shimano pedals.
You can buy the Rally power meter with either single sided or dual sided reading. The XC pedal bodies can also be swapped for Shimano or Look-compatible road bodies, although this takes a bit of time. The extra bodies are expensive too and the XC200 power meter is usually more expensive than the road-going Rally power meters to start with.
Read more: Garmin Rally XC200 off-road dual-sided power pedal full review
Best gravel bike pedals for racing in dry conditions
Specifications
Pedal type: double-sided, clipless
Weight: 210g pedals, 138g walkable cleats
Colors: black/silver
Reasons to buy
+
Double-sided entry
+
Adjustable
+
Lightweight
+
Float good for knee issues
Reasons to avoid
-
You'll need Speedplay cleats which are fiddly to set up
-
Three-or four-bolt shoes only
You might be wondering why on earth Speedplay pedals have made it onto this list, as they're predominantly seen as road cycling pedals. They can, however, make for an excellent choice for riders that prefer non-technical terrain like long, easy gravel roads, where speed is more of a priority than off-the-bike walkability.
Several riders on the US gravel racing circuit choose Speedplay pedals (or other road bike clipless pedals) for their efficiency, running stiff-soled road cycling shoes rather than mountain bike shoes. If you don't need to dismount at all, then using this combination shouldn't be a problem, and enables you to maximise power transfer where marginal gains like these really count.
Another benefit of the Speedplay system is that the pedals are dual-sided, which can make clipping in much easier, once you've got the hang of the different design. The large cleats on the shoes make walking tricky though and are prone to damage, so don't choose these if you think you might have to walk for any duration on your ride.
Read more: Wahoo Speedplay Zero pedals full review
What pedals should you use on a gravel bike?
Should you use clipless or flat pedals? Are clipless pedals more efficient?
Whether you choose to run clipless pedals (confusingly named as these are the ones that you actually clip into) or flat pedals on your gravel bike will largely be determined by the kind of riding that you've done previously.
Many riders coming from a road background will be used to clipless pedals, although may need to make the switch over to the 2-bolt MTB style pedals and shoes from the 3-bolt design of road cycling shoes and pedals. Many riders that come from a MTB background will stick with their two-bolt clipless pedals. If you're new to cycling or plan on bikepacking with a lot of adventures along the route, platform pedals will make life easier.
There are merits and drawbacks to clipless and platform pedals. Clipless pedals give better power transfer, as you can effectively pedal through the whole pedal stroke while you're clipped in. These can also offer a more secure platform for your feet over loose or technical terrain, and are preferred by many for climbing.
Clipless pedal systems do have potential drawbacks though, especially when the trails become really technical and you need to either unclip really quickly or dab a foot. In such cases, flat pedals are undoubtedly better. In really muddy conditions, they can become clogged, along with the shoe-mounted metal cleat, which can make engagement (and sometimes disengagement) more difficult or even impossible. Flat pedals allow you to tackle this technical MTB-style riding with more ease, where you can easily dab or ride through mucky patches without having to worry about clearing out your pedals for them to work.
Somewhere in the middle, you'll find clipless pedal designs with supportive cages like on the Crankbrothers Candy or Shimano MT530 pedals, which gives you a bigger, more stable pedal while still being able to clip in too.
Can you use road pedals on a gravel bike?
Yes, but perhaps not without drawbacks.
Riders coming from a road cycling background may be tempted to stick with their favorite road and shoe combo for gravel. After all, you're still riding on the road, but with a bit less pavement.
There are good reasons why only one road pedal made our list. Almost all road pedals are one-sided, which means it's much harder to get clipped in quickly if you need to unclip due to impassable mud or obstacles.
Additionally, many gravel events can turn into muddy affairs—look no further than Grinduro Scotland or the red clay roads of Oklahoma's Mid South gravel race for scenes of roads turned into quagmires. Mountain bike pedals clear mud much better than road pedals. Likewise, mountain bike shoes are much easier to walk in that slick-soled road shoes.
That said if you're riding or racing in dry conditions then a lightweight dual-entry road pedal like the Wahoo Speedplay model is an option.
What are the best size pedals for gravel riding?
You'll notice quite a range of pedal sizes across clipless and flat pedals, from tiny mechanism-only systems like the Crankbrothers Eggbeaters to designs with supportive platforms around the cleat mechanism, and then of course much larger flat pedals.
Larger pedals can give you more to contact with the pedals, which can be really useful if you're just learning to clip in and need a bit more support. These can also reduce the likelihood of experiencing hotspots on the soles of your feet, which are more common when you use a smaller pedal body with a shoe featuring a sole that isn't very stiff over a long duration in the saddle.
How much do the best gravel bike pedals cost?
How much you need to spend entirely depends on what level of performance and durability you're seeking. With many entry-level options listed here, you really don't need to spend a fortune on pedals.
If you choose to work your way up through the pedal series that these brands offer, expect to save a few grams thanks to the more lightweight materials employed.
Spending more money on these can also offer more robust designs that have easier servicing in mind too, which is something you'll need to pay attention to if you typically ride in pretty mucky conditions.
How we test
We have a dedicated team of testers here at Cycling Weekly, whose job is to review a whole range of cycling products and to write objective reviews of their experience of using them day in day out in a whole range of conditions.
With huge experience, they're really well placed to compare products, identify their strengths and weaknesses and bring you an honest, unbiased assessment of how they perform.
When it comes to testing the best pedals for off-road riding we look at a variety of factors. These include easy of use, comfort, stability and durability, which are important considerations for any bike pedal. We also look at factors specific to gravel riding, such as clearance and how well the pedal sheds mud and grime. Given that the best gravel pedals are available across a range of price points we also assess value for money.
Get The Leadout Newsletter
The latest race content, interviews, features, reviews and expert buying guides, direct to your inbox!
Michelle Arthurs-Brennan is a traditional journalist by trade, having begun her career working for a local newspaper, where highlights included interviewing a very irate Freddie Star (and an even more irate theatre owner), as well as 'the one about the stolen chickens'.
Previous to joining the Cycling Weekly team, Michelle was Editor at Total Women's Cycling. She joined CW as an 'SEO Analyst', but couldn't keep her nose out of journalism and in the spreadsheets, eventually taking on the role of Tech Editor before her latest appointment as Digital Editor.
Michelle is a road racer who also enjoys track riding and the occasional time trial, though dabbles in off-road riding too (either on a mountain bike, or a 'gravel bike'). She is passionate about supporting grassroots women's racing and founded the women's road race team 1904rt.