Look X-Track 2-bolt pedals review
Look's latest MTB pedals offer adjustable release tension and quality construction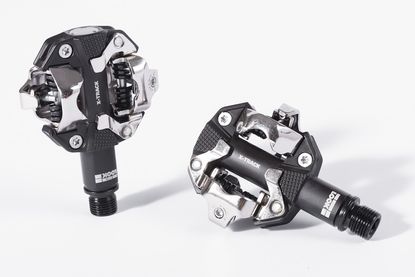 (Image credit: Cycling Studio)
The Look X-Track pedal is a good alternative to Shimano SPDs. It has a quality look and feel, adjustable release tension and a positive engagement and hold on the cleat. It feels as if it's built to last, with quality hardware and robust-feeling bearings, although the black anodising on the side plates wears off quickly.
Reasons to buy
+

Quality build

+

Adjustable cleat tension

+

SPD cleat compatible

+
Reasons to avoid
-

A bit more prone to clogging than more open designs, but no more so than Shimano pedals

-

Black anodising wears off quickly

-
Anyone who rides cyclocross or who wants a more walkable pedal will choose a 2-bolt design rather than a 3-bolt road pedal. The new Look X-Track provides a high quality option.
When Shimano wanted a better road pedal, it copied Look's Kéo. Now Look has returned the compliment by making a two-bolt pedal compatible with Shimano's SPD system.
The Look X-Track pedal replaces the older S-Track. Whereas the S-Track had the advantage of a very simple design and the option to add cages for more foot stability, it lacked adjustable release tension and engagement felt a bit wooly.
>>> Clipless pedal systems explained
The Look X-Track is a more conventional design with a front fixed cleat retainer and a rear sprung engagement mechanism with adjustable release tension. The cleat design has also been changed to be compatible with Shimano models, although Look supplies its own cleats with the X-Track and recommends its use.
The Look X-Track pedal is designed to be robust, so that it can handle rock bashes. There is a double seal to the axle to keep wet and muck out too. There's a quality look to its finish, with shiny cleat retainers and cross-hatched black metal side plates, although the anodising soon wears off the latter.
>>> How to fit and remove bike pedals
It's also designed to provide plenty of contact area with the shoe to increase power transfer. There are ridged side surfaces to help maintain grip. The supplied cleats provide 6 degrees of float, so that you can keep your foot position comfortable.
I did find that lateral foot stability was better than on more skeletal pedal designs like Ritchey's. As usually with off-road pedal systems, this does result in a bit more tendency to clog than more open designs though.
http://www.youtube.com/watch?v=YAoDWcv-eMY
I had to kick debris out of my cleats to get a positive click-in sometimes, after wading through particularly sticky mud or leaves. Once you do cut through the mud, engagement is positive, precise and confidence-inspiring.
>>> How Look makes its clipless pedals
Weight and price for the Look X-Track are competitive. The Shimano Deore XT M8000 design weighs 338g and costs £90. You can shave some weight off the Look X-Track by opting for one of the three models further up the range, with the X-Track Race Carbon coming in at a claimed 340g a pair and £95, while the Race Carbon Ti, with a titanium spindle, weighs 300g a pair.
Thank you for reading 5 articles this month* Join now for unlimited access
Enjoy your first month for just £1 / $1 / €1
*Read 5 free articles per month without a subscription
Join now for unlimited access
Try first month for just £1 / $1 / €1