We've tested the Garmin Rally XC200 off-road power pedals for 6 months - here's how they stack up in the long run
All the capabilities of the Garmin Rally power pedal encased by the popular Shimano SPD off-road clipless pedal body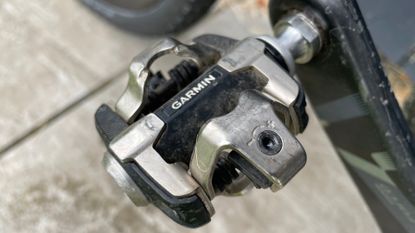 (Image credit: Rachel Sokal)
The choice of off-road power meters is pretty limited in comparison to those compatible with road bikes, and pedal power meters are even fewer and further between. The Garmin Rally XC200 offers all the dual-sided capabilities of the Garmin Rally pedals within a Shimano SPD pedal body. Not only does this mean you can access more data than you probably know what to do with, you don't need to buy a power meter for each bike you ride. Realistically you will only want a SPD body for off-road riding so it could work out an expensive option if you only have one gravel or mountain bike. The Rally series does allow you to swap to a road pedal body but that's not a job you'll be wanting to do every ride.
Reasons to buy
+

Uses reliable and popular Shimano SPD pedal body

+

Masses of data available

+

Spindle inter-changeability means you can swap into road pedal guise
Reasons to avoid
-

Cost

-

Swapping spindle not practical on a regular basis so limits swapping between road and off-road pedal bodies

-

Battery life not as good as advertised

-

Some software bugs
You can trust Cycling Weekly. Our team of experts put in hard miles testing cycling tech and will always share honest, unbiased advice to help you choose. Find out more about how we test.
We've now been testing the Garmin Rally XC for six months - click here to jump to the section where we share our long term testing update.
Until recent years power meters have been fairly uncommon in the off-road world. Power isn't so important to many mountain bikers and there aren't many options that are compatible with off-road bikes and conditions either. But changes are afoot and power meters are starting to feature more and more as technology advances and gravel riding pushes demand.
There are a number of off-road crank arm / spindle / spider options from Quarq, 4iiii, SRM, Rotor and Stages that have been around for a while but dual-sided and pedal power meters are a much rarer beast. Here we look at the Garmin Rally XC pedals and see how they stack up against the best pedals for gravel bikes and best power meters too.
We've actually already reviewed the current Garmin Rally pedal as a Look road pedal (Garmin Rally RK200). But as well as two different road / three-bolt shoe versions - the RS (Shimano SL) and RK (Look) – the Rally is also available as the XC for off-road / two-bolt shoes.
The Rally is comes in either single or dual-sensing models, the 100 or 200 series. As before, we have the dual version on test for all the fancy pedalling dynamics data.
Garmin Rally XC200: construction
For the Rally XC, Garmin have encased the spindle power sensor in the incredibly popular and highly reliable Shimano SPD pedal body. This gives the pedal exactly the same feel and adjustability of Shimano SPD pedals as well as the convenience of using the same cleats. Unlike the Rally road version that comes in two different pedal body options, SPD is the only off-road option so, if you're like me and use a different pedal system, you'll have to change your ways and conform to the masses.
Aesthetically the Rally XCs look like a fairly chunky but beautifully machined Shimano SPD pedal. Unsurprisingly they weigh a bit more (442g as tested) and have a greater stack height (13.5mm) than a non-power pedal. Exact comparisons depend on which model you're comparing to (the current version of the popular XT pedal is 342g and 8.3mm). I think a useful way to interpret all of this is that you have a dual-sided power meter at the cost of 100g and a few mms stack which is probably acceptable to most people. From a set-up point of view you may want to easily adjust your saddle by a few millimetres to compensate. We'll come back to the other issue with stack when we're riding.
The Rally is powered by a non-rechargeable CR1/3N (or two LR44) battery which is accessed via a 4mm hex key. Due to cross-threading issues on previous models the cover inserts on a metal thread. Using a removable battery does risk water and dirt ingress but does have the advantage of improving battery life compared to rechargeable versions - Garmin claim 120 hours of riding for the Rally.
Garmin do include a couple of spare o-ring seals for when you might lose / tear one during a battery change and the pedal has a waterproof rating of PIX7, or "withstands incidental exposure to water of up to 1 metre for up to 30 minutes" so – as long as you tighten up the battery cover properly on the occasional change – you shouldn't have a problem.
Fitting
As the spindle is full of the good stuff there's not room for a hex fitting, so the pedals use a 15mm pedal spanner for fitting and removal. As the spindle protrudes slightly on the inbound side of your crank there are a couple of spacers that you can add if there isn't sufficient clearance to the chain. Adding these changes the Q-factor from 53 to 55mm.
The only other adjustment is the 12 click tension adjuster on the cage as seen on other SPDs which allows you to get the release feel to your liking.
One of the biggest advantages of power pedals over other systems is the ability to swap between bikes. In the case of the Rally XCs If you're from a road bike background this is less of an advantage to you as it's unlikely you'll want to run SPD pedals on the road. But if you're a mountain biker like me you can swap and change them from gravel to MTB which makes them a really attractive option.
Although you might not have another off-road bike you want to fit to, the Rally is designed that you can swap the power spindle into a different road body to use as a Shimano SL or Look Keo pedal. Based on our testing and advice from Garmin, this isn't a job to do regularly so its perhaps not as attractive as it might sound if you want to regularly swap. The other downside is that the pedal bodies are pretty expensive (>$/£200), granted nothing close to the power meter itself but still an additional investment.
Set up
The Rally pedals are both ANT+ and Bluetooth enabled. Using the ANT+ I connected up to my Garmin Edge 1000 and via Bluetooth to my phone to add to Garmin Connect. Using the Connect app allows you to access firmware updates so it's worth connecting once in a while otherwise everything can be done from your head unit (Garmin or otherwise).
Connection between the pedals and head unit was really straightforward via the 'add sensor' function. One thing to pay attention to is adding your crank length rather than allowing it to default to the 172.5mm setting and so likely miscalculate your power.
I did a lot of swapping and changing between bikes for testing so calibrated each ride, although you could choose to use the 'prompt' option on your unit to avoid calibrating every time. Calibration is faster after you've spun the pedals for a couple of minutes so it's worth being a little patient to start with.
The ride
The underwhelming headline is the Garmin Rally felt exactly like a Shimano SPD pedal. It took me a few rides to get the pedal tension and cleat position sorted but clipping in and out was easy and reliable.
A big risk with power pedals on an off-road bike is their vulnerability to striking on rocks. The risk is increased with the greater stack height making the pedal lower to the ground than a thinner one. In truth on a gravel bike this isn't really much of an issue, bottom brackets aren't that low and you're unlikely to be riding the kind of terrain that sees rocks and roots jutting out at all angles. It is more of an issue risk if you want to use on a mountain bike and I've clobbered a pedal a few times doing this but they've come to no harm. I have friends who have run these pedals for much longer and suffered many more rock strikes who report the same. I suspect this is the reason that they're only recommended for cross-country mountain biking and not higher risk trail and downhill riding.
On the waterproofing front, I've done some very wet winter testing I've not had any moisture leaking past the seal and I'm certainly reassured by the waterproof rating.
Power data
The two-sided pedals give you an absolute wealth of data on your head unit and to pore over afterwards. As well as the obvious outputs and hitting your target cycling training zones, understanding how your left / right balance and pedalling dynamics change in line with the terrain gives you plenty to get your teeth stuck into to challenge your off-road riding.
Garmin claim an accuracy of +/- 1 per cent. Comparing to data from a Wahoo Kickr V6, values varied by no more than one watt across the whole power curve. The only exception to this was readings below 10 seconds where the Rally pedals read higher albeit within a 1 per cent margin (the Kickr also has a claimed accuracy of +/- 1 per cent so a variance of 2 per cent would show a good correlation of the data). Looking at the data and understanding the mechanics of the different power readings suggests that it's the lag of the flywheel and smoothing of Wahoo's data that results in the Kickr showing a lower power than an over-estimation from the Rally pedals.
Accuracy aside, the data from the pedals is really astounding and is a great demonstration of what a power meter can do. I'm already spending too much time geeking out at how my left/right balance changes at different cycling cadences, power and terrain. Whether all this data will improve my riding is another matter…
Long term testing update
I've now done six months of gravel and MTB riding on these Garmin Rally XC pedals, riding which has uncovered some good and less good things about them.
Durability has been good and there are no unexpected signs of wear and tear. They've hit rocks on several occasions without any ill-effects. I still wouldn't risk them on downhill racing but am confident they'll cope with any bashes I'll inflict on them (all the tech is in the spindle after all, not the more vulnerable pedal body). They've coped fine with a couple of months of wet weather riding including full stream submersions, and a bit of riding in freezing conditions too.
On the downside they've developed a small irritating squeak which has been difficult to chase (it's not from the moving parts like spindle and thread) but I think is the cleats on the body of the pedal when I'm not fully loading the pedal.
Garmin claim battery life is "up to 120 hours riding", I've managed less than 60 before needing to replace them (the low battery indicator shows with 10-20 hours remaining, I've let them run down completely rather than remove when the indicator first shows and there's ride time left). I would really like to see Garmin develop the pedal to include a recharge option too rather than having to completely replace each time.
Like so much of Garmin's other tech, I've found the Rally XCs to be beset with software issues and inconsistent connectivity. Usually once connection to a head unit (usually my Garmin Edge 1000) is established there aren't any issues throughout a ride. And, despite advice to recalibrate regularly, it doesn't appear to lose calibration details between rides. But often it doesn't connect properly at the start of a ride and can take a lot of time and multiple attempts to establish a connection. For example, on my ride yesterday it took 30 mins of riding time before the pedals would connect, the day before it was picked up instantly. The same applies if you stop for more than a few minutes during a ride; sometimes the connection remains, sometimes it takes a minute or two to re-establish, sometimes it takes much longer and you have big chunks of your ride without data.
Tracing the issue is a bit difficult but it seems to be a pedal transmission issue as they aren't detected by my head unit (via ANT+) or phone (iPhone 12), both of which pick up other sensors / units as expected (head unit sees HRM via ANT+ and phone sees my Garmin head unit and watch on Garmin Connect via Bluetooth). The other issue I've had is repeated messages on my head unit to say a software update has failed despite Garmin Connect stating it is up-to-date. On the upside, my connectivity experience is much better than reports of the earliest versions of the Rally pedals. This gives me hope that Garmin might eventually get on top of the software bugs and the next update will resolve all the outstanding issues.
Has my view of the Garmin Rally XC200 pedals changed after six months of use? No, not really. They're hugely capable in terms of the data they provide, have great flexibility to swap between my current (and future) bikes, and – I believe at least – their vulnerability to rock strikes is theoretical rather than real. But they're not perfect; connectivity can be a complete pain and battery life has been much lower than the advertised maximum without a recharge option.
Value and conclusion
At $1,200 / £1,000 (currently £800, no US reduction) the Garmin Rally XC200 pedals are not going to be a purchase for the faint hearted. The only direct competitor is the SRM X-Power off-road pedal which retails at around $1,350 / £1,100 which makes Garmin's offering seem good value. The one-sided version of the Rally will cost you $700 / £600 (currently reduced to £500, no US reduction) and the road pedal body $250 / £220 if you want to swap across bikes.
The Garmin Rally XC200 is a hugely capable dual-sided pedal in the accessible form of a Shimano SPD body for off-road riding. Although expensive, pedal power meters can be a good investment as you can swap between bikes but only if you want to run the same pedal type on each bike. The transferable Rally spindle does open up the option of even more swapping between off-road and road bikes but it's not a day to day option.
If you want to find out how to make best use of your power meter, check out our guide on how to use and train with a power meter.
Specs
Battery type: LR44/SR44 (x4)
Battery life: Up to 120 hours (with LR44 battery type)
Weight: 448 g
Water resistance: IPX7
Max. rider weight: 105 kg
Accuracy: +/- 1.0%
Cleat type: SHIMANO SPD
Q-factor: 53 mm/55 mm with supplied spacing washer
Stack height: 13.5 mm
Measurement location: Spindle
Communication: ANT+ and Bluetooth
Other features: Field calibration, Adjustable release tension, Garmin Connect
Thank you for reading 20 articles this month* Join now for unlimited access
Enjoy your first month for just £1 / $1 / €1
*Read 5 free articles per month without a subscription
Join now for unlimited access
Try first month for just £1 / $1 / €1