Shimano PD-M520 SPD pedals review - an absolute classic
A really versatile and rugged pedal that can be used for many styles of riding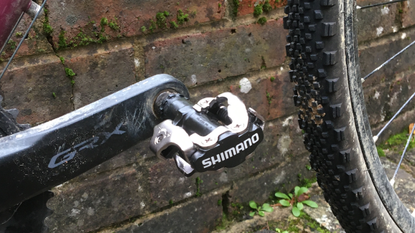 (Image credit: Paul Grele)
If you want a great performing 'clip in' pedal that can be used for most cycling disciplines then look no further. Great mud clearance, double sided for ease of clipping in, bombproof, allows shoes that you can walk in easily - a classic clipless pedal!
Reasons to buy
+

Works well

+

Long lasting

+

Maintainable

+

Can be used for many disciplines of cycling

+

Keenly priced and includes cleats & bolts
Reasons to avoid
-

Requires a specialist (but cheap) plastic tool for servicing
You can trust Cycling Weekly. Our team of experts put in hard miles testing cycling tech and will always share honest, unbiased advice to help you choose. Find out more about how we test.
Get The Leadout Newsletter
The latest race content, interviews, features, reviews and expert buying guides, direct to your inbox!
Thank you for signing up to The Pick. You will receive a verification email shortly.
There was a problem. Please refresh the page and try again.
The Shimano SPD pedal (PD-M520) is an absolute classic, combining a rugged and robust build with excellent value. But first, let's just get clear on the nomenclature and compatibility...
These types of pedals (the sort which you 'clip in' to) are called 'clipless' because they work with a cleat on the sole of the shoe to provide the retention. Previously (several decades ago), toe-clips and straps were used instead, but these were trickier to release yourself from and faded away over time.
That's the nomenclature out of the way, now for the compatibility. These pedals work with two-bolt cleats, so called because they fix to your shoes via two closely spaced bolts. The main alternative is three-bolt cleats, which are the sort most commonly used by performance oriented road cyclists.
Two-bolt cleats and double-sided pedals (such as these) have a number of advantages, the most significant being that they are easier to walk in, the cleat is harder wearing, the pedals are better at shedding mud and they're easier to clip into.
Three-bolt cleats tend to offer more support and provide more 'float' options (the extent to which your foot can twist side to side), which makes them better for racing.
This particular model, the Shimano PD-M520, is one of the cheapest dual sided clipless pedals and boasts time-proven robustness - which is what makes it one of the best clipless pedals and one of the most commonly spotted. We'll take you through their construction and how they feel in use.
Shimano PD-M520 SPD pedal: construction
The pedals weigh 380g/pair and the cleats are 54g/pair. They have double sided entry, a chrome-moly axle and low maintenance sealed bearings. They also feature class leading mud/debris shedding to keep you clipping in time after time. They also have adjustable tension setting to allow you to set the tightness (or otherwise) of your shoe release. More on this later.
The pedals are supplied with a pair of SH-51 cleats, washer section and bolts. These single release cleats are the standard type, allowing shoe release from the pedals in one direction by rotating the heel outwards. You can buy the SH-56 cleat which is a multi release version, often used by new or nervous riders. The cleats can be used on 2-Bolt type cycling shoes, often recessed within the sole which allows easy walking - check out our guide to the best budget cycling shoes here.
The pedals are available with either a black or silver finish.
The M520 pedal has been with us for over 20 years now and was an update from the original SPD pedal type M737/M505 etc. The main visual change was that mud clearance was improved. If you look at the photo below you can see the M520 (above) has space between the mechanism and the axle housing. The older style (M505 - below) had a plate which could get much more easily blocked up. The cleat (SH-51 & 56) remain the same from the inception of SPD pedals and will work in any iteration of the Shimano Pedal Dynamics (SPD) system. History lesson over!
The pedals may be fitted using either a 6mm Allen/Hex key or a 15mm pedal spanner. Do remember to put a dab of grease on the thread first as it will make their removal in the future much easier. The pedals are clearly marked 'L' & 'R' so that you don't put the wrong side in. Once fitted the pedals looked purposeful and I was ready to go riding. The initial tension that they came set with was spot on for me so I left it be.
If you are new to SPD's and nervous about falling over and being unable to unclip, then try turning the tension a few clicks to '-' (Minus). Just remember to do the same number of clicks on all four sides otherwise you might be surprised by different tension across the pedals. Also practice riding along and unclipping then clipping back in. It'll be second nature really quickly.
The ride
I'm really used to the Shimano SPD system and have been riding with it for many years, and these pedals felt very familiar straight away. They had a great clip in sensation, and easy clip out with the factory set tension. I felt connected during pedalling and there was no hint of being thrown out of the pedal over rough ground, or when powering up a slope whilst out of the saddle. The pedal axles rotated smoothly. After the first ride there was a little grease that had been ejected from the spindle seal. I wiped it off and there has been no further loss since. This was just a settling in thing from first usage, good to know that they are well packed with grease.
The double sided aspect is good, particularly on challenging terrain, as it's easier to clip in. With a single sided system you have to fish around a bit to get the correct side, and then clip in. Each has it place though.
Value
At $60/ £45, the Shimano M520 pedals are nominally more expensive than the Time ATAC XC 2, which is a really well-priced dual sided pedal at $58 / £36. But the Shimano pedals can often be found on a significant discount, so do shop around for good deals. That makes them a significantly better value option than the Cranankbrothers Candy 1 ($80 / £57).
Conclusion
There is an argument to say that you could use these pedals and these pedals alone for nearly all riding. Certainly the SPD system has worked for me with off-road riding and racing, road riding, touring, commuting and so on. I like the system as it is efficient and allows me to wear shoes that I can walk in too.
I do appreciate that certain disciplines, such as BMX, utility riding and some mountain biking like a flat pedal, that road riders often prefer the SPD-SL 3-bolt style shoes and pedals, and that some riders need more float (for dodgy knees) and will prefer a different make, and each has its good reasons. But for everyone else, this pedal is incredibly versatile, really hard wearing, and at a great price too. A stone cold classic.
Thank you for reading 20 articles this month* Join now for unlimited access
Enjoy your first month for just £1 / $1 / €1
*Read 5 free articles per month without a subscription
Join now for unlimited access
Try first month for just £1 / $1 / €1
Get The Leadout Newsletter
The latest race content, interviews, features, reviews and expert buying guides, direct to your inbox!
Over 40 years cycling in a variety of disciplines including road riding, commuting, a self-supported Land's End to John o' Groats trip, XC mountain biking and several Polaris Challenge two-day events. Adventure, escape and fun are the motivations for my riding. I also love bike and kit design and have fillet brazed a couple of framesets using Reynolds 853 steel tubing for myself. A very satisfying experience to ride your own bespoke bike!
Height: 180cm
Weight: 66kg