Crankbrothers Candy 1 pedals review - gravel doesn't have to be grey
The pedal that gives you a generous platform, excellent mud shedding and a little colour on your ride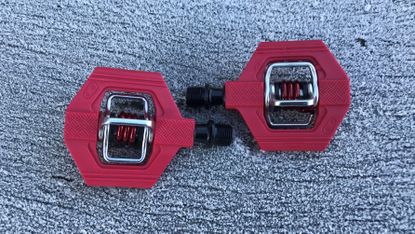 (Image credit: Rachel Sokal)
The Crankbrothers Candy 1 is a well performing entry level pedal which lends itself to gravel riding and commuting. The open-cage design is easy to use and does its job exactly as it should although it is limited by a lack of adjustment; changing cleats for different float and release angles could get expensive too. The pedal body gives a sense of security and plenty of support for your foot and there are some nice colour options too.
Reasons to buy
+

Mud clearing

+

Colour options
Reasons to avoid
-

No tension adjuster

-

Expensive cleats to try out different float and release options
You can trust Cycling Weekly. Our team of experts put in hard miles testing cycling tech and will always share honest, unbiased advice to help you choose. Find out more about how we test.
Crankbrothers may be one of the most archetypal American mountain bike companies out there but its products reach far beyond the discipline. The Candy is Crankbrothers' clipless pedal for gravel and day-to-day riding as well as trail and cross-country mountain biking.
We took a look at the entry level Candy 1 to see how it performs against the best gravel bike pedals as well as the best commuter bike pedals.
Crankbrothers Candy 1: Construction
The Candy uses Crankbrothers' clipless cage surrounded by a decent sized pedal body for a good platform of support. The Candy 1 is the entry level pedal which has a composite plastic body around the steel spindle and cage. Our pedals weighed in at 302g with an additional 42g for the cleats, within a few grams of the Time ATAC XC 2 pedals we've also been testing recently. For a little joy the Candy 1 comes in four colours; blue, pink, red and black.
Crankbrothers market the Candy as having four-sided entry (the more entry points, the easier it is to clip in), and indeed the cage does. But given this cage is surrounded by a pedal body entry is actually limited to the standard two sides. This isn't to say that 'only' two-sided entry is an issue, more that the four-sided entry doesn't actually apply. If you want true four-sided entry then you'll need to go for the Crankbrothers Eggbeater 2 pedal which has the same cage mechanism but does away with the pedal body.
There is no tension or release angle adjustment on the pedal which is the case across all the Candy models. To adjust float and release angle Crankbrothers offer four brass cleat options which determine the release angle (10 or 15 degrees) and float (0 or 6 degrees). The Candy 1s come with the clipless beginner-friendly 'Easy 6 degree Cleats' which have a release angle of 10 degrees and 6 degrees of float. As the cleats are brass they will wear so you'll need to replace them from time to time regardless of which option you settle with.
The pedals are easily serviceable with complete kits available.
Crankbrothers Candy 1: fitting
The pedals need a 8mm hex key for fitting. The cleats take a little more working out as there are a series of shims and bolt lengths depending on how deep the tread on your shoe is but all that is actually required is a bit of instruction reading and a 4mm hex key.
Crankbrothers Candy 1: the ride
I found clipping in and out of these pedals really straightforward, surprisingly so given I've never ridden a Crankbrothers pedal before. Even with the early 10 degree release I didn't have any moments of unplanned foot expulsions on gravel or road riding which was a pleasant surprise.
The pedal body gives plenty of support when you're clipped in, particularly noticeable if you're getting your heels down on steep tech-y descents. As the pedal body is fairly large there is enough there to pedal if you're not clipped in / nipping to the shops in your trainers, but due to the profile and the relatively non-grippy surface you wouldn't want to make a habit of this.
Personally I didn't particularly like the feel of the generous float of the Easy Cleats as it made my foot feel quite loose in the pedal. Of course, this will vary depending on your preference and experience of clipless pedals. The big restriction to trying out a different set up is the cleats will cost you $35/£25 a go which is almost half the cost of the pedals in the first place.
The main advantage of the Crankbrothers hollow cage mechanism on the Candy is the excellent mud shedding - no other pedal I've run has kept this clean (I took it upon myself to tramp through lots of mud to test this out). The open cage design of the pedal means most of the muck off your shoe just falls away through the pedal.
Crankbrothers Candy 1: Value and conclusion
At $80 / £57)the Crankbrothers Candy 1 do come in a bit more expensive than some of the other gravel / commuter pedals we've been testing recently like the Time XC2s ($58 / £36) and Shimano M520s ($60/ £45).
The Crankbrothers Candy 1 are a good option for if you're looking to try out a clipless pedal on your gravel or commute bike. The generous float will suit some if not others and the cost of new cleats will add up if you want to try out different angles. On the upside, they do come in some vivid colours which may be the little bit of joy life needs.
Crankbrothers Candy 1: Specs
Body material: One piece composite
Body size: 67mm x 73mm
Cage material: Stamped steel
Cleats: Easy release cleat kit included, 10 degree release, 6 degree float
Inner bearing: Igus LL-glide bearing
Outer bearing: Enduro cartridge bearing
Warranty: 5 years
Thank you for reading 20 articles this month* Join now for unlimited access
Enjoy your first month for just £1 / $1 / €1
*Read 5 free articles per month without a subscription
Join now for unlimited access
Try first month for just £1 / $1 / €1