Crankbrothers Eggbeater 2 pedals review
We've tested the Crankbrothers Eggbeater 2 pedals. They look the business, but just how well do they work in muddy conditions?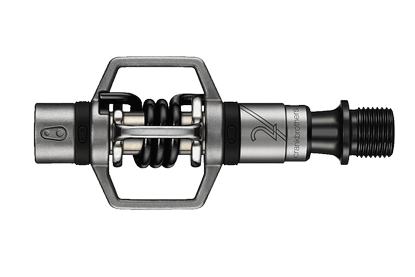 A smart-looking pedal design that doesn't collect mud. But I found engagement inconsistent once the cleats were mud encrusted and there's limited pedal adjustability.
Reasons to buy
+

Four points of engagement

+

Simple design aids mud clearance

+
Reasons to avoid
-

Inconsistent engagement

-

Prone to clogging from dirty cleats

-

Limited adjustability

-
Crankbrothers' Eggbeater pedal system scores over other two-bolt pedal systems for cyclo-cross in having four points of engagement rather than just two. One of the sets of engagement surfaces is sprung relative to the other, which itself is fixed to the pedal spindle. This should make engagement easier when remounting, while the simple design results in much less opportunity for clogging.
>>> Cyclocross bike buyer's guide (video)
It does have a disadvantage too though: engagement tension cannot be altered, although you can change the disengagement angle between 15 degrees and 20 degrees by swapping the left and right cleats with each other.
I found engagement could be a bit imprecise once my shoes had got a bit muddy on the bottom and it needed a different foot motion depending on whether the fixed or sprung pedal bar was at the front. This rather cancelled out the benefit of the four-way engagement and the pedal's resistance to mud build-up: I sometimes found I was kicking out mud on the pedal edge and flipping the pedal through 90 degrees with my foot to try to obtain engagement.
>>> Adventure road and gravel bikes: a buyer's guide
Watch: How to fit and remove pedals
But once engaged, the pedal-shoe interface felt secure and stable and I never suffered from unwanted disengagement despite the low release tension. If you want a larger pedal surface area, Crankbrothers makes the Candy, which includes a pedal body built around the same engagement mechanism.
>>> Clipless pedals: which system is best for you?
Release was always accurate and precise, so dismounts were achieved without fuss. And the Eggbeater does look smart and businesslike. It's well finished, resistant to wear and tear and not prone to rust.
Thank you for reading 5 articles this month* Join now for unlimited access
Enjoy your first month for just £1 / $1 / €1
*Read 5 free articles per month without a subscription
Join now for unlimited access
Try first month for just £1 / $1 / €1