Time ATAC XC 2 pedal review - clean, easy, and pain-free pedalling on gravel trails and the way to work
The design of the mountain biker's knee-friendly favourite hasn't changed in 20 years - there'll be a good reason for that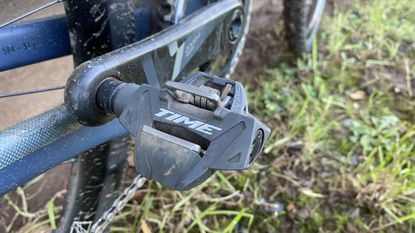 (Image credit: Rachel Sokal)
The Time ATAC XC 2s are easy to clip in and out of, clear themselves of debris as they engage and have plenty of float for comfort and to allow movement on the bike. Oh, and they're a great price too.
Reasons to buy
+

Inbuilt float allows movement on the bike and is friendly to knees

+

Mud clearing mechanism

+

Durability of pedal

+

Easy to service
Reasons to avoid
-

Cleats can wear quickly

-

No tension adjustment on this model
You can trust Cycling Weekly. Our team of experts put in hard miles testing cycling tech and will always share honest, unbiased advice to help you choose. Find out more about how we test.
Get The Leadout Newsletter
The latest race content, interviews, features, reviews and expert buying guides, direct to your inbox!
Thank you for signing up to The Pick. You will receive a verification email shortly.
There was a problem. Please refresh the page and try again.
Time first started making off-road pedals in 1998 when it patented its mud-clearing clipless design. I wasn't first to the party but by my rough calculation I've been riding them since 2000, which possibly makes this one of the most long-term reviews in Cycling Weekly history (OK, granted, I've not been riding this particular review set that long).
The Time XC pedals are recommended for gravel riding alongside mountain biking, and also lend themselves for day to day riding. Here we look at the XC 2, the most affordable of Time's off-road pedals, to see how it performs in comparison to the best gravel bike pedals, as well as the best commuter bike pedals.
Time ATAC XC 2: construction
Since the start, Time's off-road pedals have used the ATAC – Auto Tension Adjustment Concept – system for engagement. In plain English, this means that the front of the mechanism on the pedal moves forward to allow the cleat to engage; on most other designs it's the rear that moves. As this matches the motion of your foot, Time says it makes it easier to clip in. But perhaps most importantly, the forward motion of the mechanism allows any dirt in the pedal to move out of the pedal rather foul the system.
Perhaps the ATAC's most famous attribute is the float that Time has been making them the 'knee friendly' pedal. Float is the amount of movement that there is whilst the mechanism is engaged, i.e. how much you can move your foot before you unclip. A mechanism without enough float can put stresses throughout your lower body which typically manifests in knee pain. The other advantage of float is that it allows you to move your weight around to match the trail without accidently unclipping from the pedal, an important factor when riding off road. The Time XC 2 pedals have 5mm lateral (side to side) float with rotational float of 10, 13 or 17 degrees which you vary via the cleats. The Time XC 2 pedals come with cleats for 10 degrees which makes unclipping easier when you're getting started with clipless pedals. The 13/17 degree cleats can be purchased separately ($20 / £19).
On our scales the XC 2s weighed 297g for the pair, and another 42g for cleats and bolts, making the system 339g.
Fitting
The XC 2s use an 8mm hex key for fitting and 4mm bolts for the cleats. Like all pedals and cleats it is well worth using a liberal dose of copper slip or a similar grease when installing so you stand a chance of getting them off again in several months / years to come. The float in the system gives a generous margin of error so it's much easier to get the cleats set up in the right position than with many other pedals. There's no tension adjustment on this model so set up is as quick as it gets.
The ride
It seems counterintuitive to say but the XC 2s are both really easy to clip in and out of, yet feel really secure when you're clipped in. What's more, pretty much all of this happens without you thinking about it. For instance, in all the times I've crashed / nearly crashed my bike off road I can only remember a couple of occasions when my foot didn't come out the pedal when it needed to and this is running the cleats at the 'hardest' 17o unclipping position. All the other times my foot would come straight out to save my blushes.
As the mechanism works as you push forward it's really easy to clip into, there's very little - if any - technique to master. If you do miss clipping in on occasion, the force of your foot through the pedal is more than enough to engage the mechanism as you start to pedal.
For riding on gravel or the commute, the 10 degree float / easier clip-out angle is a good option, particularly if you're less experienced riding clipped in and have lots of stopping and starting on your rides. If you like throwing your weight around on the bike and ride more technical gravel trails you might want to try the cleats which allow more movement. The Time pedals I normally ride have the tension adjuster but I haven't missed this on the XC 2s.
In terms of mud clearance, I've never had an issue of not being able to clip into the pedal due to debris, and that includes after some big treks across muddy fields in the depths of winter. The only time I've found I haven't been able to clip in is when I've done lots of walking in snowy conditions and the cleat has iced up.
If you're using these on a day to day basis, the pedal is big enough that you can get away with riding your bike in trainers for a quick trip to the pub / shop without your feet slipping everywhere and getting cramp.
The biggest downside of riding Time ATAC pedals is that not many people do. This makes it a bit more awkward to swap bikes with your mates. Of course, depending on who your mates are, this may be a blessing.
The other thing I've noticed over the years is that I need to replace my cleats more frequently than my other half who uses Shimano SPD pedals, with the wear of the softer brass in the ATACs seeming to be a bit faster than the steel SPDs. However, it's certainly not more frequent than the annual replacement that Shimano recommend for its cleats and as the ATAC cleats are brass they not prone to rusting as the SPDs are.
On the subject of longevity, I've only been riding these XC 2s for a couple of months so can't really vouch for the robustness of that particular set. However, I have several sets of these pedals – including the first ones I ever had 20 years ago which were second hand when I bought them – and are still going strong. And when after a few years you do need to replace the bearings, they're really easy to service with a socket and spanner.
Value and conclusion
At $58 / £36 the Time ATAC XC 2s are a really-well priced pedal, similar to the Shimano M520 ($60/ £45) and a good bit cheaper than the Cranankbrothers Candy 1 ($80 / £57).
Overall, the Time ATAC XC 2s are a great option for gravel riding and commuting. They're easy to master, easy to get in and out of when you need to and don't get choked with muck and mud as other pedals can. Plus your mates are unlikely to get very far if they try and nick your bike.
Specs
Stack height: 19mm
Lateral float: 5mm
Rotational float / release angle: 10° with ATAC Easy cleats (included), 13 or 17° with ATAC cleats
Tension adjust: no
Weight: 297g (pedals), 44g (cleats and bolts)
Material: glass-filled
Thank you for reading 20 articles this month* Join now for unlimited access
Enjoy your first month for just £1 / $1 / €1
*Read 5 free articles per month without a subscription
Join now for unlimited access
Try first month for just £1 / $1 / €1