Best electric gravel bikes: dirt loving drop bar e-bikes with added oomph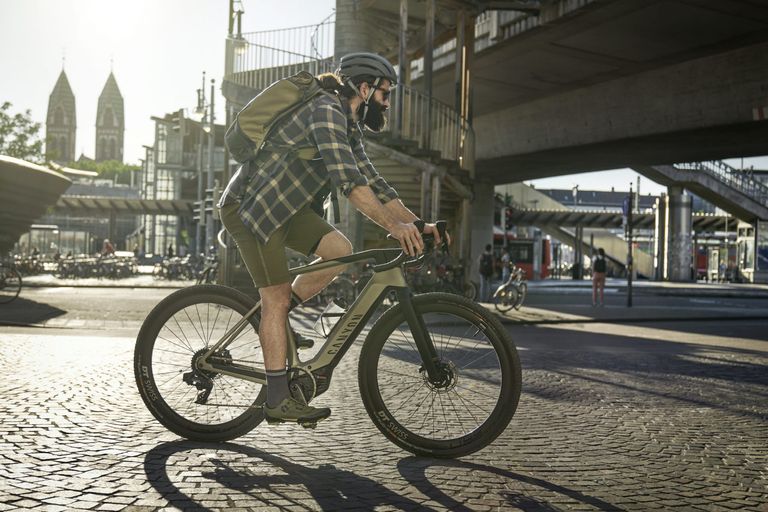 (Image credit: Tino Pohlmann)
Gravel bikes are constantly being touted as the best 'do-it-all' bikes, so it's no surprise that electric versions are beginning to take off.
For those aiming to compete, a growing number of events such as the Dirty Reiver and the Belgian Waffle Ride now have an e-gravel bike category, adding to the appeal of this burgeoning market.
The mix of all-terrain capability, confidence-inspiring stability, and additional assistance make electric gravel bikes an interesting proposition, not only for off-road riding, but also as urban commuter bikes.
Our pick of the best electric gravel bikes
Here's our pick of the best electric gravel bikes on the market right now. Carry on reading for more tips on what to look for when you're choosing the best electric gravel bike for you.
Alternatively, you can check out our pick of the best road e-bikes here or if you're after something a little more affordable, you can find our guide to the best budget gravel bikes here.
With each product is a 'Best Deal' link. If you click on this then we may receive a small amount of money from the retailer when you purchase the item. This doesn't affect the amount you pay.
Best full suspension e-gravel bike
Specifications
Motor/Battery: Bosch Performance Line CX motor, Bosch Powertube battery, 500Wh
Frame/Fork: BallisTec Carbon frame, Lefty Oliver fork, 30mm travel
Groupset: FSA Bosch chainset 42, Shimano GRX 600/810, 160mm rotors
Tyres: WTB Resolute TCS, 650x42c
Weight: 17.36kg / 38.27lb
Reasons to buy
+Handling and traction+Power application+Good battery range
Reasons to avoid
-Almost too much torque-Poor wheel spec-It's not pretty
If you crossed the Cannondale Topstone gravel bike, the controversial Lefty Slate XC bike and an e-MTB, you'd end up with the new Cannondale Topstone Neo Carbon 3 Lefty. Bit of a mouthful, isn't it?
Cannondale calls this a full suspension gravel bike, with their 30mm travel Lefty Oliver fork upfront and their 'Kingpin Softail suspension' giving another 30mm travel at the rear.
With the same drive system as the Canyon Grail:ON, the Bosch's Performance Line CX motor delivers up to 75Nm of torque, making this bike really capable of powering up rocky inclines or techy trails. The large 500Wh Bosch internal battery delivers up to a claimed 125km / 78mi range. On test, 40+ mile rides mixing the power modes and barely used half the battery, so we could see how this range is certainly achievable.
The carbon fibre frame and suspension features put the Topstone Neo Carbon 3 Lefty well above the price point of other gravel e-bikes, but we felt it was "unrivalled in its class in terms of motor performance and the grin-inducing ride." It also blurs the lines between gravel and mountain bikes even more, and will probably be more bike than most will need. But hey, what fun!
Read more: Cannondale Topstone Neo Carbon 3 Lefty full review
Best for battery range
Specifications
Motor/Battery: Specialized Sl 1.1, 320Wh
Frame/ Fork: Future Shock 2.0
Groupset: Shimano GRX810, 160mm rotors
Tyres: Specialized Pathfinder Pro 700x38
Weight: 13.5kg / 29.7lb
Reasons to buy
+Perfectly controlled power delivery from SL1.1 motor+Relatively lightweight+Dropper seatpost included stock
Reasons to avoid
-Praxis 'wave tooth profile' front chainring isn't as secure as a typical narrow-wide
With the same motor and battery as its pavement oriented brand mate, the Specialized Turbo Creo SL Carbon Comp EVO is ready to tackle wild and woolly conditions.
The frame is made from the big red 'S's' top-o-the line Fact 11r carbon fibre, and sees a Future Shock 2.0 at the front, complete with adjustable damping. At the back is a 1x Shimano GRX, though the left shifter isn't a dummy, it actuates an X-Fusion Manic Dropper Post. When your legs run out of steam, Specialized's own SL 2.1 motor has got you covered with 240W of assistance. Integrated into the downtube is a 320Wh battery pack, claimed to be good for up to 128km / 80mi, Specialized offers a bottle cage sized ranger extender that adds an extra 64km / 40mi.
Rolling stock comes in the form DT Swiss R407 hoops with Boost hub spacing which are finished in 38mm Spesh Pathfinder Pro tyres.
With the Mission Control app, not only can you adjust just how much power each of the assistance modes kicks out, but you can also set a distance and the battery level you'd like to be remaining at the end and the bike will manage its battery usage automatically to hit these targets.
You can even pair up a Bluetooth heart rate monitor and have the motor adjust its assistance to keep you within a certain range – perfect for recovery days.
But even before you start tinkering with these elements, the way the motor applies its power is markedly different to most other e-bike systems. There's no whiplash-inducing jerkiness as you get with some designs – the power comes on in a much more controlled fashion that feels much more natural.
Read more: Specialized Turbo Creo SL Carbon Comp EVO full review
Ribble CGR AL e SRAM Apex 1x 650B
Best value hub motor e-gravel bike
Specifications
Motor/Battery: MAHLE Ebikemotion X35 M1 250W motor, Panasonic 36V/250Wh battery
Frame/Fork: 6061-T6 Aluminium frame, CGR AL e Disc carbon fork
Groupset: SRAM Apex 1 HRD 1x11 speed
Tyres: WTB Horizon Road Plus TCS 650b x 47c
Weight: 13.6kg (30lb) - medium
Reasons to buy
+Clean aesthetics+Highly versatile+Ebikemotion motor is smooth and unobtrusive
Reasons to avoid
-40nm hub based motor doesn't deliver quite the same effortless power as a 80nm mid motor system
On first look at the Ribble CGR AL e, you'd have no idea this machine is actually an electric gravel bike. Seriously, look at it! Where's the motor?
Building on Ribble's non-motorized CGR (Cross, Gravel and Road) which we rated highly, the electric version features a MAHLE Ebikemotion 250W hub-based motor and Panasonic 250Wh battery hidden away in the downtube. This is controlled from a single button on the top tube, designed to look as sleek as possible.
Ribble claims a range of up to 96 km / 60mi over mixed surfaces, and although this motor may not be as powerful as some MTB orientated setups, it does give a significantly more lightweight total build that can be totally recharged in three and a half hours.
Ribble's Hybrid AL e utilises a similar setup, and we found the power delivery to be a pretty good balance. Sure, you don't get the same instant acceleration with this as you do a more powerful system, but if all you're looking for is a bit of a helping hand those are rather overkill. With this, you can still greatly increase the distances you're able to cover, but still feel like you've worked.
The range starts with a Shimano Tiagra build. Shimano 105, Rival and Ultegra builds are also available.
Read more: Ribble CGR AL 105 full review
Read more: Ribble Hybrid AL e full review
Look E-765 Gravel
Best lightweight mid motor system
Specifications
Motor/Battery: Fazua mid-drive motor and 250W battery
Frame/Fork: Look E-765 carbon fibre
Groupset: SRAM Rival 1x
Tyres: Hutchinson Touareg 700x40c
Weight: 13.6kg / 30lb
Reasons to buy
+Capable on rough terrain
Reasons to avoid
-Quite expensive for the spec
Look released their all-new gravel bikes and gravel e-bikes at the same time in 2019, a range of high-end carbon fibre bikes that lean toward the racier end of gravel. These lightweight builds are stripped back for speed, so you won't find any bosses for mounting racks, mudguards or other luggage.
Just like Kinesis (see below), Look has used the Fazua 250W motor and battery system, helping to reduce overall weight. There's a claimed range of up to 86km / 53mi in urban conditions, or 53km / 33mi over mixed surfaces.
There's space for most gravel tyres, although geared towards smaller wheels with wider tyres – clearance for 700c wheels is 40mm or 55mm for a 650b. The electric E-765 Gravel version comes with Hutchinson Touareg 700x40c.
Read more: New Look gravel bike and E-gravel bike launched
Specifications
Motor/Battery: Bosch Performance Line CX (Gen4), Bosch PowerTube 500Wh battery
Frame/Fork: Canyon Grail:ON CF (carbon fiber)
Groupset: Shimano GRX RX600/812, FSA Cranks
Tyres: Schwalbe G-One Bite 50mm
Weight: 17.1 kg / 37.7 lb
Reasons to buy
+Bags of power+Impressive battery range
Reasons to avoid
-Quite heavy-That handlebar
Canyon's offering is specifically targeted for those wanting an electric gravel bike that can tackle more adventurous riding with ease.
Opting for Bosch's Performance Line CX system — more routinely seen on electric mountain bikes — the motor provides up to 340% support in turbo mode and a generous 85Nm of Torque, designed for scrambling up steep climbs and smashing singletrack.
The disadvantage of this powerful 2.9kg / 6.4lbs motor is that this kind of riding heavy on the battery. Canyon has used a larger 500Wh battery to tackle this, which also gives an average 120km / 75mi range, dependant on power settings, terrain, rider weight etc. You can predict your range on any given ride using the Bosch eBike range calculator here.
The Grail:ON features great clearance for up to 50mm tyres and its relaxed, upright riding position compared to the non-motorized Grail is welcome.
Read more: Canyon Grail: ON full review
Best value mid-motor e-gravel bike
Specifications
Motor/Battery: Fazua Evation 1.0, 250Wh battery
Frame/Fork: Aluminium frame, carbon fork
Groupset: SRAM Rival hydraulic disc 42t, 10-42t
Tyres: WTB Resolute 700x42c
Weight: 14.61kg / 32.2lb
Reasons to buy
+Geometry and handling inspire confidence+Fazua motor system provides just enough assistance+Ability to ride without motor+Low price
Reasons to avoid
-Will you ever ride without the motor/battery
The E-Adventure 1.0 electric gravel bike from Cairn Cycles really impressed us in our review, landing a 9/10 score. The alloy frame has helped to keep the price down too, which for a bike of this calibre is really respectable at under £$5k.
As the name might suggest, the E-Adventure certainly isn't lagging behind when it comes to the latest gravel-friendly features including full mounting points for racks and three-pack mounts on each fork leg, as well as internal dynamo routing for long-distance riding or commuting.
You can fit up to 700c x 45c or 650b x 2.25" (57c) tyres with the generous clearance. Meanwhile, the Fazua Evation 1.0 delivers a range of up to 80km /50mi and assistance up to 25kph / 15mph.
On test, we found the geometry to be really confidence-inspiring over technical terrain. To us, it's obvious that this could be a popular choice with riders seeking a little extra assistance to keep up with their riding buddies or for those heading out on bikepacking weekend adventures. Just remember you may need to recharge.
Read more: Cairn Cycles E-Adventure 1.0 full review
Pinarello Dyodo Grevil
Best e-gravel bike for a racey feel
Specifications
Motor/Battery: Ebikemotion
Frame/Fork: Carbon Torayca T700 UD
Groupset: FSA Shimano Ultegra 8050, 160mm rotors
Tyres: Vittoria Terreno Zero 650b x 47mm
Weight: 12.52kg / 27.6lb
Reasons to buy
+Well balanced and confident handling
Reasons to avoid
-Quite expensive for the spec
With a discrete Ebikemotion drive system, the Pinarello Dyodo Grevil, is almost indistinguishable from its non-pedal assisted sibling. Hidden in the downtube is a 250Wh battery, the motor is housed in the rear hub and can provide 40nm of torque.
The frame itself is made from Toray T700 unidirectional carbon, and the frame is based around Pinarello's trademark asymmetric design, shaping the frame around the unique forces the drive side and non-drive side are subjected to. The frame also sees FlatBack tubing and Pinarello's Fork Flaps to slice through the air, as well as an FSC integrated seat clamp and aero seatpost.
Rolling on Vittoria Terreno 650x47mm tyres, there is room between the stays for up to 700x42mm / 27.5x2.1in rubber the bike comes shod with a 2x11 Ultegra drivetrain.
Read more: Pinarello Grevil gravel bike full review
What should you look for when buying an electric gravel bike?
Although there'll be a few specific things that you'll need to consider when buying an e-bike specifically for dirt, gravel roads, and trails, most of what you'll need to check out are the same as any electric bike. Check out our handy guide on how to buy an e-bike here. You'll need to consider the motor type, placement and torque, battery size and range, bike weight, and, of course, your budget.
Don't think that electric gravel bikes are simply for riding off-road though. Just like conventional gravel bikes, these can also make great town bikes or commuters, thanks to their sturdy wide tyres and wide rage gearing which comes in especially handy when you're carrying a lot of luggage.
In this case, you'll need to consider safe storage and charging, as these bikes tend to be pretty pricey. Check out our pick of the best E-bikes for more urban options and our best gravel and adventure bikes for non-electric options to consider too.
Motor and torque
There's a wide range of motors used in electric bikes, with some of the biggest names including Bosch, Fazua and Shimano. As they become more powerful, they also tend to become heavier; greater energy demands results in larger, heavier batteries.
Some electric gravel bikes that lean more towards the MTB end of the spectrum will feature more powerful motors for high torque which helps on really technical terrain.
If you really want to do your homework, read up on how e-bikes work here.
Battery capacity and range
You'll need to think about how you intend to use your electric gravel bike when it comes to working out what range requirements, and the battery capacity you'll need.
Does that model have a removable battery so you can bring a spare? Will you have a place to charge your bike on an overnight trip or commute?
Generally speaking, the larger the motor and battery, the heavier the total bike will be. Bear this in mind if you'll need to lift your bike into a car or carry it up a flight of stairs for example, as heavier bikes make this more tricky.
Information displays
Information displays will help you see how much battery life you have left, as well as what mode you're in.
Some will give you additional information, while others can be linked to your smartphone for more customization and information. Typically these will come in the form of a digital unit mounted on the handlebars or a button with LED lights on the top tube.
E-bike specific components and finishing kit
Keep an eye out for e-bike specific components and finishing kit when you're choosing an electric gravel bike.
Think tyres and groupsets, and these tend to be more robust and designed to cope with the extra weight and torque of the ebike system. This helps them last longer before they need to be serviced or replaced.
Tyre choice
It wouldn't be an article about gravel bikes without mentioning tyres, right?
Generally speaking, as the electric gravel bike you'll be riding is heavier than non-motorized bikes, it's a good idea to opt for wider tyres.
Even if you set your bike up tubeless, it's still possible to pinch flat if you bottom out the rim on a rock, root or curb — though sealant may plug the snakebite hole.
These wider tyres will also help to take out some of the harshest bumps along the way, and make the ride a little more comfortable for you. Look for tyres that are a minimum width of 40mm, or even consider 650b wheels with wider MTB tyres.