Crankbrothers Stamp 3 Small flat pedal review - elegant, effective and a mid-tier price
Whether gravel riding or urban cycling, these are a stylish, robust and serviceable set of hard-wearing flat pedals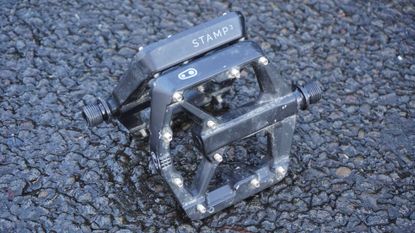 (Image credit: Future)
These pedals are absolutely fantastic. They are quite pricey, but you can certainly spend much more on a set of flat pedals. For me, though, these hit the spot exactly. The styling and functionality of these pedals – such as the elegantly thin platform and full serviceability – is just so on-point. To splash out on a pricier model feels like wasted money, but personally I wouldn't want to go any cheaper and miss out on this excellent combination of engineering and design. The only criticism is that the stock pins aren't double sided, so if you mash one it will need drilling out – but upgrading this is quite straightforward, if a little fiddly.
Reasons to buy
+

Very grippy

+

Lightweight

+

Low profile

+

Excellent looks

+

Fully serviceable
Reasons to avoid
-

The stock grub screws aren't doubled-sided – if you mash one it'll need drilling out
The Crankbrothers Stamp 3 Small pedals sit at around the middle of the range and offer what, for many people, will be the best combination of build quality, style and price.
Of course if you just need a basic set of flat pedals for getting you from A to B, then the Crankbrothers Stamp 3 Small pedals are going to be overkill. You'd probably be better off going with something cheap, cheerful and plastic – and there are plenty of great options in our guide to the best flat pedals for gravel and urban use.
But if you're after something a little more premium – but still without totally breaking the bank – the Crankbrothers Stamp 3 Small is one of the very best options out there. Let's run through the spec and how they held up.
Crankbrothers Stamp 3 Small: construction
The Stamp 3 comes in two sizes and, being right on the cusp with my size EU43 feet, I opted for the smaller version. For actual trail riding on a full-sus mountain bike, I would want the extra stability of the larger platform.
But for the less technical riding of gravel and urban use, the small size was perfectly proportioned and not too large. Specifically, the footprint comes in at 100x100mm. The body profile is very nice and slim, at just 16mm, and has a slightly concave shape to better cup your feet.
There are 10 adjustable pins on each side that can be screwed in or out, depending on the level of grip you want. If you are using these for gravel and urban applications, you'll probably want to wind them in a little bit so as to be a little less harsh on your shoes and be a bit kinder on your shins if you do catch a pedal.
The little grub screws are great in that making adjustments doesn't take too long – much quicker than systems that use different sized washers to change the height of the pins anyhow.
It's really neat that the drilling is symmetrical, so if you unscrew the pin on one side you can actually get access to the rear of the pin on the other side. But with that, it is incredibly frustrating that the grub-screws provided are only single sided – so you can't actually unscrew the pin from the rear.
Although gravel riding doesn't claim to be anywhere near as 'gnar-core' as enduro, trail and downhill mountain biking, we still can end up with some fairly sizable pedal strikes. And if the exposed end of the pin does get mashed, I'd very much like to simply remove it by means other than drilling it out.
Some brands give the option of using either an allen key or a spanner to remove the pins – a very useful get-out-of-jail-free card. Replacing the grub screws on the Crankbrothers Stamp 3 is a pretty straightforward upgrade, but one that you shouldn't really be having to make.
But although at least the bearings are fully serviceable, with Crankbrothers providing a pedal refresh kit, making things nice and straightforward.
Crankbrothers Stamp 3 Small: the ride
I used these pedals on a two week bikepacking trip starting from Budapest, Hungary and into the mountains of Slovakia – and back! I covered hundreds of kilometres, including many long gravel sections and plenty of urban riding sightseeing around Budapest (naturally) as well as Slovakia's capital Bratislava and many other lesser-known towns such as Košice, Banská Bystrica and Bojnice (amongst others).
That combination of riding and sightseeing was the crux of an article I wrote on whether we should all be using flat pedals when it comes to more meandering bikepacking trips.
But you can follow the links to check those bits out – this is a review simply of the pedals!
Just on the gravel riding first, the Crankbrothers Stamp 3 Small were utterly excellent. Although you can get lighter pedals, these still felt pretty feathery and about the same weight and the dual-sided SPDs that they replaced.
The grip and support the pedals provided was absolutely spot on for my gravel riding needs. I wasn't pushing them to the limit in terms of the technicality of the riding by any means, they were flawless there. What's more impressive is that even with the small sized pedal, I felt like I had enough of a platform or an even distribution of pressure from my feet on +7hrs days.
Plus, aesthetically, they were right on point. The elegant and slim pedal body didn't look out of place on a lightweight gravel / all-road bike at all. Regarding the city riding, the small sized pedal body made it easy to not catch on stairs or other urban obstacles (including my own shins!), which is a worthy attribute for all of the best commuter bike pedals.
Crankbrothers Stamp 3 Small: value and conclusion
At $139.99 / £139.99, these aren't a cheap set of pedals. If you're after something basic for townie or basic trail riding, you can pick up a set of DMR V6 flat pedals for $32.40 / £20.00.
But if you are after something a little more premium, that looks great on the bike and is fully serviceable then the Crankbrothers Stamp 3 Small are one of the best options. Raceface has its Aeffect pedals for $119.99 / £99.95, but these are rather chunkier and don't look so in keeping with a gravel bike.
The Crankbrothers Stamp 3 Small pedals combine excellent aesthetics with an excellent performance. There are both cheaper and more expensive options out there, but for many people this will be the ideal sweet spot between the two extremes. The only criticism to make is that the pins can't be screwed out from behind if you mash them on a rock.
But swapping these out for double-sided grub screws isn't an expensive upgrade and can save you a headache in the long run (if a bit of a faff in the short term).
Thank you for reading 10 articles this month* Join now for unlimited access
Enjoy your first month for just £1 / $1 / €1
*Read 5 free articles per month without a subscription
Join now for unlimited access
Try first month for just £1 / $1 / €1