Shimano Ultegra pedals review
The latest R8000 model makes some subtle changes to a classic pedal design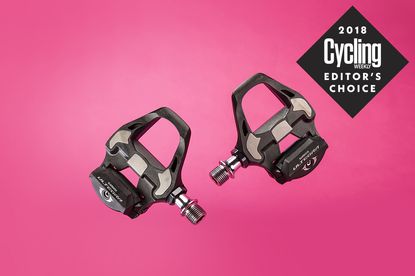 The new R8000 version of the Shimano Ultegra pedal gives you some small upgrades in design and a bit less weight. It's considerably cheaper than Dura-Ace, but benefits from the same features and technology.
Reasons to buy
+

Small decreases in weight and stack height from R6800 and from 105

+

Wider platform

+

Quality, durable components

+

Similar design to Dura-Ace with a lower price tag

+
Reasons to avoid
-

Around £40 more expensive than Shimano 105
Editor's Choice is about the best product we've seen throughout our year of testing. We've included the Shimano Ultegra pedals because as a tech team these are our go to pedals; reliable, durable, relatively lightweight and have a decent stance to help you transfer all those watts.
>>> Buy now at Evans Cycles for £89.99 (opens in new tab)
Shimano Ultegra pedals shares many of the same features you find at the range topping Dura-Ace, so you'll find a carbon composite body and stainless steel spindle. The Shimano Ultegra pedals are the latest to be upgraded in Shimano's pedal range and the changes from the older R6800 are significant.
>>> Clipless pedal systems explained
First, Shimano has decreased the pedal's stack height by 0.7mm. Stack height is important, as it determines pedalling efficiency. It's a tiny decrease, but it might just make your power transfer that bit more efficient.
Secondly, the width of the pedal body has increased slightly, which leads to a bit of extra foot stability. Again, it's not something which you're likely to notice in use but a nice step towards pedal perfection.
>>> Shimano grouspsets compared
You get the same fully enclosed tension spring as on the older Shimano Ultegra pedals, easily adjustable with a 2.5mm allen key.
Shimano has also replaced the full-width screwed down stainless steel wear protector of the R6800 model with three smaller bonded-on steel plates. This will contribute to the newer model's small reduction in weight.
It's unlikely that this will make any difference to long-term durability though. Although, the old Shimano Ultegra pedals' plate showed zero wear after thousands of miles and we feel the case will be the same with the updated version we have here - so far so good.
The Shimano Ultegra pedals use the same cleats as all Shimano's other SPD-SL road pedals. They're available with 6 degrees (with yellow tips), 2 degrees (blue) or zero float (red), depending on your preference. It is good to note that the cleats themselves are very durable and some tech testers are still using the same cleat after a year or so of heavy use.
>>> How to cycle with clipless pedals
Shimano's pedal bearings are super-durable and very smooth. Although we haven't had the opportunity to put a significant mileage into the new Shimano Ultegra pedals yet, their predecessors were good for thousands of miles without servicing. It's easy to service and regrease them if you wish to though.
Swapping up to Ultegra from Shimano 105 pedals saves you around 40g a pair. But you'll still be 20g shy of the weight of the Dura-Ace version. Mind you, saving that extra 20g will cost you £75, so on a cost per gram basis, it's an expensive upgrade.
At full retail price, you'll pay £40 more for a set of Shimano Ultegra pedals than for the already excellent Shimano 105 version, but you are getting the upgrades in Shimano's latest pedal design iteration, which haven't yet trickled down to 105.
Thank you for reading 5 articles this month* Join now for unlimited access
Enjoy your first month for just £1 / $1 / €1
*Read 5 free articles per month without a subscription
Join now for unlimited access
Try first month for just £1 / $1 / €1