Watch: How to service your Shimano SPD SL pedals
Our mechanic Al Vines shows you how to service your Shimano SPD SL pedals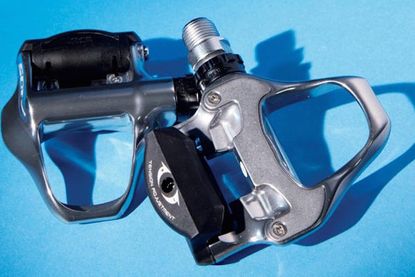 (Image credit: mike prior)
Your pedals are one of the most worked components on your bike, especially if you get out whatever the weather, or on plenty of long rides.
Fortunately, for the most part Shimano SPD SL pedals are pretty bombproof, but even so, it makes sense to give them a bit of love every now and then.
What tools you'll need:
17mm spanner or a TL-PD40 tool
Grease or grease gun
Loctite 243
Paper towls
>>> How to bleed your road shimano disc brakes
The first job is taking out the bearings and the pedal axle, so that means grabbing your 17mm spanner and undoing the pedal collar in a clockwise direction. It can be a touch tight, so sometimes it's worth sticking the pedal in a vice. If you do, be sure to protect the pedal body.
Once that's undone, the bearings and axle will come out of the body, happily there's no small parts to worry about.
Thanks to the almost legendary quality of the Shimano bearings, most probably all you'll have to do is give the cartridge and pedal body a clean using the paper towel. Be sure to get all the dirt, debris and old loctite off.
Once done, give the inside of the pedal body a couple of squirts of grease, because when you refit the cartridge that grease will get pushed through the bearings.
>>> How to upload Strava routes to your Garmin
Before you refit anything though, get some loctite on the thread, then tighten to 10Nm, wiping away any grease that comes out.
Once done you can refit the pedals to the bike.
Thank you for reading 20 articles this month* Join now for unlimited access
Enjoy your first month for just £1 / $1 / €1
*Read 5 free articles per month without a subscription
Join now for unlimited access
Try first month for just £1 / $1 / €1