Watch: How to bleed your road Shimano disc brakes
Our mechanic shows you how to bleed your road Shimano disc brakes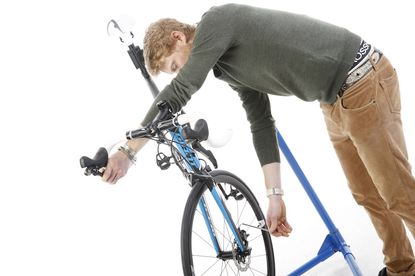 (Image credit: chris catchpole)
Usually, you'll want to bleed your disc brakes either when air gets into the system or enough time has passed for the oil to become contaminated.
What you'll need to bleed Shimano disc brakes:
7mm spanner
Allen keys
Paper towel
Small flat-bladed screw driver
Shimano Disc brake bleed kit
>>> Shimano Ultegra R8000 – here's how it differs to Shimano Ultegra 6800
First of all, it's vital that you get the correct fluid for your brakes, and for Shimano's stoppers that means mineral oil. Using anything else will damage your internals and eat through seals.
The first step to bleeding your Shimano disc brakes is removing your front wheel and pads as mineral oil can contaminate them.
Once the pads are out, be sure not to pull the lever or it'll fire the pistons – insert your pad spacer from the kit to prevent this from happening.
Lever bleed
>>> How to fix a puncture and mend an inner tube
You'll need access to the master cylinder, which means peeling back the hood and then unscrewing the bolt – be sure not to lose the rubber o-ring that comes off with it.
Next, get out your bleed cup and screw it into the master cylinder, pull out the plunger and then fill it with mineral oil. Then simply flick the lever and agitate the hose and keep an eye out for any bubbles leaving the system.
If you're happy, simply re-plunge the pot and remove it, then replace the screw for the master cylinder.
Full bleed
>>> How to upload Strava routes to your Garmin
Grab your syringe and fill it with some mineral oil and then expel any air from the syringe. It then attaches to the bleed nipple on the calliper, use the 7mm spanner to to undo it.
At the top, remove the master cylinder screw, fit the bleed port and remove the plunger.
Open the bleed port and then pass the fluid from the syringe, up through the system and into the pot. Be sure not to use all the fluid, leave a bit in the syringe and then tighten up the nipple using the spanner.
Then, up at the lever repeat the lever bleed from earlier. Once done, pop the plunger back in and then re-fit the screw to the master cylinder.
Remove the bleed block then re-fit the pads and the pad pin and that should be it. Please dispose of your oil responsibly, don't just flush it down the loo but take it to the tip!
Thank you for reading 10 articles this month* Join now for unlimited access
Enjoy your first month for just £1 / $1 / €1
*Read 5 free articles per month without a subscription
Join now for unlimited access
Try first month for just £1 / $1 / €1