How to look after your road bike disc brakes
Everything you need to know about maintaining your disc brakes, including disc brake rotors, brake pads and brake bleeding.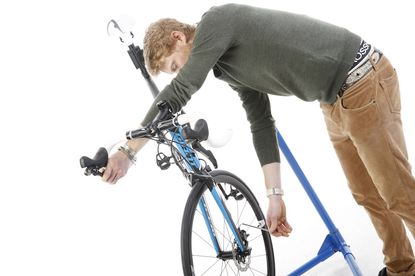 (Image credit: chris catchpole)
Disc brakes have been causing a stir in road circles for a while now. Regardless of whether they've been accepted by the pros or what the UCI thinks about them, they're popular on the bikes that the likes of you and I can buy.
>>> Disc brakes: everything you need to know
"Take care of your brakes, and they'll take care of you" remains true for discs, it's just doing it that's a little different.
So, to help things along, we've put together this guide on looking after your disc brakes.
Bed in your pads
This is the absolute first thing you should do when you buy a disc brake bike. Basically, you need to generate some heat on the pads to get them stopping at their best.
The best way to do this is pull some skids or heavy braking. We reckon between 10 or 20 stops will do the business.
You'll feel it working as the brakes literally become more powerful and the levers stop pulling as far in towards the bars.
Don't contaminate your rotors
This is the ultimate cardinal sin of disc brakes, and can be dangerous if you don't realise you've done it.
At all costs avoid getting any type of oil or bike spray (think GT85, WD40 etcetera) on your rotors.
This involves just a little more precision when lubing or spraying your drive chain to avoid getting anything on your discs. It might even be worth removing the wheels before you begin.
The good news, though, is that bike cleaning products are fine, so you can continue to spray those as liberally as you wish.
>>> New Shimano Dura-ACe R9150 Di2 key details and first ride
Clean your rotors
If you have accidentally sprayed something on your rotors then you'll need to give them a clean.
This is easy enough to do, you can simply use a disc brake cleaner that comes in a can. Spray the rotor down and then using a clean cloth or kitchen towel wipe the rotor down, making sure to get any dirt and grime off the surface.
This is also a great way of stopping any type of brake squeal that might bug your rides.
Watch: Disc brake bike of the year
Keep an eye on your pads
As well as looking your rotors, it's also worth casting an eye over your pads.
Just like with rim brakes, the pads will eventually wear down with continual use.
Again, just like with rims, this is far more likely to happen in winter when there's grit and gunk all over the road.
The first thing to know about disc brake pads is when to swap them out. As a rule, we'd recommend that you generally change them when they're worn down to the same level as the metal spring.
>>> Is heat build-up in disc brakes something to worry about?
This is important because leave it too long and you risk running the metal back plate of the pad on your rotors, which will gauge and scar them.
Brake pad compounds
Much like rim brakes, you can use a compound of brake pad that's suitable to your riding. There are three fundamental compounds that you can use: sintered, organic and semi-metal.
As a rule of thumb, sintered pads last the longest, so they're often the best bet for winter riding. Plus, on super long descents, when temperatures can get very high, they won't glaze over. It's worth noting though, they can be loud, especially when wet.
Organic pads differ in that they're very quick to bed in, and have great initial bite when the brake is pulled.
However, they won't last as long as sintered pads, and they can glaze over when exposed to excessive heat, especially on long descents.
Finally, semi-metal pads are a sort of in between of the two. However, they can be a little more expensive.
Do not pull the lever without the rotors in
Because of the self-adjusting nature of disc brakes, if you pull the levers without a rotor between the pads the pistons will fire, making it impossible to fit the disc between them when you go to place the wheel back in the bike.
Fear not, there is both prevention and a cure for this issue.
The best way to prevent it is to fit a plastic spacer between the pistons when the disc isn't there. These usually come with a bleed kit and will be purchasable online. Alternatively, you could use a folded piece of cardboard.
>>> How to pack your bike for travelling
Happily, it's easy enough to fix. Using some tyre levers, you can manoeuvre the pistons back into the caliper.
It's always best to try and cover the pistons before doing this, to avoid causing any damage.
However, if you can't manage this, plastic tyre levers should be fine. But do avoid using a flat headed screwdriver.
Watch: Disc brake bike showdown
Try not to hit your rotors
This goes without saying, really, but if you manage to warp or even bend your rotors they won't perform as well or even not work at all.
If you're flying your bike on holiday, it's best to remove the discs and store them separately.
Brake rub
This is probably the most common problem you'll have with your disc brakes. It's an easy fix, though. Simply loosen your brake caliper bolts and pull the brake lever. The pistons will fire and the caliper should square itself with the rotor. You can then re-tighten the bolts in the new position and with a bit of luck the rubbing should have stopped.
If this doesn't work, you can usually move the caliper by hand so it sits with space between pads and rotor.
Bleeding your brakes
At the business end of disc brake maintenance is brake bleeding. A sure sign that it's time to change the fluid in your stoppers is a spongy feeling in the brake levers.
When it comes to brake bleeding, different companies have different methods, so make sure to consult the manual for whichever brand you use.
As ever, if you're not sure it's worth dropping by your local bike shop to make sure the job's done properly.
Thank you for reading 20 articles this month* Join now for unlimited access
Enjoy your first month for just £1 / $1 / €1
*Read 5 free articles per month without a subscription
Join now for unlimited access
Try first month for just £1 / $1 / €1