New Shimano Dura-Ace R9150 Di2 key details and first ride
Here is a summary of the key details and new features of the new electronic Shimano Dura-Ace R9150 Di2 groupset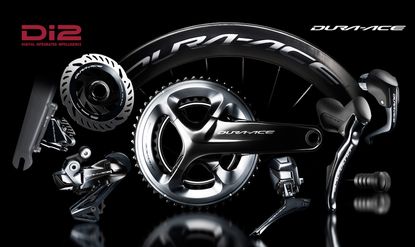 The mechanical version of the new Shimano Dura-Ace R9100 groupset was launched at last year's Tour de France and at the time many were expecting the Di2 version to be simultaneously launched.
The electronic version, namely Shimano Dura-Ace R9150 Di2, complete with optional power meter and hydraulic disc brakes is now here and we have travelled to Calpe, Spain, to get to grips with it. I haven't had a chance to ride the power meter and disc brakes yet, but rest assured, I will be posting articles when I have.
This article will focus on the new Shimano Dura-Ace R9150 Di2, which I have ridden.
According to Shimano, the main challenge when designing the new Dura-Ace R9150, was improving upon Dura-Ace 9000, a groupset that remains very highly regarded and is for many riders - without fault.
Shimano's methodical approach was to obtain the 'maximum performance potential' by creating greater synergy between the components and by improving details of each component.
The result has been a groupset that in a addition to the radical new look features many small improvements in key areas. Herein I have laid out the key details and improvements to the new Di2 system. It may not be wireless, à la SRAM Red eTap, but there are plenty of cool features to get excited about.
It weighs less
The new Shimano Dura-Ace R9150 Di2 weighs (according to Shimano) 29g less than the previous Di2. Not much, but a small incremental improvement. Certain parts such as the cranks and derailleurs have become lighter, while Shimano has beefed up the brake calipers, making them slightly heavier for improved stability and performance.
It should also be noted that Di2 remains lighter than mechanical. The main difference here is the weight of the cables and cable housings on mechanical groupsets. Incidentally, it is not in the table but I have been told that the Shimano power meter will add a further 70g of weight to the system.
Wireless Garmin control from the shifters
The hidden buttons on the top of Shimano Di2 shifters can now be used to shift screens on a Garmin Edge computer or control lights. Garmin control was previously possible on the Dura-Ace 9070 with the use of a Bluetooth D-Fly nodule purchased separately but was not widely used.
The new Shimano Dura-Ace R9150 Di2 groupset will have this connectivity included as standard, without the need for an additional purchase.
There's an app for that
The wireless transmitter on the new Dura-Ace is not just for connecting and controlling your Garmin, it has another key task - Connecting to Shimano's new E-Tube app which is available for smart phones, tablets and desktops.
The app can be used to run diagnostics on your groupset, update firmware and fine tune the shifting, particularly the new Synchro Shift functionality.
The app appeared user friendly in our first encounter with it. Along with the Garmin connectivity, I found the Di2 percentage battery level read out particularly reassuring.
You can also set up a profile for yourself and if you hire a bike or get a new bike, the profile can be transferred to the new bike easily, with all your preferred shifting options.
Watch: Shimano Dura-Ace R9100 groupset - first ride
Automatic shifting
The new junction box allows you to switch between different shifting modes. There are three different shifting modes which are 'Manual', 'Semi-Synchro Shift' and 'Synchro Shift.'
Manual
Manual mode is what you are used to, if you have used previous Shimano Di2 groupsets - The front and rear derailleurs only shift when you press the corresponding buttons on the levers. It shifts as you would expect, with no automation.
One key change though - you can now customise which buttons have which function, meaning you can potentially use the left shifter to control the rear derailleur (it is normally the right shifter) if you so wish. This customisation can be performed through the E-Tube app and appeared simple.
Synchro Shift
Synchro Shift may be familiar to mountain bikers, but for the uninitiated it allows you to shift through all of your gears using just one shifter. This is especially useful in mountain biking where riders may want to use one hand for shifting and the other hand for adjusting shocks or dropper posts. Or simply, if you only have one hand.
If you have Synchro Shift enabled and shift down your cassette to the end and keep pressing the button, the mode will automatically shift both the front and rear derailleurs simultaneously into your next hardest gear. Shimano suggests the use of this function may perhaps best be suited to time trial and triathlon.
Part of the reason for this is that it can also be fully customised from the app too. The advantage of this is that it can be programmed to avoid certain gear combinations that give poor chain line efficiency. Should you change into one of these, the system will automatically adjust into the equivalent ratio, with a better chain line.
Semi Synchro Shift
Shimano suggested this system may have greater application to road riders than the full Synchro. Activating it means that when you shift the front derailleur from the big ring to the small, the rear derailleur will also move too.
The reason for this is that shifting between the big ring and small ring can result in a big jump, sometimes equivalent to three cassette sprockets if you are running a 52/36t mid-compact chainset.
With semi-Synchro Shift enabled, the system will change the gear on the cassette to reduce that margin and keep your cadence more consistent.
In race situations, riders often put up with poor chain lines, because they don't want to lose the momentum that you experience when going from big to small (or vice versa). This system is designed to mitigate that and so far I have been impressed.
Hidden junction boxes
A common complaint of the old Shimano Dura-Ace was the untidy appearance of the Di2 junction box. Bikes with a huge emphasis on aerodynamic cockpits all to often felt compromised by the awkward black box hanging below the stem.
Not anymore, as you will be pleased to hear Shimano Dura-Ace R9150 Di2 has two cunning, much neater, much more aero locations for the junction box. Firstly there is an integrated down tube option as seen on the latest Pinarello F10 and secondly, an ingenious bar-end plug option.
Locating the junction boxes in these locations, is also much more convenient for charging, than hiding it away inside an integrated stem.
The junction box can also be used to switch, between the three shifting modes (manual, semi and synchro). A double tap of the button changes from one to the other with a corresponding LED flash indicating which mode you are in.
Improved shifting
The first thing I noticed when riding the new Shimano Dura-Ace R9150 Di2 was the speed of the shifting, in particular the front mech and when descending, the cassette. The front derailleur shifts with a much greater sense of urgency than the previous version and feels more smooth. The Synchro Shift function also smooths out front mech changes, but more on that further down the page.
I can't quantify how much faster the shifting is, and there won't be much in it. We are only talking 10ths of a second, but it is noticeable if you have extensively ridden the previous Shimano Dura-Ace Di2.
The click of the lever buttons feel more definitive too, providing a greater level of ergonomic feedback to the rider, which is useful if you are wearing gloves, or your hands are cold. Again, not a huge change, but a slight improvement on an already good system.
Other details
The new chainsets have the same BCD for all chainrings. Meaning, in theory you can run a 34 inner ring with 53 outer.
The rear mech also features a direct mount linkage like that found on mountain bikes. This allows easier wheel removal, especially if thru-axles and bigger tyres are being used on a short chain stay bike.
The front mech cage is adapted, with a slightly different pitch for better shifting with both short and long chain stays. Shimano says it will be slightly smoother with the new crankset, it is backwards compatible though.
When I first set eyes on the new Shimano Dura-Ace R9150 Di2 I thought the rear mech looked like it had fallen off Darth Vader's face and the chainset belonged on a Tron light cycle, but since then the aesthetics and overall look has grown on me. It may look futuristic, but that surely fitting for a product with so many innovative features.
Thank you for reading 20 articles this month* Join now for unlimited access
Enjoy your first month for just £1 / $1 / €1
*Read 5 free articles per month without a subscription
Join now for unlimited access
Try first month for just £1 / $1 / €1