New Dura-Ace can wirelessly control your Garmin from your shifters
Shimano has just launched the new Dura-Ace R9150 Di2 groupset, which can wirelessly connect to a Garmin, smart phone or other gadgets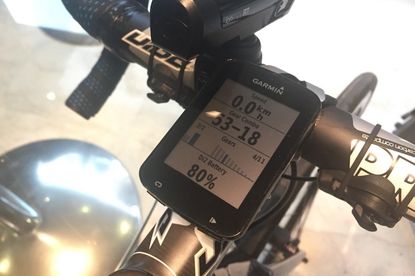 The hidden buttons on the top of Shimano Di2 shifters can now be used to change screens on a Garmin head unit or control lights. Garmin control was previously possible on the Dura-Ace 9070 with the use of a ANT+ D-Fly nodule purchased separately but was not widely used.
The launch of Shimano's new Dura-Ace R9150 Di2 groupset, which features a Bluetooth and ANT+ nodule included, has seen this technology optimised and intended for more widespread use.
Buy now: Shimano Dura-Ace R9150 Di2 Groupset at Wiggle from £2,249.99
Read more: Garmin Edge a complete buyer's guide
The neat little wireless nodule simply connects inline through a shifter to the battery and can be seen in the picture bellow.
>>> Six things no one tells you about Shimano Di2
Having ridden with the new system I can report that it is very useful. When you don't have to remove your hand from the shifter to play with the Garmin screen, you feel much more in control in potentially perilous situations, such as descents or bumpy roads.
In addition, when wearing gloves or when riding in rain, touch screens can be temperamental. By removing the user interaction of a touch screen and being able to filter through screens using the shifters solves this issue.
It is also potentially very useful for those wanting to see other data, but remain in an aero position on a TT bike for example.
In addition to controlling the screen, you also get additional data because the Shimano Dura-Ace R9150 Di2 is talking to your Garmin. You no longer have to guess if your Di2 battery needs a charge, as the Garmin screen can display the battery level.
You can also see which gear you are in and other cool data, such as how much time you spend in each gear.
The system is also intended for simultaneous control of other devices, such as Bontrager's lights. Our test unit was set up so that a single press can change the Garmin screen, while a long press would activate lights, but Shimano insists the possibilities are wide.
Read more: Buyer's guide to road bike groupsets
Buy now: Shimano Dura-Ace R9150 Di2 Groupset at Wiggle from £2,249.99
The wireless unit is not just for connecting to accessories either. It is also for connecting wirelessly to a Shimano app for smart phones and tablets. The app connectivity allows you to run diagnostics on your groupset, update firmware and fine tune the shifting, particularly the new Synchro Shift functionality. Other features include automatic shifting for pre determined cadence and power outputs.
You can also set up a profile for yourself and if you hire a bike or get a new bike, the profile can be transferred to the new bike easily.
More details will follow but the new Shimano Dura-Ace R9150 Di2 Synchro Shift features can be tuned via this app too.
Currently only available for Mac, an Android version is soon to follow.
Thank you for reading 20 articles this month* Join now for unlimited access
Enjoy your first month for just £1 / $1 / €1
*Read 5 free articles per month without a subscription
Join now for unlimited access
Try first month for just £1 / $1 / €1