Shimano Di2 and SRAM eTap: Six things that only people with electronic groupsets will understand
They might be great, but have you been warned about some of their pitfalls?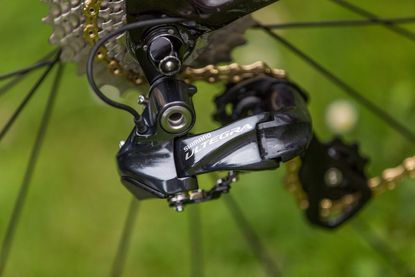 (Image credit: chris catchpole)
Get The Leadout Newsletter
The latest race content, interviews, features, reviews and expert buying guides, direct to your inbox!
Thank you for signing up to The Pick. You will receive a verification email shortly.
There was a problem. Please refresh the page and try again.
Now de rigeur in the pro peloton and more and more common amongst the weekend warriors and once a fortnight plodders, electronic gearing is definitely here to stay.
>>> SRAM Red AXS 12 speed groupset launched
The most common is Shimano's Di2, available in both Dura-Ace and Ultregra options. There is also Campagnolo's EPS, SRAM's revolutionary wireless offering and the newest addition to the market in the shape of the FSA WE electronic groupset.
Whatever people choose, things might not pan out as they expected and here are the six occurrences they might find themselves facing.
1. The bike might arrive with a flat battery
When your shiny new machine finally arrives all you want to do is throw your leg over it and get riding.
With pedals, lights and bottle cages attached you're good to go. Or are you.
Try and shift down as you roll down the road outside your house and you might find that nothing's happening.
The bike has arrived uncharged, so it's back indoors to sit around in your lycra for an hour of so whilst you get some juice into the derailleurs. Fingers crossed it doesn't start raining in that time.
2. Cold weather can shorten the battery life
Few of us will be using our best bike through the colder weather (if we've got one, that is), but those who do might need to stay within reach of a plug socket or a train station.
>>> Common sense rules for modern road riding
As is the case with many battery operated devices, some riders have reported a much lower shift count is possible before the next charge when riding in colder climes, particularly at altitude.
3. It doesn't switch back to mechanical when the battery dies
An obvious thought to most reading this but it's not as simple as that. If the battery dies mid-ride you're a bit stuck given that it won't just start shifting mechanically when the battery needs a rest.
It would be a good back-up option if it did though…
SRAM Red eTap has a slight back-up in that the batteries are interchangeable, so if the rear mech goes you can borrow the battery out the front and hopefully have enough shifts to make it home.
4. The buttons are close together, you might press the wrong one
The mechanical versions of Shimano Dura-Ace and Shimano Ultegra feature the brand's STI shifters. On the right lever, controlling the rear mech, push the whole brake lever ensemble to enact a downshift and the smaller behind lever for an upshift. Clear and simple.
On the electronic Di2 versions of these shifters you will find the brake lever remains static throughout transmission. There is now a thin button that does the downshifting and the same lever as mechanical for upshifting.
>>> Are you using your bike's gears efficiently?
These are much closer together than their cabled cousins and so you might find yourself pushing the wrong one. Do that on a 20% climb and you'll know about it.
This problem is worse still when wearing gloves: your chubby fingered-ness can cause all sorts of problems.
5. The cable can jump out
As Thibaut Pinot found on stage three of the 2015 Tour de France when his GC bid ended on the cobbles of the north, rougher roads can play havoc with the connections on electronic gears.
We may never know exactly what happened to the young Frenchman's bike, or indeed what was going through his head when he had a bit of a strop about it, but it looks as though the cable jumped out of his rear mech ending his ability to change gear at the back.
Pretty essential in all non-track races.
6. It's so much better than mechanical you'll never want to go back
Anyone who's never used electronic gears, Shimano Di2, Campagnolo EPS, or SRAM eTap, may not see the appeal or indeed the necessity.
As with most pro level tech items on a bike, such as deep section wheels or frames that are worth more than the average deposit on a house, electronic gears are essentially made for pros and only really need to be used by pros.
Most of us will get higher gains from more time in the saddle and less time at the buffet, so you might ask if electronic groupsets are strictly necessary.
However, any concerns about having a bike that far outstrips your own ability to ride it fast enough will be easily forgotten about after just a few gear shifts of an electronic groupset.
Perfect shifting, self-regulating front mech to avoid chain rub, low weight and a highly aesthetically pleasing set-up, what's not to love?
If you're not going to buy a bike with Di2 (you're not alone) then do yourself a favour and don't ride one with it on. That way you won't know what you're missing.
Thank you for reading 20 articles this month* Join now for unlimited access
Enjoy your first month for just £1 / $1 / €1
*Read 5 free articles per month without a subscription
Join now for unlimited access
Try first month for just £1 / $1 / €1
Get The Leadout Newsletter
The latest race content, interviews, features, reviews and expert buying guides, direct to your inbox!
Jack Elton-Walters hails from the Isle of Wight, and would be quick to tell anyone that it's his favourite place to ride. He has covered a varied range of topics for Cycling Weekly, producing articles focusing on tech, professional racing and cycling culture. He moved on to work for Cyclist Magazine in 2017 where he stayed for four years until going freelance. He now returns to Cycling Weekly from time-to-time to cover racing, review cycling gear and write longer features for print and online.