Garmin Edge 1000: long term review
Here is our long term review of the Garmin Edge 1000 cycle computer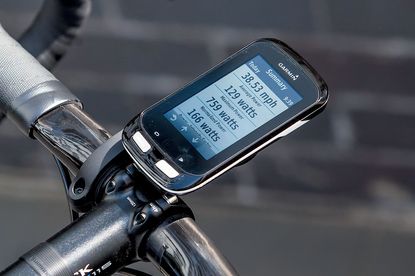 The Garmin Edge 1000 is a great cycling computer that is ideal for those who love data, want to use lots of sensors and have a big screen. It is also great for following pre designed routes. However, it is not perfect and could be much better. If you don't need turn by turn navigation i would strongly suggest the 500, 510 or 520.
Reasons to buy
+

Improved screen

+

Good at following pre designed routes

+

Lots of data fields

+

Customisation of screens is easy

+

Easy to use in general

+
Reasons to avoid
-

Expensive

-

On the fly navigation is poor

-

Looking at the base map on the unit it infuriating

-

Not very robust

-

Battery life is short
You can trust Cycling Weekly. Our team of experts put in hard miles testing cycling tech and will always share honest, unbiased advice to help you choose. Find out more about how we test.
Before we go any further, I have been using the Garmin Edge 1000 for two years now. In that time it has had a number of firmware updates which have resolved quite a few issues. If you having issues with your Garmin, then always check and update the firmware. One such issue I experienced early on, was the screen locking all the time without me telling it to lock. This issue disappeared with a firmware update.
Read more:
Buy now:
What's in the box?
Edge 1000 unit
Preloaded Garmin Cycle map of Europe
Quarter turn mount
Out-front mount
Tether
USB cable
Quick Start manual
The Garmin Edge 1000 comes with an out-front mount and a couple of handlebar mounts. This is useful as it means you can set up mounts on more than one bike and transfer the headunit from bike to bike, depending on which you are riding.
The unit is the largest Garmin has made and weighs 115g. As a comparison, the Edge 810 weighs 97g and the classic and much smaller Edge 500 weighs just 57g. The large size may put some people off and this is understandable - not everyone wants a Game Boy on the front of their bike (if this is you, then the new Garmin Edge 820 offers very similar functionality in a smaller unit), however the large screen is great for clearly viewing routes and lots of data screens.
Garmin's mounting system works very well, but it does wear with time. After two years of heavy usage the plastic on the back of the unit has worn down slightly. The result of this is that the device vibrates slightly when riding and is less secure. This a small issue, but I hope that Garmin is able to modify this in the future.
My favourite thing about the Garmin Edge 1000 is how easy it is to use. The menus are easy to customise, intuitive and very well thought out. In this regard the device is class leading. Pressing the screen to change data fields is easy and there is a huge selection of different fields you can use or select. The option to create different profiles is very useful and the metrics you can display are great. Within minutes of picking up the device, most people can work out how to use the key functions without consulting a manual.
Watch: What's it like to ride a motorised bike?
Sensors
To get the most from a Garmin Edge 1000 you really need to combine it with lots of sensors, such as heart rate straps, power meters and cadence sensors.
The big improvement over previous Garmin devices, is that the device can remember a selection of sensors of the same type and you can select which one. On my previous Garmin Edge 800, connecting to my heart rate strap or power meter was impossible when other riders were near by with their sensors. The Garmin Edge 1000 is great at picking out the specific sensor you want, even when other sensors are present.
Navigation and Routing
I still feel this is an area with much room for improvement. In essence it is not as easy to use as Google Maps, with inferior routing and ergonomics. It is not as intuitive and often sends you on silly routes, or on roads you don't want. The menus and maps are slow to load too and not very responsive.
>>> Buyer's guide to Garmin Edge computers
Using navigation on the fly, like you would with a car sat nav, is infuriating. The menus feel slow, clunky and trying to look on the map will drive you nuts. Trust me, if you get lost and want to have a look at a base map, you are much better off looking at your smart phone. This is a real shame and something I hope Garmin works on with future devices.
The Garmin Edge 1000 is best suited to following pre-designed routes. My favourite way to do this is to create a route in Strava, export the GPX and simply drag and drop it into the 'new files' folder on my Garmin. The folder is accessed by plugging your Garmin into your computer with the supplied USB cable. I find that Strava's route planning is easier to use than Garmin's and has lots of great features, such as the 'Heat Map' which is able to show you the most popular (often the nicest) roads for cyclists.
>>> 12 cool things you didn't know your Garmin could do
The Bluetooth is great for quickly uploading rides and data through your phone to third party sites online. I do find this to be a little temperamental though - sometimes the Bluetooth signal seems to inexplicably drop and disconnect.
Durability
The Garmin Edge 1000 is not the most durable Garmin I have used and I would not recommend dropping it (the Edge 500 is more robust). During testing I have managed to break the unit twice. The first time occurred whilst riding in very heavy rain on long ride. Some water managed to ingress inside the unit causing it to fail. The second breakage occurred when a third party mount broke mid ride and unit hit the deck. Fortunately Garmin has great customer service with regards to warranty and repair.
More Garmin Edge computer reviews
We take a first look at the new Garmin Edge 820, including all the essential features that you need to
£329.99
Mike Hawkins takes the Garmin Edge 810 for a 100 miles later...
£379.99
£169.99
The Garmin Edge 200 may have been usurped by the Edge 20, but still offers decent value, and is compact
£109.99
£139.99
£109.99
Bluetooth Connectivity
The Bluetooth Smart connectivity allows you to pair your smart phone to the Garmin Edge 1000. This is really useful, as it allows you to upload rides very quickly via the Garmin Connect app. It is also useful for selecting Strava Live segments on your phone, but more on that later.
However, for some of the other features, the Bluetooth is pretty useless in my experience. I found that despite several updates, the unit would constantly disconnect from my iPhone 5S, meaning that the device has never worked properly with regards to receiving text messages or calls. It also makes the live track feature redundant too. If your purchase hinges on either of these features or with general connectivity with your smartphone, I would suggest looking at something else such as the Wahoo Elemnt.
In addition to this the pairing process of the unit to a smartphone is a little clunky. Ergonomically speaking, I feel this could be much simpler.
Garmin Edge 1000 battery life
When compared to other bike computers battery life is short, with Garmin quoting around 15 hours. I have found this to be correct, although there are a few catches. To get 15 hours, you will need to turn Bluetooth off, Glonass (a more accurate GPS mode) and not use turn-by-turn navigation. The battery life is generally fine for most rides, but those wanting to audax type rides or events such as the Trans Continental will need an additional battery pack.
Last year I rode the Rapha Manchester to London ride, which was around 380km. Fortunately I took a battery back to keep it going. Without it, I would have not recorded the whole ride, the largest ride of my life. And we all know, if it isn't on Strava, it didn't happen!
Strava Live
If you have a Strava Premium subscription, the Edge 1000 is compatible with Strava Live and this works pretty well. Knowing you can potentially trigger an annoying email to be sent to one of your friends (or enemies) is a great way to motivate your self to push that little bit harder.
>>> Everything you need to know about Strava Live segments.
It is not perfect though and there are a few changes I would like to see made. You transfer segments to the device by starring them on the Strava app. The problem is that poor, intermittent Bluetooth connectivity means that the starred segments don't always transfer to the head unit. Another issue is that when an approaching segment appears on your screen, it automatically compares you to your fastest friend or PR and not the KOM. In addition, there is no way at present to customise the Strava Live screen, with useful data fields, such as power or heart rate, making it hard to judge your effort and get the best time.
For more details visit the Garmin website.
Thank you for reading 20 articles this month* Join now for unlimited access
Enjoy your first month for just £1 / $1 / €1
*Read 5 free articles per month without a subscription
Join now for unlimited access
Try first month for just £1 / $1 / €1