13 clever things you didn't know your Garmin could do
There's more to your Garmin Edge than you might think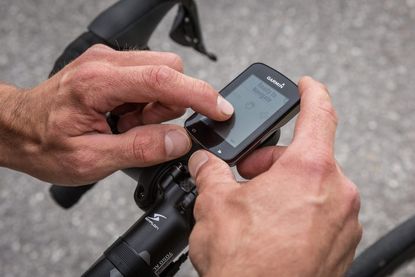 If you've made it this far, then the chances are that you own a Garmin Edge computer. But do you actually know what it's capable of? Yes, it will show you your speed and distance and things like that, and all are able to show some sort of route for you to follow.
But there are lots of other things that these little boxes on the front of your handlebars can do that you might not be so aware of...
1. Guide you through every Strava segment
Turn on Strava Live segments on your Garmin, and you'll never have an easy ride again. You'll just be cruising along enjoying the sunshine, when your Garmin lets off a little beep, and begins counting down as the start of a Strava segment is approaching.
With that in front of you it's hard not to put the hammer down, especially if you're approaching the segment at speed and gain an early advantage on the little arrow on the screen that represents either your personal record, the KOM, or the fastest of your mates on that segment.
It's pretty east to setup – simply access Strava and star any segments that you want it to guide you through. It'll tell you time remaining, distance to go and whether you're on track for to beat your PR, your mates or the KOM/QOM. On the new 1030, it'll even show you the gradient of the hill remaining.
Compatible models: 510, 520, 520 Plus, 810, 820, 1000, 130, 1030
2. Puts eyes in the back of your head
Especially if you're inching your way forward into a cruel headwind, then it can be hard to hear cars approaching from behind. However, if you've got a Garmin Varia Rearview Radar device strapped to your seatpost, then it will be able to tell you when vehicles are approaching from behind.
Cars will then be displayed as little dots on the right hand side of your Garmin, working their way up the screen as they get closer to you, so you should never be startled by a vehicle coming from behind again.
Compatible models: 25, 510, 520, 520 Plus, 810, 820, Explore 820, 1000, Explore 1000, 130, 1030
3. Tell you what gear you're in
Watch: three steps to perfect gear changes
Too tired/lazy to look down between your legs? Got such bad eyesight that you probably shouldn't be on a bike in the first place? Then your Garmin can tell you what gear you're in. Of course to take advantage of this feature you need an electronic groupset (and if it's Shimano Di2 the you'll also need a D-Fly wireless transmitter).
>>> SRAM Red eTap vs Shimano Di2: which is better?
The big downside of this feature is that if you're at the base of a big climb and go straight into your easiest gear then you have a constant reminder of the fact that you've already run out of gears, and if it gets steeper, then you're just going to have to pedal harder.
Compatible models: 510, 520, 520 Plus 810, 820, Explore 820, 1000, Explore 1000, 1030
4. Put you through agony
Ok, more accurately, your Garmin can put you through a test to calculate your functional threshold power (FTP). But it'll be hard. The workout consists of a 35 minute warm up followed by an empty-the-tank 20 minute effort.
At the end of that, your Garmin will be able to tell you your FTP, which you can then use as the basis for many other brutal workouts.
Compatible models: 520, 520 Plus, 820, 1000, 1030
5. Tell you when to put your feet up
You don't get fitter while you're training; all that does is break down muscle fibres. It's during the supercompensation period after training that you really get faster as your body rebuilds to make yourself stronger than you were before.
>>> How to make your own recovery bars (video)
This is why recovery is key to good performance, and at the end of your workout, your Garmin's Recovery Advisor will be able to tell you how long you need to wait before going on your next big ride.
Compatible models: 520, 520 Plus, 820, 1000, 1030
6. Message other Garmin users
This is a feature that Garmin released when it brought the Garmin Edge 1030 to market. It means you no longer have to reach for your phone when you need to catch your riding group up with your location. It has the potential to be particularly useful if you get dropped or if your group is spread pretty thin.
Sadly, it only allows you to send prewritten notes from your 1030 to their 1030.
Compatible models: 520 Plus, 1030
7. Tell you how much beer you can drink
As any nutritionist will tell you, hydration is key to proper recovery, which is why there is an app that you can put on your Garmin to tell you how many beers you've earned on your ride.
>>> Burgers and beer: Chris Froome reveals his off-season indulgences
The "Beers (& Others)" app can be downloaded through the Garmin Connect IQ app store, and then put on your Garmin, so there will always be that bit of extra motivation to do that extra loop at the end of a long ride.
Compatible models: 520, 820, Explore 820, 1000, Explore 1000
8. Let you know when you're going to get wet
Watch: 5 wet weather riding skills
However much of a hardman you think you are, deep down no one likes riding in the rain, which is why your Garmin can show you the weather for your current location for the next few hours, and can also send you alerts if it's about to absolutely chuck it down.
Of course that's not much use if you forget to check the weather when you headed out and left your waterproof at home, but at least you might be able to plan a sneaky cafe stop to shelter from the rain.
Compatible models: 510, 520, 520 Plus, 810, 820, Explore 820, 1000, Explore 1000, 1030
9. Keep you in the loop
One of the traditional joys of cycling is that it lets you escape everything else in your life and head for the hills to enjoy the fresh with nothing but the ticking of your freewheel and the beating of your heart for company. But now, thank God, you can add the ding of your smartphone to that list.
But at least with smart notifications on your Garmin you can see what that text was about without having to pull your phone from your back pocket. The Garmin Edge 1030 now allows you to reply with a pre-written message so you can keep your phone in your back pocket.
Compatible models: 520, 520 Plus, 820, Explore 820, 1000, Explore 1000, 130, 1030
10. Create a route for you
It can be tempting to stick to the same few roads on every ride, but why not do a bit of exploring and let your Garmin plan a route for you. All you need to is put in the length of ride you want to do ius put in the length of the ride you want to do and your starting location and your Garmin will give you three different routes to choose from.
Ok, so it's not completely infallible. For example one of the options for a 70km route from Cycling Weekly HQ in Croydon took us through the centre of London, out towards Barnet and back, a route that no right minded human being would consider, so you still need to have some common sense. Happily, Garmin seems to have improved this thanks to its Trendline software update on the Edge 1030 which uses all the ride data on Garmin Connect to send you down roads that are popular with other cyclists.
Compatible models: 520 Plus, 820, Explore 820, 1000, Explore 1000, 1030
11. Help you declutter
You those wires that you've got cluttering your desk to let you upload your morning commute when you get into work, well now you can get rid of them, as if your Garmin is connected to your phone, then you can automatically upload your ride to Garmin Connect which should then sync to Strava.
Actually, wait, maybe don't throw those cables away altogether, as you still need to charge the thing. When will wireless charging be coming to Garmins, I wonder?
Compatible models: 25, 510, 520, 520 Plus 810, 820, Explore 820, 1000, Explore 1000, 130, 1030
12. Put a speedo on your handlebars
It might not be as retro as the Omata analogue GPS computer, but probably the coolest thing we've found so far on the Garmin Connect IQ app store is the My Edge app, which turns the screen of your Garmin into a speedometer.
Not only does it show your speed, but there are coloured dots around the edge of the dial to show your average speed and maximum speed, while the other fields on the display can show things like power, heart rate, distance, etc. Genius.
Compatible models: 520, 820, Explore 820, 1000, Explore 1000
13. Send out alerts if you crash
No one likes the thought of having an accident on a ride, but if you have a bad crash while riding on your own, then the Garmin Edge Explore 1000 can, through your phone, send messages to your emergency contacts to let them know that you've crashed and tell them where you are.
This is triggered through any sudden movement to the Garmin, which means that it could think you've crashed if you just knock your Garmin off the table at the cafe stop. But thankfully you have a 30 second window in which to stop the messages being sent out, so your partner won't jump in the car and rush out in a panic, only to find you safe and sound and tucking into a second slice of cake.
Compatible models: 520 Plus, 820, Explore 820, Explore 1000, 130 1030
Thank you for reading 10 articles this month* Join now for unlimited access
Enjoy your first month for just £1 / $1 / €1
*Read 5 free articles per month without a subscription
Join now for unlimited access
Try first month for just £1 / $1 / €1
Henry Robertshaw began his time at Cycling Weekly working with the tech team, writing reviews, buying guides and appearing in videos advising on how to dress for the seasons. He later moved over to the news team, where his work focused on the professional peloton as well as legislation and provision for cycling. He's since moved his career in a new direction, with a role at the Department for Environment, Food and Rural Affairs.