Are electronic groupsets necessary?
Is battery-powered shifting something we really can't live without? Marc Abbott investigates...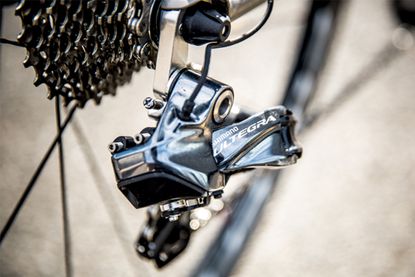 The advantages of mechanical-free, electronic gear shift systems like Shimano's Di2 and Campagnolo's EPS include more precise, quicker gear changes, reduced chain wear, and the facility to allow multiple locations for shifters, making the process of swapping cogs as simple as the press of a button.
>>> Are you using your bike's gear efficiently?
But will an electronic groupset benefit all of us? Ben Hillsdon, PR officer for Shimano Europe thinks so.
"The slick, precise shifting operation that comes through electronic gears is unrivalled. And the maintenance involved is minimal," he says.
"When it was on Dura-Ace only, it was in the realms of aspiration, but now it's on Ultegra it's within the reach of sportive riders as well as pros."
Shimano Ultegra groupset
One major benefit of electronic shifting is that its performance doesn't worsen over time or in poor conditions, as cables can.
On this, Hillsdon states: "There's no way pro teams would be able to use Shimano Di2 in the Classics if it wasn't up to battling through the weather."
Luke Rowe of Team Sky has his own take on its effectiveness on cobbles: "If your hands are vibrating all over the place it's hard to change with a mechanical lever because you can't feel if you're engaging it. And no matter how cold you are, you can always feel the sprint shifter buttons on the inside of the drops."
It might be great, but have you been warned about some of the pitfalls of Shimano Di2, SRAM eTap, Campagnolo
But what are the benefits away from the unique demands of the cobbles? "When you're sprinting or going over the top of a climb, and it's touch and go whether you get on the wheel, you know you won't jump a gear when you most need it," Rowe adds.
>>> The best bike throws
But we've all seen that video of Sir Bradley Wiggins abandoning his bike at the Giro del Trentino two years ago, with a seemingly electronic shifting-related tantrum.
So is the reliability of electronic systems in question?
Lee McKay, workshop manager of Rutland Cycling, says no: "If it was to go wrong it can be more expensive — but it tends not to. I've only seen one total rear mech failure, and then it just gets stuck in a gear. You can still get home."
>>> Do we need 12-speed gears?
On the subject of reliability, Hillsdon offers: "Remembering to charge your battery is the key. But if you're involved in a heavy crash you might need to adjust the gears, just as with mechanical."
McKay reckons we've come a long way in a few years: "The problems we saw on the earlier systems where the batteries are mounted on the down tube came from water and salt ingress. In terms of actual faults, we see very few."
Time to find out
But is there still a time and a place for mechanical shifting? Hillsdon says: "Using mechanical gears is more of an art. You might have to coerce the chain into position, and for those who like to take their bikes apart and know they can fix every aspect of it at the roadside, mechanical might still have its place."
McKay adds: "If you can afford to go electronic, it works excellently and very few things go wrong with it, but if you're mechanically minded and want to understand the systems of a bike then it might not be for you."
And what about the elephant in the room? Electronic groupsets cost more than mechanical, but the gulf between the two is reducing all the time.
McKay says: "The price is certainly coming down, plus the advent of electronic gears on mountain bikes is only going to drive that price down even further."
>>> Disc brakes in the WorldTour: are they necessary on road bikes?
Indeed, a search of online shops at this time of year can find Shimano's Ultegra Di2 discounted to less than the full asking price of the mechanical equivalent. Can you afford not to fit it?
Our take
It doesn't so much boil down to your financial means but more the type of person you are. If the idea of tinkering, spending hours re-cabling, building and lubing in your garage is what gets you through the working day, then the idea of battery assistance is likely to be beyond the pale.
If, however, you want the slickest-shifting bike at all costs, there's only one way to go.
For: Luke Rowe - Team Sky rider
"There's no one on Team Sky still using mechanical, and for me if there was ever a choice I'd never go back to it.
"I've ridden electronic for four or five years, and it's not until you hop on a bike with mechanical shifting and change gear a few times that you realise how much poorer it is. It takes a while for you to remember just how bad it was.
"It's a no-brainer — I never want to go back."
Against: Lee McKay - Workshop manager, Rutland Cycling
"It does take a bit of the purity away from home mechanics. I like the mechanical systems because a bike to me is a mechanical thing; it's something that I'm powering. Pressing a button isn't what cycling is all about.
"A lot of people like to change cables, like to know they've made their bike run nicely. I like to know that I've made that mechanical shift myself and it's me who's made the difference."
Thank you for reading 20 articles this month* Join now for unlimited access
Enjoy your first month for just £1 / $1 / €1
*Read 5 free articles per month without a subscription
Join now for unlimited access
Try first month for just £1 / $1 / €1